Are you in need of some lunch inspiration? Whether you are packing a lunch box or serving lunch at home, this list of Healthy Lunch Ideas for Kids, together with tips and tricks, has you covered.
Many of us do not have the time to be cooking or spending hours preparing lunch; instead we want something that is quick and easy to pull together.
Finger foods and picnic-style meals are ideal for the middle of the day. This is regardless of whether you have a toddler at home or if you are packing lunch for a school child.
However, lunchtime inspiration is often lacking, or, at the other end of the spectrum, we can become overwhelmed by the Instagram worthy lunches we see others sharing.
This guide to assembling a healthy lunch, together with the long list of component ideas, will hopefully make the process of getting meals on the table or lunch boxes packed that little bit easier.
What Should a Healthy Kid's Lunch Include?
A healthy lunch should ideally include a serving of each food group. At a minimum, target 3 to 4 groups.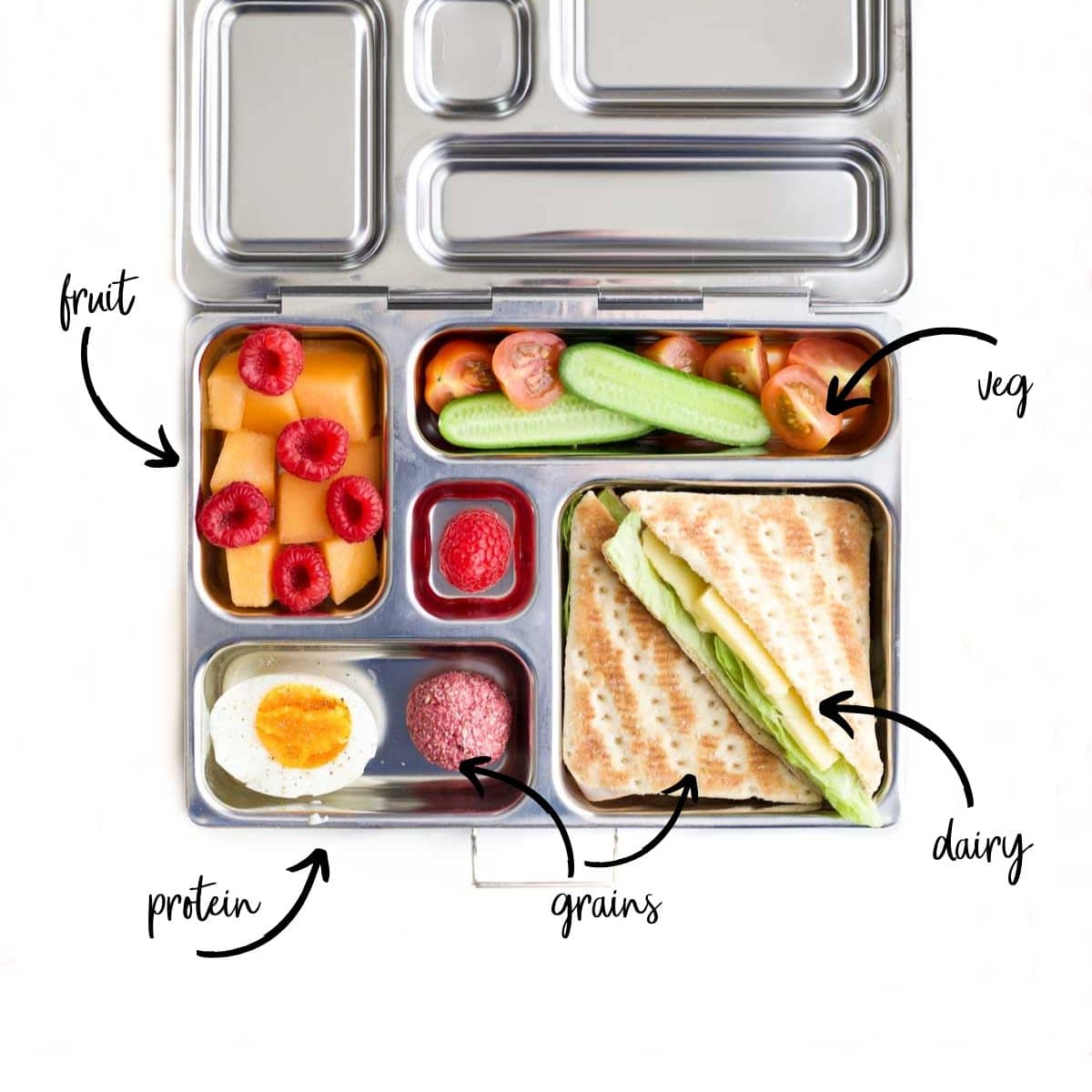 Food groups are the categories of food that target important, specific nutrients. These are the five main groups (1).
Vegetables and legumes/beans
Fruit
Grains (cereal) foods, mostly wholegrain and/or high fibre
Lean meat and poultry, fish, eggs, tofu, nuts and seeds, and legumes/beans
Milk, yoghurt, dairy and/or their alternatives
Trying to include all these food groups, when preparing a lunch, may sound a little daunting and a lot like hard work. However, breaking it down into the different food groups, and thinking about them as the building blocks of your child's lunch, actually makes assembling lunch quite easy.
A healthy lunch can then be split into four components.
Main Item (e.g. sandwich, soup, leftovers, pasta, egg-based dishes)
Fruit Portion (e.g. whole fresh fruit, fresh fruit pieces, frozen fruit or canned fruit in natural juice.)
Vegetable Portion (e.g cut up raw veggie sticks, pre-roasted/cooked veggies, small salad)
Snack based on a core food (This as a great opportunity to add a core food group that may be missing from your main item e.g yoghurt, wholemeal crackers, plain popcorn, healthy baked goods, a boiled egg)
Keep it Varied
"Building" your child's lunch helps to provide variety and you are less likely to get stuck in a lunchtime rut of serving the same thing every day. Simply mixing and matching the different "building blocks" will provide variety. You may only need to change one or two little things (the fruit, veggie or snack) to keep your child happy. You can also serve the same item in a different way.
Here are some examples of the "main item" and how you can vary it, include:
Sandwiches. They are popular for a reason and many children and adults eat them every day for lunch. That doesn't mean they have to be boring.
Change the way you serve them (triangles, fingers, cubes, shapes, roll-ups, open, deconstructed, toasted)
Switch up the bread (whole-grain, seeded, rye, sourdough etc, thins, pitta, wraps, rolls, bagels, English muffins)
Change the fillings (See the recipe card below for ideas)
Quesadillas are a quick and easy at-home lunch. You can mix a selection of chopped vegetables, along with some cheese and have a tasty lunch ready in minutes. They are also great with mashed beans, chickpeas, avocado, sweet potato, shredded chicken and ham.
Pasta is another well-liked lunch choice and again it is easy to vary (pasta shape, sauce, add-ins). Serve leftover pasta meals hot, at home or in a thermos. Alternatively, if it tastes good cold, pop it in the lunchbox. Pasta salads are great and a fantastic way to incorporate veggies.
Soup can be made in advance and frozen in single portions for an easy lunch option. The varieties are limitless and it is great for at home or for taking to school in a thermos. Why not try Pea and Mint Soup, Carrot and Orange Soup, Minestrone Soup, Curried Lentil Soup, Tomato Soup, Zucchini Soup serve with bread or oatcakes.
Eggs are another great lunch option. If you are at home enjoy them poached, scrambled, fried, boiled or made into an omelette or frittata. A hard-boiled egg is a good lunchbox filler or why not try adding egg muffins or mini crustless quiches.
Keep It Simple & Easy
Whether you are eating at home or packing a lunchbox, you are usually looking for something that is quick to prepare. Here are some ideas to help with this.
Utilise Leftovers - Leftovers from the night before can be reheated and served for lunch the next day, use a thermos for a takeaway lunch.
Have a Freezer Stash - Double recipes and freeze individual portions of soup/meals/baked goods/finger foods. Many baked goods can be added, frozen to the lunchbox and will be defrosted by lunch.
Meal Prep - Wash and chop fruit and vegetables for a few days in a row rather than doing it every day.
Think of the whole family - When packing lunch for your children, think about the other members of your family too. You already have the food out so why not assemble a similar lunch for yourself or toddler to eat at home. It saves time in the long run and you will be grateful for it when lunchtime comes around.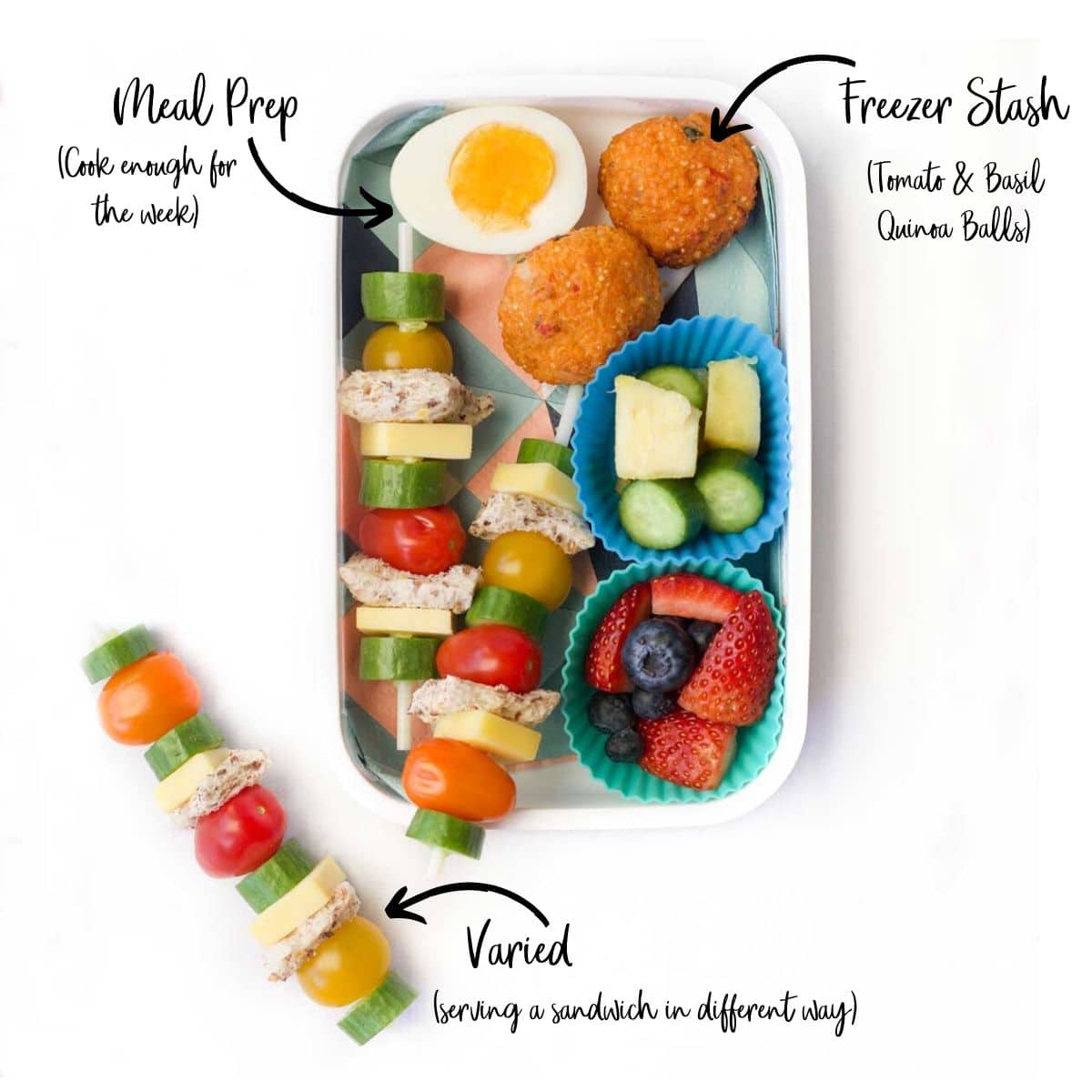 Lunchboxes
Providing your child with a balanced lunch is important but if packing a lunch, it is also vital that you think about:
Food Safety & Freshness - Some settings provide refrigeration for lunchboxes, but many school settings do not. Depending on where you live, your child's lunch may be sitting in a hot environment all morning. Make sure you pack a properly insulated lunchbox with icepacks. Think of food safety and also how fresh your child's food will be by lunchtime.
How easy is it to eat? There are limited times for children to eat during the day, especially at school. Children may prefer to play with friends instead of eating. Think about this when you pack a lunch. Pre-peel and chop fruit and pack easy to eat items.
Allergies - Be aware of any peanut or other food restrictions that the school might have in place.
Check out this post on Healthy Lunchbox Ideas for more information and ideas
Get the Kids Involved
Encourage children to help choose and prepare their own lunch. For older children, you can provide a list and encourage them to choose foods from each food group. With younger children, you can give them 2-3 choices (e.g would you like strawberries or melon with your sandwich today?). Getting your child involved in choosing, preparing and making their own lunches often encourages their consumption.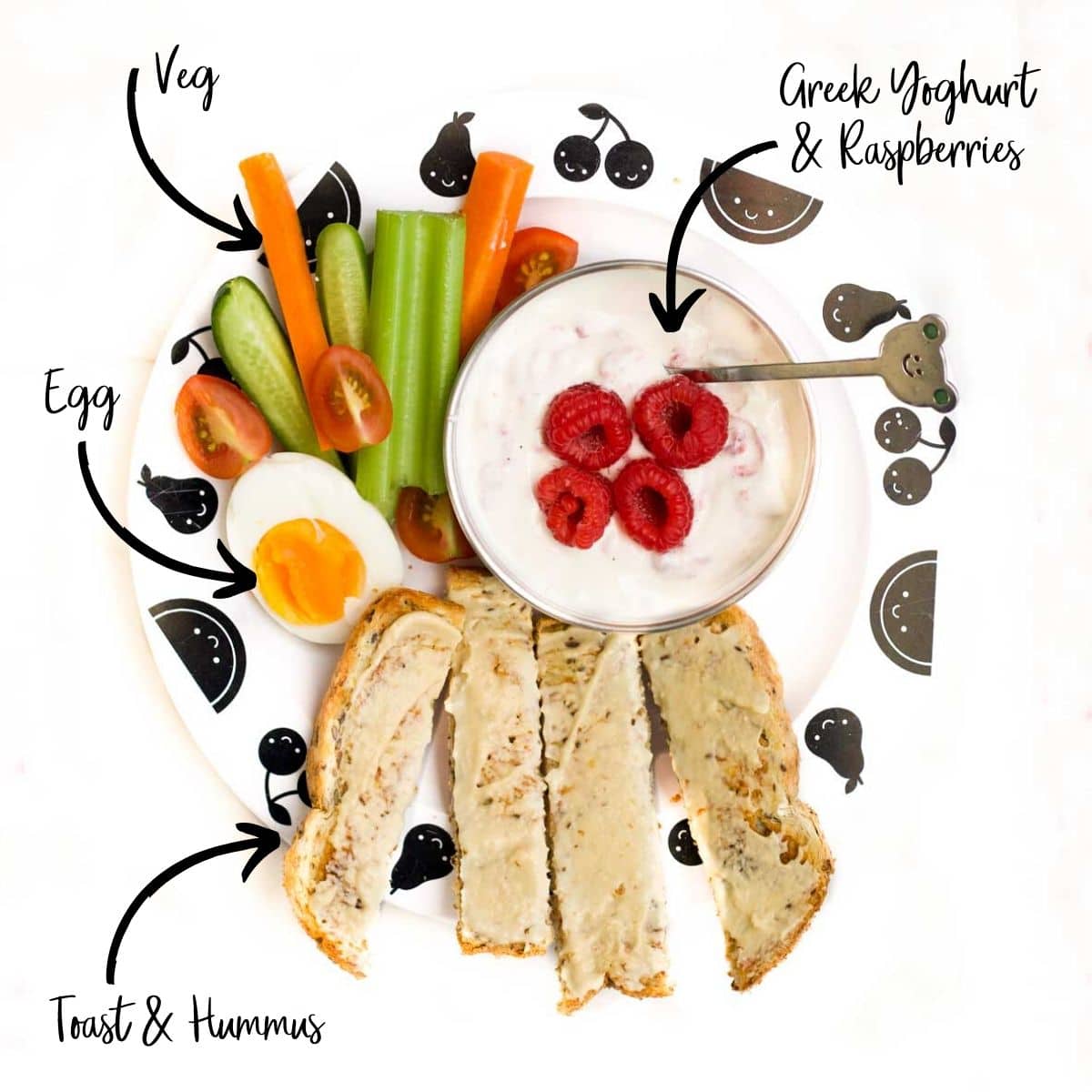 Healthy Lunch Ideas for Kids
Below is a recipe card that gives a large range of lunch ideas split under the sections; main, vegetable, fruit and snacks. You can print it off and mix and match the items to make a large number of different lunches. Just try to ensure you include as many food groups as you can.
What are your favourite foods to serve your little ones at lunch? Please share your ideas with myself and others in the comment section below.
Looking for more healthy kid recipes?Sign up for my free recipe newsletter to get new family friendly recipes in your inbox each week! Find me sharing more kid-friendly inspiration on Pinterest and Instagram.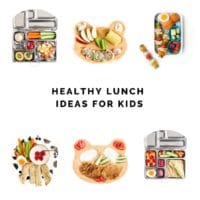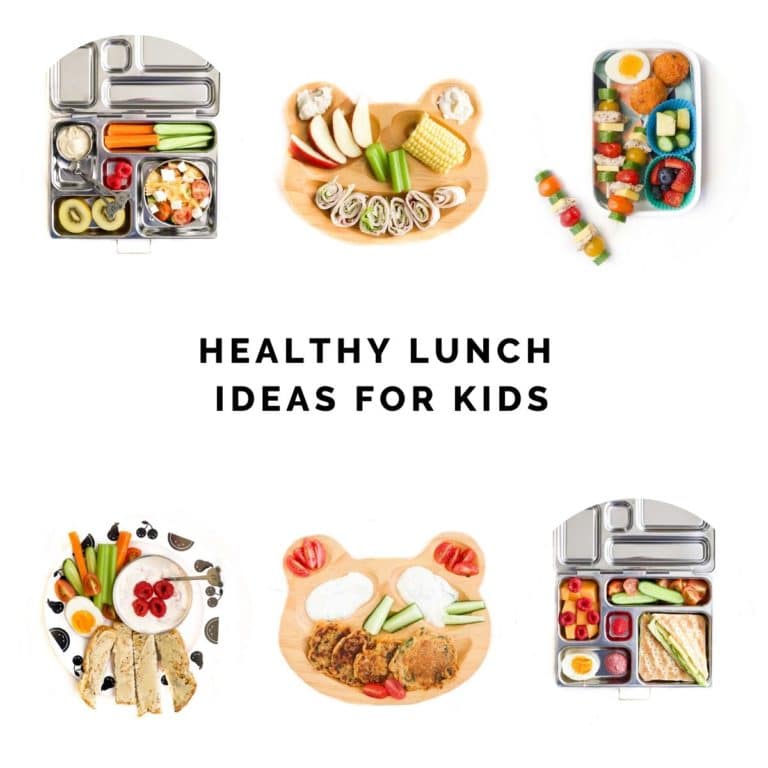 Healthy Lunch Ideas for Kids
Mix and Match to create an endless number of lunch combinations!
Prep Time: 15 minutes
Total Time: 15 minutes
Serves:1
Hover over "serves" value to reveal recipe scaler
Ingredients
Instructions
Mix and match as you please. A healthy lunch should ideally include a serving of each food group. At a minimum, target 3 to 4 groups. (See post for food group info)

How much you serve will be dependent on your child. Monitor and review.
Recipe Notes
Sandwiches Variations
Change the way you serve them (triangles, fingers, cubes, shapes, roll-ups, open, deconstructed, toasted)
Switch up the bread (whole-grain, seeded, rye, sourdough etc, thins, pitta, wraps, rolls, bagels, English muffins)
Change the fillings 
Sandwich Filling Ideas
Cheese & tomato/cucumber/avocado/vegemite/grated carrot/apple,
Cream cheese & cucumber/salad/tomato/avocado/strawberries,
Tuna & salad/avocado/cucumber/mayo,
Chicken & cheese/salad/mayo/avocado/, Ham & cheese/salad/cucumber/cream cheese)
Ham & cheese/salad/avocado/cream cheese/grated carrot
Egg & avocado/mayo/salad hummus & grated carrot,
Hummus & grated carrot/salad/bell pepper strips
Peanutbutter & banana
If packing a lunchbox remember to check your school policy for allergy information.
NOTE: The information contained in this website is for general information purposes only and is not meant to substitute professional dietary advice or treatment. Please refer to my Nutrition Disclaimer for full information.
Further Reading / References
Australia: National Health and Medical Research Council (2013) Australian Dietary Guidelines. Canberra: National Health and Medical Research Council. Available at https://www.health.gov.au/resources/publications/the-australian-dietary-guidelines
USA: U.S. Department of Health and Human Services and U.S. Department of Agriculture. 2015 – 2020 Dietary Guidelines for Americans. 8th Edition. December 2015. Available at https://health.gov/our-work/food-and-nutrition/2015-2020-dietary-guidelines/.
UK: Public Health England in association with the Welsh Government, Food Standards Scotland and the Food Standards Agency in Northern Ireland. The Eatwell Guide. Available at https://www.gov.uk/government/publications/the-eatwell-guide