These Coconut Mango Oat Breakfast Bites are sure to be a hit with the kids. Make the night before for a super quick, on the go breakfast.
For a family that doesn't eat / like porridge for breakfast we certainly manage to get through a lot of oats. For some reason if oats are cooked in a cookie, muffin or tray bake format, or rolled into balls then my kids think they taste way better. I'm happy enough with that as I think oats are a great start to the day. It is easy, however, when making breakfast in this way to add a ton of extra sugar. Cookies, oat bars and muffins are supposed to be sweet, right? This is fair enough when they are occational treats but if you are serving them as a breakfast then you are just starting the day on a sugar load. Not something I want.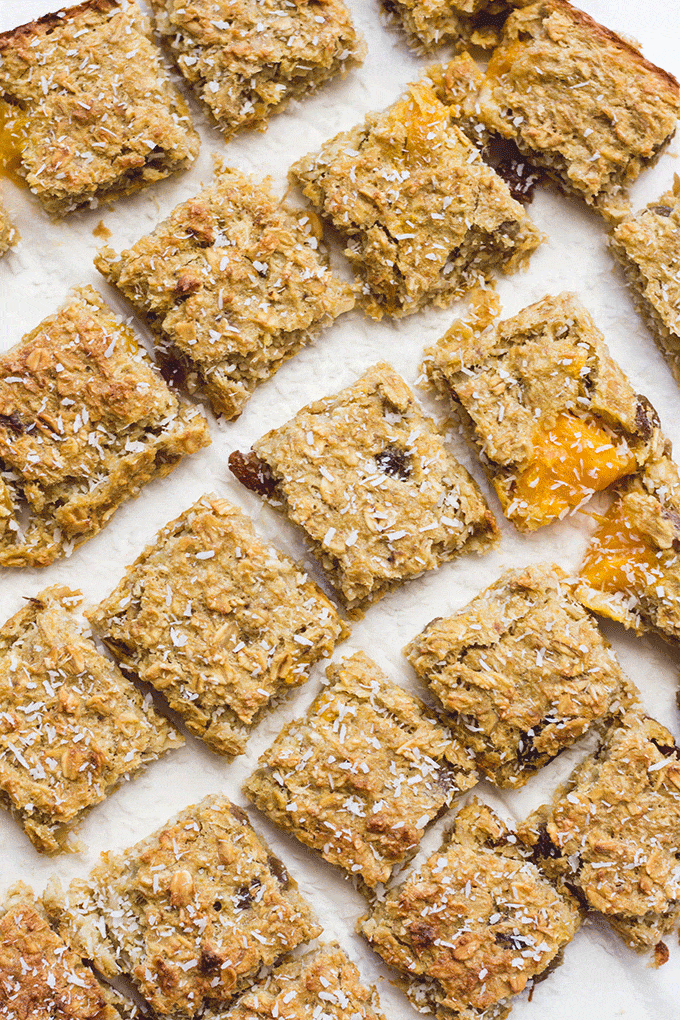 So, if you are looking for something deliciously sweet then I wouldn't bother making these Coconut Mango Oat Breakfast Bites. That isn't what you are going to get. However, if you are looking for a different, yet heathy, way to serve oats in the morning then look no further. Perhaps your kids are bored of porridge, maybe you are looking for something a little less messy, perhaps you are doing BLW (baby-led weaning) or maybe, like me, your kids haven't taken to porridge but you still want to serve them healthy oats in the morning. What ever the reason I hope you enjoy these.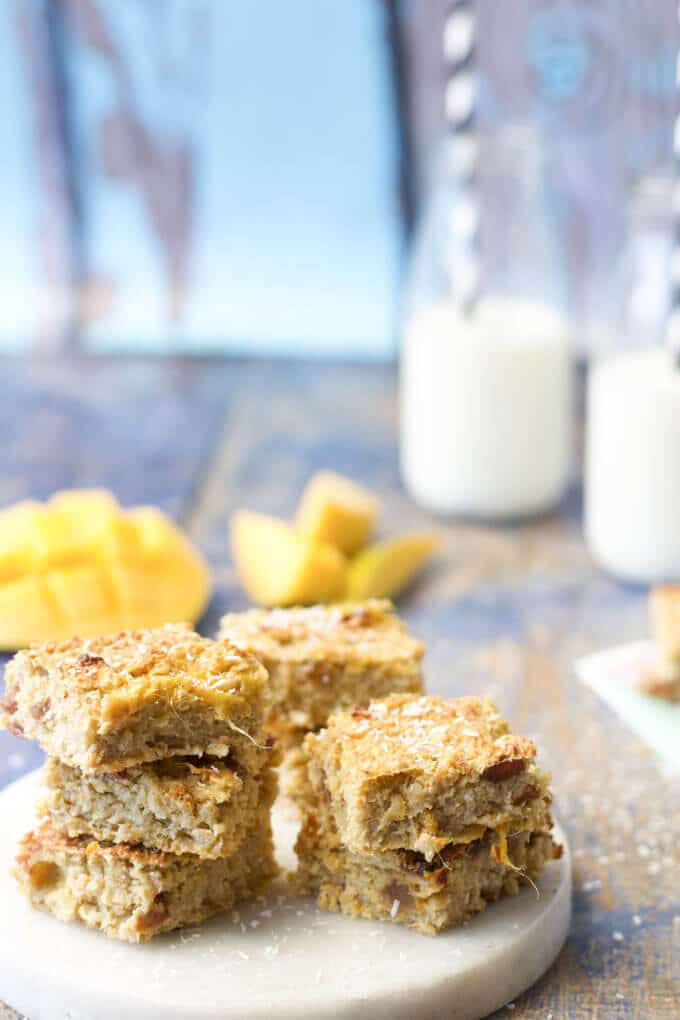 These Coconut Mango Oat Breakfast Bites do contain some raisins as I felt that it did need a little bit of extra sweetness. I do often leave them out though and the boys are happy enough to eat it. It's up to you if you add them. If you think your kids will need a little more sweetness then add a little more. You could even add some other dried fruit. I soak the raisins while I am preparing the rest of the recipe. This stops them from burning as I have mentioned in previous recipes.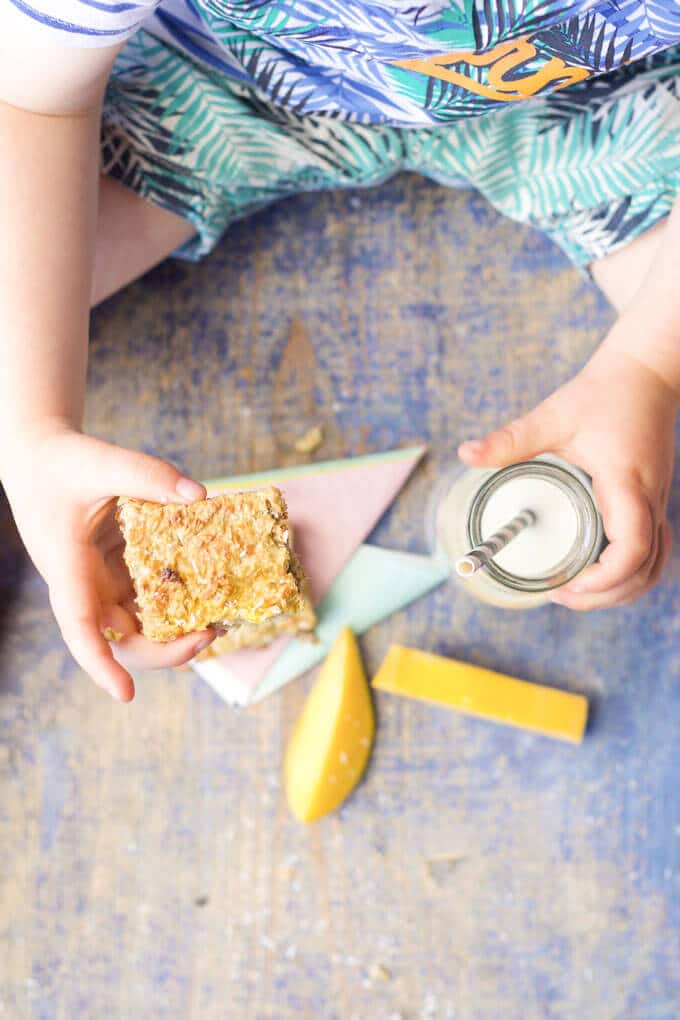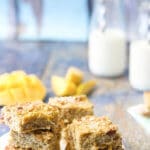 Coconut and Mango Oat Breakfast Bites
Coconut and mango oats cooked to make delicious breakfast bites.
Ingredients
1/4

cup

(40g) rasins (optional)

1

ripe banana

(mashed)

2

cups

(195g) rolled oats

1/3

cup

(33g) desiccated coconut

1

cup

(250ml) coconut milk

1

cup

(140g) frozen mango pieces

1

egg

(beaten)
Instructions
Pre heat oven to 190c / 375F / Gas 5

Pop the raisins in a small bowl and soak in boiling water.

To a large mixing bowl add the banana, oats, coconut and coconut milk. Stir until combined.

Add the mango pieces and stir until they start to break down (I like around half of the mango broken down into the mixture and the other half as chunks)

Add the beaten egg and mix until combined.

Drain the raisins and mix them through the oat mixture.

Grease a baking tray/ dish with coconut oil, add the mixture and smooth out. (Mine tray was 22cm /8.5 inch by 22cm / 8.5 inch)

Bake for approx. 28 mins.

Allow to cool before slicing into bite size pieces.
Recipe Notes
I prepare in the evening and store in the fridge overnight.