These Tasty Toast Toppings contain either a veggie or fruit and get the thumbs up from my two little foodies.
Toast is a convenient breastfast, lunch or snack option as it is quick, easy and can be enjoyed in a variety of ways. What you decide to put on the toast, however, makes a huge difference nutritionally. Keeping it varied helps your child to become used to a range of different flavours and textures.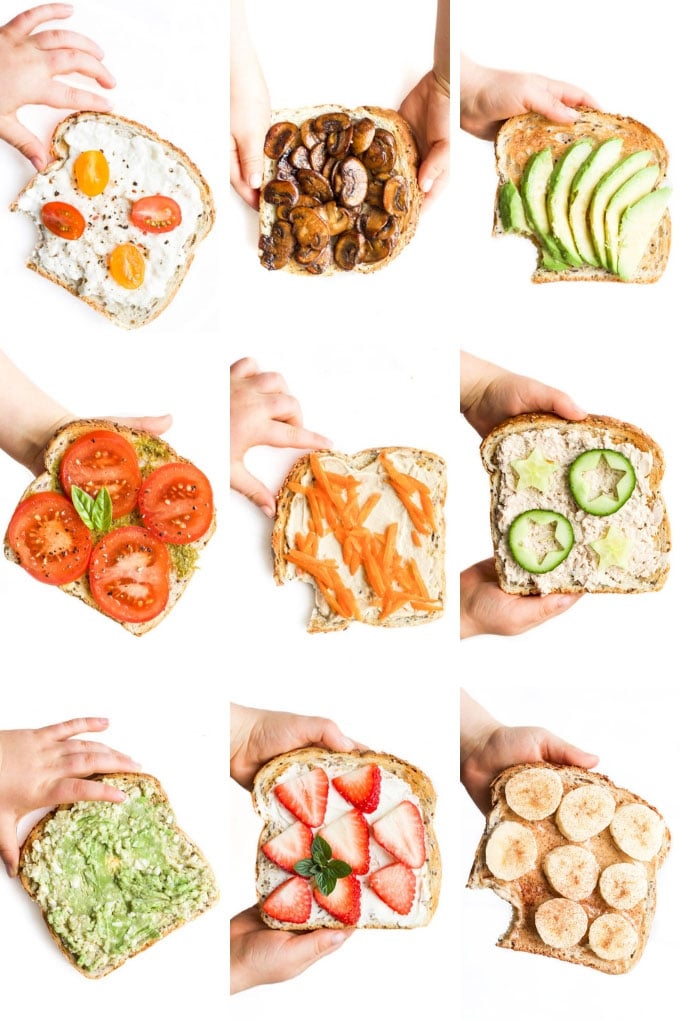 Choosing a Good Bread
Bread has a bit of a bad rep, but if you are choosing good quality bread and combining it with healthy toppings, it makes a great breakfast, lunch or snack. When buying bread you will want to pay attention to the ingredient list.
Wholegrain - Look for the words 'wholemeal' or 'whole grain' high up in the ingredients list – wholegrain flour in particular. Fibre is an important part of a healthy diet but babies can potentially have an issue digesting a lot of fibre. A baby doesn't always need a wholegrain variety of something. Rotating whole grain with a lower fibre bread is a good option for babies.
Sodium Level - This is especially important for babies. Their kidneys just can't handle much salt at all before a year. So make sure that you are finding bread with low sodium content. Remember that babies should have less than 400mg of salt for the whole day and toddlers aged 1-3 less than 800mg. (NHS Guidelines)
Added Sugar / Sweeteners - All bread contains sugar but what you want to keep an eye out for is added sugar. A lot of whole wheat bread have added sweeteners so just double check the ingredient list. This will be more prevalent depending on where you are in the world (Australian/UK bread generally doesn't have much-added sugar).
Toast Toppings For Kids
As you can imagine, the options for how to customise toast are deliciously limitless. You can opt for sweet or savoury toppings and healthy or not-so-healthy combinations. You can choose something quick and easy or you may wish to spend a little more time on your creation. There really is a topping for every situation and every craving!
I've included nine healthier topping ideas with a range of ways to customise them, giving over thirty toast topping ideas in total. Most ideas can be made in minutes (perfect for busy parents) but I've also included a few ideas that take a little more time.
Many of the suggestions spread well, making them perfect for little hands (babies or toddlers who would not like their toppings to fall off) As always, be mindful of sodium levels when feeding babies / young children.
AVOCADO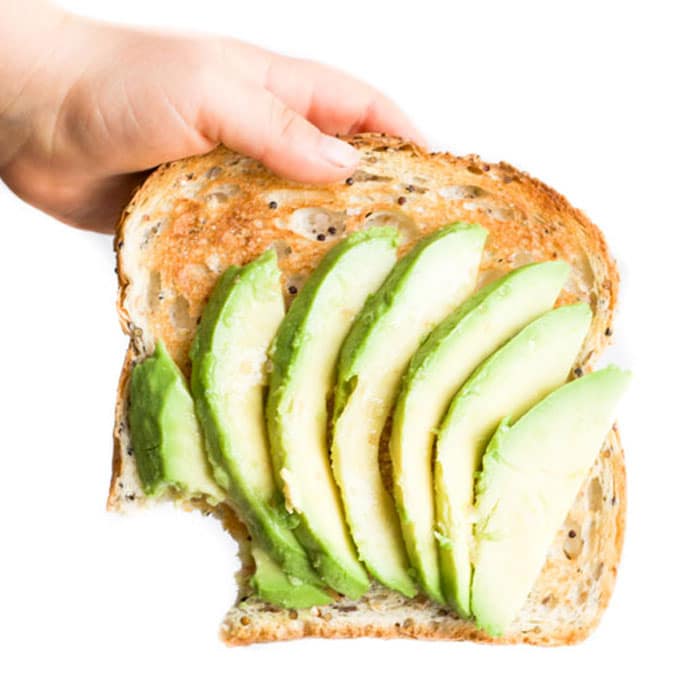 Avocado is the greatest toast topping, in my opinion, and whether I choose to slice, mash or mix it with other ingredients, it rarely disappoints.
It pairs well with both savoury and sweet foods and also makes a great mayo replacement.
The creamy, soft texture is perfect for babies and this nutrient-dense fruit contains healthy fat, vitamins and minerals that babies and children need for nourishment.
Why not try
Sliced avocado (pictured)
Mashed avocado with strawberry/mango or peach slices
Smashed avocado and cherry tomato
Mixing mashed avocado (as a mayo replacement) with tuna, egg or shredded chicken.
COTTAGE CHEESE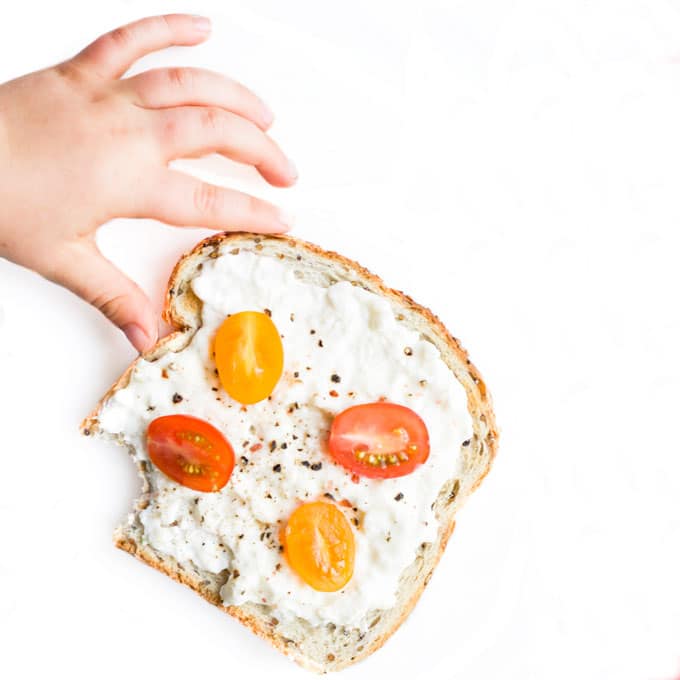 Cottage cheese is a super simple spread for toast and provides calcium, fats and protein. It has a mild flavour and works well mixed with a variety of sweet and savoury foods. Some brands can contain a lot of salt so check and compare the sodium levels before buying and serving to your baby.
Why not Try
Cottage Cheese and Tomato (pictured)
Cottage Cheese and Cucumber
Cottage Cheese mixed with Egg
Cottage Cheese mixed with Crushed Pineapple
Cottage Cheese mixed with Crushed Raspberries.
NUT BUTTER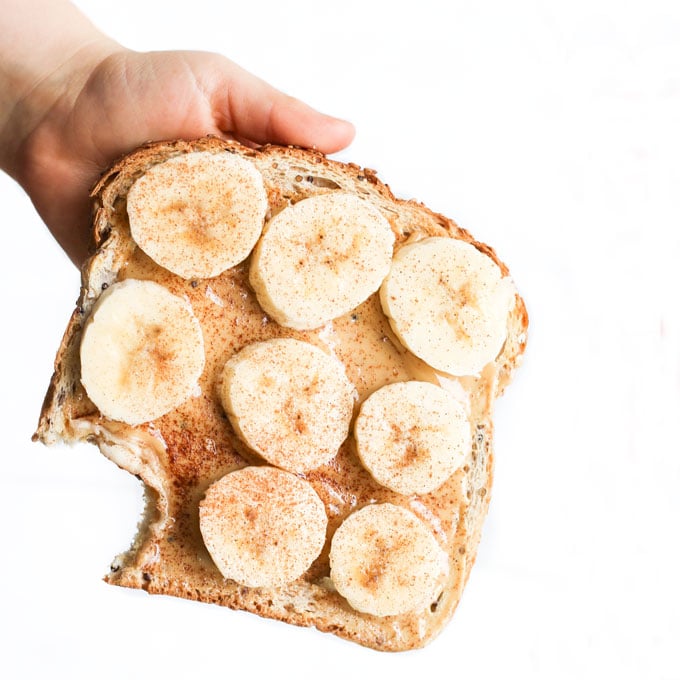 Nut butters have become popular products and for good reason. They contain healthful nutrients, come in several varieties, and make a super easy toast topping. Each variety offers something a little different, and all are beneficial in their own way. Choose a natural variety to avoid the unnecessary added sugars, salts and trans fat.
When serving to a baby, make sure to thinly spread as thick blobs are too claggy and can block the windpipe.
Why Not Try
Nut Butter with Banana (mashed or sliced) and cinnamon (Pictured)
Nut Butter with Apple Puree
Nut Butter with Apple Slices
Nut Butter with Chia Jam
HUMMUS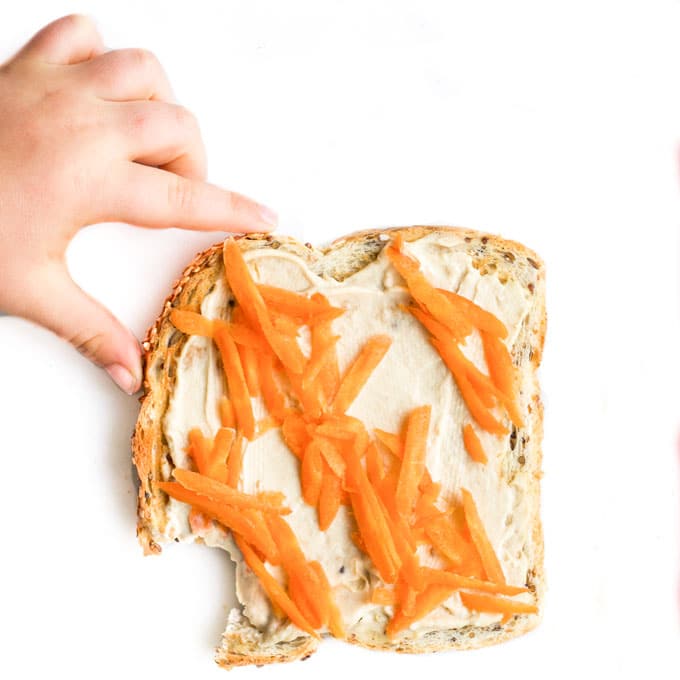 Hummus is a great toast topping that, again, works well with a range of foods. Whip up a batch of homemade hummus or pick up your favourite variety at the store, just remember if serving a baby / young child to check the sodium content.
Why Not Try
Hummus and Grated Carrot (pictured)
Hummus and Cucumber Slices
Hummus and Roasted Capsicum (bell peppers)
Hummus and Poached Egg
EGG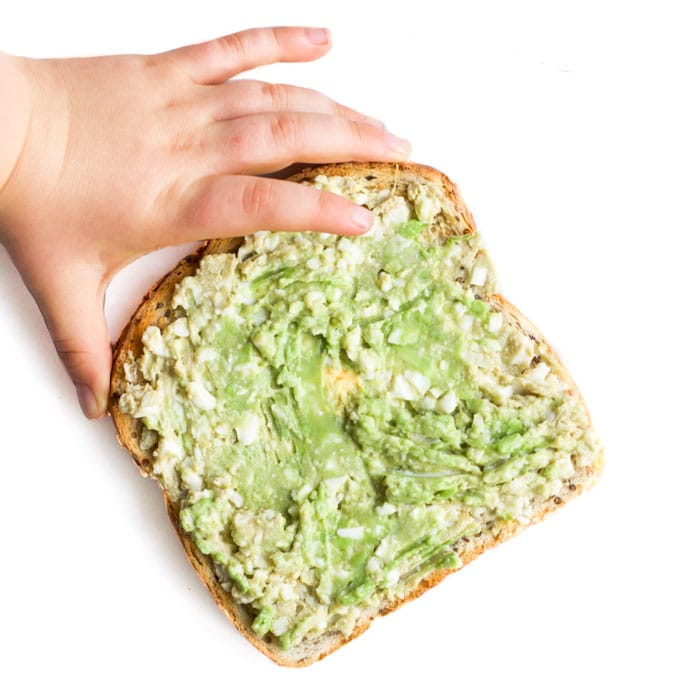 Eggs are a convenient and healthy source of protein, fat, and other nutrients. Poached, fried and scrambled eggs all make great toast toppings. Alternatively, hard boil them and slice or mash.
Why not try
Egg and avocado salad (pictured)
Scrambled eggs with cherry tomato
Poached egg / Fried Egg and smashed avocado
Mashed (hard boiled) egg with cream cheese
CREAM CHEESE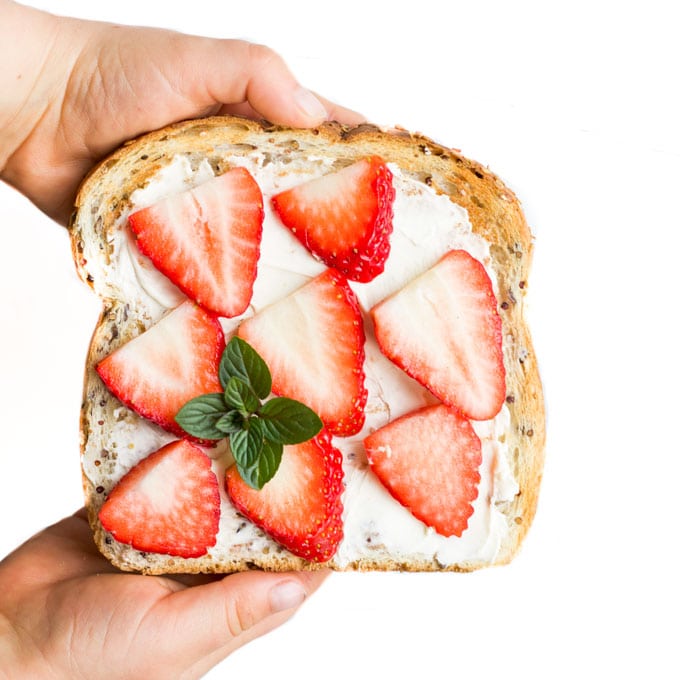 Cream cheese, like cottage cheese, is another quick dairy spread that can be enjoyed both sweet and savoury. Spread it and then top it with fruit or veggies or add some herbs to boost the flavour.
Why not try
Cream cheese and sliced strawberry (pictured)
Cream cheese and Mashed Raspberries
Cream cheese and Cucumber Slices
Cream cheese and chives
TUNA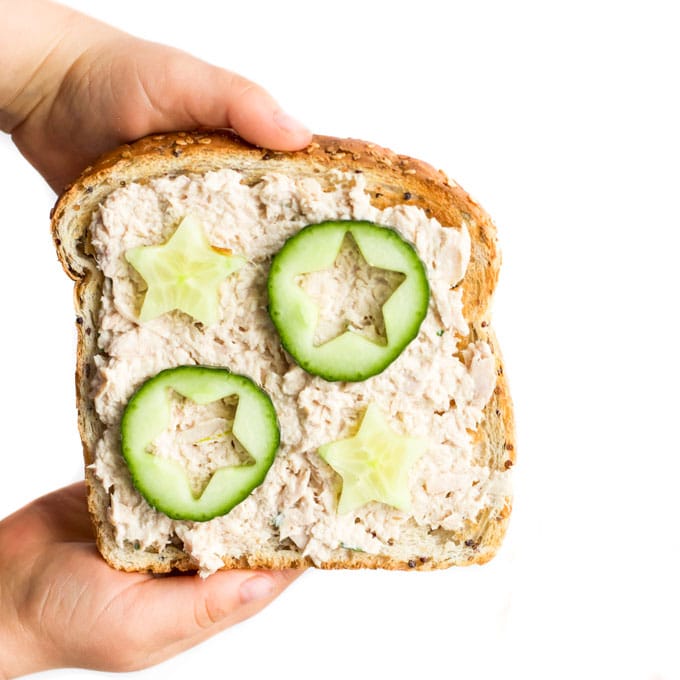 Canned tuna is filled with good nutrition and simple ingredients. Tuna is a source of protein and it's also high in omega-3 fatty acids and B vitamins.
Tuna is a little dry by itself and you will probably want to mix it with something before spreading. This tuna spread is made with greek yoghurt instead of mayonnaise and works great as a toast topping.
Why not try
Tuna and Cucumber (pictured)
Tuna and Sweetcorn
Tuna and Tomato
TOMATO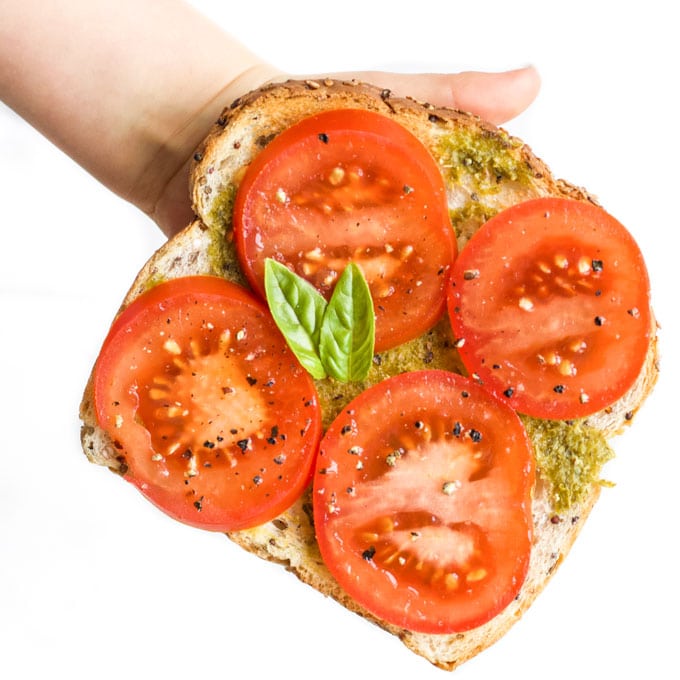 Fresh tomato is gorgeous on toast and can be paired with different spreads. Simply slice the tomatoes or chop them up for a chunky toast topping.
Why not try
MUSHROOM

I've included mushroom on this list because it is a food that my youngest son doesn't like. Sauteeing the mushrooms (until really dark and caramelised - around 15-20 mins) and then adding a splash of balsamic vinegar is the only way he will eat them. The intense caramelised flavour really appeals to my fussier eater and he happily munched through a slice of toast topped with this, usually hated, food.
Toast can sometimes be a good vehicle for food your child is still learning to like. Give it a try and see how it goes!
Have you tried topping toast with
What are your children's favourite toast toppings? Leave a comment below or tag me on Instagram @healthylittlefoodies.