Carrots have a higher natural sugar content than most other vegetables, making them a popular choice for kids. The sweetness of the carrots, combined with the juice of the orange, makes this Carrot and Orange soup a delicious meal the whole family will enjoy.
How to Make Carrot and Orange Soup
Ingredients (with alternative suggestions)
Olive Oil (can be replaced with butter)
Onion (can be replaced with leek)
Garlic (can be omitted)
Carrots
Orange (zest and juice)
Stock (Chicken or vegetable stock.) If making for a baby, use homemade chicken or vegetable stock to keep sodium levels lower.
Bay Leaf (can be omitted)
Cooking Tips
Saute the onion and garlic in olive oil - the onion and garlic are the "aromatics" of the soup, take your time sauteeing them and make sure they are cooked long enough to be softened (and release their flavour) before moving onto the next step.
Chop your carrots so they are relatively similar in size and thickness to ensure they cook at the same time. There is no need to make them neat, after all, they are all going to be blended together in the end.
Add more or less of the stock, depending if you prefer a thicker or thinner soup. If making for a baby, you may prefer to add less stock to make a thicker soup which will be easier for both spoon fed and self-feeding babies. After blending if you find the soup too thick, add more stock and heat through.
Once soup has come to a boil, reduce to a simmer and keep it at a simmer
If you don't have an immersion blender (stick blender) allow the soup to cool slightly, before transferring to a blender or food processor.
The orange rind gives a good orange flavour, taste before adding the juice and then add the juice to suit taste.
If seasoning, do it at the end. Many stocks have high levels of sodium, for this reason, save most of your seasoning until the end. Taste and adjust with salt and pepper as needed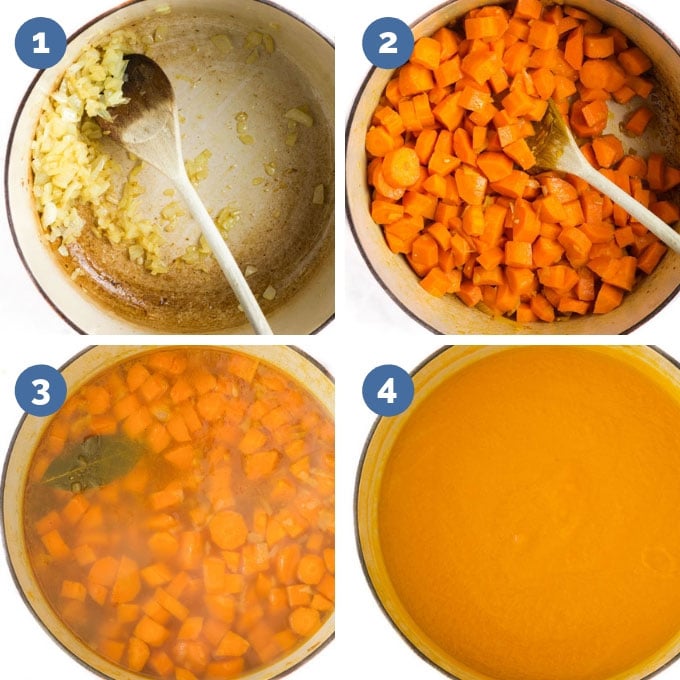 Why Kids Love This Soup
Deliciously Sweet - The sweetness of the carrots and the tangy citrus flavour of the orange produces a flavour profile that kids will love.
Smooth Texture - Great for kids who have texture issues or don't like seeing "bits" in their meals.
Bright & Colourful - According to one study, kids and adults are attracted to bright hues: orange is ranked the lowest on the most-hated colour foods for both age groups.
Topping Ideas for Carrot and Orange Soup
To up the fun factor, and to let your kids get creative with their meal, why not provide a range of toppings that they can add to their soup.
I topped this soup with some
Other suggestions include
Croutons

Bacon
Crushed oatcakes
Cheese (e.g crumbled feta, grated parmesan etc)
Pumpkin Seeds
Crushed Nuts (e.g. Walnuts, cashews or pine nuts)
STORING CARROT AND ORANGE SOUP
When refrigerating or freezing soup you want to make sure it has fully cooled down before placing in the refrigerator or freezer.
Refrigerating – Transfer leftover soup to an airtight container and refrigerate for up to 3 days.
Freezing – Transfer leftover soup to an airtight container/containers. Leave about a 2-3 cm (1 inch) of space between the soup and the container's lid when filling it. This will allow room for the liquid to expand when frozen. Defrost, overnight, in the refrigerator.
You may also like
Have you tried this recipe? I love to receive your feedback. Please rate and comment below or tag me on Instagram @healthylittlefoodies
Looking for more healthy kid recipes?Sign up for my free recipe newsletter to get new family friendly recipes in your inbox each week! Find me sharing more kid-friendly inspiration on Pinterest and Instagram.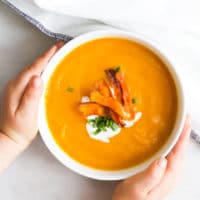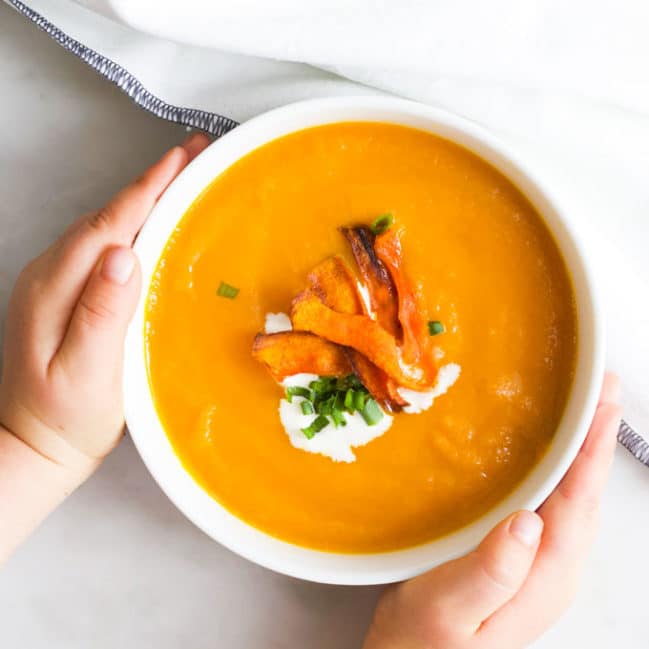 Carrot and Orange Soup
Carrot and orange combine beautifully in this smooth and tasty soup.
Prep Time: 10 minutes
Cook Time: 40 minutes
Total Time: 50 minutes
Serves:4
Hover over "serves" value to reveal recipe scaler
Ingredients
1 tablespoon Olive Oil
1 onion, finely chopped
2 garlic cloves, finely chopped
8 (900g / 2lb) Medium / Large Carrots, chopped
1 Orange, zest and juice of
1 litre (4 cups) Vegetable or Chicken Stock
1 Bay Leaf
Instructions
In a large, soup pan or Dutch oven, heat the olive oil over medium /low heat. Add the onions and garlic, reduce to low, and cook until soft, about 10 minutes, stirring occasionally.


Add the carrots and orange zest. Continue to stir for a further 2-3 minutes.

Add the stock and bay leaf, bring to the boil and allow to simmer (lid on) for approx. 30 mins.

Blend and then stir through the orange juice.
Recipe Notes
Nutritional Information is a ROUGH guide only, calculated using an online nutrition calculator. 
Nutritional facts
Calories: 151kcal | Carbohydrates: 28g | Protein: 2g | Fat: 4g | Saturated Fat: 0g | Cholesterol: 0mg | Sodium: 157mg | Potassium: 819mg | Fiber: 7g | Sugar: 14g | Vitamin A: 37660IU | Vitamin C: 33.2mg | Calcium: 96mg | Iron: 0.7mg
Originally posted November 2013, updated with new pictures and additional text.