This creamy Guacamole is so easy to make and tastes much better than anything you can find in a jar. Delicious as a dip, snack or for topping nachos, chilli cheese fries, vegetarian chilli or baked chicken fajitas.

I've mentioned it before but I do think avocado is the greatest baby food. No preparation is needed - just slice/mash and serve. They are packed full of important nutrients, good fats and taste delicious too.
When Finn was a baby he had avocado by itself or mixed with pureed pear, pureed apple, mashed banana, sweet potato puree, potato, egg…… you name it I tried it and Finn ate it! It is no surprise then, that Guacamole is now his favourite dip!
Ingredient Information
Guacamole is usually made with
Avocado
Onion
Coriander (cilantro)
Lime
Chilli
Garlic
Salt
However, you can find a variety of recipes with varying amounts of the above ingredients. Many recipes also include additional add-ins such as tomatoes or cumin. It is one of those recipes that is easy to make your own and you can pretty much make a delicious guacamole to suit your own tastes.
As it is really easy to make, I usually make two versions.
One for the kids, made with less salt, a little less coriander (cilantro) and very little to no chilli.
One for the adults, where I pump up the chilli, salt and coriander - just the way my husband and I enjoy it.
Although I don't believe in serving different meals to my children, I do believe in making different versions of the same thing to keep us all happy!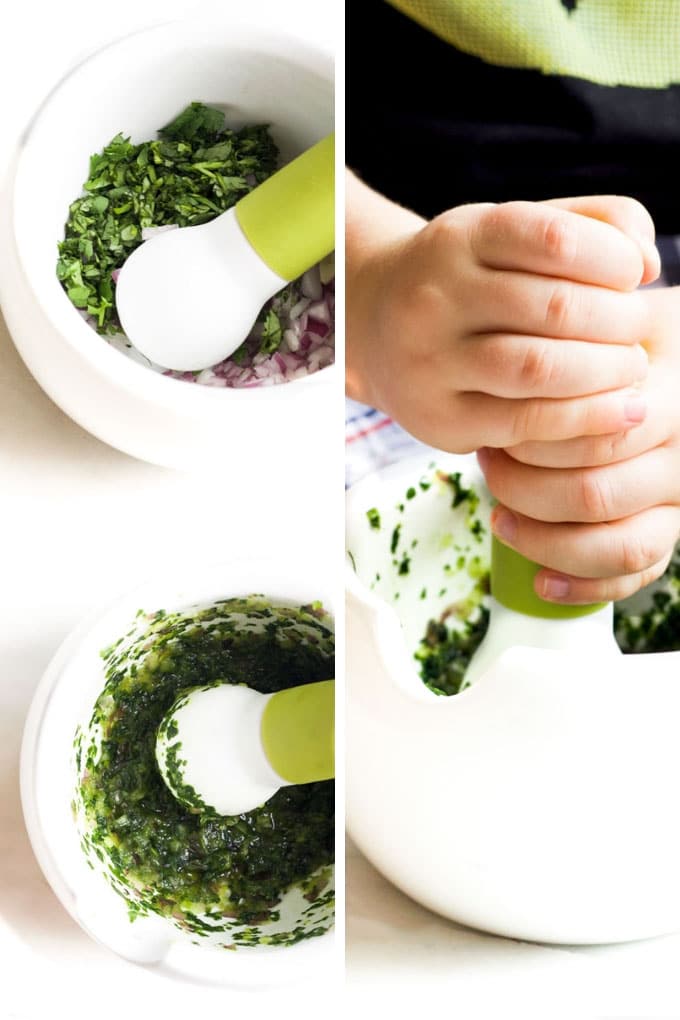 How to Make Guacamole
When I first made Guacamole, I used to
Finely chop the onion, coriander and chilli,
Mash the avocado
Mix together with the remaining ingredients.
It was easy and delicious made this way but, now I like to
Mash/grind the onion, garlic, coriander (and chilli if using) to make a paste before mixing it with the remaining ingredients.
I first saw it being made this way when I was in a Mexican Restaurant in New York, I never thought to make it that way myself, until my youngest started complaining about bits of raw onion.
He now helps me make the guacamole, by pounding away at the onion and coriander using a pestle and mortar. He can see that the onions are still going in the dip but is now happy to eat it.
If you don't have a pestle and mortar then you can mash with a fork, on a chopping board, until it forms a paste.
The extra step, of mashing/grinding the onion/garlic/coriander mixture is really worth it for both texture and flavour.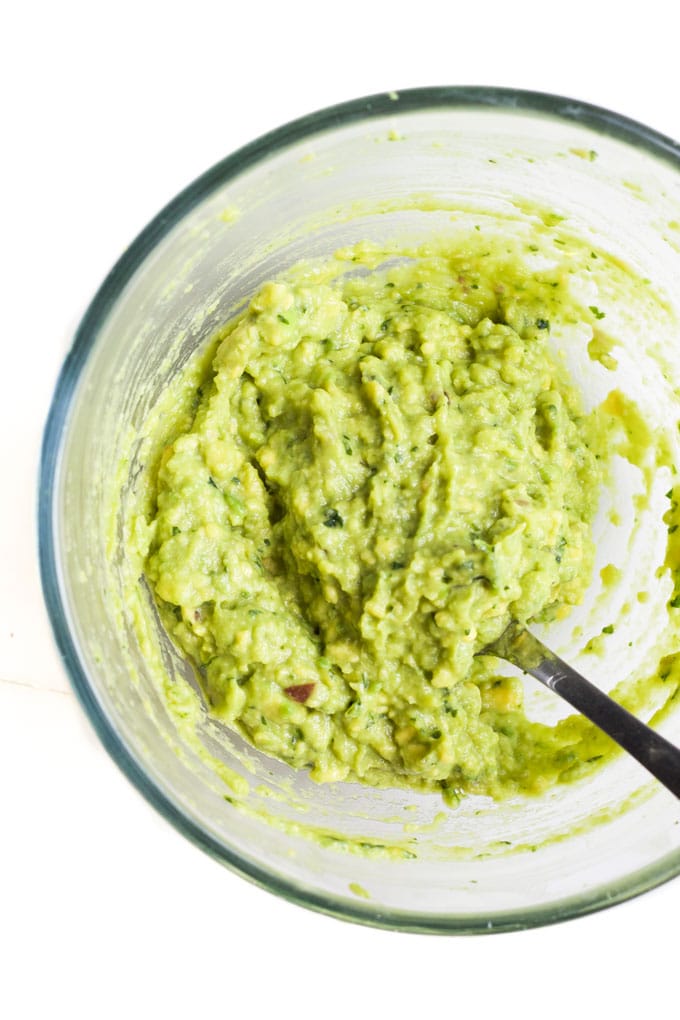 Serving Suggestions
Storage Instructions
I generally make guacamole just before serving as it is best fresh. If you do wish to make it ahead of time, or you have leftovers, to extend the freshness:
Squeeze a little more lime juice over the top of the guacamole (to prevent oxidation) before storing.
Hit the contain on a surface to knock out any air pockets, cover and make sure a lid or plastic wrap is touching the surface of the guacamole. (again, to prevent oxidation)
Another storage tips I have seen, but not tried.
Place in a container and smooth the top. Add a thin layer of oil or water and cover. When ready to serve, remove the oil/water layer and stir.
If it does appear brown, just scoop off the very top layer off and the guacamole underneath is usually fine!
You may also like
Looking for more healthy kid recipes?Sign up for my free recipe newsletter to get new family friendly recipes in your inbox each week! Find me sharing more kid-friendly inspiration on Pinterest and Instagram.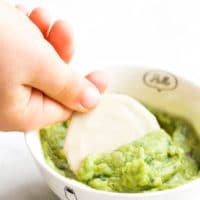 Guacamole
This creamy Guacamole is so easy to make and tastes delicious.
Prep Time: 10 minutes
Total Time: 10 minutes
Serves:5
Hover over "serves" value to reveal recipe scaler
Ingredients
¼ red onion, peeled and finely chopped (can use white or brown)
1 small Garlic clove, finely chopped
2 tablespoon Coriander (cilantro), finely chopped
2 Avocado (ripe)
½ Lime, juice of
Instructions
Add onion, garlic and coriander (cilantro) to a mortar and use a pestle to grind to a paste. If you do not own a pestle and mortar, place the onion, garlic and coriander on a chopping board and mash with a fork. *SEE NOTE 1

Add the avocado to a small mixing bowl and mash to desired consistency. *SEE NOTE 2

Add the coriander/onion paste and the lime juice to the avocado and mix through. SEE NOTE 3

Taste and season / adjust (lime juice etc) to suit. SEE NOTE 4
Recipe Notes
Mashing into a paste improves both the flavour and texture. It is great for kids who do not like to find chunks of raw onion. If serving older children/adults, adding a pinch of salt will help to mash/grind into a paste easier. 
You can mash chunky or smooth depending on your family preferences. I usually leave some texture to the avocado. 
We like ½ a lime worth of juice but this is personal preference. Start with ¼ lime, to begin with, and add more if you like. Use fresh juice, bottled does not give the same taste. 
Now my kids are older I do add a little salt to bring out the flavour. Do not add salt if making for a baby/ young child.  
Nutritional information is a ROUGH guide only, calculated using an online nutrition calculator. 
Nutritional facts
Calories: 132kcal | Carbohydrates: 7g | Protein: 1g | Fat: 11g | Saturated Fat: 1g | Cholesterol: 0mg | Sodium: 6mg | Potassium: 397mg | Fiber: 5g | Sugar: 0g | Vitamin A: 130IU | Vitamin C: 9.6mg | Calcium: 10mg | Iron: 0.5mg