This Butternut Squash and Apple Soup is smooth, creamy and deliciously sweet. Sure to be loved by kids of all ages.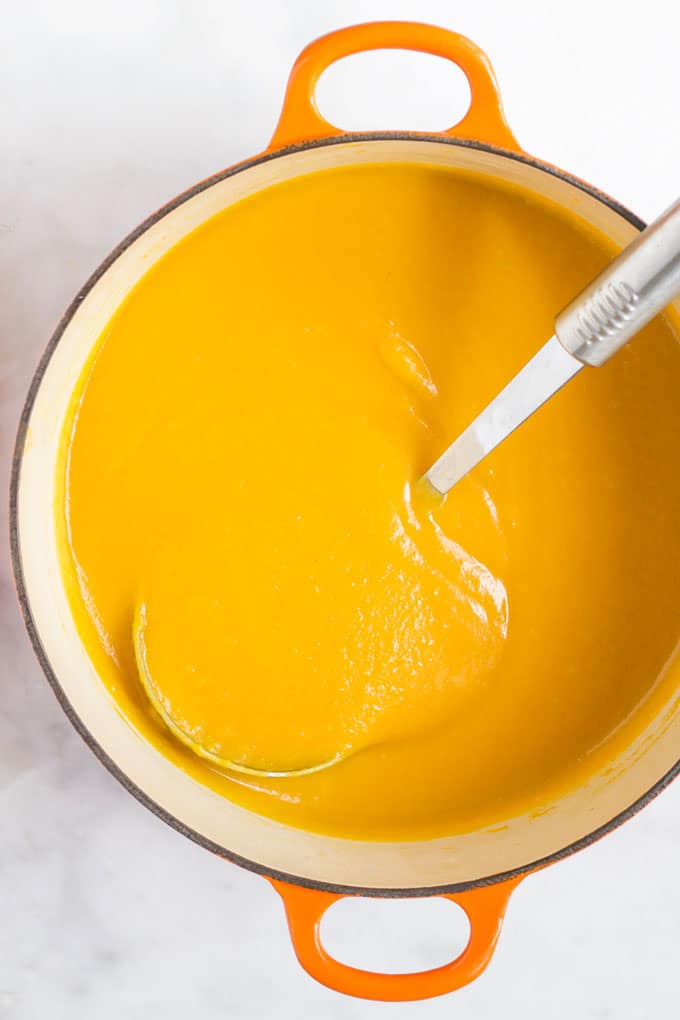 When Finn was a baby I used to roast butternut squash and mash it together with some apple puree. Now that he is older he enjoys the same flavours in this delicious soup.
Ingredient Information (with Alternative Suggestions)
Olive Oil (can be replaced with butter)
Onion (can be replaced with leek)
Celery
Fresh Ginger, Ground Cumin & Ground Coriander Seed (Only small amounts are used, if your child is used to these spices,  and likes them, you may wish to add more.)
Butternut Squash
Apple - Any variety can be used, the sweeter the apple the sweeter the soup. For a less sweet soup, use one less apple.
Stock (Chicken or vegetable stock.) If making for a baby, use homemade chicken stock or vegetable stock to keep sodium levels lower.
Process Shots and Cooking Tips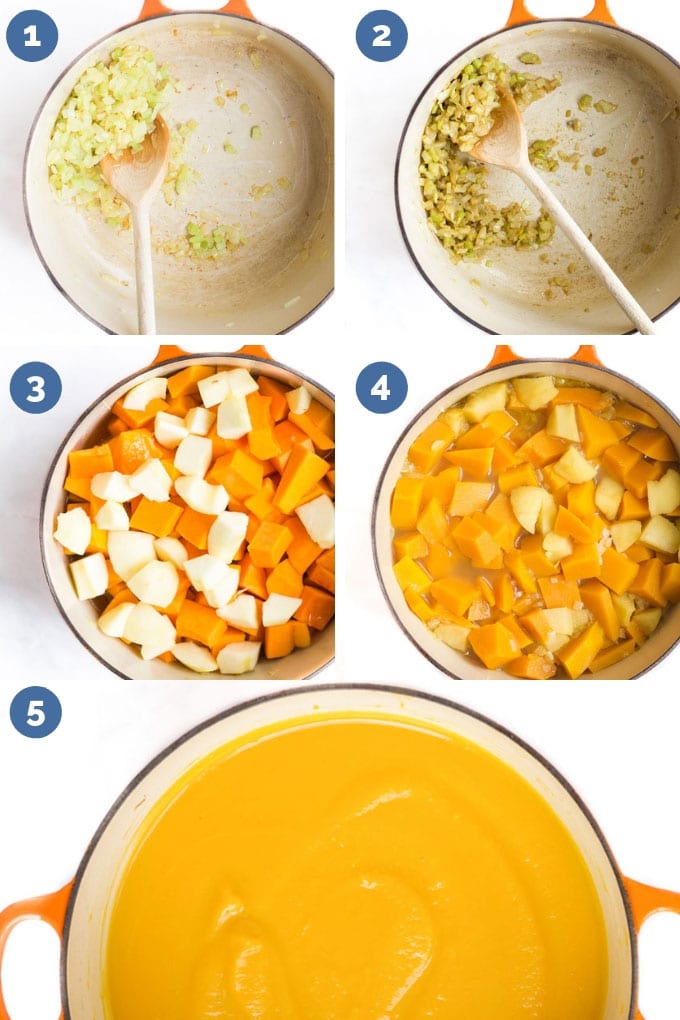 Saute the onion and celery in olive oil - the onion and celery are the "aromatics" of the soup, take your time sauteeing them and make sure they are cooked long enough to be softened (and release their flavour) before moving onto the next step.
Add the spices and continue to stir for a minute so that the spices can release their flavours.
Chop your butternut squash and apple so they are relatively similar in size and thickness to ensure they cook at the same time. There is no need to make them neat as they will be blended.
Add the stock, it may feel like there is not enough stock but don't be tempted to add more at this stage. You can always add more at the end, but you can't remove it. You want the soup to be thick and hearty.
Once soup has come to a boil, reduce to a simmer and keep it at a simmer
If you don't have an immersion blender (stick blender) allow the soup to cool slightly, before transferring to a blender or food processor.
If seasoning, do it at the end. Many stocks have high levels of sodium, for this reason, save most of your seasoning until the end. Taste and adjust with salt and pepper as needed
Nutrition
Butternut squash is a great source of Vitamin A and C. Vitamin A is important for growth and development, tissue and bone repair and for healthy skin and eyes. Vitamin C promotes healthy skin and muscles. Squash is also a good source of potassium which is important for bone health.
Storage Instructions
When refrigerating or freezing soup you want to make sure it has fully cooled down before placing in the refrigerator or freezer.
Refrigerating – Transfer leftover soup to an airtight container and refrigerate for up to 3 days.
Freezing – Transfer leftover soup to an airtight container/containers. Leave about a 2-3 cm (1 inch) of space between the soup and the container's lid when filling it. This will allow room for the liquid to expand when frozen. Defrost, overnight, in the refrigerator.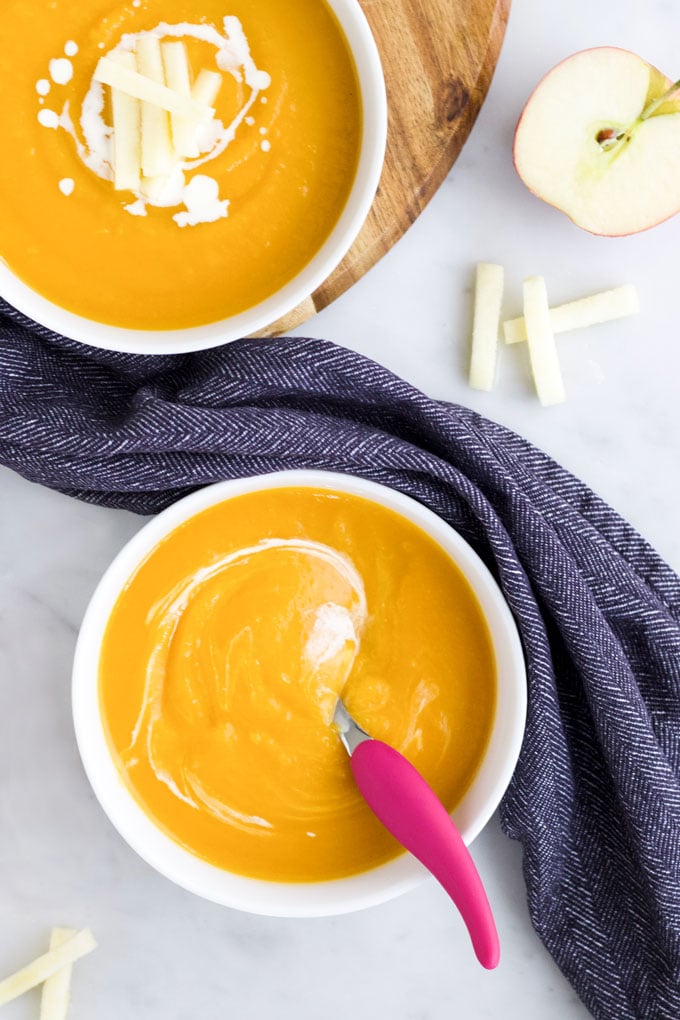 You may also like
Looking for more healthy kid recipes?Sign up for my free recipe newsletter to get new family friendly recipes in your inbox each week! Find me sharing more kid-friendly inspiration on Pinterest and Instagram.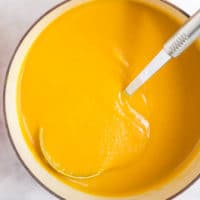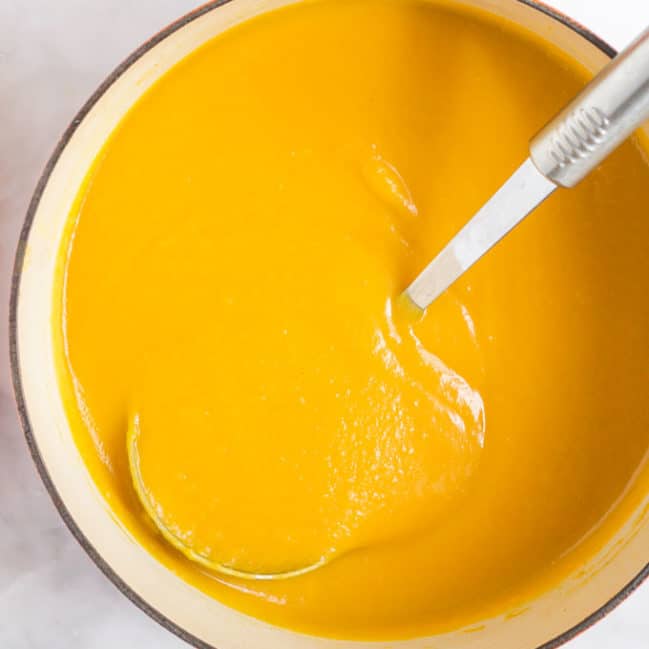 Butternut Squash and Apple Soup
A smooth and sweet soup that little ones are sure to love!
Prep Time: 10 minutes
Cook Time: 30 minutes
Total Time: 40 minutes
Serves:4
Hover over "serves" value to reveal recipe scaler
Ingredients
1 tablespoon Olive Oil
1 Onion, finely chopped
1 Celery stalk, finely chopped
1 tsp Ginger, minced
½ tsp Ground Cumin
¼ tsp Ground Coriander Seeds
1 Butternut squash, peeled and chopped (1.15kg / 2.5lb, peeled & chopped)
2 Apples, peeled, cored and chopped
500ml (2 cups) Chicken or Vegetable Stock
Instructions
In a large, soup pan or Dutch oven, heat the olive oil over medium /low heat. Add the onions and celery, reduce to low, and cook until soft, about 10 minutes, stirring occasionally.


Add the ginger, cumin and coriander and stir for a further 1 minute.

Add the butternut squash, apple and stock then bring to the boil. Reduce the heat, cover and allow to simmer for 20 mins. (until the squash and apples are tender)

Blend and serve
Recipe Notes
If cooking for a baby, use homemade chicken or vegetable stock (or baby stock cubes) to keep sodium levels low. 
Nutritional information is a ROUGH guide only, calculated using an online nutrition calculator. 
Nutritional facts
Calories: 228kcal | Carbohydrates: 50g | Protein: 3g | Fat: 4g | Saturated Fat: 0g | Cholesterol: 0mg | Sodium: 522mg | Potassium: 1175mg | Fiber: 8g | Sugar: 18g | Vitamin A: 30920IU | Vitamin C: 66.9mg | Calcium: 154mg | Iron: 2.3mg