This ultimate guide and list of Healthy Lunchbox Ideas will have you covered when you are in a lunchbox rut. Follow the basic lunchbox formula, choose from the extensive list of ideas and check out the top tips for making lunch box packing a breeze.
As busy parents it is easy to fall into the trap of serving the same lunch day after day. If you are ready to switch things up but are lacking inspiration you have come to the right place.
Providing children with a variety of healthy foods in the lunch box not only keeps your kids interested, but it is also important for healthy growth and development and for encouraging healthy eating habits.
However, nobody wants to spend all morning making lunch boxes; by following these tips and ideas you should be able to pack a lunch in under 10 minutes, either the evening before or the morning of.
Lunchbox Builder - What to Put in A Healthy Lunchbox
Vegetables - Nutrient dense and a great source of fibre.
Fruits - Full of vitamins and minerals that are important for growing bodies.
Grains (cereal) foods, mostly wholegrain or high fibre - Rich in carbohydrates to help kids play and learn all day.
Meats and Alternatives - A protein source to help keep children focused and alert throughout the day.
Dairy and Alternatives - Vital for healthy bones and teeth.
Avoid sugary drinks, such as soda and juice and limit high-sugar /sodium foods.
Healthy Lunchbox Ideas for School
Here are some examples of lunchboxes that include at least 4 of the 5 food groups. Click on the links for full recipes.
Pinwheel Sandwiches, Cherry Tomatoes, Grapes, and Greek Yogurt topped with frozen raspberries.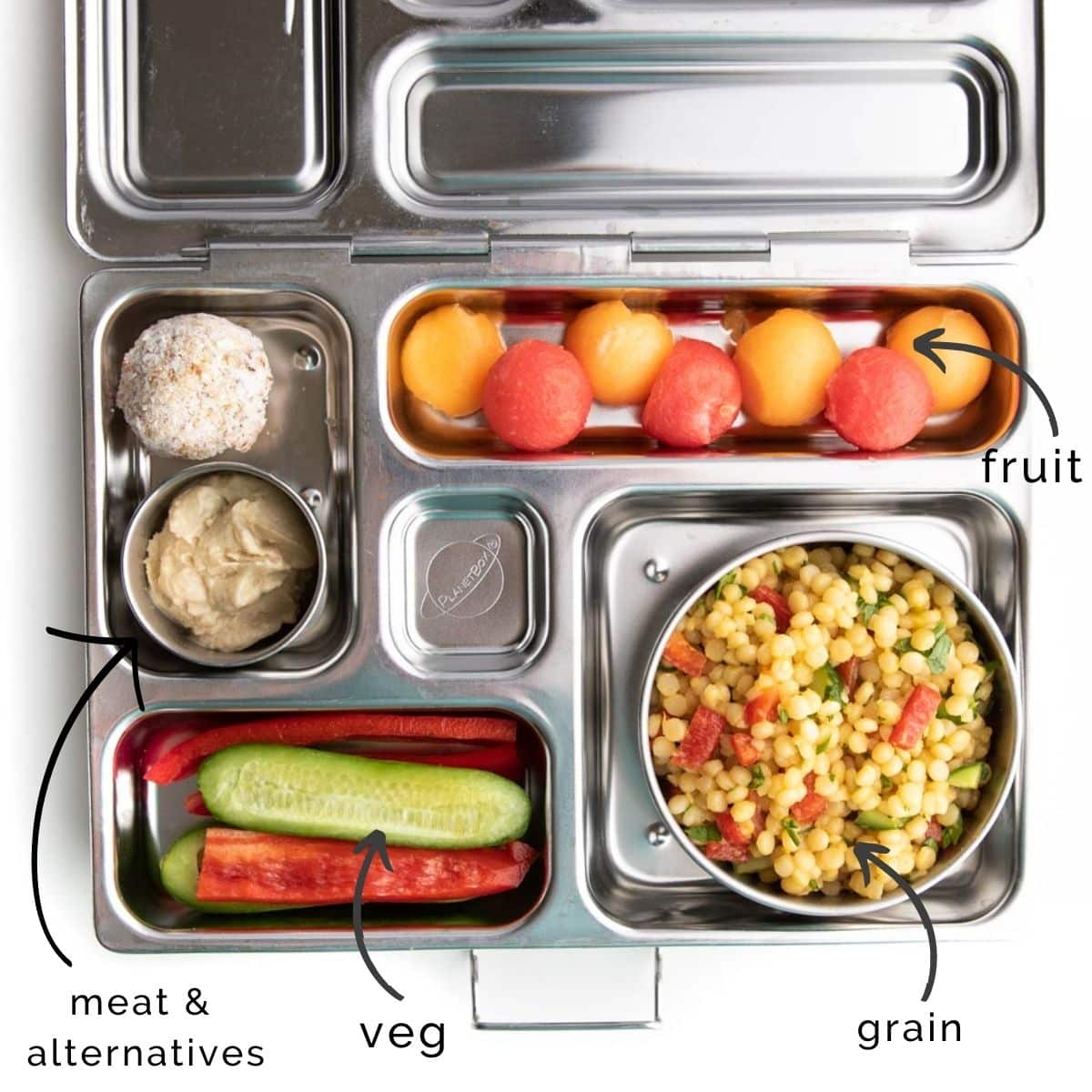 Half a Wholegrain Bagel, Tuna Salad, Kiwi, Carrot Sticks, Mini Cucumber Halves, Cherry Bliss Ball.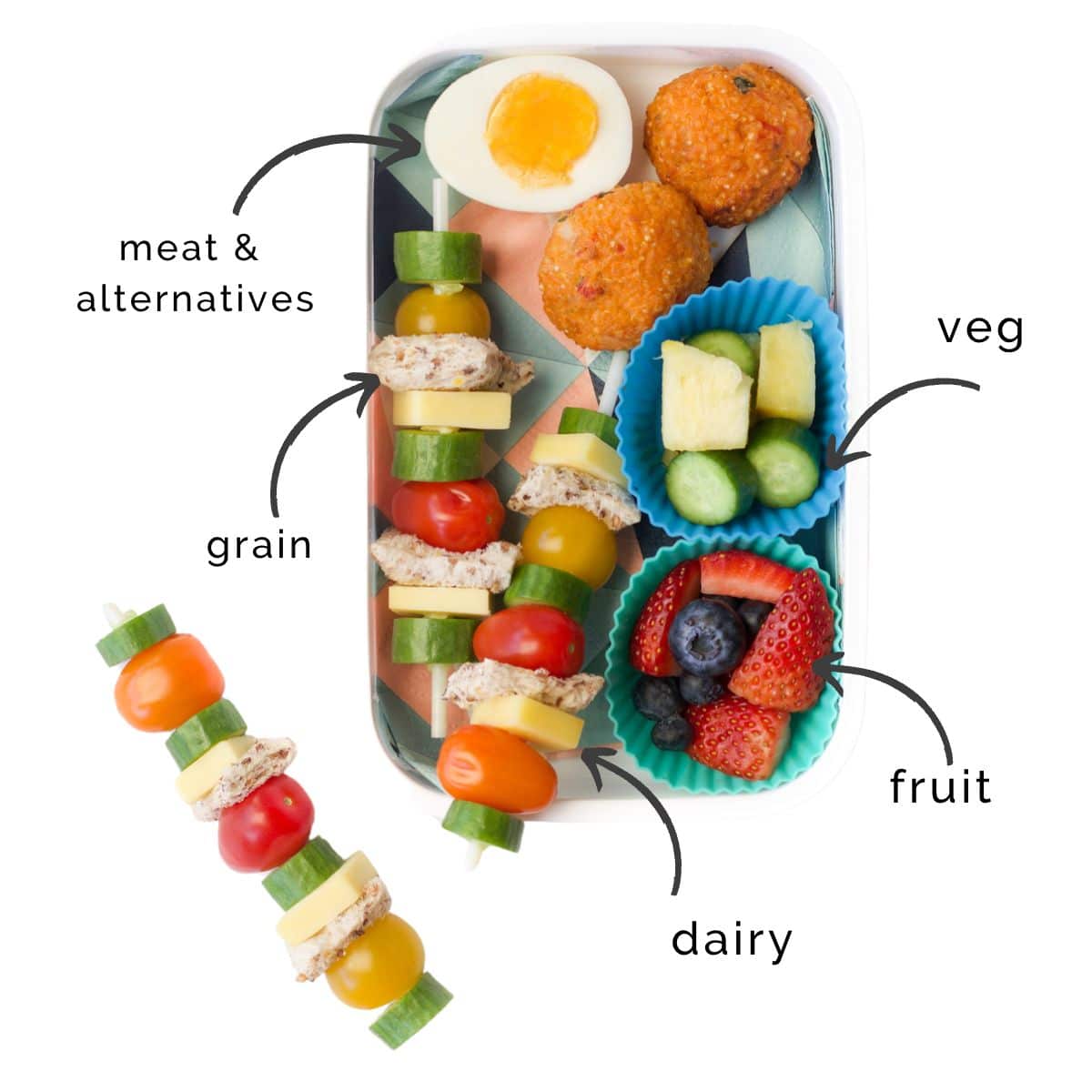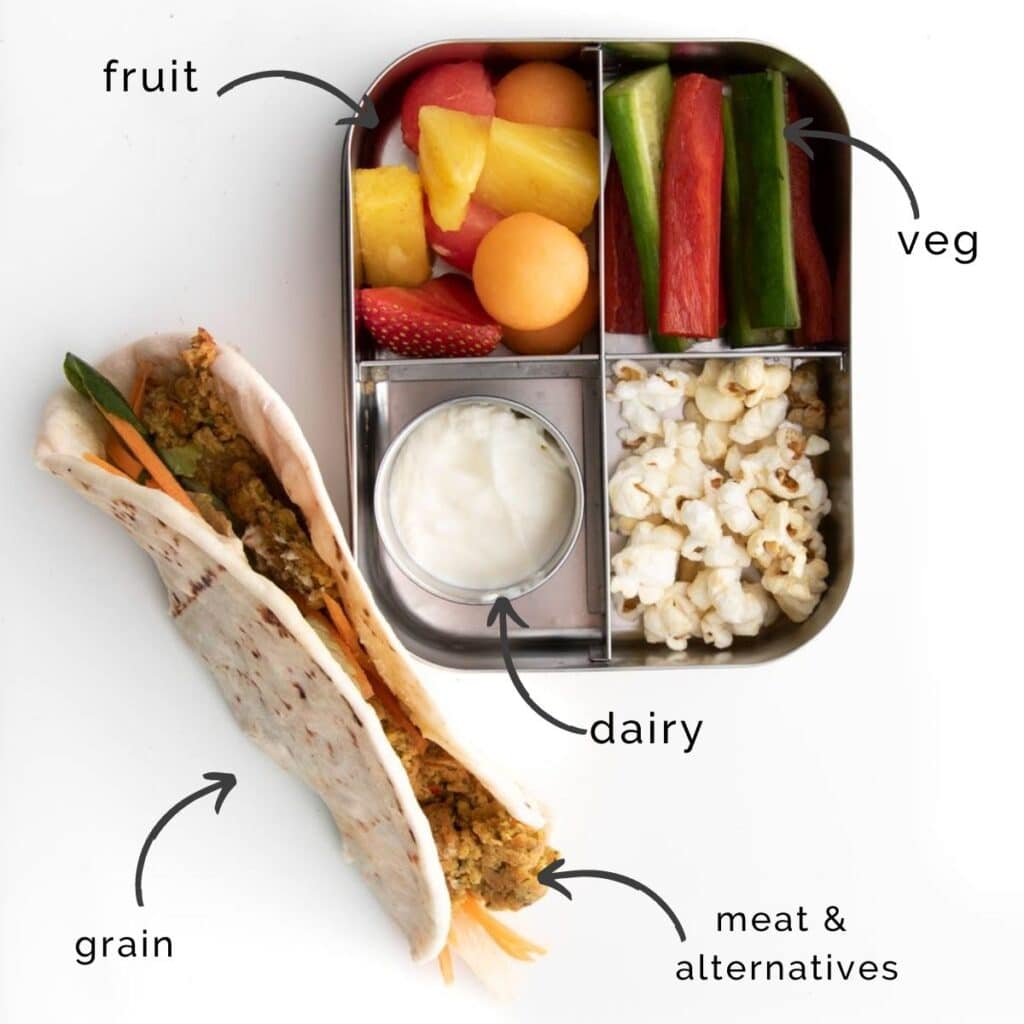 Baked Falafel and Hummus Stuffed Pitta (with shredded carrot, cucumber and lettuce), Smoked Paprika Dip, Fruit Salad, Vegetable Strips and Homemade Popcorn.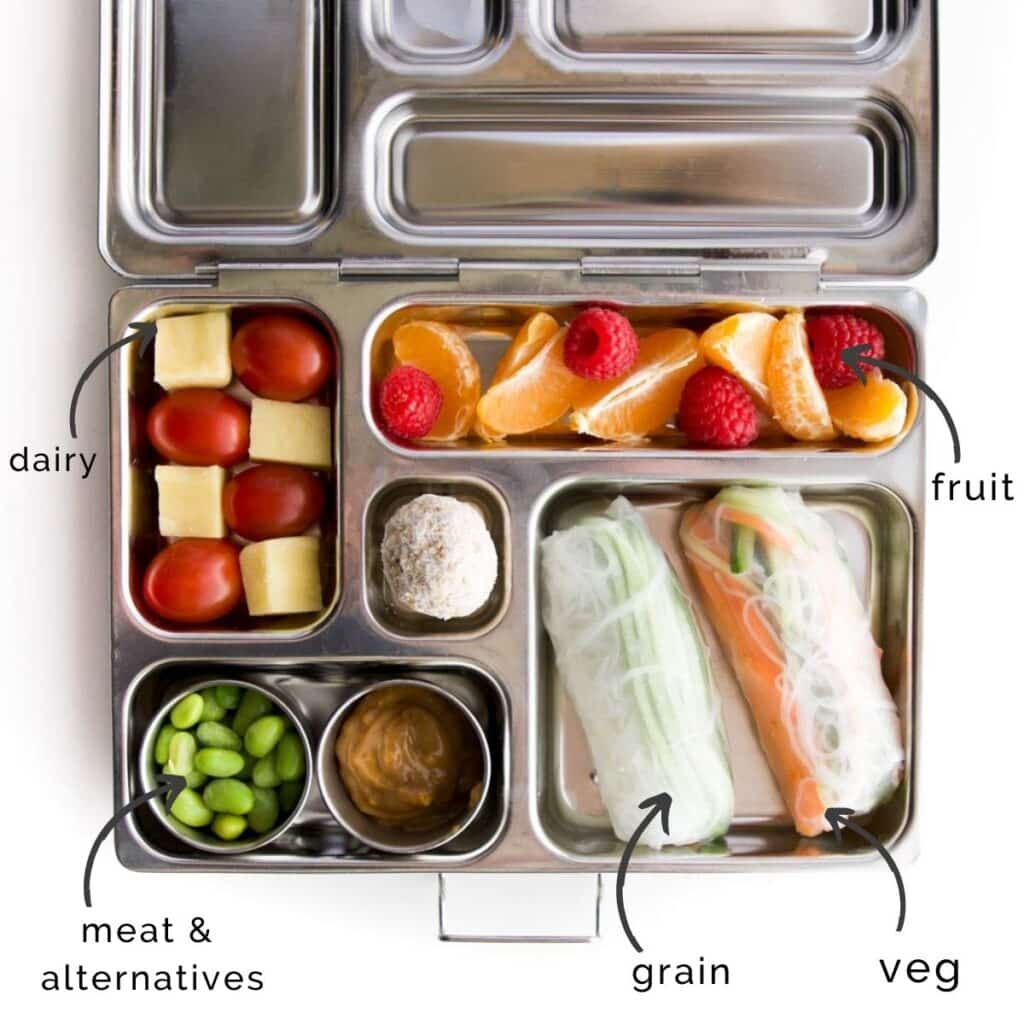 Vegetable Rice Paper Rolls, Edamame, Nut Free Dip, Cherry Tomatoes, Cheese Cubes, Satsuma, Raspberries, Tropical Oat Ball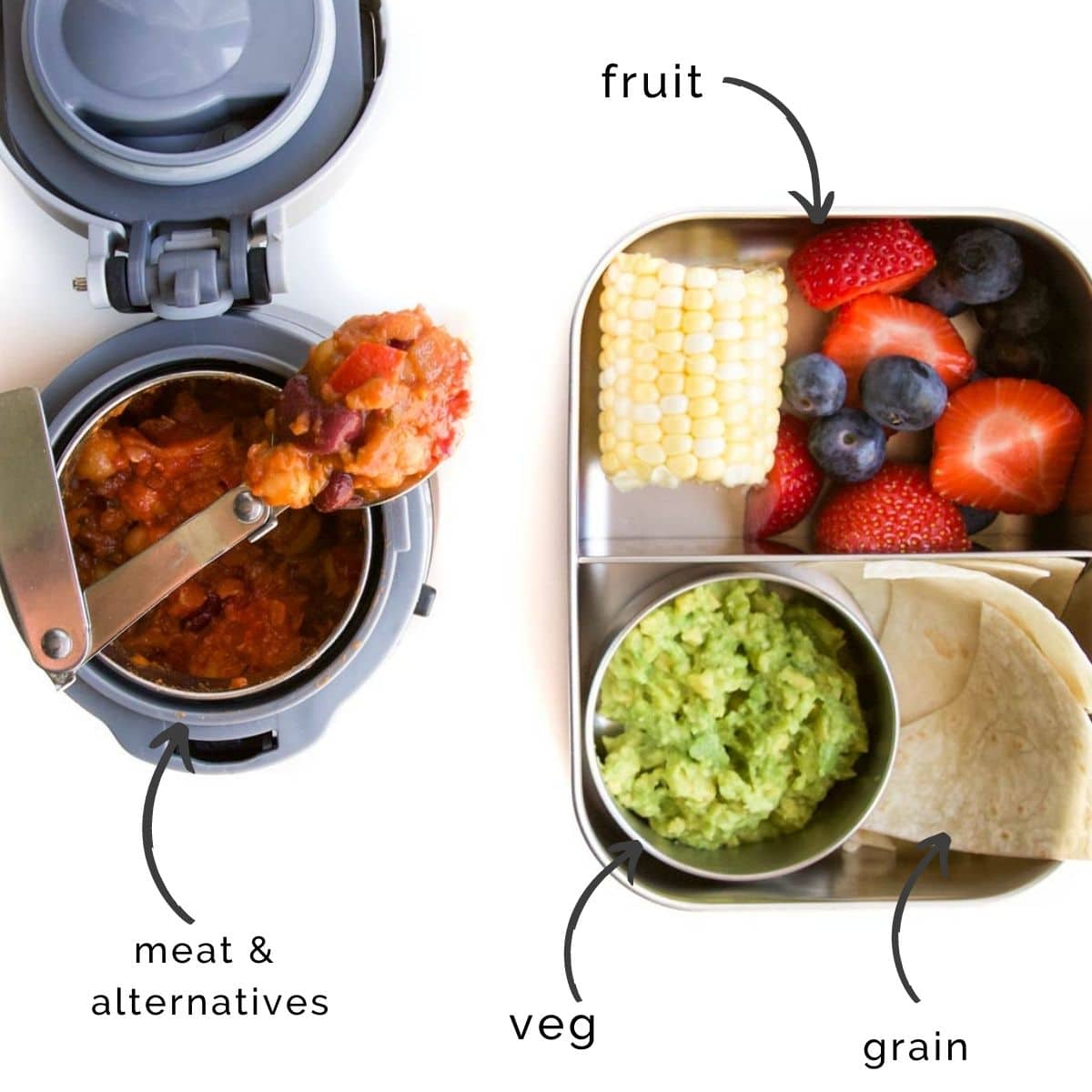 Leftover Vegetarian Chilli, Corn on the Cob, Strawberries, Blueberries, Guacamole, Baked Tortilla Chips
Nut Free Pesto Pasta with Chopped Vegetables, Pineapple, Strawberries, Baked Chickpeas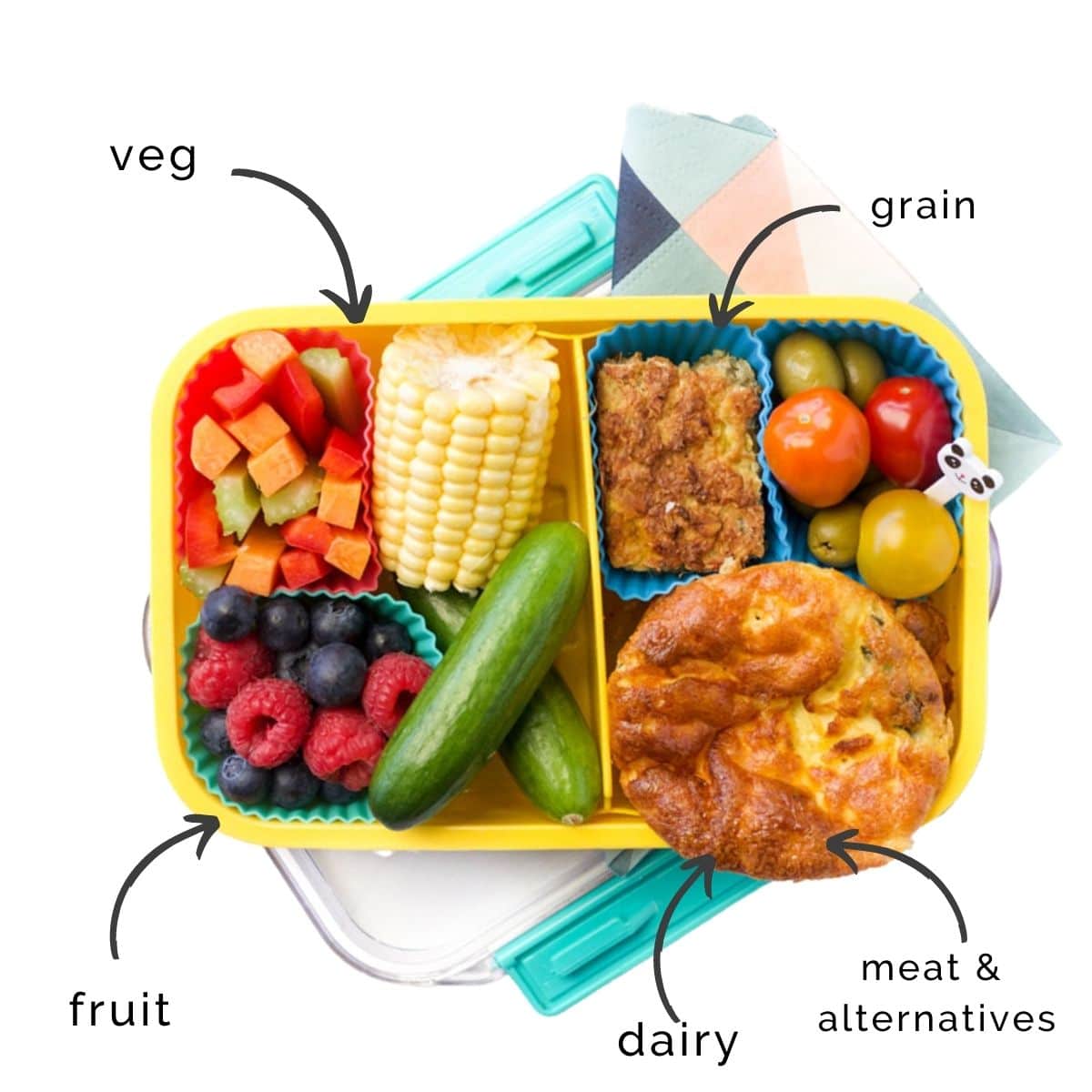 Mini Crustless Quiche, Coconut and Mango Baked Oat Slice, Vegetables, Olives, Mixed Berries.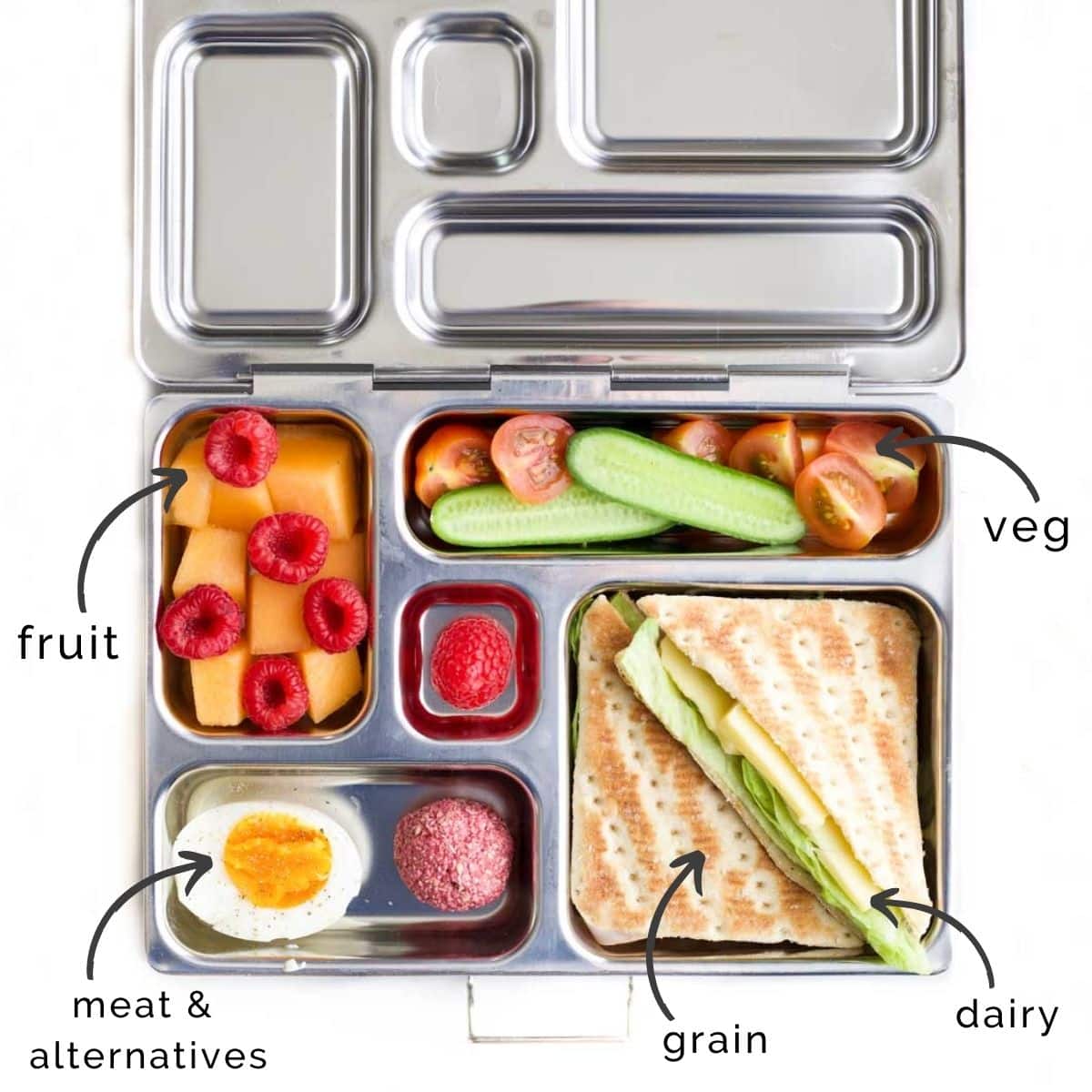 Cheese Sandwich, Cucumber, Tomato, Raspberries, Rock Melon, Egg, Raspberry and Coconut Oat Ball
List of Healthy Lunchbox Ideas
Are you still looking for more inspiration? Here is a list of lunchbox-friendly items, split into the main food groups. Mix and match to create your own balanced lunch.
Fruits
Add whole fruits such as apples, bananas and peaches or cut-up fruits such as melon and mango. Fresh fruit is great but you can also add frozen fruit or canned (look for canned in juice rather than syrup).
apple or apple sauce / puree
apricots
banana (whole)
berries
cherries
figs
grapes
kiwi, peeled and chopped
lychees
mandarin
mango cheeks or slices
melon (all varieties) cut into chunks
nectarine (whole or cut)
peaches (whole or cut)
orange
passion fruit (cut in half, remember a spoon!)
pear
pineapple chunks
plum (whole or cut)
Vegetables
Some vegetables are the perfect size for the lunchbox such as cherry tomatoes, mini cucumber and baby carrots. You can offer raw vegetables or cooked such as sweet potato wedges or mini corn ribs.
avocado (half or guacamole)
bell peppers (capsicum), cut into strips
broccoli florets
baby carrots
beetroot slices
green beans
carrot batons/coins/grated
celery stick (why not try ants on a log)
corn on the cob/kernels/baby corn/corn ribs
cucumber sticks/coins
edamame
peas
snow peas
radishes
cherry/roma/tomato wedges
roasted vegetables
qukes
soup (in thermos)
salad leaves
Grains
bread (sandwich, bread sushi, sandwich kebabs)
bread roll
naan
wraps (pinwheel sandwiches, quesadillas)
pita bread
pasta (salads, tortellini kebabs)
quinoa (quinoa balls, quinoa fritters, quinoa crackers)
crackers
crisp bread
rice cakes
oats (fruity oatmeal cups, oatcakes, oat slice)
noodles
muffins (vegetable muffins, zucchini muffins, sweet potato muffins)
pancakes (scotch pancakes, apple pancakes, strawberry pancakes)
Meat and Alternatives
chicken (chunks, shredded chicken, sliced, drumsticks)
canned tuna (sandwiches, tuna cakes, tuna salad)
cold lean meat slices
mixed beans
fish cakes
eggs (hard-boiled, egg salad, quiche, egg muffins, vegetable frittata)
leftover bolognese, chilli, lentil lasagne etc
lentils (lentil burgers, lentil bake, lentil pancakes)
meatballs (chicken meatballs, spiced meatballs)
tofu
tempeh
Dairy
Tips for Packing a Healthy Lunchbox
Plan and Prepare in Advance
If you plan and prepare in advance you are more likely to pack a healthy lunchbox with variety. Taking a little bit of time to plan can save you a lot of time and stress on a day-to-day basis.
Shopping List
Plan and write a list for the week to ensure you have all the ingredients and avoid last minute rushing.
Freezer Stash
When you have extra time in the evenings, weekends or holidays fill the freezer with freezer-friendly lunchbox items such as bliss balls, lentil bake, fruit-sweetened muffins, savoury vegetable muffins, healthy banana bread, quinoa balls, pancakes, vegetable fritters, scrolls and even sandwiches.
Utilise Leftovers
Leftovers are your friend, make extra at mealtimes and send the leftovers in the lunch box either cold or heated and sent in a thermos.
Food Safety/Freshness
Always make sure foods are cooled before being packed (unless heated for a thermos).
Keep cold foods in the refrigerator until just before packing.
Keep cold items cold in an insulated bag with a freezer gel pack. On hotter days add a frozen yogurt pouch or frozen water to keep things extra cool.
Find the Right Lunchbox
Choose a lunchbox that suits your packing style but also your child.
Bento boxes are great because the sections allow for a variety of fruit and vegetables and even a dip to keep everything visually appealing and interesting. If you don't have a Bento-style lunch box you can divide up your kid's lunch box with silicon patty pans.
Some kids prefer hot meals, thermoses are great for keeping food hot until lunch time.
Keep It Simple
Lunchboxes aren't the time to introduce new foods to your children. Stick to familiar and easy-to-eat items. If you find your child only likes certain foods then keep it interesting by presenting them in different ways. e.g. Serve sandwiches as pinwheels, use cookie cutters to make them visually more appealing or serve them cut up on a stick (sandwich kebabs).
Get Your Kids Involved
Encouraging your children to get involved in preparing their own lunchboxes is a great way to instil healthy eating habits and increased consumption. Get them involved with grocery shopping, give them choices and encourage them to choose foods from each food group.
Allergies
Be aware of any food restrictions that the school may have in place (e.g peanut, nut, egg free etc)
Frequently Asked Questions
My Child Hardly Eats Any of Their Lunch, What Should I Do?
There are limited times for children to eat at school and some children may prefer to play with friends instead of eating. Think about this when you pack a lunch. Pre-peel and chop fruit and pack easy-to-eat items.
Also, think about how much you pack. Too much food can be overwhelming and children may actually eat more if they have less food in their lunchbox.
What Can I Take for Lunch Instead of Sandwiches?
There are so many lunchbox options other than sandwiches. Try bagels, salads, pasta, couscous, rice paper rolls, lentil bake, leftovers or quinoa balls. See the list above to help you create different lunchboxes every day.
What Lunchbox Should I Choose?
When choosing a lunchbox for your child there are several factors to consider such as
1) The size - will it hold enough food for your child or is it too big and heavy?
2) Durability - how will it hold up being thrown around in the schoolbag, is it leakproof
3) Style - Do you like a sectioned lunchbox or do you prefer lunchbox sets with multiple containers?
4) Cost - what lunchbox suits your budget best?
5)Food Preference - Does your child like cold food / hot food/picnic style / large salads?
5) Appearance - Is it fun for younger kids? Is it cool/uncool for older kids?
Looking for more healthy kid recipes?Sign up for my free recipe newsletter to get new family friendly recipes in your inbox each week! Find me sharing more kid-friendly inspiration on Pinterest and Instagram.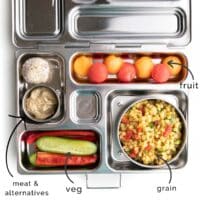 Lunchbox Friendly Pearl Couscous Salad
Serve this salad as part of the main meal and pack the leftovers in the lunchbox the next day.
Prep Time: 15 minutes
Cook Time: 30 minutes
Total Time: 45 minutes
Serves:6
Hover over "serves" value to reveal recipe scaler
Ingredients
Couscous
1 teaspoon olive oil
½ small onion
250g (1½ cups) pearl couscous
375ml (1½ cups) vegetable or chicken broth/stock low sodium
250ml (1 cup) water
Salad
1 red bell pepper (capsicum) finely chopped
2 cucumber seeds removed and diced
2 cups baby spinach finely chopped
¼ cup parsley finely chopped (optional or sub with cilantro/coriander)
Dressing
2 tablespoon lemon juice
3 tbsp extra virgin olive oil
1 teaspoon Dijon mustard
1 teaspoon Honey do not add for baby
¾ tsp Salt skip for baby/younger children
Instructions
Heat oil in a large saucepan over medium heat. Add the onion and saute until translucent and starting to brown (around 5 mins)

Add the couscous and stir for 1 minute. Add the broth/stock and water and bring to a simmer. Cover with a lid and turn the heat to medium-low so it is simmering gently.

Cook for 10 mins, until all the liquid is absorbed and the couscous is cooked through. Use a fork to separate the couscous and transfer to a mixing bowl.

Place all the dressing ingredients in a jar and shake to mix well.

Add the salad ingredient into the bowl with the couscous, add the dressing and toss until combined.
Recipe Notes
Pearl Couscous is also known as Israeli couscous, giant couscous or ptitim.  Salad Ingredients - Not all kids will like the salad ingredients and herbs. You can get creative and change the ratios or salad ingredients to suit your taste. Try adding cherry tomatoes, add a handful of peas or corn or throw in some chopped olives.  Storage - Store in an airtight container and refrigerate for up to 2 days. If you wish to meal prep you can store the cooked couscous (undressed and without the salad ingredients added) for up to 4 days refrigerated.  Nutritional information is a rough guide only, calculated using an online nutrition calculator. 
Nutritional facts
Calories: 253kcal | Carbohydrates: 37g | Protein: 7g | Fat: 8g | Saturated Fat: 1g | Polyunsaturated Fat: 1g | Monounsaturated Fat: 6g | Sodium: 336mg | Potassium: 277mg | Fiber: 3g | Sugar: 3g | Vitamin A: 1790IU | Vitamin C: 34mg | Calcium: 34mg | Iron: 1mg