Raspberry Coconut Breakfast Balls – Oats, ground almonds, coconut and raspberries mixed together to make a great, hand held, breakfast or snack.
These Raspberry Coconut Breakfast Balls were first published in November 2015. Due to reader feedback, I have decided to edit the recipe slightly (October 2017). The original recipe involved mixing the ingredients together and forming balls. Now the recipe involves blending the ingredients together to produce a smoother ball. I also added a small handful of raisins to add sweetness.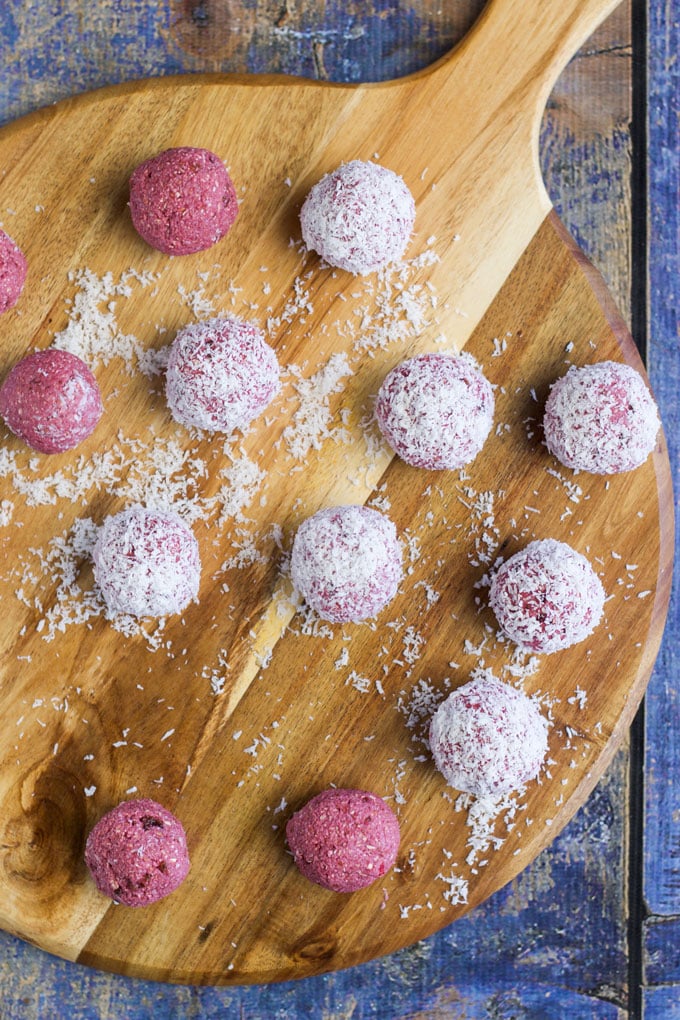 This recipe came about by accident – a raspberry and coconut granola gone wrong! This was a good accident though. These raspberry and coconut breakfast balls are so quick to prepare, really yummy and approved by both kid and baby. With no refined sugar, oats for energy, ground almonds for protein, raspberries and coconut; these little balls of goodness are a great way to start the day.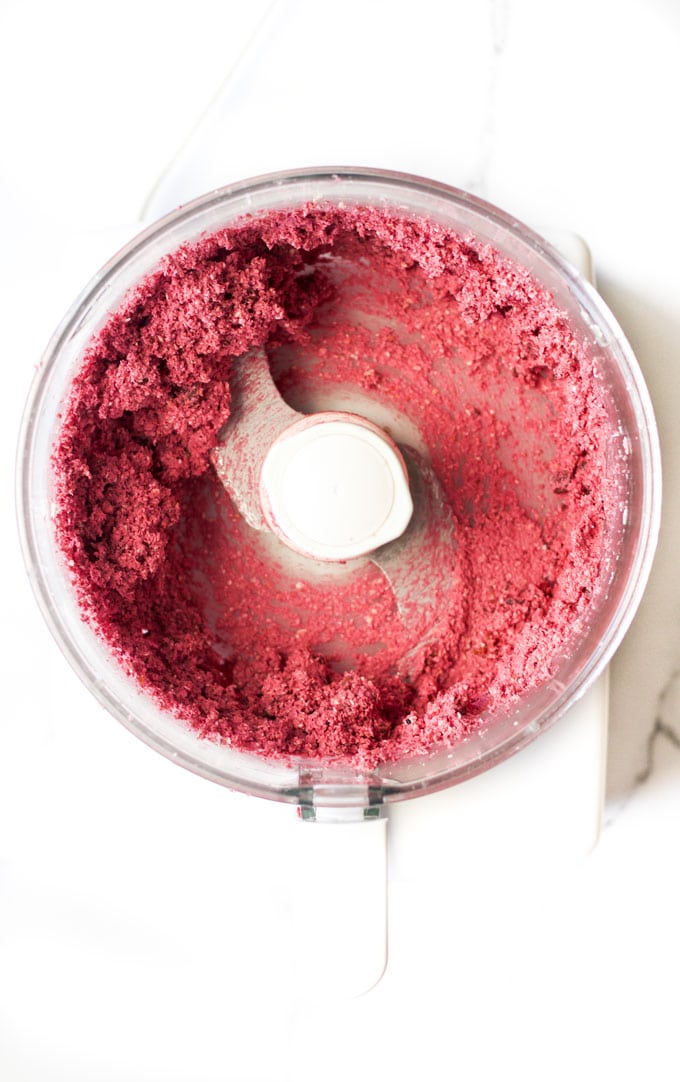 The great thing about this recipe is that it can easily be adapted to suit taste. If you are looking for something sweeter then you can just add extra raisins or a little honey / maple syrup to taste. If you watch the sugar levels in your kid's food then you can just omit the raisins, I usually make them without the raisins and my boys still love them.
I recommend using frozen raspberries in this recipe, they produce this gorgeous vibrant pink colour that no child can resist! I am used to working with grams and I find it difficult to convert certain ingredients properly to cups. The 1/2 cup of raspberries, detailed in the recipe, is a half cup of raspberries once they are defrosted and crushed, not when they are still frozen. For best results, I recommend using the grams measurements.
They are perfect for little hands and were demolished very quickly by Rory (13 months) and Finn (4yrs).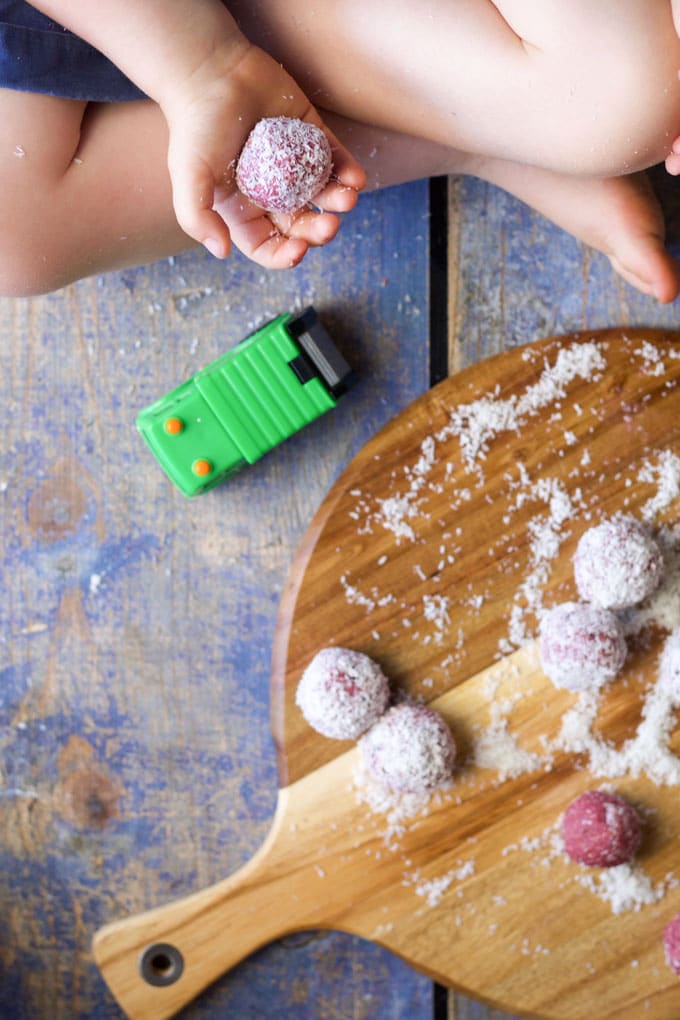 You may also like
Have you tried this recipe? I love receiving your feedback, please rate and leave a comment below or tag me on Instagram @healthylittlefoodies
Looking for more healthy kid recipes?Sign up for my free recipe newsletter to get new family friendly recipes in your inbox each week! Find me sharing more kind-friendly inspiration on Pinterest and Instagram.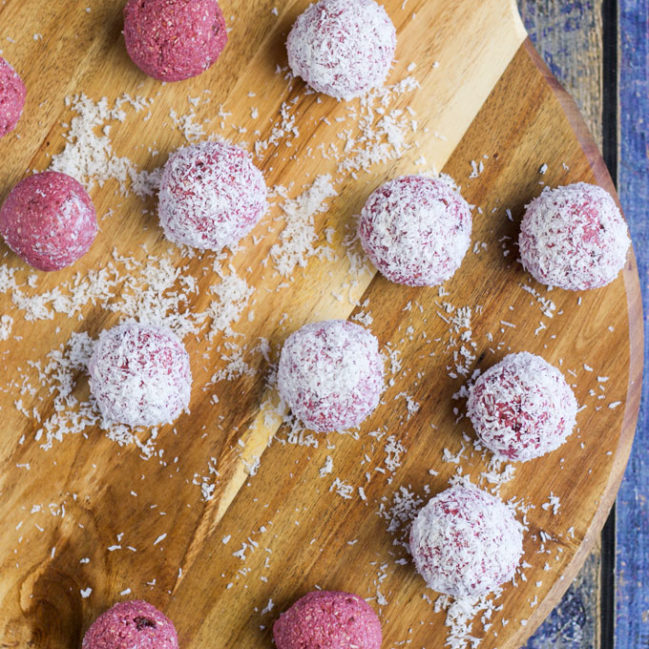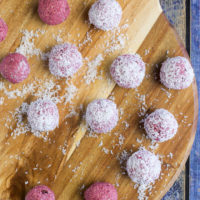 Raspberry Coconut Breakfast Balls
Raspberry and Coconut Breakfast balls are a great hand held breakfast for kids.
Prep Time: 10 minutes
Total Time: 10 minutes
Serves:14 balls
Hover over "serves" value to reveal recipe scaler
Ingredients
110g 1 cup rolled oats
56g 1/2cup almond flour
28g 1/3 cup unsweetened desiccated coconut
134g 1/2 cup defrosted and crushed frozen raspberries
35g 1/4 cup raisins / sultanas
28g 1/3 cup Unsweetened desiccated Coconut (FOR ROLLING)
Instructions
Put all the ingredients (apart from the coconut for rolling) into a food processor and blend until smooth.

Roll into balls (I made 14) and coat in coconut.
Recipe Notes
Make sure the raspberries are crushed before adding to the mixture.
Store in the fridge in an airtight container. Nutritional Information is a ROUGH guide only, calculated using an online nutrition calculator. 
Nutrition Facts
Raspberry Coconut Breakfast Balls
Amount Per Serving (1 0f 14)
Calories 117 Calories from Fat 37
% Daily Value*
Fat 4.1g6%
Sodium 6.4mg0%
Carbohydrates 16g5%
Sugar 3.1g3%
Protein 3.2g6%
* Percent Daily Values are based on a 2000 calorie diet.