Easy to make and bursting with flavour; these Zucchini Fritters make a great lunch, side dish or snack.
Every time I tell my eldest that we are making Courgette Fritters he rolls his eyes and says "You mean Zucchini Fritters."
Whether you call these zucchini or courgette fritters I'm pretty sure you are going to love the zesty fresh taste of these gorgeous bites.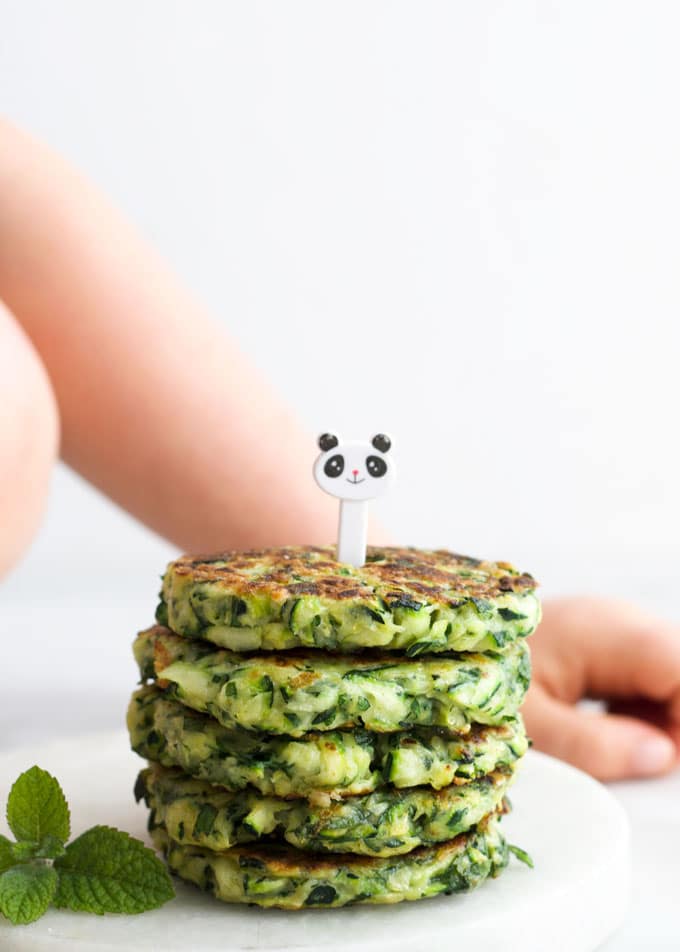 How to Make Zucchini Fritters
Prepare the Zucchini – Grate the zucchini using a box grater or food processor and then squeeze out the liquid. You want to make sure you squeeze, squeeze, squeeze and then squeeze some more to get as much liquid out of the zucchinis as possible. This is important to ensure you do not end up with soggy fritters.
Prepare the Batter – Mix the egg, zucchini, parsley, mint and lemon zest together and then sprinkle the flour on top, stirring until combined.
Fry – Heat 1 tbsp of oil in a frying pan over medium heat. Scoop a 1/4 cup of the mixture, form into a pattie shape around 1cm (1/3 inch) thick and fry for 3 minutes on each side. (Adjust heat if browning too quickly)

Allergy Options
I am often asked to recommend alternatives for high allergen foods and have therefore trialled both egg and gluten-free versions of this recipe.
Egg Free – I replaced the egg with a flax egg which worked really well. I did find the mixture slightly drier but it still formed into a fritter. If too dry, add a tbsp of the zucchini juice to the mixture.
Gluten Free – I trialled this recipe with both chickpea flour and almond flour. Chickpea flour produced the better result and you just need to substitute 1:1. The almond flour required an extra egg to hold the fritter together, this did alter the flavour and texture but still produced a tasty fritter.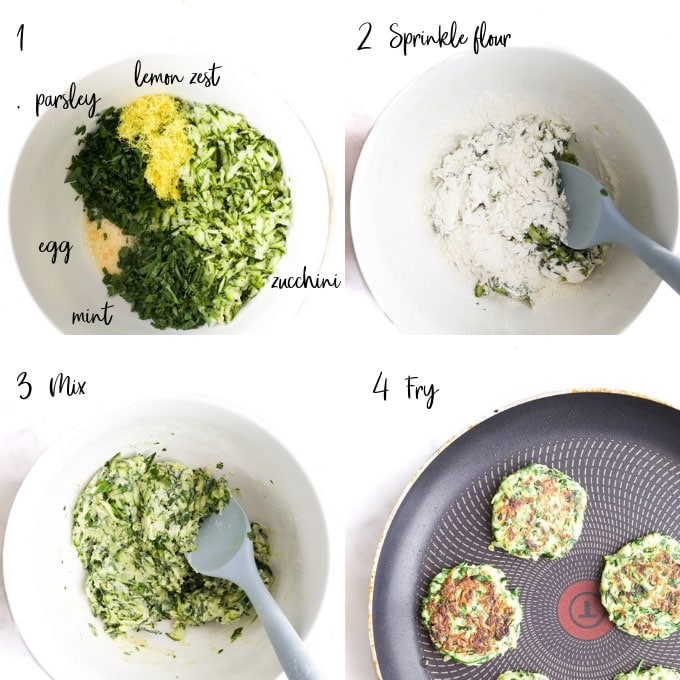 Flavouring Zucchini Fritters
Zucchinis have a very mild flavour which makes them ideal for adding flavour to. In this recipe, I've given them a zesty fresh taste by using lemon zest and fresh herbs.
If this flavour combination isn't for you then why not try adding some parmesan cheese or feta. Cheese works great in fritters and can enhance their texture (parmesan makes them nice and crisp on the outside.)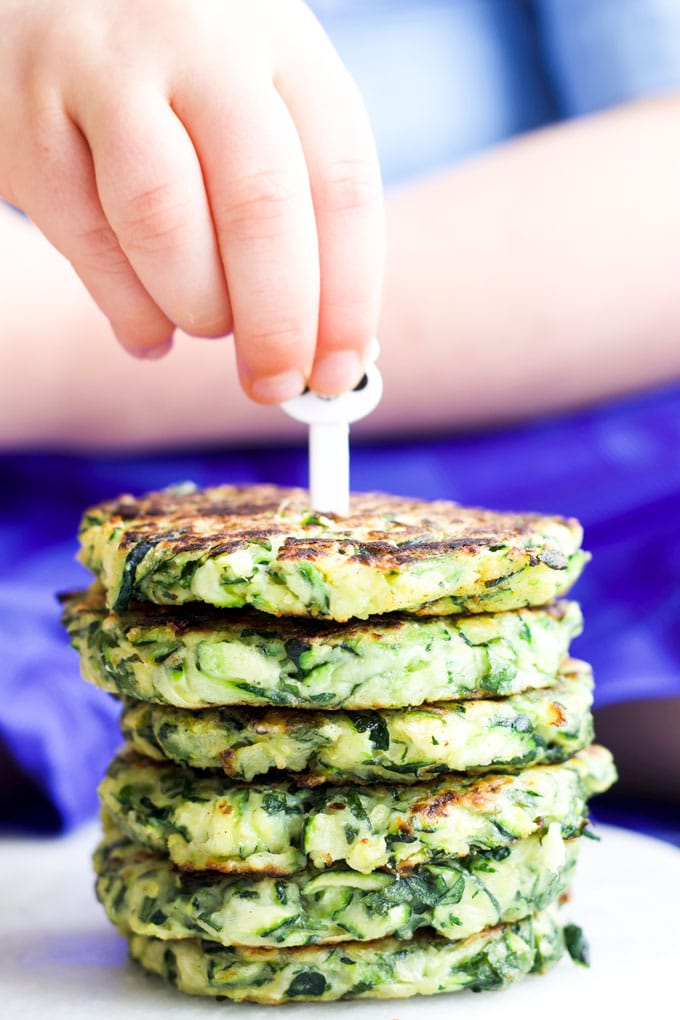 Zucchini Fritters for Babies
Fritters are a fantastic finger food for serving up different vegetables to babies. Their texture is perfect for nibbling on yet they are firm enough not to be crushed by those cute, chubby grips!
These zucchini fritters do contain quite a lot of fresh herbs and you may wish to reduce the amounts slightly. Just remember, however, that baby food doesn't need to be bland. Introducing different flavours early means that they will be more likely to accept them when they are older, and (usually) fussier.
Storing Zucchini Fritters
These fritters are best eaten straight away but can be both refrigerated and frozen.
Refrigerate: Store in an airtight container and refrigerate for up to 1 day
Freeze: Freeze on a baking tray, in a single layer, until frozen. Once frozen transfer to a freezable container/ziplock back and freeze for up to 3 months.
To reheat, thaw and gently reheat in a frying pan/skillet.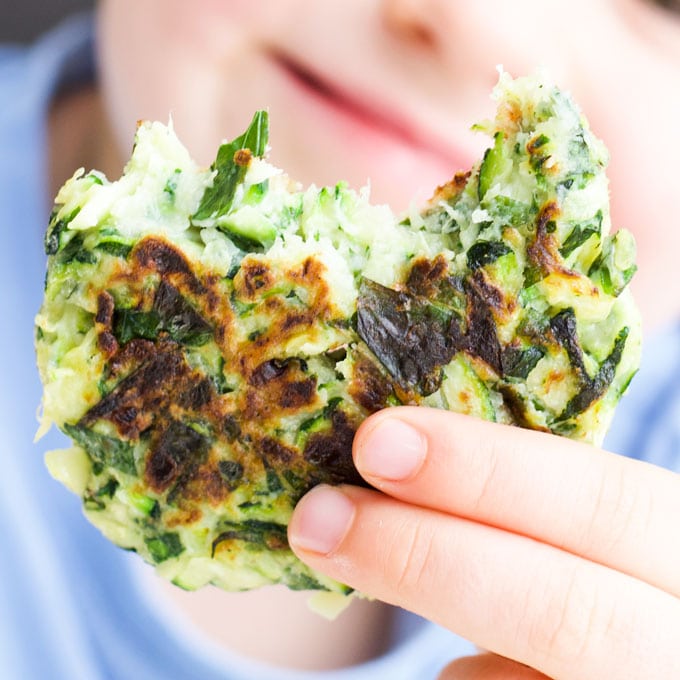 Other Fritter Recipes
Have you tried this recipe? I love receiving your feedback, please rate and leave a comment below or tag me on Instagram @healthylittlefoodies
Looking for more healthy kid recipes?Sign up for my free recipe newsletter to get new family friendly recipes in your inbox each week! Find me sharing more kid-friendly inspiration on Pinterest and Instagram.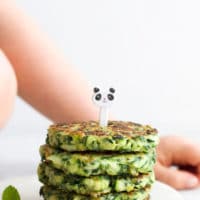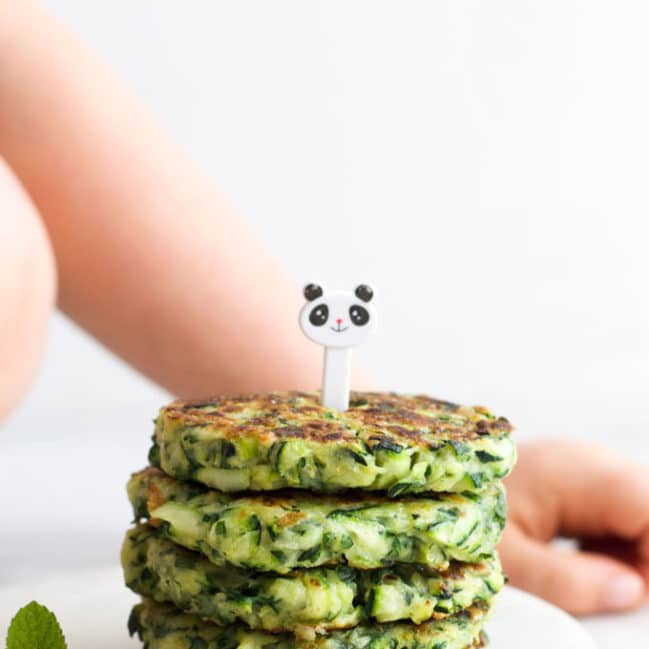 Zucchini Fritters
Easy to make and bursting with flavour; these Zucchini Fritters make a great lunch, side dish or snack.
Prep Time: 15 minutes
Cook Time: 12 minutes
Total Time: 27 minutes
Serves:8 fritters
Hover over "serves" value to reveal recipe scaler
Ingredients
500g (1lb) Zucchini (approx. 3 medium zucchinis)
1/4 cup Parsley, chopped
1/4 cup Mint, chopped
1 Zest of 1 lemon
1 Egg, whisked *SEE NOTE 1 for egg free option
65g (1/2 cup) All Purpose / Plain Flour *SEE NOTE 2 for gluten free option
1 tbsp Avocado Oil *SEE NOTE 3
Instructions
Grate the zucchini and place in a clean dish towel or a nut bag. Squeeze to remove as much excess water as you can. *SEE NOTE 4

Add the zucchini, parsley, mint, lemon zest and egg to a large mixing bowl and stir until combined.

Sprinkle the flour into the bowl and stir until just incorporated. The batter will be quite thick (see pictures above).Season to taste (do not add salt if serving to baby / young child)

Scoop a 1/4 cup of the mixture, form into a pattie shape around 1cm (1/3 inch) thick. Repeat to make seven - eight patties.


Heat oil in a frying pan over medium heat. Place half the fritters in the pan and cook for approx 3 mins on each side (adjusting the temperature if browning too quickly). Repeat with the remaining fritters.
Recipe Notes
The egg can be replaced with a Flax Egg. If fritter mixture is very dry add 1/2 - 1 tbsp of the zucchini juice to the mixture. 
Replace flour with chickpea flour. I have also trialled with almond flour but the result wasn't as good. If using almond flour you will need to add another egg to help bind. 
You can use oil of choice. The amount of oil needed will depend on pan used, with non-stick pans requiring less oil. 
It is important to squeeze as much liquid out as possible or your fritters will be soggy. Save the juice and add it to sauces/smoothies etc!
Nutritional information is a rough guide only, calculated using an online nutrition calculator. 
Nutrition Facts
Zucchini Fritters
Amount Per Serving
Calories 65 Calories from Fat 18
% Daily Value*
Fat 2g3%
Cholesterol 20mg7%
Sodium 14mg1%
Potassium 197mg6%
Carbohydrates 8g3%
Fiber 1g4%
Sugar 1g1%
Protein 2g4%
Vitamin A 370IU7%
Vitamin C 15.1mg18%
Calcium 19mg2%
Iron 0.9mg5%
* Percent Daily Values are based on a 2000 calorie diet.