This dairy-free, vibrant Beetroot Dip has a slightly sweet yet earthy taste and a beautiful velvety texture. Just make sure your child is wearing a bib (or nothing at all), this dip stains!!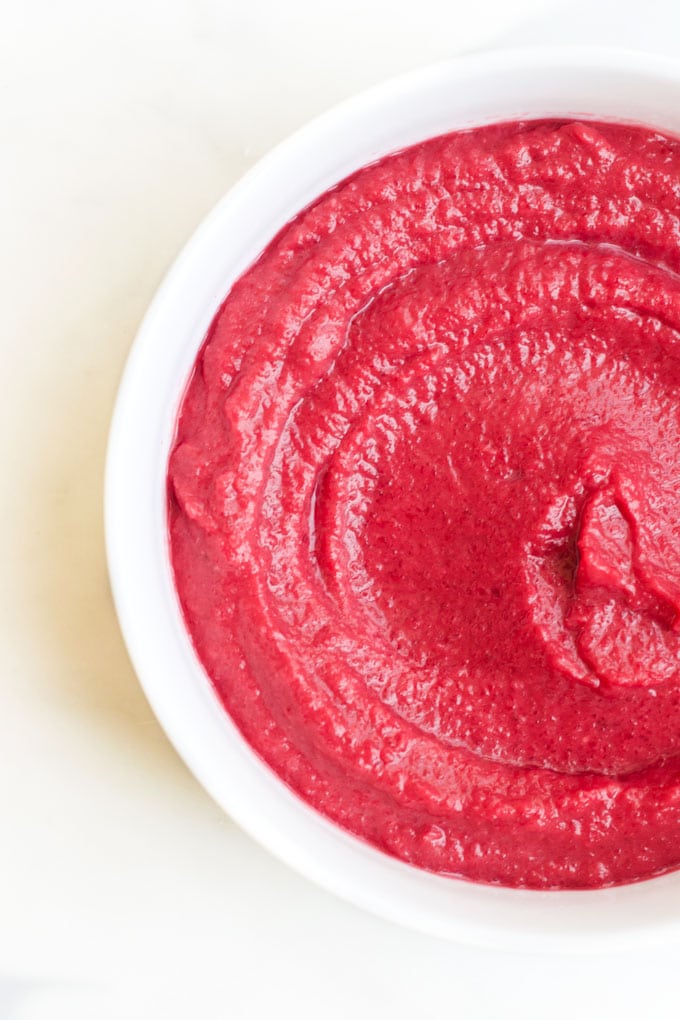 It is hard to make sure our children are reaching their vegetable targets for the day and I'm always looking for new and exciting ways to serve veggies.
Dips are a fantastic way to encourage children to eat their vegetables and it is a win-win situation if that said dip also features a vegetable. That's what makes this Beetroot Dip so great.
Including beetroot in your kid's diet is great for their health. Beetroot contains potassium, magnesium, iron, vitamins A, B6 and C, folic acid, carbohydrates, protein and soluble fibre.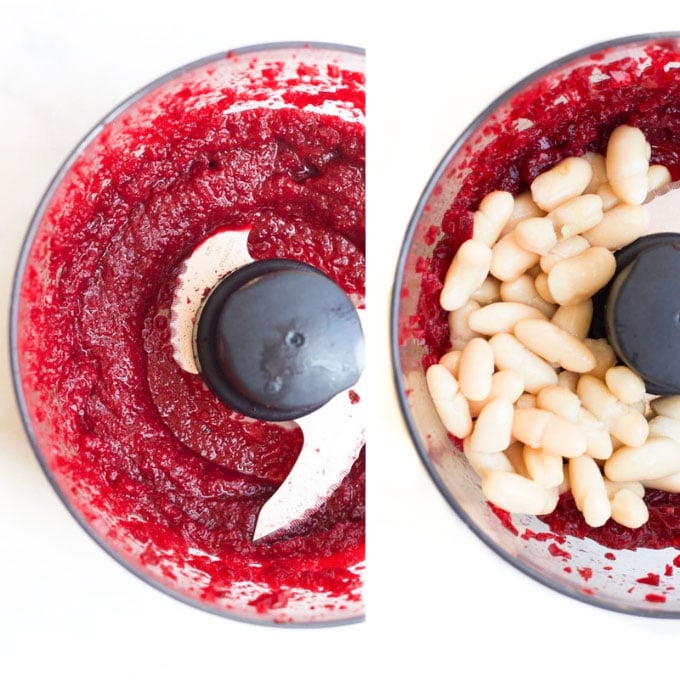 How to Make Beetroot Dip
This is such a simple dip to make and the food processor does all the hard work for you. All you need is
Cooked beetroots (I buy cooked fresh beetroot in a vacuum pack but you can cook your own from raw or used canned if you wish),
Cannellini beans ( I use canned)
Lemon zest
Garlic
I like to blitz the beetroot, in the food processor, before adding the remaining ingredients but it isn't necessary. I just feel it makes the dip extra smooth.
If you find your dip is on the runny side then add more beans to thicken it up. If you feel it is too thick then try adding a squeeze of lemon juice, it will also add great flavour.
Don't have /like cannellini beans? You can also make this dip with
Greek Yoghurt (replace the beans with approx ½ cup greek yoghurt)
Cream Cheese (replace the beans with approx ½ cup cream cheese)
Serving Suggestions
Veggies
Crackers
Warm Crusty Bread
Pitta Bread
Storage Instructions
Refrigerate: Keep in an airtight container and refrigerate for up to 3 days
Freeze: I haven't actually tried freezing this dip but do not see a reason why it wouldn't freeze well. Freeze it in small portions in airtight containers. Defrost overnight in the refrigerator.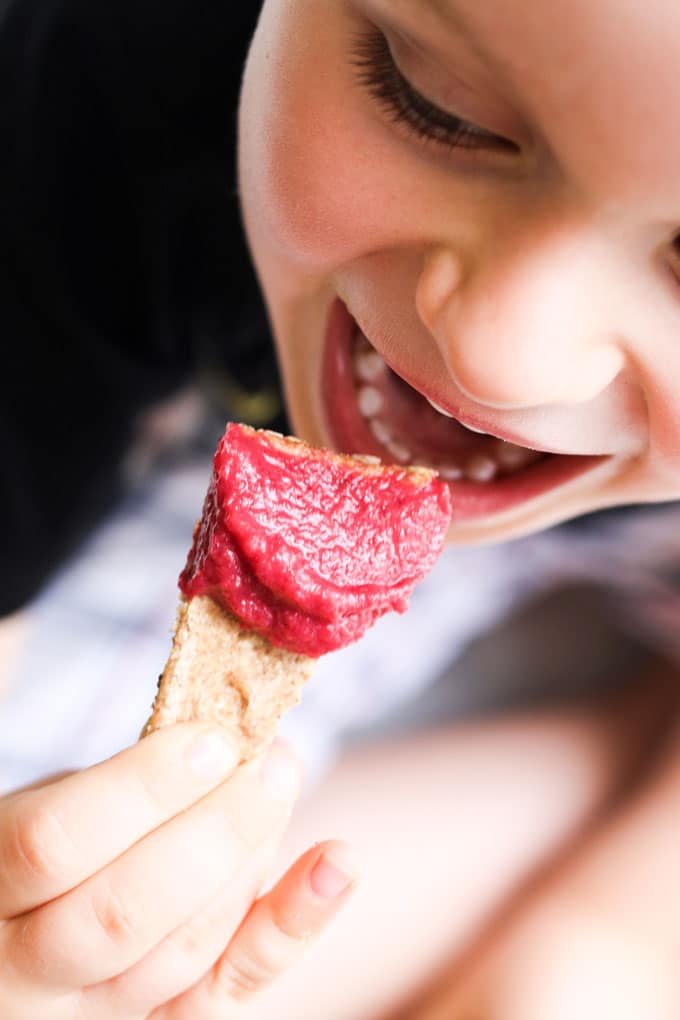 You may also like
Looking for more healthy kid recipes?Sign up for my free recipe newsletter to get new family friendly recipes in your inbox each week! Find me sharing more kid-friendly inspiration on Pinterest and Instagram.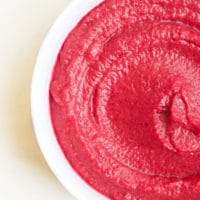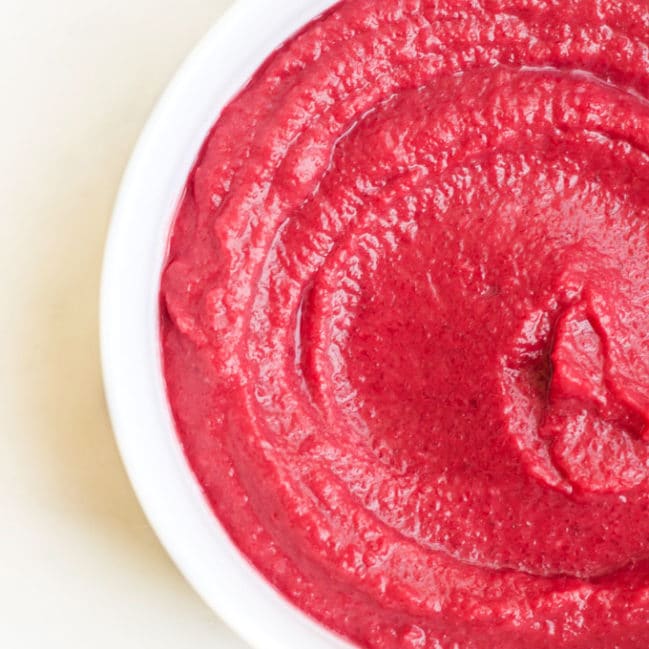 Beetroot Dip
A bright and delicious dip.
Prep Time: 10 minutes
Cook Time: 0 minutes
Total Time: 10 minutes
Serves:4
Hover over "serves" value to reveal recipe scaler
Ingredients
125g (4.4 oz) Cooked Beetroot (1 to 2 beetroots depending on size)
400g (14 oz) Can Cannellini Beans, drained
1 Garlic clove - crushed
½ Lemon (zest)
Instructions
Add the beetroot to a food processor and blend until broken down. Add the remaining ingredients and continue to blend until smooth.
Recipe Notes
Don't like / have cannellini beans?  You can replace them with approx ½ cup yoghurt or ½ cup cream cheese. 
Dip to runny? Add some more beans to thicken. 
Dip to thick? Add a squeeze of lemon juice (it adds great flavour too)
Nutritional information is a ROUGH guide only, calculated using an online nutrition calculator. 
Nutritional facts
Calories: 87kcal | Carbohydrates: 19g | Protein: 6g | Fat: 1g | Saturated Fat: 1g | Sodium: 240mg | Potassium: 102mg | Fiber: 6g | Sugar: 2g | Vitamin C: 2.7mg | Calcium: 65mg | Iron: 2.4mg