Pear puree is a tasty puree for babies and toddlers, but also a fantastic addition to your oatmeal, yogurt, baking, smoothies, and even cocktails. Discover flavour combinations and storage tips in this ultimate guide to making pear puree.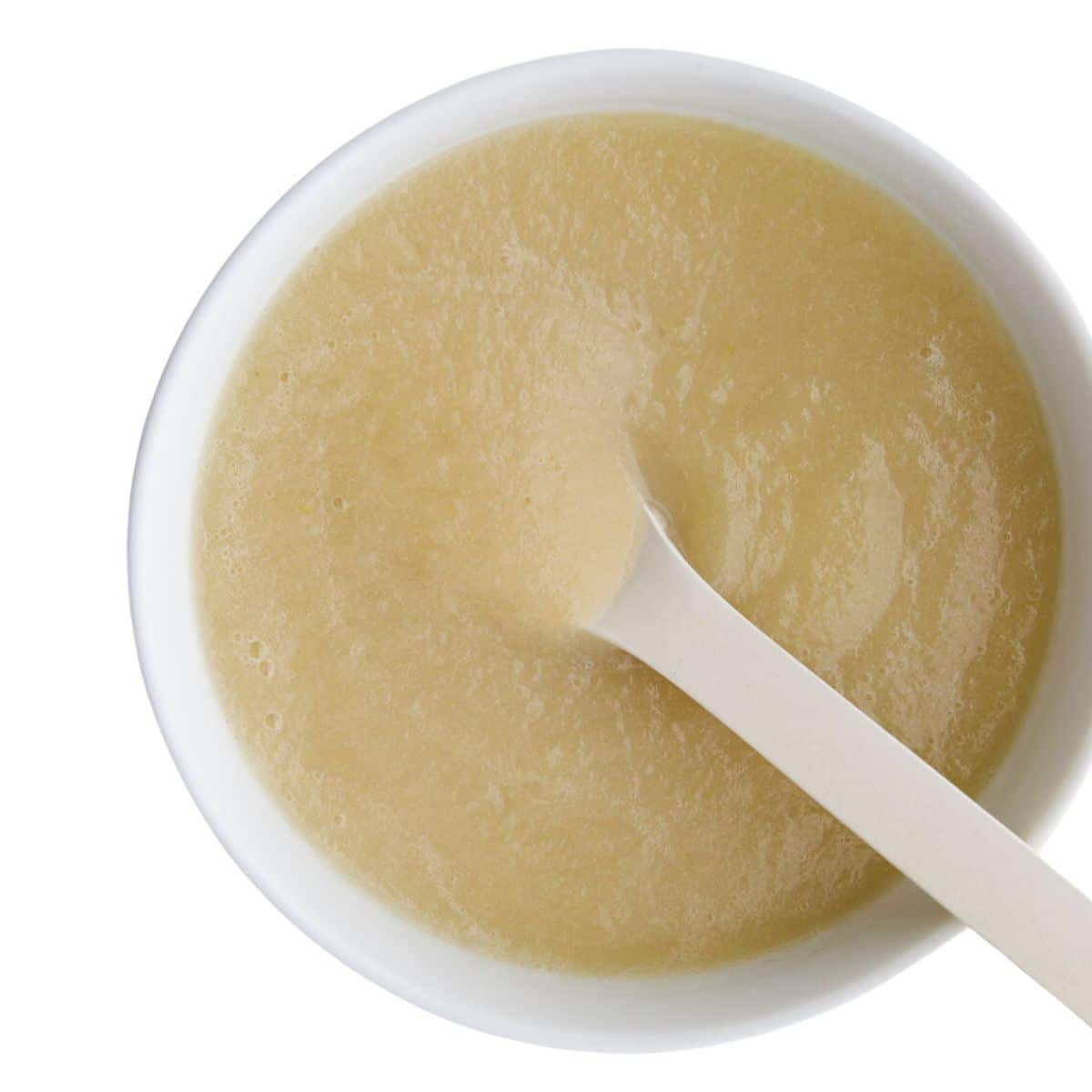 Jump to:
Reasons to Love This Puree
Natural Sweetness: Pear puree boasts a naturally sweet and delightful flavour that requires no added sugars. When enhanced with spices like ginger, cinnamon, or cardamom, it takes on a whole new dimension of taste, making it a wholesome yet flavorful baby food.
Versatile: Pear puree is incredibly versatile and can be used in a variety of ways. It's perfect for introducing your baby to solids, and as they grow, it can be seamlessly integrated into recipes for baked goods, oatmeal and smoothies.
Nutrient-Rich: Pears are rich in essential nutrients, including dietary fiber, vitamins, including vitamin C and A, and antioxidants.
Cost-Efficient: Making your own baby food at home is a cost-effective alternative to purchasing pre-packaged baby food. By buying fresh, in-season pears and opting for simple, optional spices, you can produce a large batch of pear puree at a fraction of the cost of store-bought varieties.
Video Tutorial
Ingredient Information
For the full recipe, with ingredient amounts, scroll to the recipe card at the bottom of the post.
Pears: The type of pear you choose will depend on your taste preferences and what is available in your area. Make sure to use fresh pears. Ripe and juicy pears work best. Pictured is Packham Pears. Some other popular varieties suitable for pear puree include Bartlett Pears (Willian Pear), Anjou Pear, Bosc Pear, Conference Pear and Comice Pear.
Spices (optional): Try adding a little ground ginger, cinnamon, cardamom, clove, star anise or vanilla to introduce new a exciting flavours to your baby's palate.
Step By Step Instructions (with Images)
This section features step-by-step photos for visual reference. The complete recipe can be found by scrolling to the recipe card at the bottom of the post.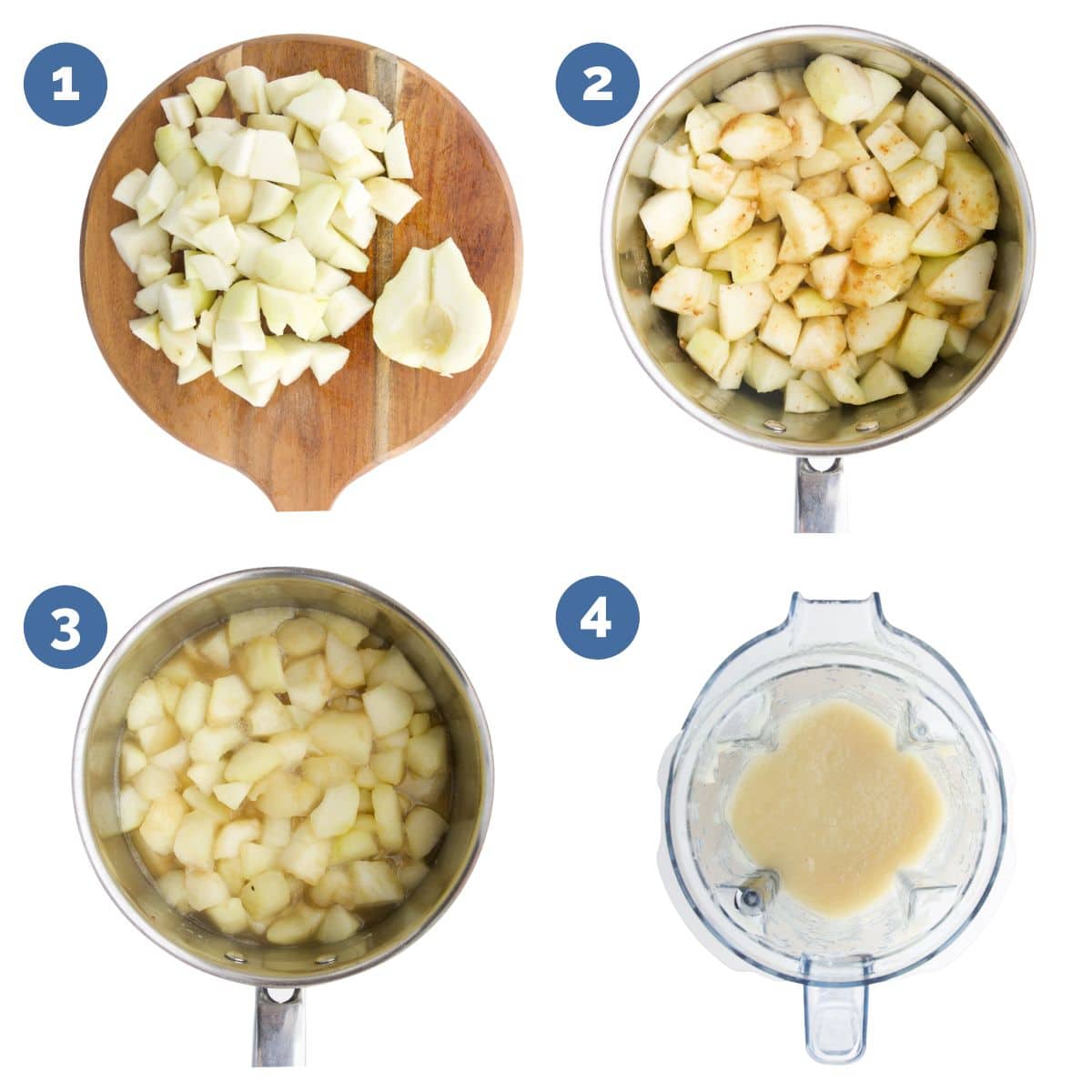 Prepare pears: Peel, core and chop the pears.
Combine ingredients: Place the chopped pears in a pan with a little water and desired spice.
Cook: Simmer over low heat until the pears are tender, which can take 4-15 minutes. The amount of time required will be dependent on the variety of pear and how ripe they are. Monitor the cooking to prevent burning. The amount of water released when cooking will vary depending on the pears. If you find you have a lot of liquid, drain the pears reserving the cooking liquid. \
Blend: Transfer the cooked pears to a blender, food processor or use an immersion blender to blend until smooth.
Expert Tips
Cooking Methods: If you wish you can choose to steam the pear, using a steamer basket, or place the pear pieces on a baking sheet and roast until soft.
Just a touch of water: It doesn't seem like a lot of water but the scant amount of water allows for a fresher taste and best nutrient retention.
Vary texture: A smooth texture will be achieved using a blender or food processor but introducing babies to different textures is also important. If you want a chunkier texture consistency, consider mashing with a fork or potato masher.
Serving Suggestions
This deliciously sweet puree shouldn't be limited to babies! Other great uses include
Swirling - swirl through oatmeal, yoghurt or ice cream to add sweetness and flavour.
Baking - use it to naturally sweeten baked goods or as a fat/egg/apple sauce replacement.
Smoothies - add a frozen cube or two to a smoothie.
Cocktails - when the kids go to bed whip yourself up a fancy cocktail (this Pear Collins sounds delicious!)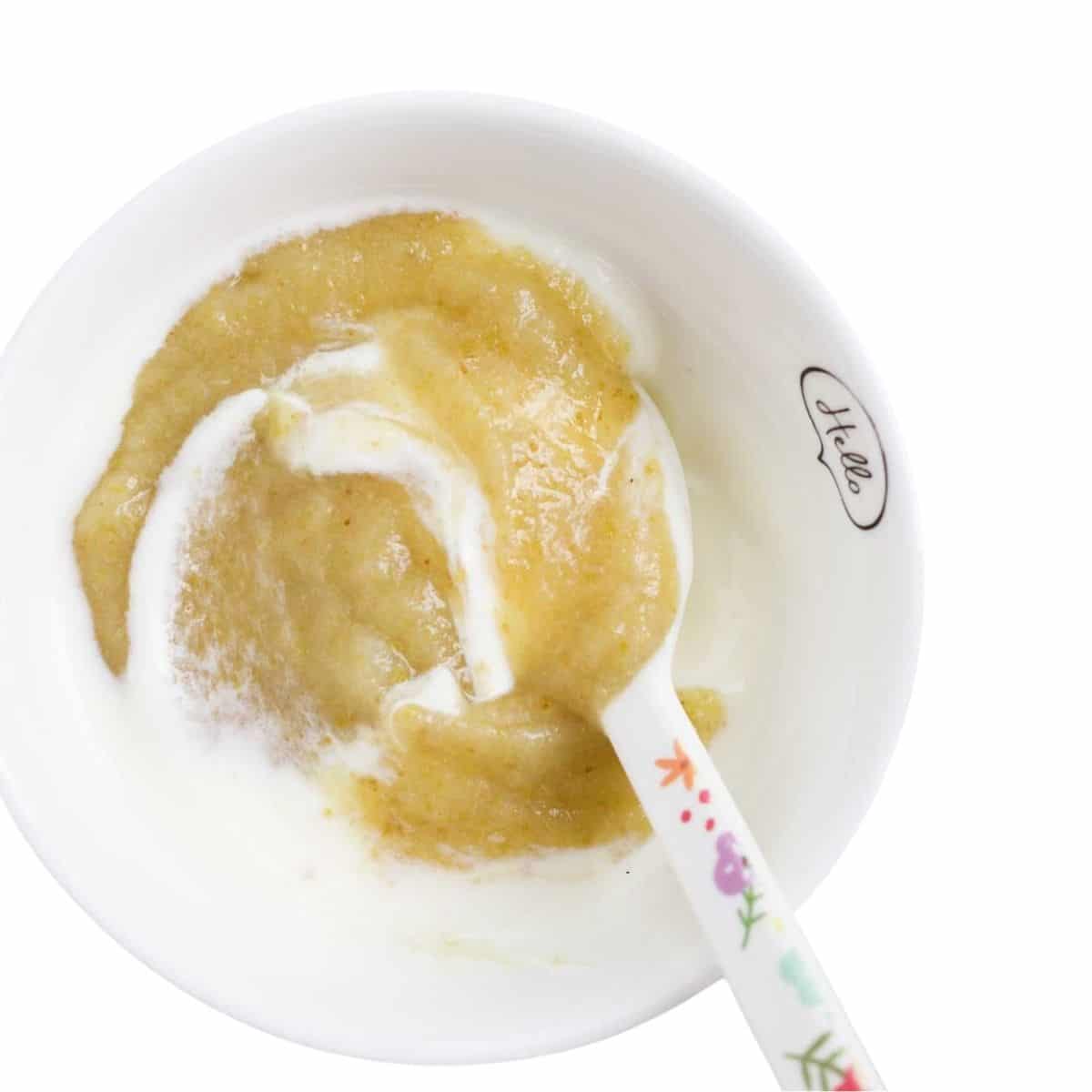 Storage Instructions
Refrigerate: Allow the puree to cool, place in an airtight container/s and refrigerate. For longer storage, add lemon juice when cooking the pears.
Freeze: Allow the puree to cool, pour it into silicone ice cube trays, cover and freeze until solid (around 4 hours +). Once fully frozen, transfer them to a freezer bag or airtight container and return to the freezer. Store for up to 3 months.
Thaw: Thaw in the refrigerator overnight, or reheat, from frozen, on the stovetop or microwave. Be sure to continually stir the food while reheating to ensure even heating and eliminate any hot spots.
Learn more about storing and thawing baby food.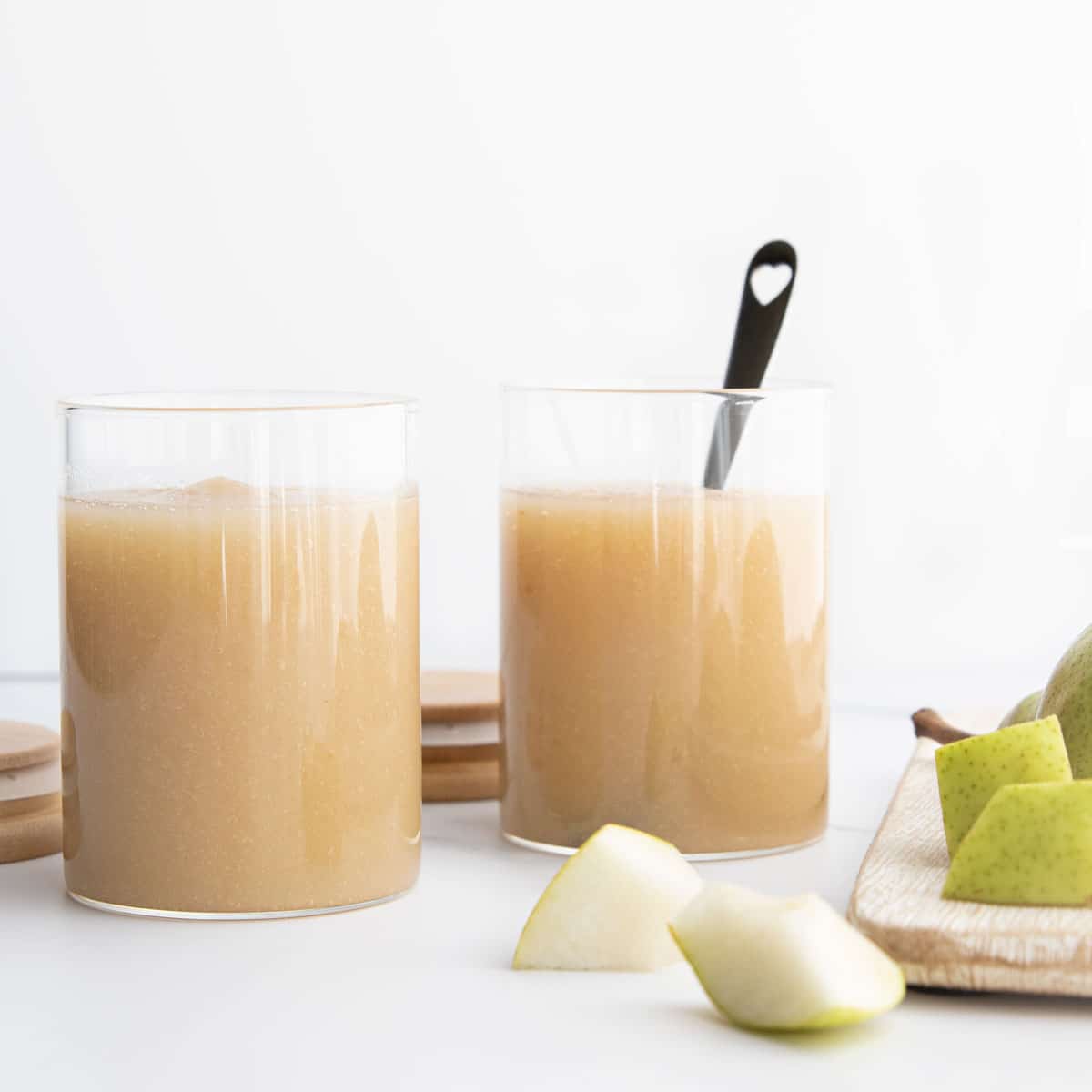 Recipe FAQS
What are some good combinations with pear puree?
I always encourage parents to experiment with herbs and spices when making baby food. Pears pair beautifully with a range of spices and herbs, why not try adding a little cinnamon, ginger, cardamom, clove, nutmeg, star anise or vanilla when cooking the pear. (If using whole spices remove before blending).  Alternatively try livening up the puree with a little fresh basil, mint or rosemary. Add before blending. 

Pears also combine well with both sweet and savoury purees. Why not try mixing it with...
Apple Puree, Banana Puree, Beet Puree, Blueberry Puree, Butternut Squash Puree, Chicken Puree, Kiwi Puree, Papaya Puree, Prune Puree, Strawberry Puree or Sweet Potato Puree
​
Do you have to cook the pears?
No, if your pears are really ripe they should be able to blend without cooking.
Do you have to peel the pears to make puree?
No. Pear skins are totally safe and easy to digest for the stomach. In fact, a lot of the pear's nutrients are found on the skin or just below the skin. If you do keep the skin on you may need to cook the pears for longer and the puree will not be as smooth (unless you have a powerful blender).
My puree is grainy, what did I do wrong?
Nothing! Pears contain stone cells which can give them a gritty texture. Stone cells are developed in pears as they ripen on the tree and this is why they are picked before they are ripe.
Is pear puree good for constipation?
Pears are a popular natural remedy for constipation in little ones.
Do you have to puree pears for babies?
No. However, it's essential to be aware that pears can pose a choking risk for babies because they can be firm. If you plan to offer them as a finger food, you can reduce the risk by steaming, poaching, or baking the pears until they are soft and can be easily pierced with a fork. Alternatively, if you have very soft, ripe pears that mash easily with slight pressure, you can skip cooking and offer your baby large pieces that are easy to hold onto.
Other Puree Recipes
Looking for more healthy kid recipes?Sign up for my free recipe newsletter to get new family friendly recipes in your inbox each week! Find me sharing more kid-friendly inspiration on Pinterest and Instagram.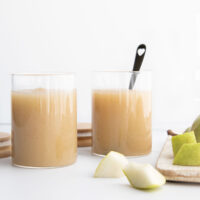 Pear Puree
Pear puree not only tastes delicious, it is also a good source of fibre and is rich in vitamin C. Delicious on its own, spiced or mixed with a range of other purees.
Prep Time: 10 minutes
Cook Time: 10 minutes
Total Time: 20 minutes
Serves:15 baby portions
Hover over "serves" value to reveal recipe scaler
Equipment
Blender / Food Processor / Stick Blender

Pot with lid
Ingredients
6 Pears
4 tablespoon Water
Spices optional - see notes
Instructions
Wash and peel the pears.

Halve and core each pear and then cut into small pieces.

Add the chopped pears and 4 tablespoon of water (and spices if desired) to a pot. Cover and cook over low heat until tender. (This will depend on how soft the pears were before cooking - anywhere from 4-16 mins)

Once cooked transfer the pears to a food processor/blender and puree to desired consistency.
Recipe Notes
You can use any variety of pear.
If you prefer a thicker consistency you can mash instead of puree.
If your pears are really ripe you may not have to cook before pureeing/mashing.
SPICES - Why not try adding a little cinnamon, ginger, cardamom, clove, nutmeg or star anise when cooking the pear.  If using whole spices, remove before blending.
Nutritional information is a ROUGH guide only, calculated using an online nutrition calculator. 
Nutritional facts
Calories: 41kcal | Carbohydrates: 11g | Protein: 1g | Fat: 1g | Saturated Fat: 1g | Sodium: 1mg | Potassium: 83mg | Fiber: 2g | Sugar: 7g | Vitamin A: 18IU | Vitamin C: 3mg | Calcium: 6mg | Iron: 1mg