This pie is lovely and soft making it perfect for both spoon-fed and baby-led weaning babies. Of course, it isn't limited to just baby food, Lentil Shepherd's Pie is a delicious family meal for all ages.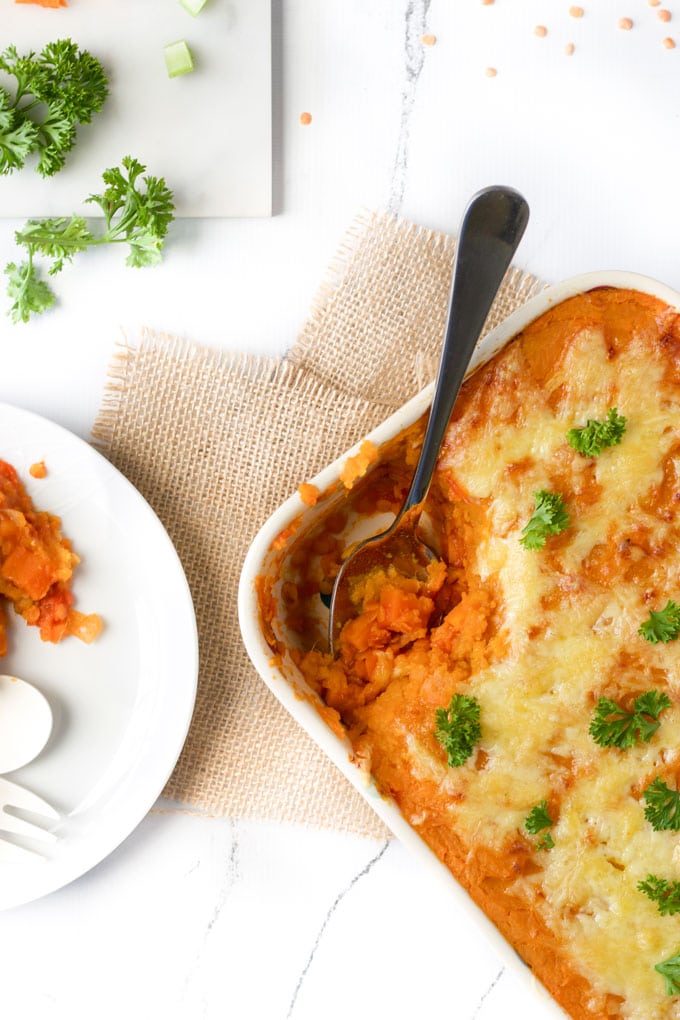 What is Shepherd's Pie
Shepherd's Pie, or Cottage Pie, is a meat pie with a crust of mashed potato. Shepherd's Pie is generally made with lamb, and Cottage Pie usually applies to one made with beef.
So technically this isn't a Shepherds Pie at all. Often meat-free versions are named Shepherdless Pies but I've just stuck with Shepherd's Pie for this recipe!
The Lentil Base
The lentil base is something I make a version of regularly. I use it in Lentil Lasagne or serve it as an alternative to a meat bolognese. It is easy to make and very baby / child-friendly.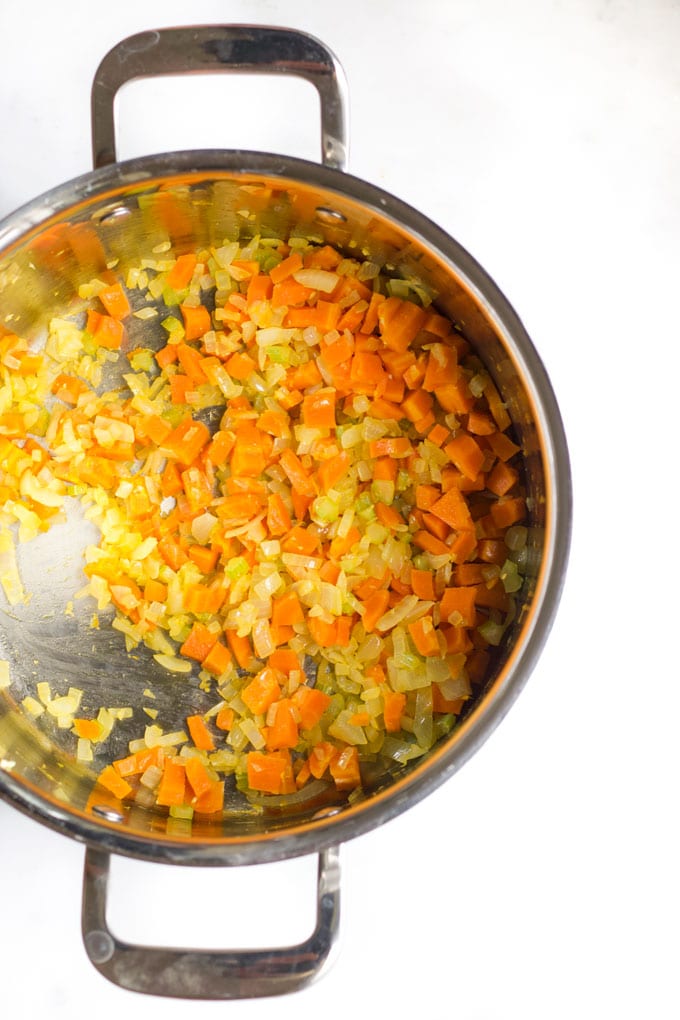 Do You Have to Use Sweet Potato?
I used sweet potato for this Lentil Shepherd's Pie recipe because Finn (and now Rory) are crazy over sweet potato. I have, however, also made this pie using standard mashed potato and have even made a version using a mixture of mashed potato with mashed carrot, like in this Five a Day Pie.
Use what you think your kids would like best. If they love the pie you can always try a different topping the next time you make it!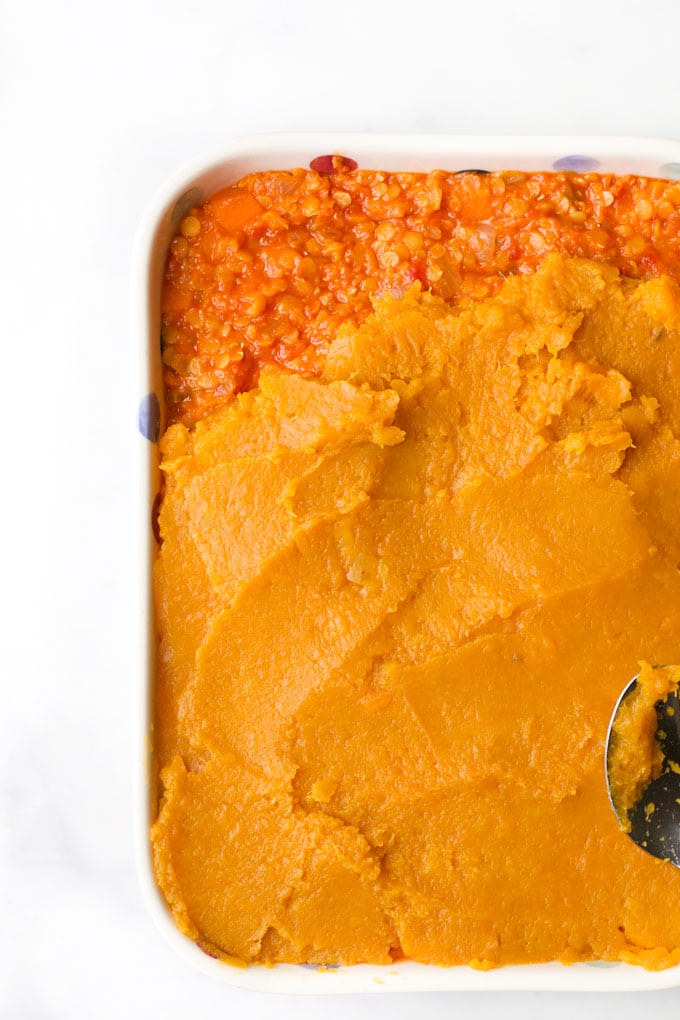 Finn (now 6) still enjoys this dish. It is a perfect meal solution for when I have no meat in the fridge. Lentils are a good source of protein and the whole dish is full of vegetables to help reach your five a day.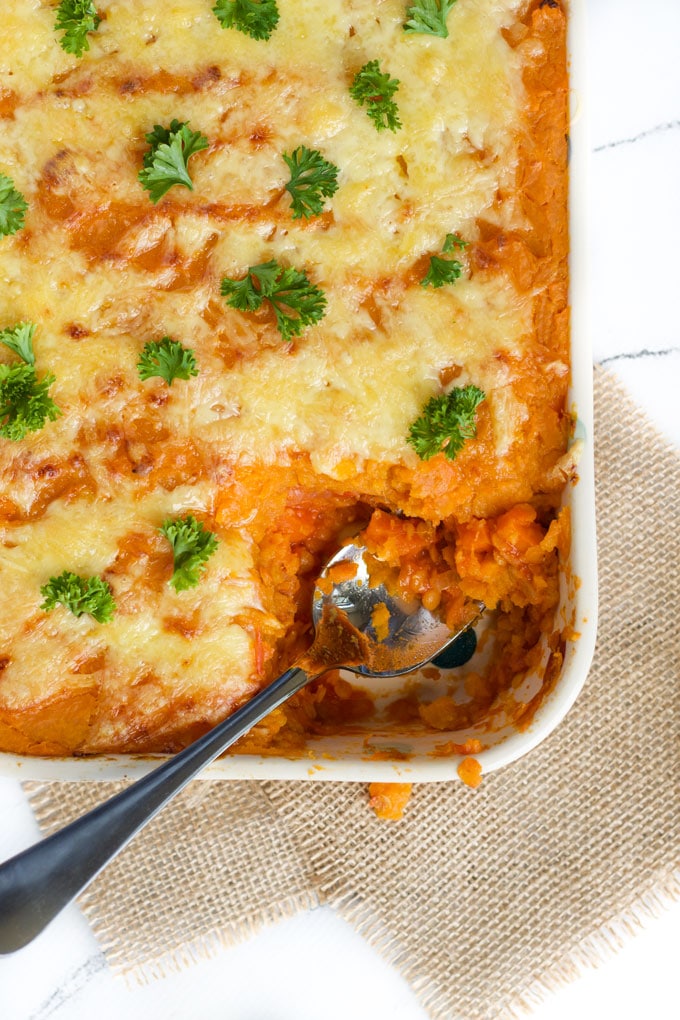 Looking for more healthy kid recipes?Sign up for my free recipe newsletter to get new family friendly recipes in your inbox each week! Find me sharing more kid-friendly inspiration on Pinterest and Instagram.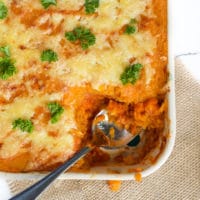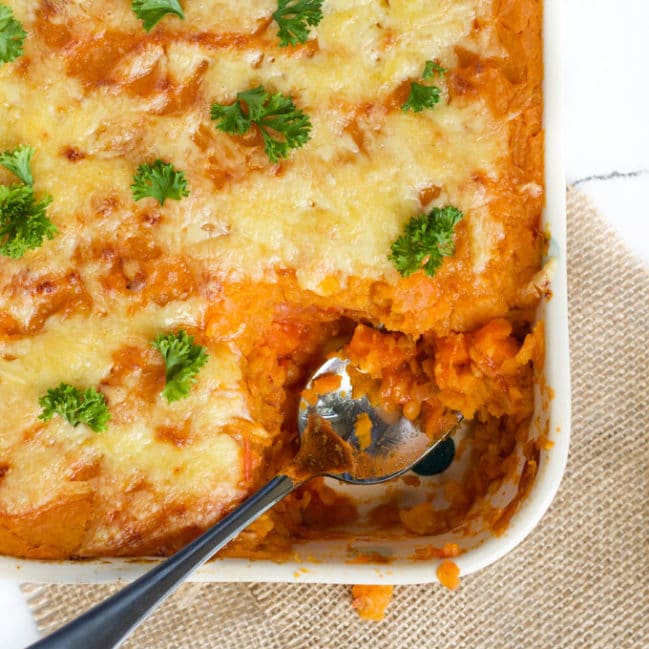 Lentil Shepherd"s Pie
This lentil shepherd's pie is perfect for the whole family. Can be given to a babies doing baby-led weaning or who are spoon fed. Delicious and nutritious.
Prep Time: 15 minutes
Cook Time: 1 hour
Total Time: 1 hour 15 minutes
Serves:6
Hover over "serves" value to reveal recipe scaler
Ingredients
1 tablespoon Olive Oil
2 onions (finely chopped)
1 celery stalk (finely chopped)
2 carrots (finely chopped)
2 garlic cloves (minced)
1 bay leaf
185g ( 1 cup) red split lentils
400g (1 can) tin chopped tomatoes
2 tablespoon tomato puree
625ml 2 .5 cups Veg stock *SEE NOTE 1
Topping
750g Sweet Potato (peeled and cut into chunks) *SEE NOTE 2
50g (½ cup) Cheddar Cheese (grated) *SEE NOTE 3
Instructions
Heat the oil in a large saucepan and sauté onion, carrots, celery and garlic for 10 mins or until softened

Stir in the lentils

Add tomatoes, tomato puree, bay leaf and 1 cup of stock.

Reduce the heat and simmer for approx. 30 mins (until the lentils are soft and the sauce has thickened) (Keep adding more stock as needed)

Meanwhile, preheat oven to 220c / 430F and place the sweet potato in a pan of boiling water. Boil until soft (approx. 15 mins)

Thoroughly drain and mash the potatoes.

Transfer the lentil mixture to a oven proof dish and top with the sweet potato.

Sprinkle with cheese (optional) and cook in oven for approx. 15 mins.
Recipe Notes
If serving to a baby use homemade, low sodium stock or replace with water. 
You can replace the sweet potato with white potatoes if you prefer.
Cheese is optional. 
Nutritional values are an ESTIMATE only, calculated using an online nutrition calculator. It should be used as a rough GUIDE only.
Nutritional facts
Calories: 319kcal | Carbohydrates: 55g | Protein: 13g | Fat: 5g | Saturated Fat: 2g | Cholesterol: 8mg | Sodium: 1073mg | Potassium: 1008mg | Fiber: 15g | Sugar: 12g | Vitamin A: 21805IU | Vitamin C: 15.6mg | Calcium: 155mg | Iron: 4mg