This Pea and Mint Soup is deliciously creamy, beautifully vibrant and delicately sweet.
At the end of the week, when the cupboards are pretty bare, I can usually count on finding some stray veggies to whip together a pot of soup. A bag of frozen peas is pretty much guaranteed to be in the freezer, making this Pea and Mint soup a staple in our household.
How to Make Pea and Mint Soup
What You need
Olive Oil - You can replace with a different oil or with butter.
Onion
Garlic
Potato - For soups and stews I normally recommend using a waxy potato that holds its shape better. However, as this soup is blended it isn't a requirement. I use whatever I have available!
Stock - Chicken or vegetable stock. If making for a baby, use homemade chicken or vegetable stock to keep sodium levels lower.
Frozen Peas - You can use fresh if you prefer.
Lemon Juice - I always use fresh.
Mint - Start with a little and add more as needed.
Cooking Tips
Check that the potatoes are done after the cooking time - a fork or tip of a sharp knife should be easily inserted and removed.
The peas only need to be added in the last few minutes.
Blend the soup before adding the mint and gradually add the mint, allowing your kids to taste test. That way, if you have a child who doesn't like a strong mint taste, you can remove a bowl before adding extra mint.
If you don't have a stick blender, allow to cool slightly before transferring to a blender or food processor.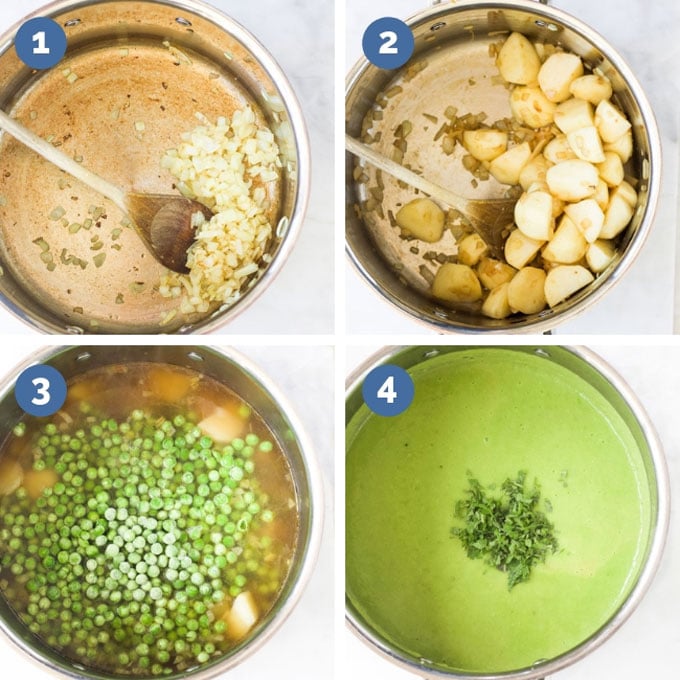 Soup for Kids
Soup makes the ideal family lunch. It is cheap, healthy and a great way to get our kids to eat vegetables that perhaps they normally wouldn't touch. To make soup even more appealing to kids I always
Provide a topping and allow the kids to "decorate" their soup. (The toppings complement the soup - e.g croutons, grated cheese, cream, yoghurt, herbs, crackers, apple sticks, coconut and raisins)
Provide something to dip with - fresh bread, buttered toast, oatcakes, cracker or savoury scones.
Pea and Mint Soup Toppings Ideas
Croutons - As you can see from the photos, I added some star croutons. Use a star cookie cutter to cut star shapes from a slice of bread. Fry in a little olive oil until nicely toasted, about 3-5 minutes.
Peas - Reserve some cooked peas to sprinkle on top
Cream - A swirl of cream will add a nice aesthetic touch and enhance the flavour
Cheese - Provide a little pot of finely grated parmesan (or cheese of choice) to dust over the top of the soup.
Mint - Some fresh mint leaves, whole or chopped.
Storing Pea and Mint Soup
When refrigerating or freezing soup you want to make sure it has fully cooled down before placing in the refrigerator or freezer.
Refrigerating - Transfer leftover soup to an airtight container and refrigerate for up to 3 days.
Freezing - Transfer leftover soup to an airtight container/containers. Leave about a 2-3 cm (1 inch) of space between the soup and the container's lid when filling it. This will allow room for the liquid to expand when frozen. Defrost, overnight, in the refrigerator.
You may also like
Looking for more healthy kid recipes?Sign up for my free recipe newsletter to get new family friendly recipes in your inbox each week! Find me sharing more kid-friendly inspiration on Pinterest and Instagram.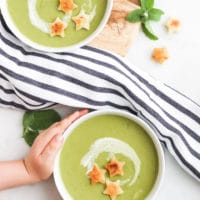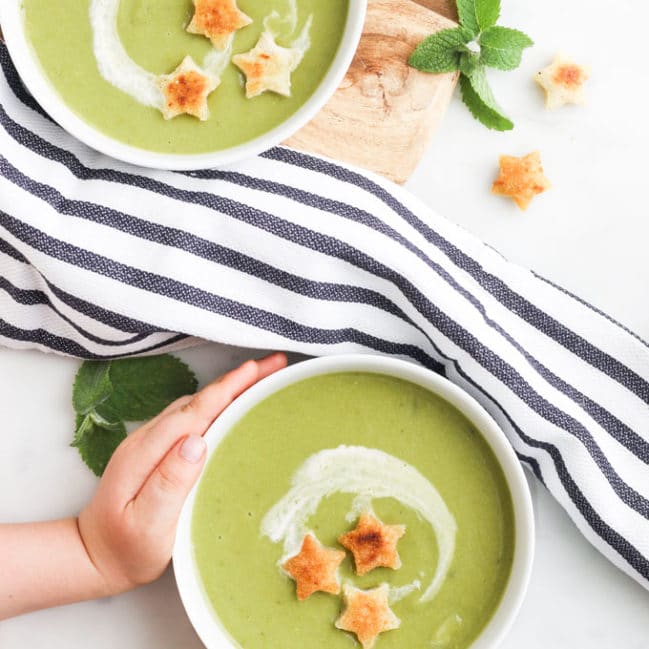 Pea and Mint Soup
A deliciously smooth and creamy soup with a gorgeous vibrant colour.
Prep Time: 5 minutes
Cook Time: 20 minutes
Total Time: 25 minutes
Serves:4
Hover over "serves" value to reveal recipe scaler
Ingredients
1 tbsp Olive Oil
1 Onion, finely chopped
2 Garlic cloves, finely chopped
500g (1.1lb) Potatoes
500g (3 ⅓ cups) Frozen Peas
1 litre (4 cups) Vegetable / Chicken Stock
½ Lemon, juice of
1 tablespoon Mint, finely chopped
Instructions
Heat oil, in a large saucepan, over a medium high /heat. Add onions, reduce the heat and saute until softened (around five mins)

Add the garlic and stir for a further minute.

Peel and dice the potatoes, add them to the pot and cook for around 2 minutes.

Add the stock, bring to a boil, cover and simmer for 12-15 mins.

Add the peas and continue to cook for a further 3 mins.

Add the lemon juice and then blend the soup (I used a hand blender) until smooth. Add the mint and blend again.

Taste and season, adding more mint if desired.
Recipe Notes
If cooking for a baby use homemade stock or baby stock cubes. 
If the soup is too thick you can add some more stock to thin it. 
If you do not have a stick blender, allow to cool slightly before adding to a blender or food processor to blend. 
You can add all the mint before blending but mint can be quite a strong flavour for kids. Start with a little mint, let them taste it and add more if desired. 
Nutritional information is a ROUGH guide only, calculated using an online nutrition calculator. 
Nutritional facts
Calories: 219kcal | Carbohydrates: 36g | Protein: 10g | Fat: 4g | Saturated Fat: 0g | Cholesterol: 0mg | Sodium: 21mg | Potassium: 861mg | Fiber: 9g | Sugar: 8g | Vitamin A: 975IU | Vitamin C: 68.2mg | Calcium: 78mg | Iron: 5.9mg