Strawberry Puree requires minimal effort and offers endless versatility. Perfect as a baby puree, but equally delightful drizzled over pancakes, waffles and cakes, or incorporated into baked goods, morning oatmeal, and creamy yogurts.
Nothing rivals the taste of homemade strawberry puree for that taste of summer. With minimal steps and ingredients, it captures the essence of fresh strawberries. Simple, fresh, and versatile.
Jump to:
Video Tutorial
Ingredient Information
For the full recipe, with ingredient amounts, scroll to the recipe card at the bottom of the post.
Strawberries: The quality of the strawberries will have a direct influence on the taste of the puree.
Opt for ripe sweet strawberries that are vibrant red and plump with healthy green caps.
Avoid strawberries with white tops, signs of bruising, mould, or excess softness.
Frozen strawberries can also be used - allow them to thaw in a large bowl before pureeing.
Optional Sugar and Lime Juice: (not to be added if making baby puree)
If you feel the natural sweetness of the strawberry puree is not sufficient, and you are seeking a sweeter, dessert-inspired puree, a touch of sugar can be added to enhance the sweetness.
A splash of fresh lime juice (or lemon juice) helps to harmonise the flavours and create a more pronounced strawberry flavour.
You can of course choose to sweeten using maple syrup or other sweeteners.
Step By Step Instructions
This section features step-by-step photos for visual reference. The complete recipe can be found by scrolling to the recipe card at the bottom of the post.
Version 1 - No cook puree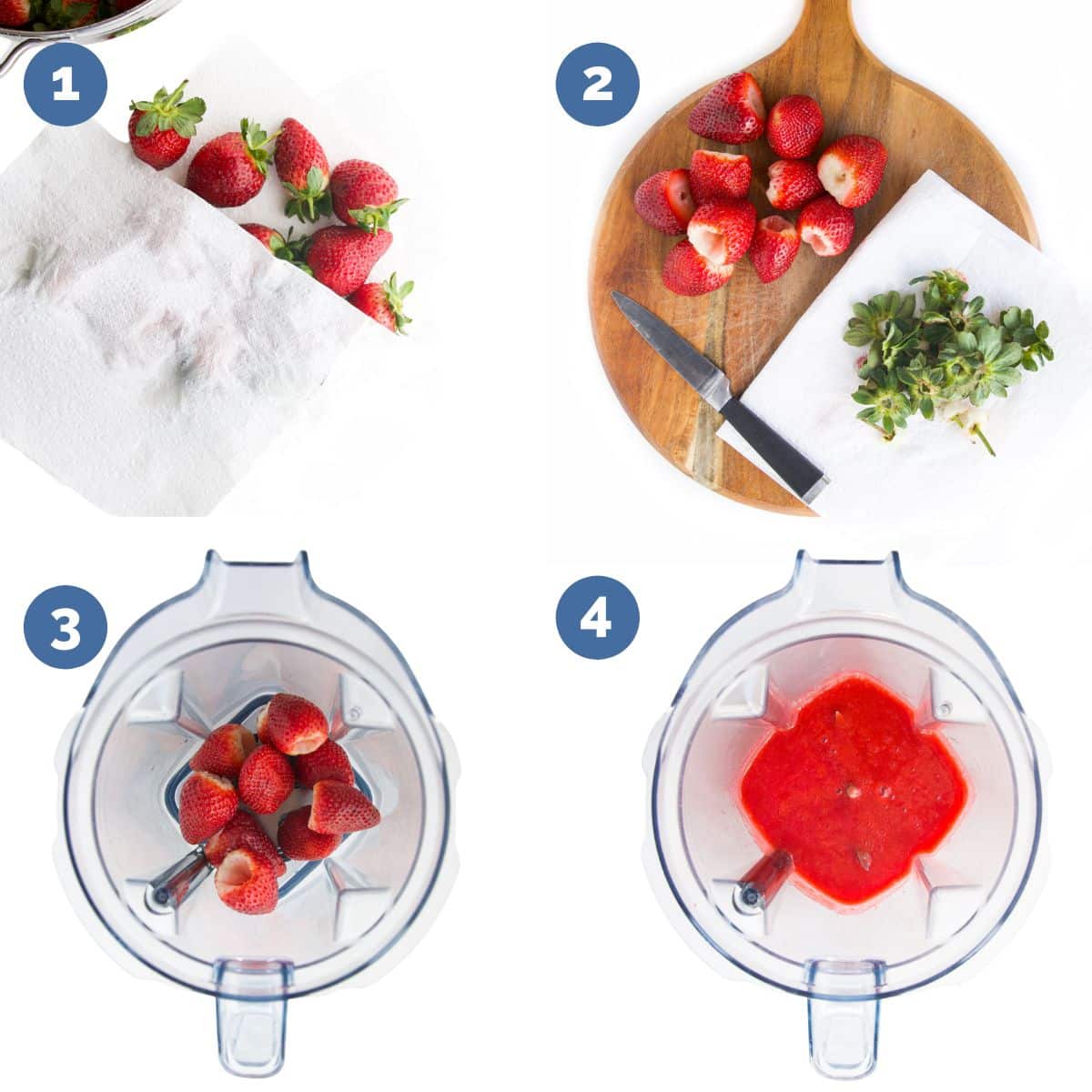 This easy recipe involves little effort and consistently delivers fantastic results.
Wash and pat dry the strawberries with paper towels, making sure to absorb as much water as possible.
Hull strawberries using a sharp paring knife.
Add strawberries to blender or food processor. (you can alternatively use an immersion blender (stick blender).
Puree to your desired consistency *Taste the puree and add optional sugar/sweetener and lemon/ lime juice to the blender, to taste. (Do not add for baby)
Version 2 - Cooked Strawberry Puree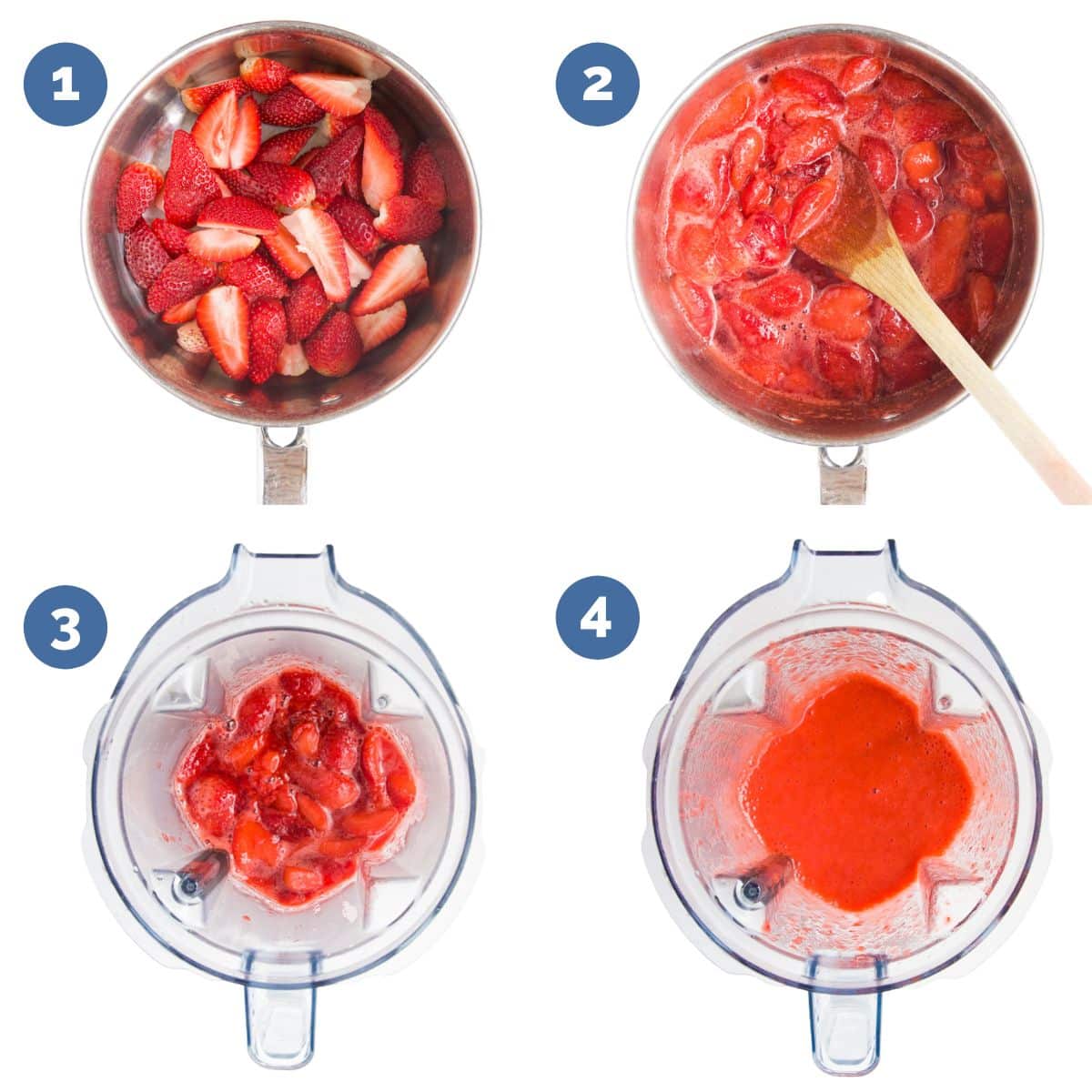 For a thicker puree, consider this cooked version. This technique is especially well-suited for baked goods, as it minimises excess moisture while elevating the flavour profile.
Wash and hull the strawberries (as in the no-cook method). Quarter and add to a medium saucepan.
Simmer the strawberries over low heat for approximately 15 minutes. *For enhanced sweetness add optional sugar and lemon juice at this stage.
Add puree to blender or food processor. Alternatively, for a chunkier puree, you could mash.
Puree to desired texture.
Expert Tips
Here are my top tips for ensuring you have the best results
Washing and hulling your strawberries - Wash your strawberries before hulling them. This stops the strawberry from filling with water. To hull, use a small sharp knife to cut, in a circular motion, around the green leafy top of the strawberry and into the pale flesh directly underneath. Then remove the hull and discard.
Sweetness - This recipe can be adjusted to your taste by adding as much or as little sugar as you want. Always start with little to no sugar, taste and adjust until you find the right amount of sweetness you need.
Ultra Smooth Puree - While I personally opt to retain the seeds in my puree, if their presence is a concern for you or your kids, simply pass the puree through a fine mesh sieve to separate the seeds, ensuring a silky texture.
Serving Suggestions
There are a variety of ways to enjoy this simple strawberry puree. Our favourites include using it as a:
Natural Sweetener: The unsweetened version makes a great natural sweetner mixed through yogurt, oatmeal or stirred through milk to make a healthier strawberry milk.
Sauce: Enjoy the puree drizzled over pancakes, waffles, ice cream or desserts.
Ingredient: The reduced version is great for adding to baked goods such as muffins, bread and cakes. Adding to cream cheese for desserts or mixed with chia seeds to make a delicious chia jam
By the spoonful: Kids love this puree by the spoonful. Try mixing it with apple sauce/puree for a different flavour combination.
Adults: Try mixing it with prosecco, or adding to a gin, vodka or tequila cocktail for a fresh strawberry flavor.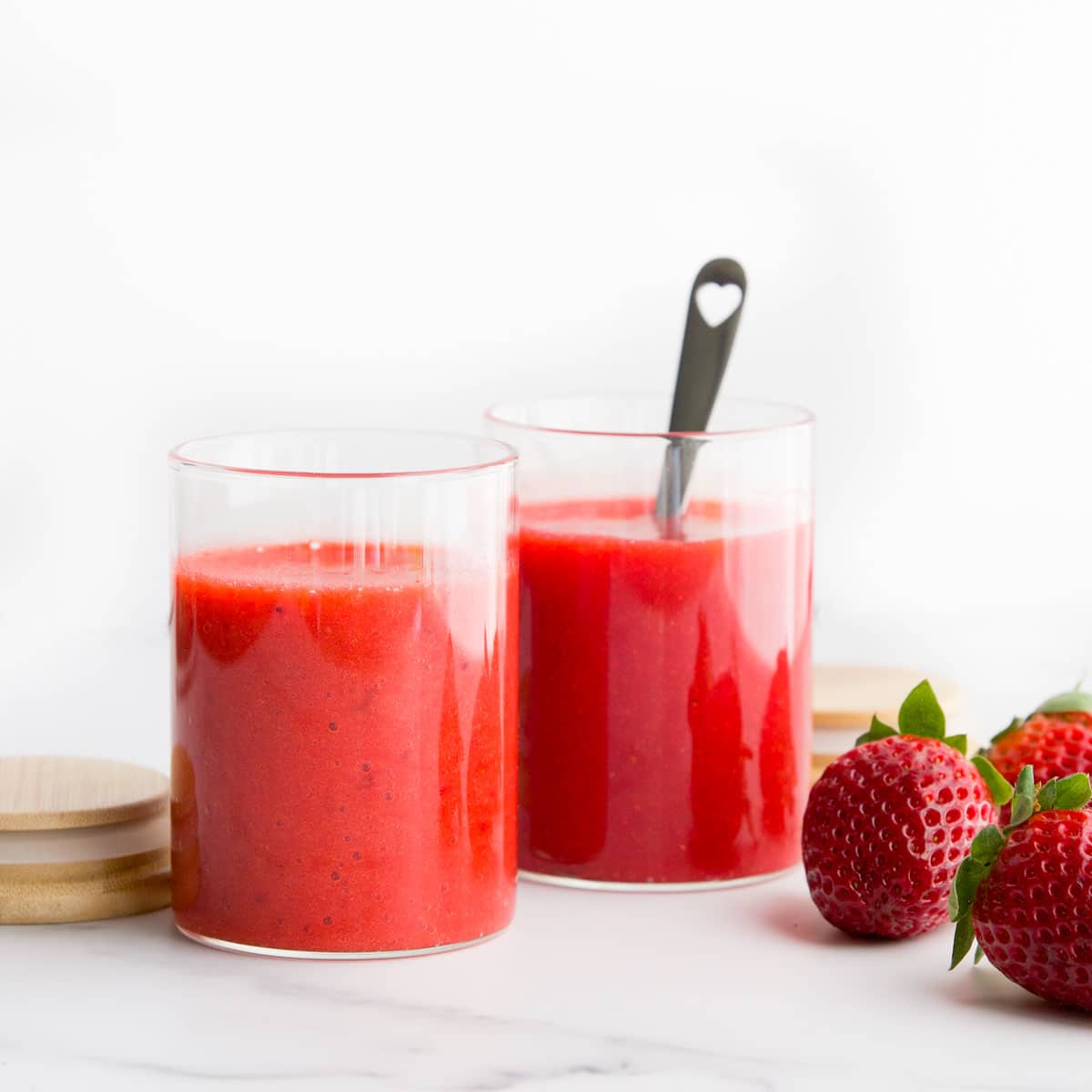 Storage Instructions
Refrigerate: Store in an airtight container, such as a mason jar, for 2-3 days.
For a Larger Supply: During peak strawberry season, when they're affordable and plentiful, you may wish to prepare a big batch of puree to freeze for later use. Freezing in ice-cube trays offers the advantage of convenient, small portions that can be defrosted as needed.
Freeze: Pour excess puree into ice-cube trays and freeze until solid. (Flexible ice cube trays are ideal for easy removal of frozen cubes.)
Once fully frozen, quickly remove the cubes and place them in a freezer bag or freezer-safe container. Store in the freezer for up 2-3 months.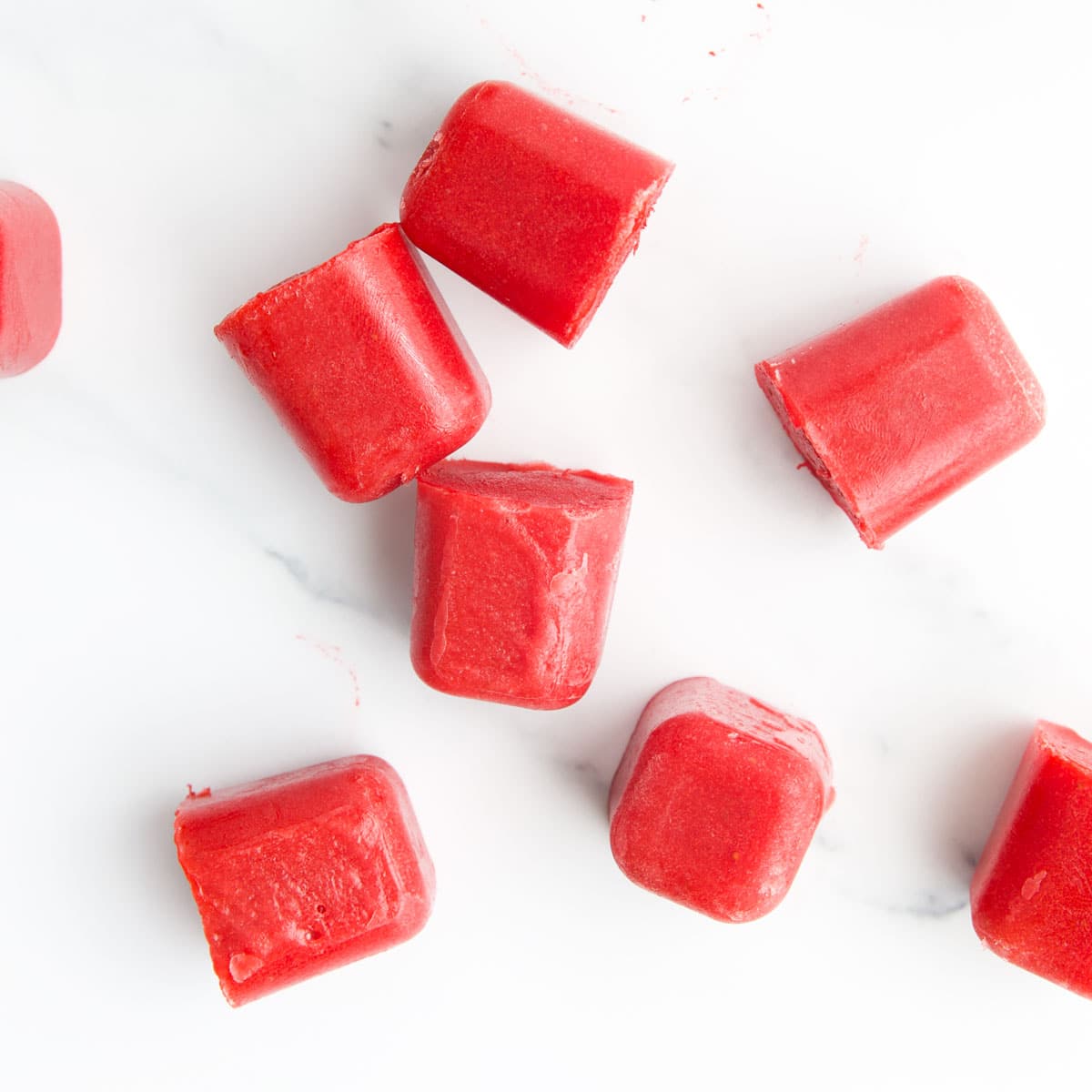 Recipe FAQs
What flavour combinations do you recommend for babies?
Strawberry puree can be mixed with a range of other purees to make a delicious dessert for babies. Some ideas include...
Peach Puree
Pear Puree
Kiwi Puree
Yogurt
Oatmeal
Avocado Puree 
Apple Puree 
Banana Puree 
Blueberry Puree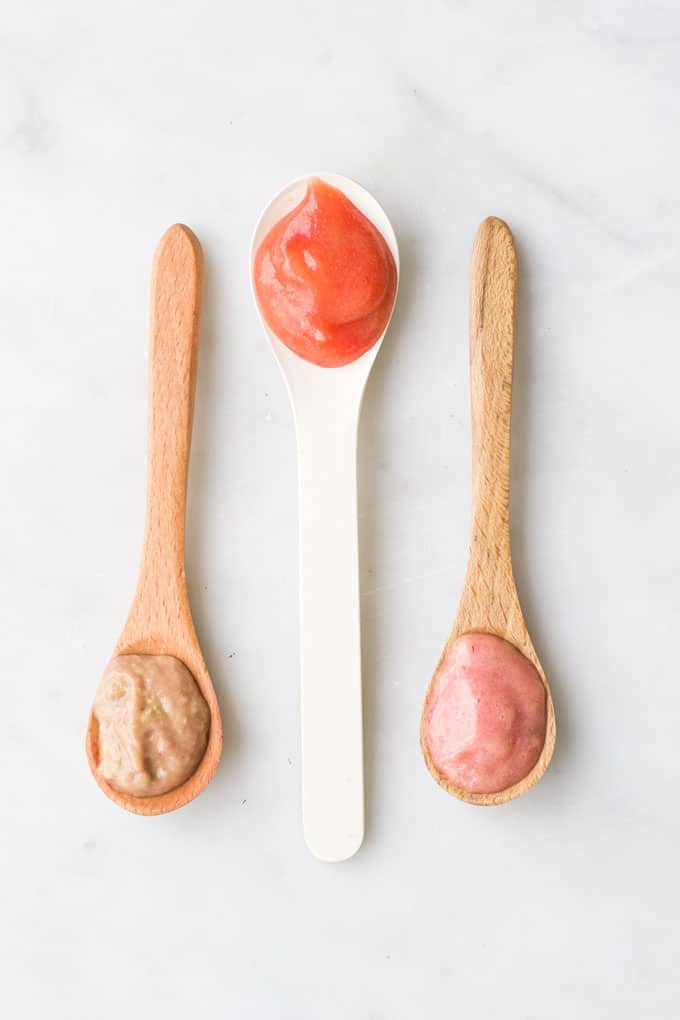 Do you need to add sugar?
A lot of Strawberry Puree recipes have added sugar. Adding sugar enhances the strawberry flavour, as does adding citrus juice such as lemon or lime juice. You can add as little or as much as you like to taste.
For babies and young kids do not add any sugar.

More Strawberry Recipes
Looking for more healthy kid recipes?Sign up for my free recipe newsletter to get new family friendly recipes in your inbox each week! Find me sharing more kid-friendly inspiration on Pinterest and Instagram.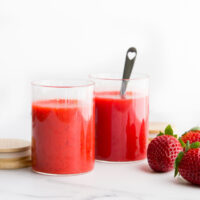 Strawberry Puree
Strawberry Puree takes very little effort to make and can be used in a variety of ways. We love to swirl it through oatmeal and yogurt or drizzle over pancakes.
Prep Time: 10 minutes
Total Time: 10 minutes
Serves:4
Hover over "serves" value to reveal recipe scaler
Equipment
blender or food processor
Ingredients
450g / 1lb Strawberries ,washed and hulled (see notes)
Optional (Do not add if making for a baby)
1-3 tablespoons (depending on taste) Sugar
1-2 teaspoons (depending on taste Lime Juice
Instructions
No Cook Method
Place strawberries in a high-speed blender or food processor and blend until smooth (or desired consistency).

Taste the puree and if you feel like it needs more sweetness or the strawberry flavour brightened then add sugar and lime juice.
Cook Method (for a more concentrated puree)
Half or quarter the strawberries, add to a pan and allow to simmer over a very low heat for 15 mins. If you want a sweeter puree you can also add the sugar and lime juice at this point.

Place strawberries in a food processor or blender and process until smooth (or desired consistency).
Recipe Notes
The amount of strawberries you blend may have to be adjusted according to your blender's capacity. Amounts are adjustable, whether you want a small or large batch, is up to you.
Wash the strawberries before hulling to stop water from filling in the strawberries. 
If using ripe, flavourful strawberries you may find that you do not need extra sweetness. Taste and add sugar as needed. 
Do not add sugar if serving a baby / young child. 
If the seeds bother you, or your kids, you can choose to pass the puree through a fine mesh sieve to separate them.
Nutritional information is a ROUGH guide only, calculated using an online nutrition calculator. Facts do not include addition of sugar and lime juice. 
Nutritional facts
Calories: 36kcal | Carbohydrates: 9g | Protein: 1g | Fat: 0.3g | Saturated Fat: 0.02g | Polyunsaturated Fat: 0.2g | Monounsaturated Fat: 0.05g | Sodium: 1mg | Potassium: 172mg | Fiber: 2g | Sugar: 6g | Vitamin A: 14IU | Vitamin C: 66mg | Calcium: 18mg | Iron: 0.5mg