Chickpeas are a high fibre, high protein food source and are a perfect snack for both you and your child. These baked chickpeas are incredibly easy to make and are a delicious, healthy alternative to crisps. As Finn loves curry I made these using curry powder and they tasted so good. Just be careful when buying pre mixed curry powder as often they contain a lot of salt.
If curry isn't your thing you could substitute the curry powder with a mix of Italian dried herbs such as oregano, basil & rosemary. You could even try sweetening them using honey and cinnamon.
I like to throw them into wraps and salad bowls to add a little crunch and texture.
Note: Whole chickpeas can pose a chocking hazard to young toddlers and babies but if you would still like to try this snack with your tot you can cut the chickpeas in half before roasting them.
Looking for more healthy kid recipes?Sign up for my free recipe newsletter to get new family friendly recipes in your inbox each week! Find me sharing more kind-friendly inspiration on Pinterest and Instagram.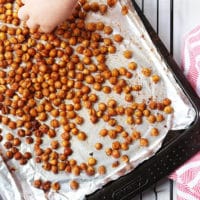 Baked Curried Chickpeas
A healthy alternative to crisps. Why not throw them into wraps or salads for extra crunch.
Prep Time: 5 minutes
Cook Time: 30 minutes
Total Time: 35 minutes
Hover over "serves" value to reveal recipe scaler
Ingredients
1 400 g can of chickpeas (drained weight 240g)
1 tbsp oil
2 tsp mild curry powder
Instructions
Pre heat oven to 200c / 400f / Gas 6

Drain and rise the chickpeas and then blot dry with kitchen roll.

Foil a baking tray and place the chickpeas on top.

Drizzle the oil over the chickpeas and sprinkle the curry powder on top. Shake the baking tray or mix with your hands to ensure all the chickpeas are coated.

Bake for approx. 30 minutes (until crispy).