These baby blueberry muffins are mini in size and fruit-sweetened with added spice to help develop your little foodie's taste buds. Not just for babies, great for toddlers or to add to your older child's lunchbox.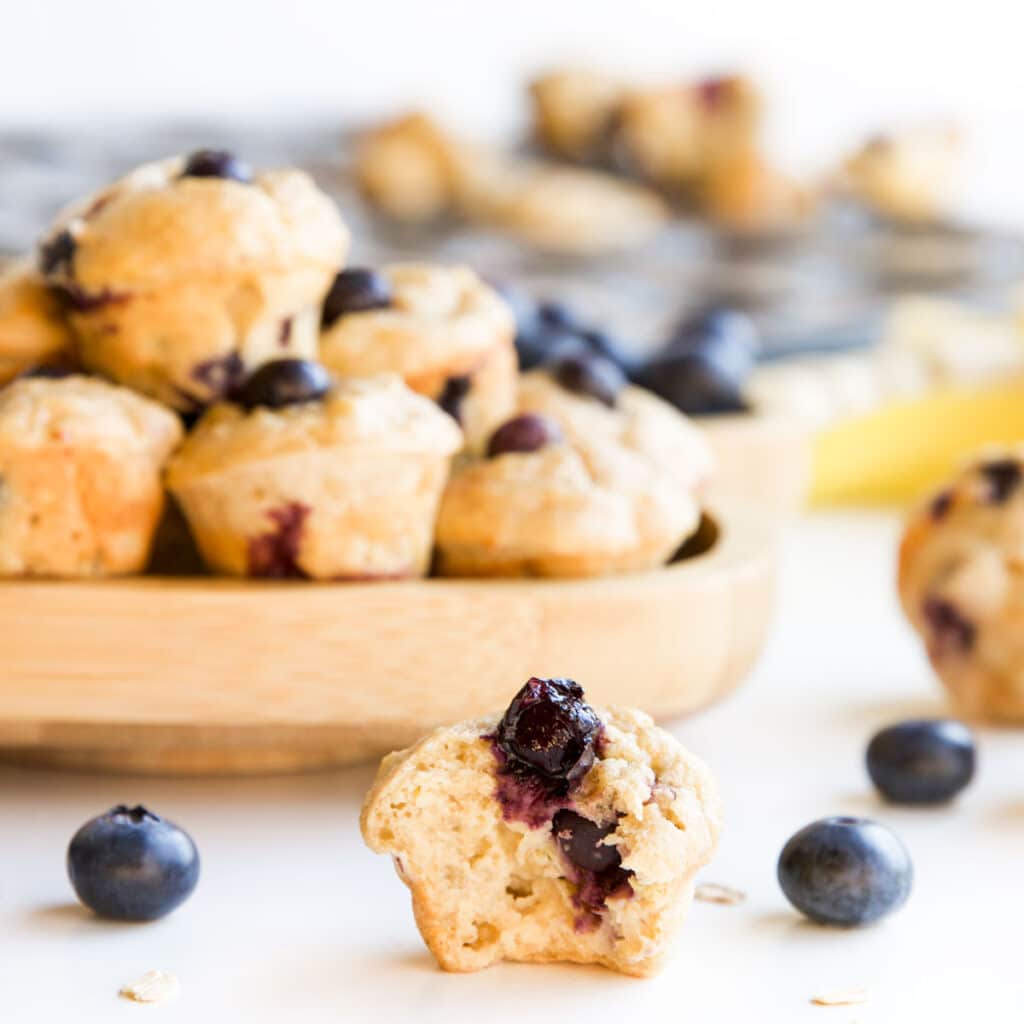 Why These Muffins are Great for Babies / Toddlers
FRUIT SWEETENED: The World Health Organisation recommend that children under two should not consume any added sugar. Many muffin recipes, even those targeted to babies, are packed with sugar, maple syrup or honey. These are sweetened with the banana and blueberries.
IRON SOURCE: Iron is a critical mineral for growing babies. Oats are a non-heam (vegetarian) iron source and blueberries provide Vitamin C to aid absorption.
TEXTURE: Soft and moist with burst of blueberries allowing your little one to explore different textures.
SIZE: Mini in size for mini hands and tummies.
FREEZABLE: Make a batch and freeze for a quick and easy snack option.
Ingredient Information
This is what you need to make baby blueberry muffins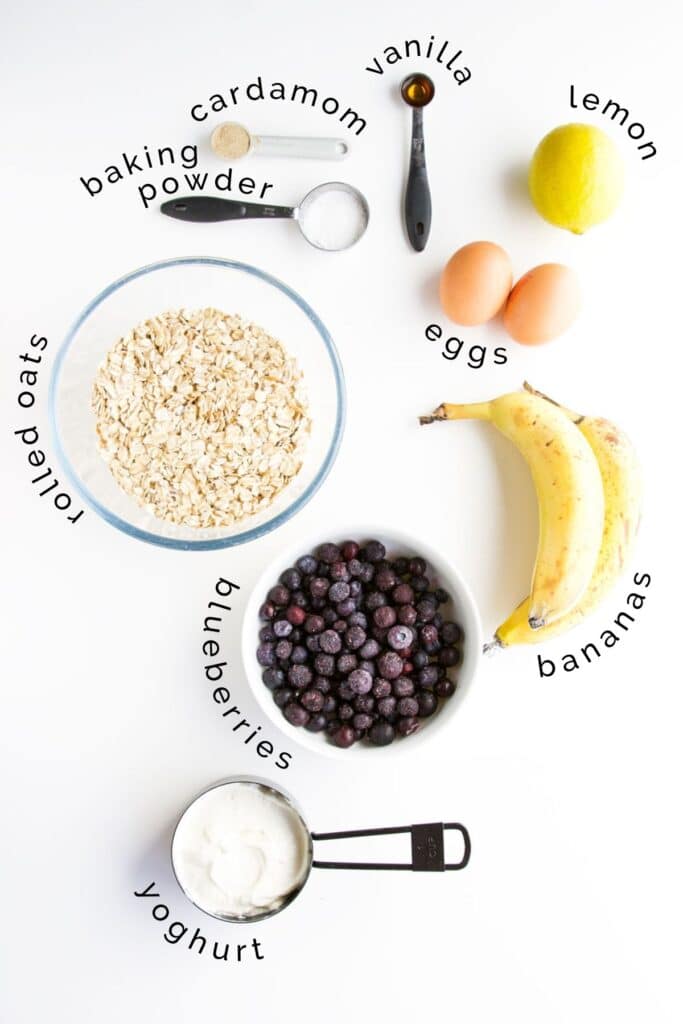 ROLLED OATS: You can replace with quick oats as they are blended to flour consistency. Steel cut oats will not work for this recipe. Use gluten free oats to make the muffins gluten free.
YOGURT: This recipe has been tested with both natural greek yogurt and coconut yogurt (dairy free option.) Both work great.
EGGS: I have not tested any egg replacements for this recipe yet, I'd suggest a flax egg but can not guarantee the result.
BANANA: Provides most of the sweetness, use ripe bananas for best results.
CARDAMOM: Adding different spices to baby food allows your little one to experience different flavour profiles. It isn't needed and you can skip or replace with cinnamon.
LEMON ZEST: Added for flavour and really complemets the blueberries.
BLUEBERRIES: Use fresh or frozen. If using frozen do NOT thaw beforehand.
BAKING POWDER: Make sure it is fresh, if it has been sitting in your pantry for years it won't work as well.
Process Steps and Cooking Tips
BLEND OATS & COMBINE DRY INGREDIENTS: Blend the oats to flour consistency. A high speed blender works best but you could also use a food processor. Add the cardamom and baking powder and stir to combine.
MASH BANANA: I like to leave little chunks to add texture to the muffins, you can mash/puree smooth if you prefer.
COMBINE WET INGREDIENTS: Add the banana, egg, yogurt, vanilla and lemon zest to a large mixing bowl and stir to combine.
STIR THROUGH DRY INGREDIENTS: Don't overmix here, fold through until just combined (a few lumps are ok).
STIR THROUGH BLUEBERRIES: Again, just a gentle stir through. If using frozen blueberries, do not thaw - add them into the batter frozen.
FILL MUFFIN TRAY: Fill to the top of a greased muffin tray and add a blueberry on top. Bake for around 13 mins, until cooked through.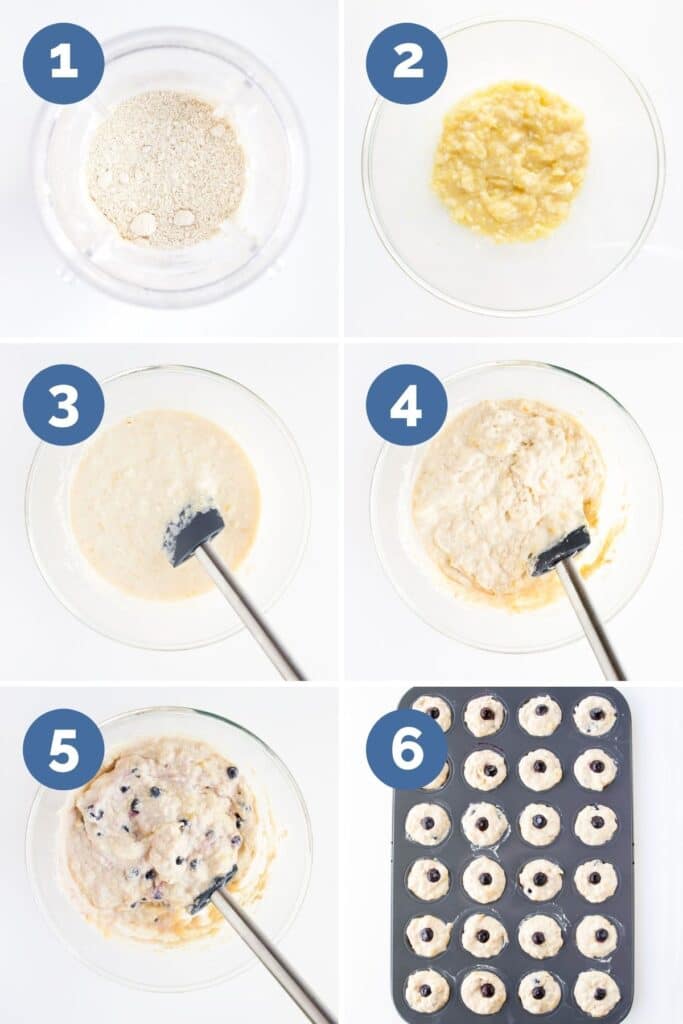 Storage Instructions
Cool on a wire rack. Allow the muffin to cool for aroud 5 minutes in the muffin tray and then transfer to a wire rack to cool completely. Ensure they are completely cooled before packing them away to store. If they are still warm then it can cause condensation and result in soggy muffins.
Refrigerate - These muffins can be refrigerated but it does effect the texture. Refrigerate in an airtight container for 2 days.
Freezing – Freeze in an airtight container for 2-3 months. Allow to thaw on the counter or defrost in the microwave.
Frequently Asked Questions
When can babies have muffins?
This will really depend on you and your baby. Once your baby has progressed onto finger foods then they should be able to manage these muffins.
Try to focus on offering your baby lots of cooked vegetables before moving on to muffins.  
Are whole blueberries ok?
The blueberries go very soft and squishy when baked and I was more than happy serving these to my kids when they were babies. You can always chop the blueberries if you prefer.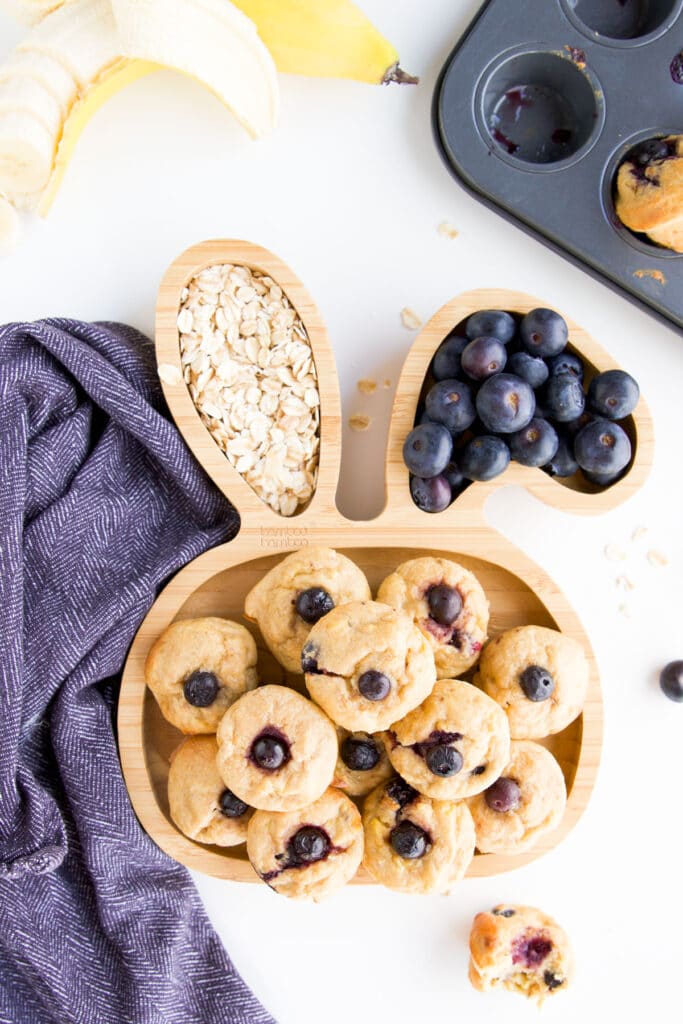 Other baby friendly muffin recipes
Looking for more healthy kid recipes?Sign up for my free recipe newsletter to get new family friendly recipes in your inbox each week! Find me sharing more kid-friendly inspiration on Pinterest and Instagram.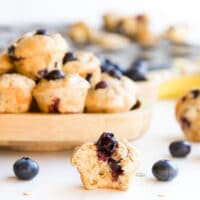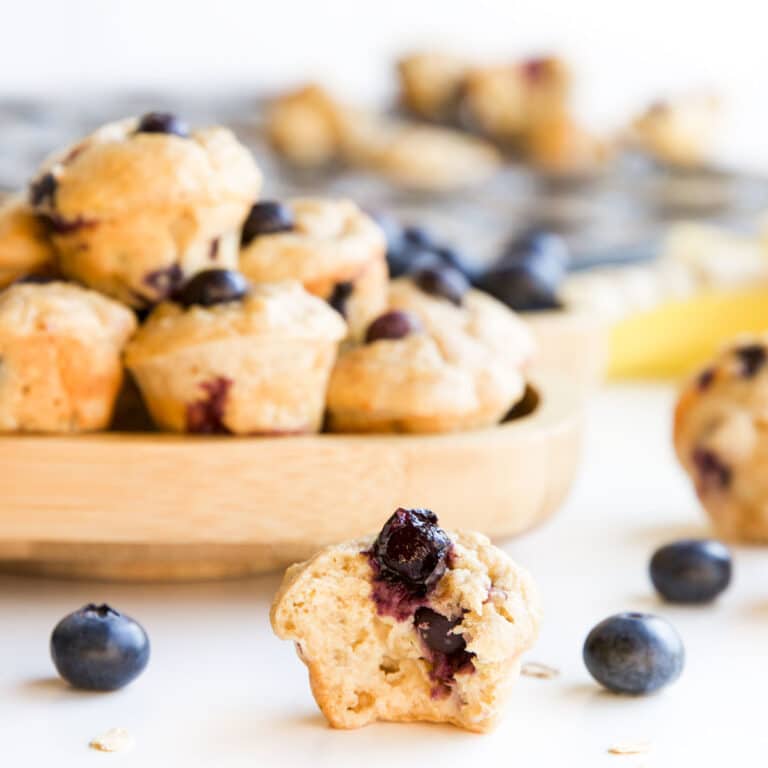 Baby Blueberry Muffins
Mini in size and fruit sweetened with added spice to help develop your little foodie's taste buds. Not just for babies, great for toddlers or to add to your older child's lunchbox.
Prep Time: 10 minutes
Cook Time: 15 minutes
Total Time: 25 minutes
Serves:24 muffins
Hover over "serves" value to reveal recipe scaler
Ingredients
1¾ cups (175g) Rolled Oats
1 Cup (250 g) Banana (ripe), mashed (Approx 2-3 bananas)
¾ cups(210g) Natural Greek Yogurt Sub with coconut yogurt for dairy free muffins (tested)
2 Large Eggs
1 teaspoon Vanilla Extract
1 tsp Lemon Zest
1½ teaspoon Baking Powder
1 teaspoon Ground Cardamom
1 cup (140g) Blueberries Fresh or frozen
Instructions
Preheat oven to 175C / 350F and grease a mini muffin tray

Add the oats to a blender and blend until flour consistency. Add the cardamom and baking powder and stir to mix.

Add the mashed banana, yogurt, eggs, vanilla and lemon zest to a large mixing bowl. Stir until combined.

Add the dry ingredients (oat flour, baking powder and cardamom) and gently stir until just combined.

Add the majority of blueberries, reserving some for the top, and gently stir again.

Fill each muffin cup and top with a blueberry.

Bake for 13 mins, remove and allow to sit for 5 mins before transferring to a wire rack to cool fully.
Recipe Notes
BAKING - Every oven is different, so while you should still follow the bake time in this recipe it may vary slightly. GLUTEN FREE - Use gluten-free certified oats. DAIRY FREE - This recipe has been tested with coconut yogurt and works well.   EGG FREE - No egg replacements have been tested.  DON'T HAVE A MINI MUFFIN TRAY? - You can make this recipe in a regular 12 cup muffin tray. Bake for  22 to 25 minutes, or until a toothpick inserted into a muffin comes out clean. Nutritional Information is a rough guide only, calculated using an online nutrition calculator. 
Nutritional facts
Calories: 56kcal | Carbohydrates: 10g | Protein: 3g | Fat: 1g | Saturated Fat: 1g | Polyunsaturated Fat: 1g | Monounsaturated Fat: 1g | Trans Fat: 1g | Cholesterol: 16mg | Sodium: 10mg | Potassium: 128mg | Fiber: 1g | Sugar: 3g | Vitamin A: 35IU | Vitamin C: 2mg | Calcium: 28mg | Iron: 1mg