If you are looking for a quick, easy and healthy breakfast idea then Overnight Weetabix is a must-try. Five minutes in the evening will make morning time a breeze.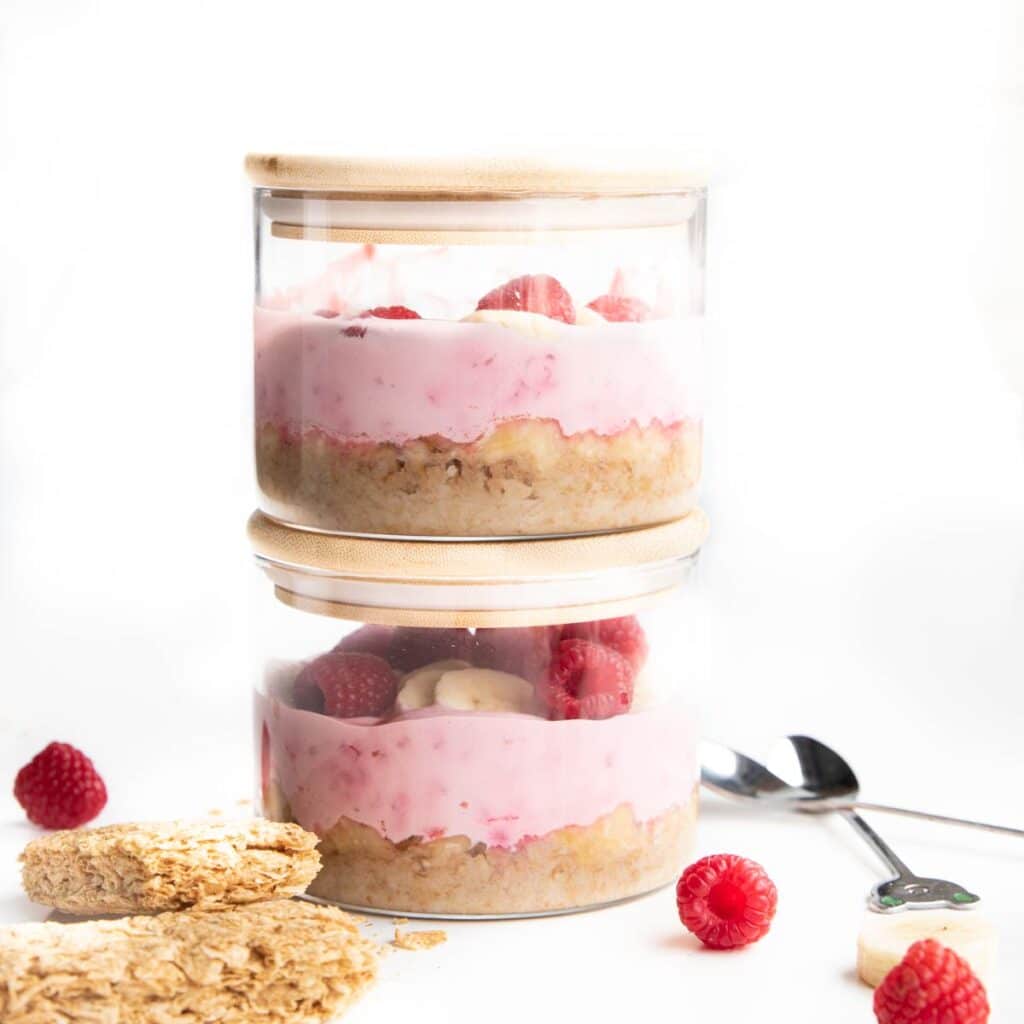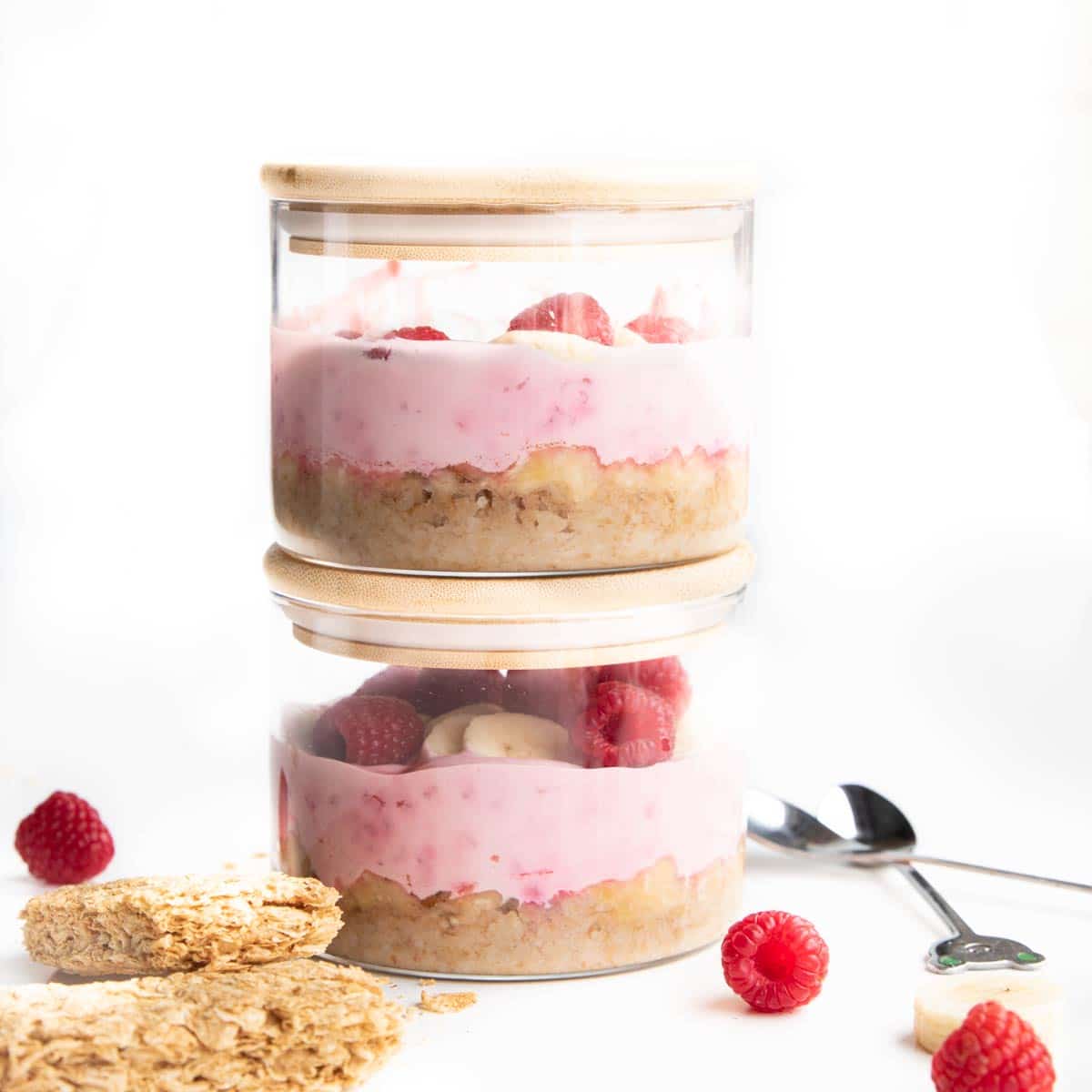 What is Overnight Weetabix?
Overnight Weet-bix is a Tik Tok food trend which involves crumbling and soaking Weetabix in milk and then topping it with a variety of layers such as fruit and yogurt.
Using the same concept of Overnight Oats, or chia pudding, Overnight Weetabix is prepared the night before, chilled in the refrigerator, and ready to be eaten the next morning.
However, instead of mixing everything together, as you do with overnight oats, you layer the ingredients when making the Weet-bix version.
Weetabix (as I know it from growing up in the UK) or Weet-bix as my children call it (growing up in Australia) are biscuits made from wholegrain wheat. They are low in sugar, fortified with vitamins & iron and are a popular breakfast cereal in both countries
Reasons to Love this Breakfast
Overnight Weetabix is the perfect breakfast for many reasons...
NUTRITION - 100% wholegrain biscuits (fortified with vitamins & iron), fresh fruit and plain yoghurt. A healthy start to the day.
BREEZY MORNING - Make it the evening before for an easy morning.
CUSTOMISABLE - This is such an easy breakfast to customise to suit taste and diets (can use plant-based milk and yogurt)
Watch How to Make It (Video)
Ingredient Information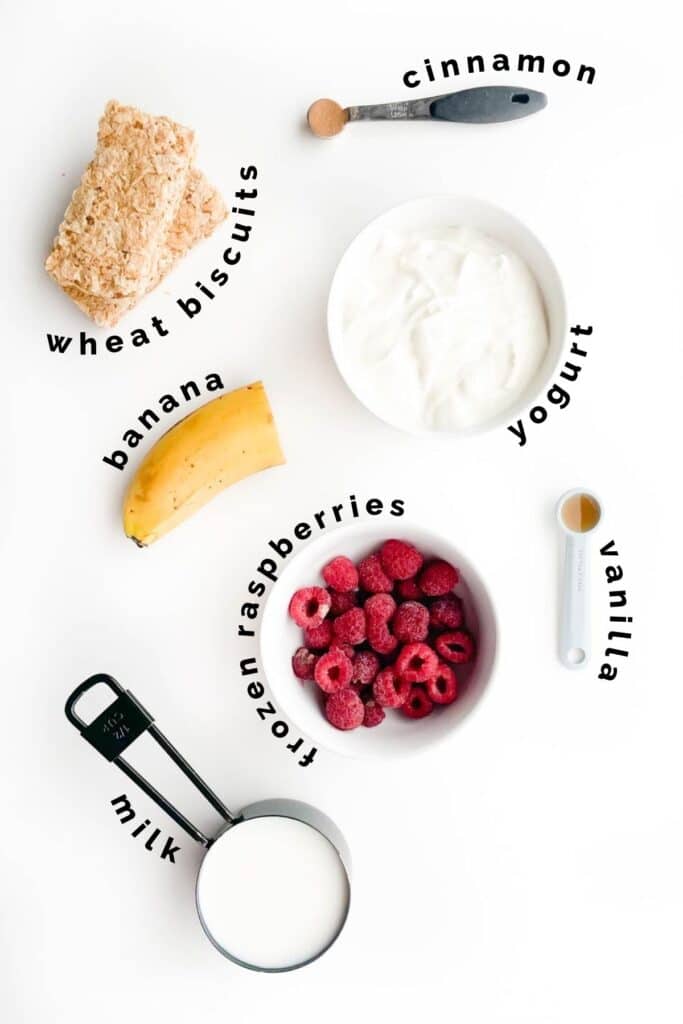 Weetabix / Weet-bix or other wheat biscuits. (if you can't find wheat biscuits in your country then you could use shredded wheat.
Milk for soaking the Weetabix in to create the base. Use your favourite milk
Banana for adding sweetness, flavour and nutrition. Can be skipped if you don't care for bananas.
Cinnamon/Vanilla for flavour can be skipped if preferred.
Yogurt provides a creamy texture and added protein. You can use your favourite kind. When making for baby/toddler I recommend using plain yoghurt and flavouring it with some mashed fruit or fruit purees.
Toppings get creative! Suggestions are given below.
Process Shots and Assembly Steps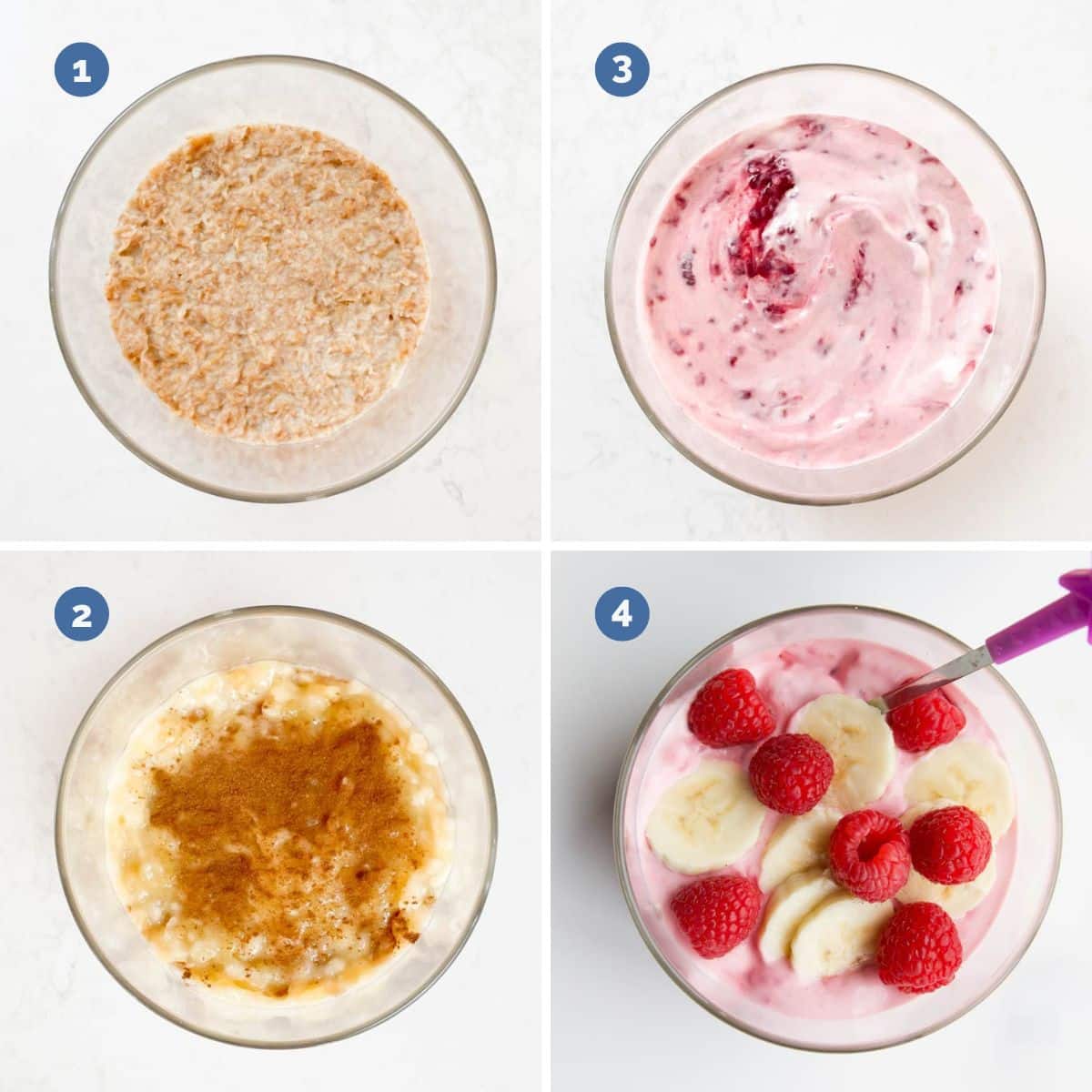 Crumble two Weetabix into a jar, small container or bowl and mix milk.
Add a layer of mashed banana and a sprinkle of cinnamon.
Mix mashed raspberries with yoghurt until combined well. Layer on top of the banana. Cover and refrigerate overnight (or for a min of 1 hour)
Top with fresh fruit (or toppings of choice)
Flavour and Topping Ideas
Like overnight oats, the flavour and topping combinations for Overnight Weet-bix are endless, ranging from the super healthy to the very indulgent. For a healthier breakfast choice try adding..
Fruit / Fruit Purees - fruit and fruit purees can be added to the yoghurt to flavour it or used as a separate layer. It can also be added as a topping
Spreads - a swirl of peanut butter (or other nut butter) or a dollop of chia jam can add great flavour without overloading the breakfast with sugar.
Chia Seeds - Try adding some chia seeds to the Weetabix layer for extra nutrition and texture.
Chopped nuts - add just before serving, make sure they are prepared according to your child's age and stage to prevent choking.
Granola - added as a topping, just before serving for added crunch
If you want to make your Overnight Weetabix more of a dessert than a breakfast then you really can go crazy with the topping and fillings.
Warm up some Biscoff or Nutella (or both) and layer it on, add a chocolate layer or chunks of your favourite chocolate bars (such as mars, snickers, bounty, m&ms)
Recipe FAQs
Is Overnight Weetabix healthy?
This really depends on the recipe. This recipe is fruit-sweetened and contains plain yogurt for protein. It is topped with fresh fruit. However, many overnight weet-bix recipes could be viewed more as a dessert as they involve adding a lot of sweeteners (honey, maple syrup, sugar etc) as well as toppings such as Biscoff, Nutella or chunks of popular chocolate bars. Just be mindful of the add-ins and toppings if you are looking for a healthier breakfast.
How long can you store Overnight Weet-bix?
Overnight Weetabix is best eaten within 24 hours.
Do you have to refrigerate it overnight?
No, you can eat it straight away but the appeal of the recipe is the fact the base firms up with refrigeration. An hour or two in the refrigerator will be enough to do this.
Is overnight Weet-bix suitable for babies?
Weetabix is suitable from 6 months +. It is best to stick with fruit and natural yoghurt to limit the added sugar. Some babies may also be acceptable to some grated carrot or zucchini (courgette) mixed in too.
This recipe does contain wheat and dairy both of which are potential allergens and should be introduced separately before offering this breakfast.
Looking for more healthy kid recipes?Sign up for my free recipe newsletter to get new family friendly recipes in your inbox each week! Find me sharing more kid-friendly inspiration on Pinterest and Instagram.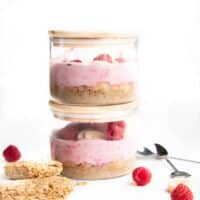 Overnight Weetabix
A healthy, make-ahead breakfast that can easily be adapted to suit taste.
Prep Time: 5 minutes
Chilling Time: 1 hour
Total Time: 1 hour 5 minutes
Serves:1
Hover over "serves" value to reveal recipe scaler
Equipment
1 small container, jar or bowl with lid
Ingredients
2 Weetabix / Weet-bix (or other wheat biscuit)
½ cup (125ml) Milk
½ Banana
⅛ teaspoon Cinnamon
¾ cup (180g) Plain Yogurt
¼ teaspoon Vanilla
½ cup (60g) Frozen Raspberries, defrosted
Instructions
Crumble the Weetabix into a bowl, jar or container and stir in the milk. Push down with a fork or back of a spoon until the mixture is compacted. You may need to let it sit for a minute to fully absorb the milk.

Mash the banana and place on top of the Weetabix layer. Spread over to create an even layer. Sprinkle with cinnamon.

Mash the defrosted berries and stir into the yogurt, along with the vanilla, until fully mixed. Spoon over the banana and spread to create an even layer.

Cover and refrigerate overnight (or for at least 1 hour). Top with toppings of choice (fresh fruit, chia jam, peanut butter etc)
Recipe Notes
Toppings are optional but add extra flavour and texture to the dish. Let your kids have fun with the toppings and proving them with some fresh fruit, dried fruit, nut butters, nuts, seed and spices to choose from. Toppings should be age-appropriate, be mindful of the toppings you use for young children. (e.g. Nuts are a choking hazard and should be missed out or finely chopped.) If you prefer a sweeter breakfast you can add a little maple syrup, honey or sweetener of choice (not recommended for under 2s) Nutritional information is a ROUGH guide only, calculated using an online nutrition calculator. 
Nutritional facts
Calories: 274kcal | Carbohydrates: 35g | Protein: 12g | Fat: 11g | Saturated Fat: 6g | Polyunsaturated Fat: 1g | Monounsaturated Fat: 3g | Cholesterol: 39mg | Sodium: 133mg | Potassium: 777mg | Fiber: 6g | Sugar: 25g | Vitamin A: 445IU | Vitamin C: 22mg | Calcium: 397mg | Iron: 1mg