Oven roasted broccoli is how Rory, my youngest, came to love broccoli and it is still his favourite way of eating it. His brother, Finn, shares his love for this delicious side dish, rating it 10 out of 10!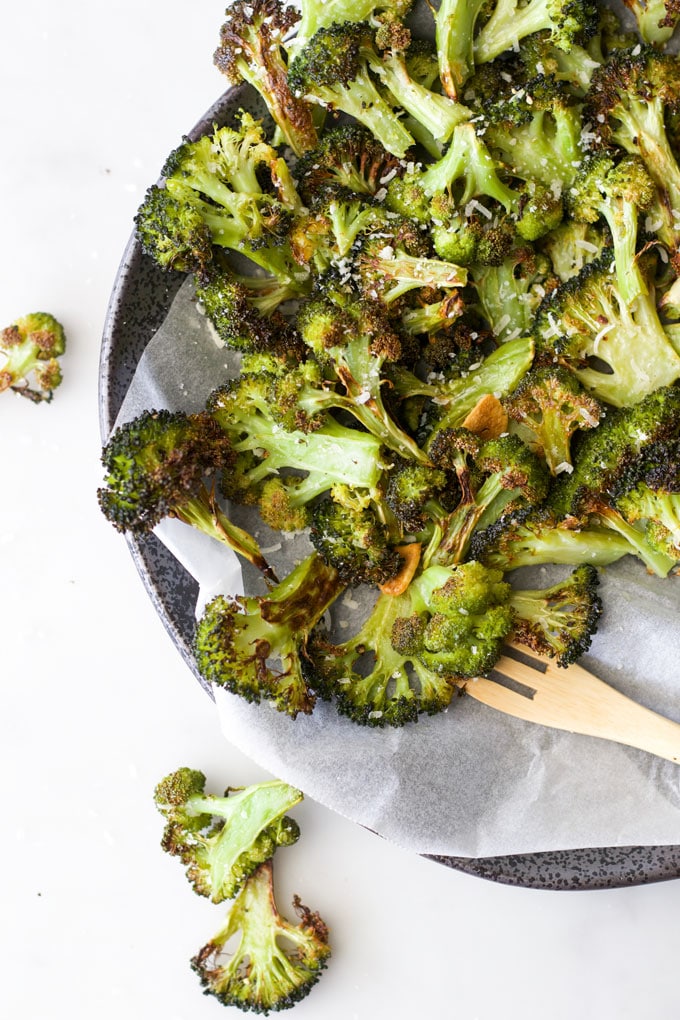 A few weeks ago I received a lovely e-mail from a reader, Laura, saying that she tried my Roasted Cauliflower with a Mango Dip and that her fussy three-year-old, who would normally refuse cauliflower, devoured it. She couldn't believe that simply changing the way she cooked the cauliflower made all the difference in her child accepting it.
Receiving e-mails like this make my day. Knowing that my blog helps parents find healthy recipes, that their kids love, really is the greatest feeling and the reason I started this blog in the first place.
Laura asked me to share more ways that she could serve vegetables as a side dish. So, a couple of weeks ago, I shared my Roasted Carrot Strips and today I give you Oven Roasted Broccoli with Garlic and Parmesan.
As you can see, roasting is my preferred method of cooking vegetables. I love how a hot oven can transform a rejected vegetable into something sweet, tender and so tasty that even fussy eaters are happy to eat.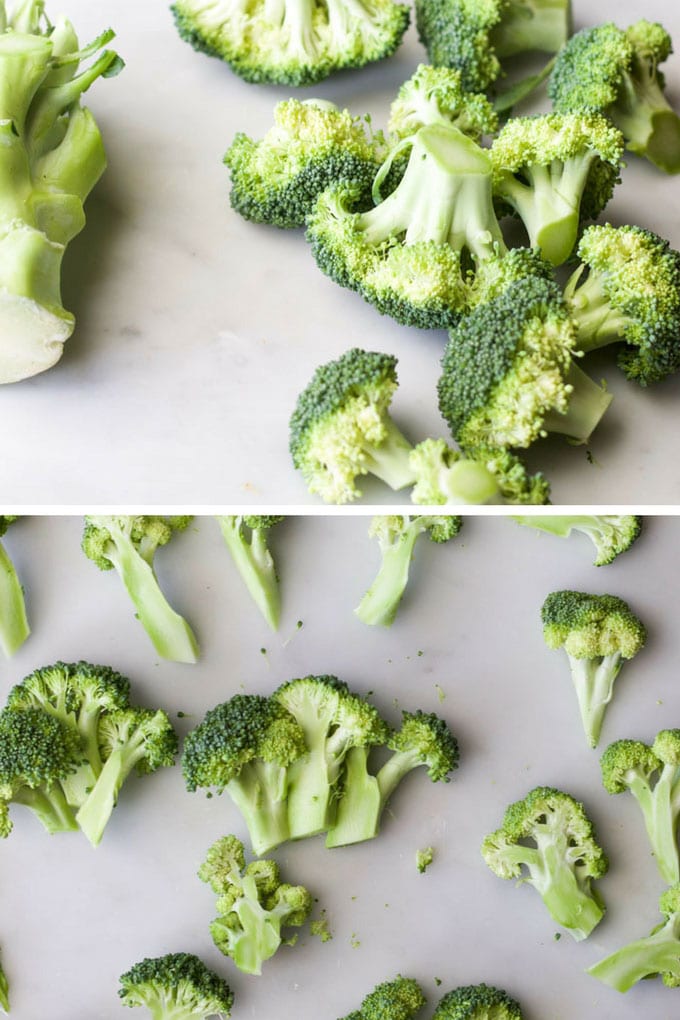 Making the Best Oven Roasted Broccoli
Cut the broccoli into florets and then slice: Cut the florets away from the stem* and then slice the florets into smaller, thinner pieces (see above photo). This allows more of the broccoli to be covered in oil and exposed to the heat, making it sweeter and crispier. *Don't throw away the stem! Use it in stock/soup, grate it and add to salads/slaws or thinly slice it and roast it to make broccoli chips)
Coat with olive oil: Drizzle the oil over the broccoli and then use your fingers to toss the broccoli and ensure they are evenly coated in the oil.
Add a little salt: I don't tend to add salt to my recipes, simply because I have a lot of readers that are looking for baby-friendly recipes. However, if you are cooking for older kids, I do recommend adding a little salt (I use Himalayan salt). The addition of salt, I believe, suppresses the bitterness of the vegetable making it more appealing to kids.
Add a topping: In this recipe, I have used some parmesan but some of my other favourites are nutritional yeast, panko breadcrumbs or lemon zest and lemon juice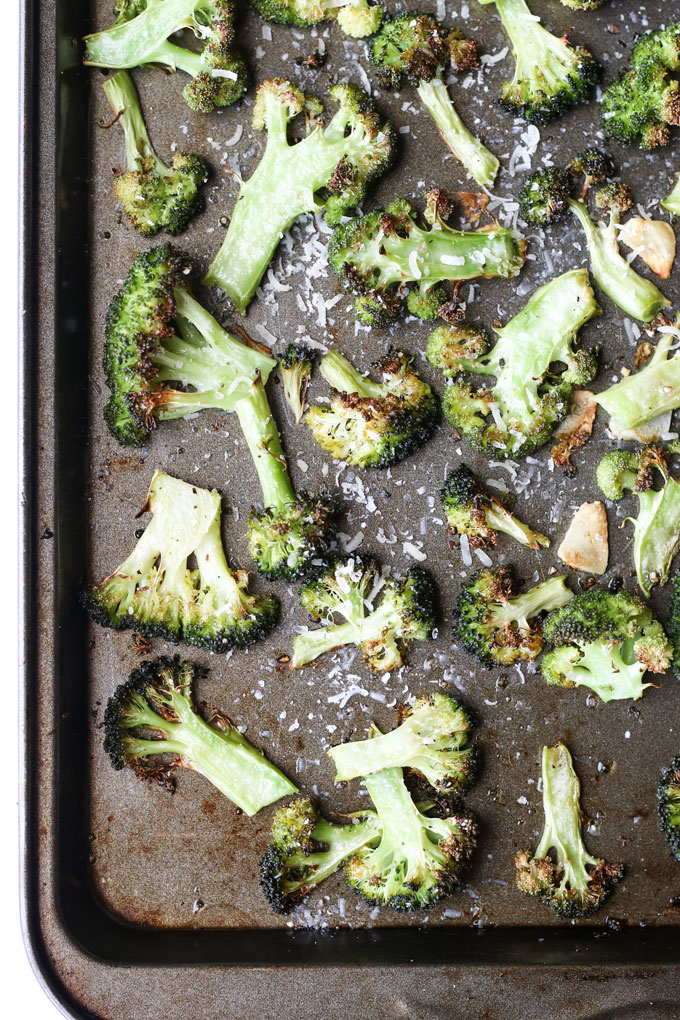 How to Serve and Store Oven Roasted Broccoli
Roasted broccoli is best served straight out of the oven. I serve it as a side dish to accompany so many meals like traditional roasts, finger food meals, pasta, hot salads and Buddha style meal bowls.
If you want to prepare in advance then I suggest prepare it in the morning but cooking it just when you need it.
If you have any leftovers (not common in our house) then why not try adding it into frittatas, omelettes on pizzas.
You may also like
Have you tried this recipe? I love receiving your feedback, please leave a comment below or tag me on Instagram @healthylittlefoodies
Looking for more healthy kid recipes?Sign up for my free recipe newsletter to get new family friendly recipes in your inbox each week! Find me sharing more kid-friendly inspiration on Pinterest and Instagram.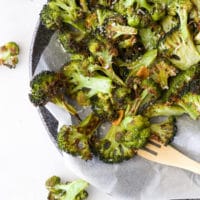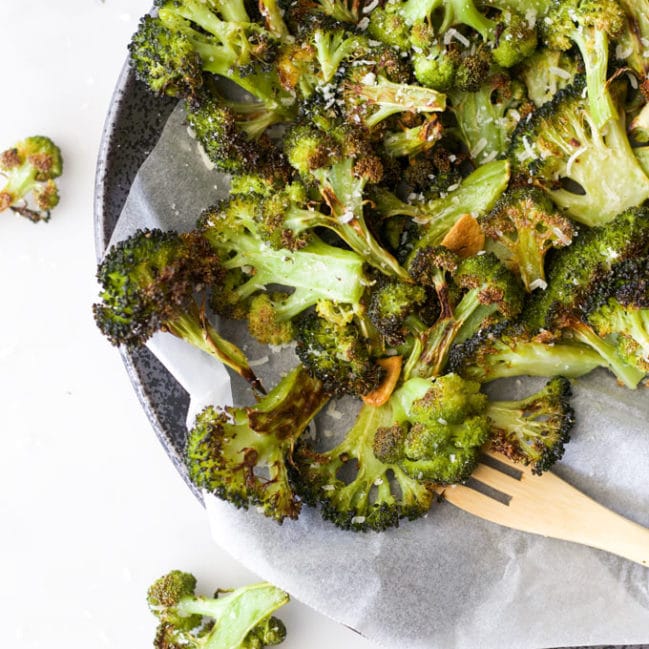 Oven Roasted Broccoli Recipe
Oven roasted broccoli is a great way to serve broccoli to kids and babies. The hot oven transforms the vegetable making it sweet, tender with crispy edges. Add your favourite toppings for extra kid appeal.
Prep Time: 5 minutes
Cook Time: 20 minutes
Total Time: 25 minutes
Serves:4
Hover over "serves" value to reveal recipe scaler
Ingredients
2 Medium Broccoli heads *See Note 1
2 Garlic cloves, finely sliced
2 tablespoon Olive oil
½ teaspoon Salt * See Note 2
2 tablespoon Parmesan cheese, freshly grated * See Note 3
Instructions
Preheat oven to 180C/350F

Cut broccoli away from stem, into florets. Slice each floret into 2 /3 slices (see picture above). Pile onto baking tray along with the sliced garlic.

Drizzle with the olive oil and use your fingers to toss the broccoli until the florets are evenly coated. Season with salt (optional) and spread out over a baking tray in a single layer. *SEE NOTE 4

Bake for approx. 20 minutes until the tips of the florets are slightly browned and crispy.

Remove from the oven and immediately sprinkle over the parmesan cheese. Serve straight away
Recipe Notes
To fill one baking tray I find you need two medium broccoli heads or one large head. 
Miss out the salt if serving to a baby or young toddler. I add salt because I believe it reduces the bitterness of the broccoli, making it more appealing to kids.
Freshly grated parmesan works best in this recipe. I buy a block and freshly grate it. You can alternatively buy freshly grated parmesan but don't use the ambient grated parmesan (you find in the pasta isle), the taste is not the same!
Don't overcrowd the tray, you want to make sure the broccoli fits in a single layer with no overlapping. Overcrowding will cause the broccoli to steam rather than roast. The broccoli will shrink quite a bit during cooking. 
Nutritional information is an ESTIMATE only, calculated using an online nutrition calculator. The results should be used as a rough GUIDE only. 
Nutritional facts
Calories: 75kcal | Protein: 1g | Fat: 7g | Saturated Fat: 1g | Cholesterol: 2mg | Sodium: 329mg | Vitamin A: 20IU | Vitamin C: 0.9mg | Calcium: 30mg