Fruity Oat Breakfast Bites – A healthy, hand held breakfast or snack. Ideal for kids and great for baby-led weaning. 
Finn will eat a bowl of porridge quite happily but Rory just doesn't thank you for it. Instead of eating it, he tends to use it as hair gel or catapult it across the kitchen. However, when I give him oats in the form of porridge fingers or oat cookies, he is more than happy. These fruity Oat Breakfast Bites are also a big hit with him. I tend to make a batch at the weekend and freeze for during the week. They reheat well from frozen, in the microwave, and  are therefore a super quick breakfast with very little clean up after. Just what I need in order to get both boys out the house by 8.15am!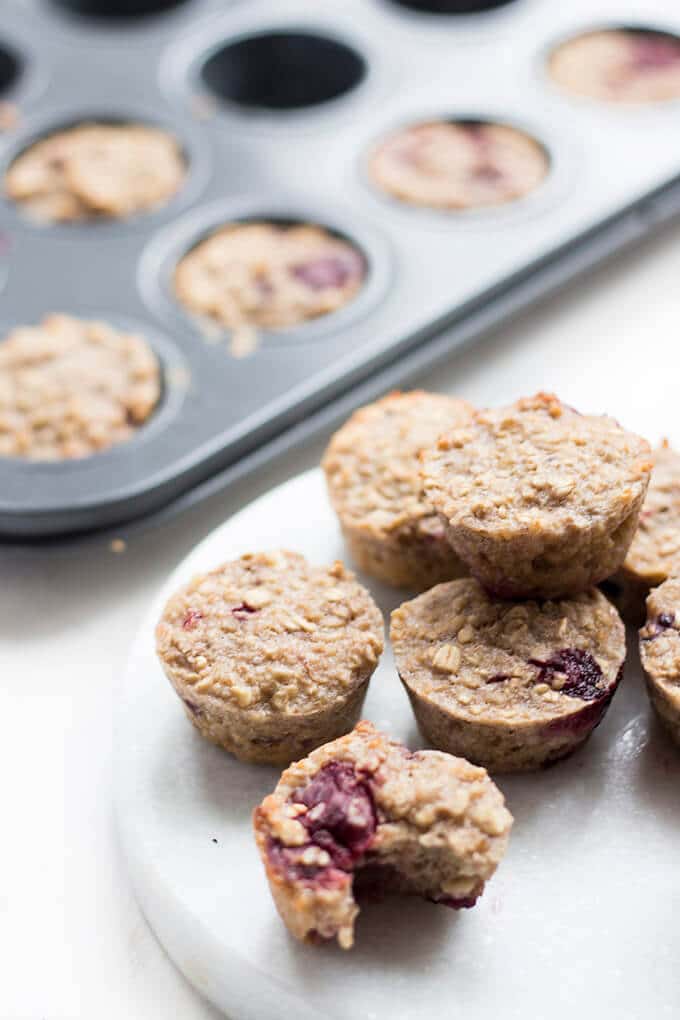 I like to use a mini muffin tray to make these, they look cuter and Finn thinks he is getting more. Three tiny muffins are much better than one big one in Finn's eyes!  I can also then use them as small snacks too.  I have made them in standard muffin trays and they work just as well. I used frozen mixed berries in this recipe but have also used fresh berries and both work great.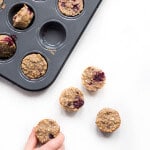 Fruity Oat Breakfast Bites
Oats baked with fruit to make little hand held breakfast bites or a healthy kids' snacks. Great for blw (baby-led weaning).
Ingredients
2

ripe bananas

2

cups

(195g) rolled oats

1

egg

(beaten)

3/4

cup

(180ml) milk of choice

150

g

frozen mixed berries

A couple of drops of good quality vanilla extract

(optional)

Coconut oil

(or butter) for greasing.
Instructions
Pre heat oven to 180c / 350F / Gas 4

Mash the bananas and then stir in the oats.

Add the milk, egg & vanilla and stir until fully combined.

Add the berries and stir until evenly distributed through the mixture. I like to break up some of the bigger berries through the mixture.

Grease muffin tray using oil or butter (or use a silicon tray) and pour mixture to the top of each section.

Bake until cooked through (a cocktail stick should come out clean) approx. 18 mins if using a mini muffin tray or approx. 25 min if using a standard tray.