Crispy on the outside and deliciously creamy in the inside, these Avocado Quesadillas make a tasty lunch that your kids are sure to love!
The award for "most requested lunch" in our house has to go to these Avocado Quesadillas. I have been making them for years now and they still remain a firm favourite.
How to Make Avocado Quesadillas
You can make these Avocado Quesadillas using two different methods.
Method 1 - Using two tortilla wraps
Method 2 - Using one tortilla wrap and folding.
When feeding the whole family I always use method 1. This saves me time, which is always a good thing.
During the week, when I only have my youngest at home, I use method 2. One tortilla is enough for us both as I usually serve it alongside some salad.
Method 2 is also great if you are adding extra filling as it is much easier to flip.
Both methods work well when making plain avocado and cheese quesadillas. The avocado sticks well to the tortilla making it easy to handle.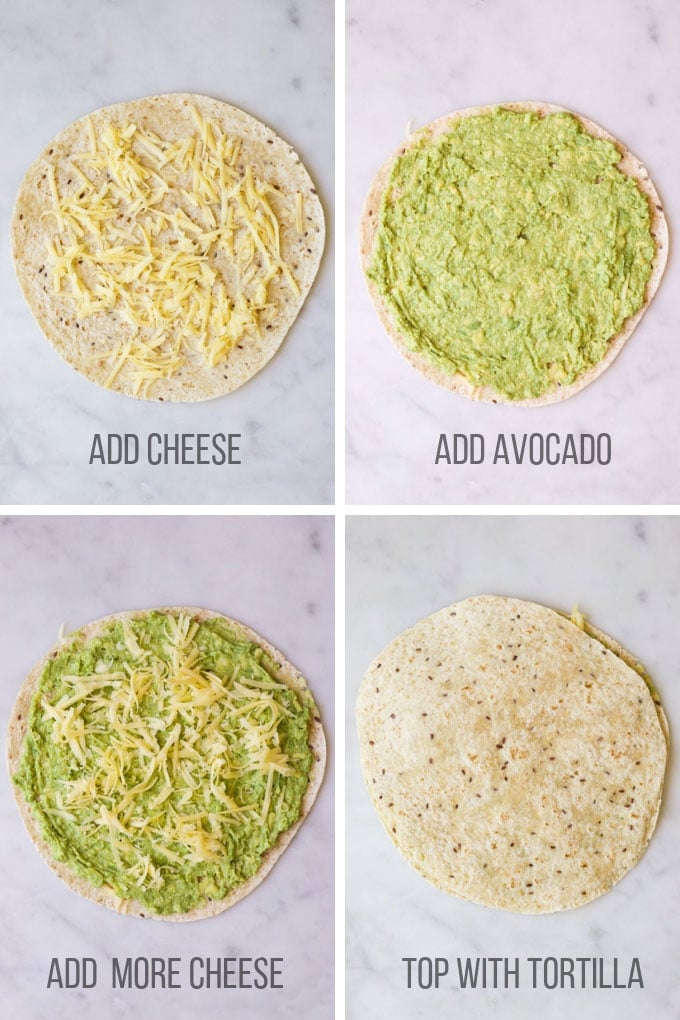 Method 1
Sprinkle some cheese on a tortilla wrap
Add mashed avocado and spread to the edge
Sprinkle on a little more cheese
Top with a second tortilla
Heat a large frying pan (no oil) on medium heat and carefully transfer quesadilla to pan
Cook for 2-3 mins (or until golden), carefully flip using a fish slice/spatula and cook for a further 2-3 min.
Method 2
Sprinkle one side of tortilla with some cheese
Top with mashed avocado
Sprinkle with more cheese.
Heat a large frying pan (no oil) on medium heat and carefully transfer quesadilla to pan
Fold tortilla in half to cover the filling
Cook for 2-3 mins (or until golden), flip and cook for a further 2-3 mins.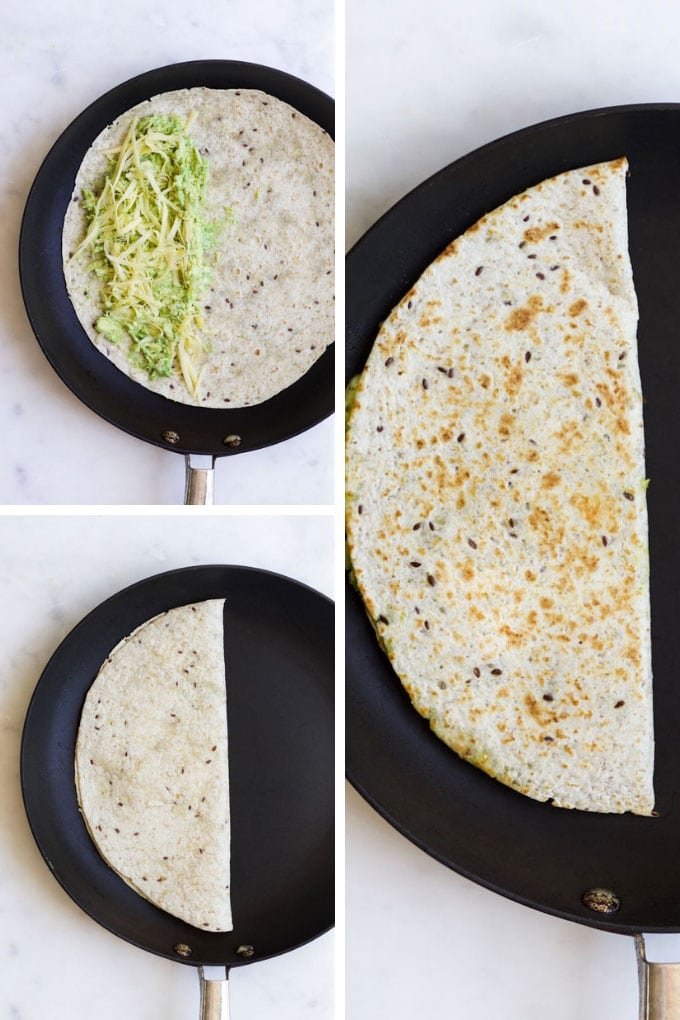 Can I omit/use a different cheese?
I used cheddar cheese in this recipe but any good melting cheese works well (such as Tasty, Monterey Jack or Colby)
Cheese helps to hold quesadillas together. However, in this recipe, the avocado actually holds the quesadilla together well without cheese. If your child is dairy intolerant you can miss the cheese out but you may want to add a bit more flavour to the avocado. (A little lime juice, garlic and coriander (cilantro) is delicious.)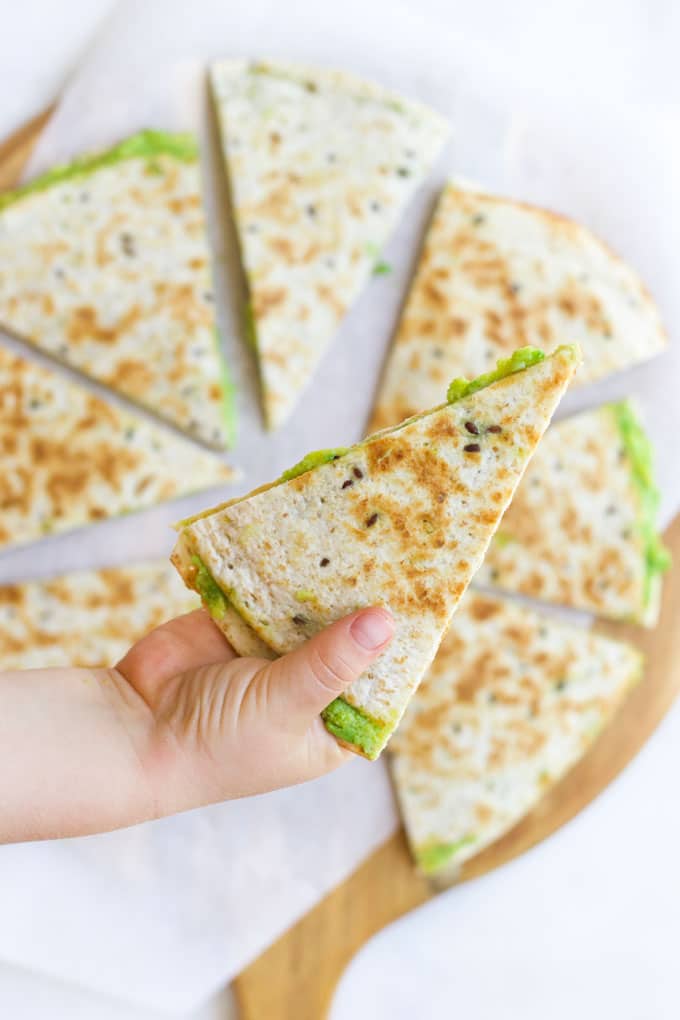 Added Extras
This is a very basic recipe for making avocado quesadillas. I make different versions of this all the time. Why not try adding
Chopped tomato
Corn
Sauteed/roasted capsicum (bell pepper) slices
Black Beans
Diced Chicken
Leftover chilli
You can also add some spices, herbs, garlic, onion for extra flavour.
I like to add several splashes of Tabasco to mine (but then I like to add Tabasco to a lot of my food!)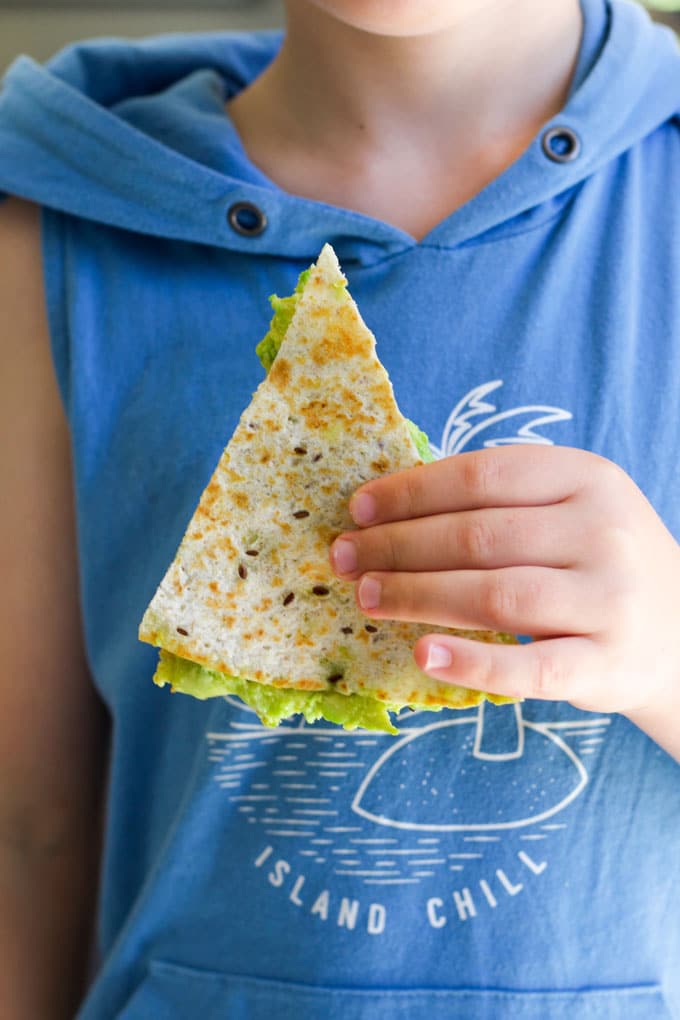 You may also like,
Have you tried these Quesadillas? I love hearing your feedback, please rate and leave a comment below or tag me on Instagram.
Looking for more healthy kid recipes?Sign up for my free recipe newsletter to get new family friendly recipes in your inbox each week! Find me sharing more kid-friendly inspiration on Pinterest and Instagram.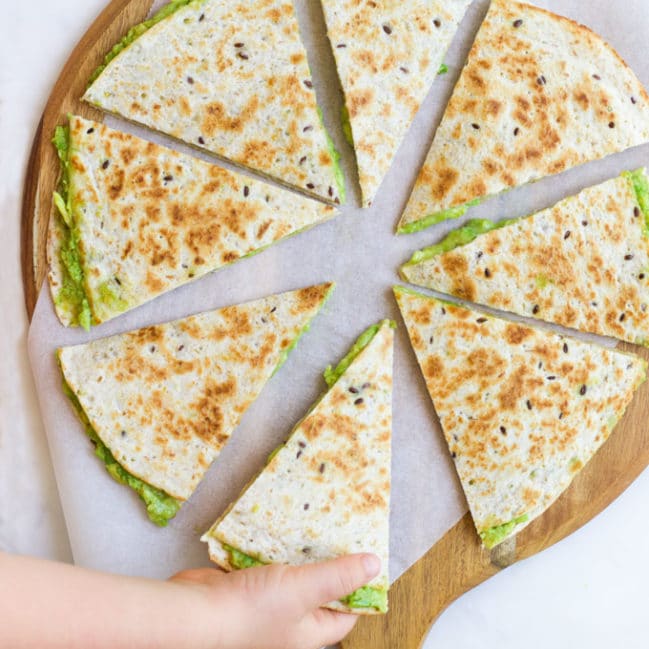 Avocado Quesadilla
Tortilla wraps filled with avocado and cheese and lightly pan-fried.
Prep Time: 5 minutes
Cook Time: 5 minutes
Total Time: 10 minutes
Serves:4
Hover over "serves" value to reveal recipe scaler
Ingredients
2 large flour tortilla wraps
1 avocado, mashed
50g (½ cup) grated cheddar cheese *SEE NOTE 1
Instructions
Sprinkle half of the cheese on one of the tortilla wraps.

Add the mashed avocado and spread to the edges.

Sprinkle on the remaining cheese and then add the second tortilla on top.

Heat a large, non-stick, frying pan over medium heat. Carefully place the quesadilla in the pan and cook for approx. 2-3 mins, or until golden brown. *SEE NOTE 2

Using a spatula, gently flip the quesadilla and cook for a further 2-3 mins.

Slice and serve straight away.
Recipe Notes
I used cheddar cheese but you can replace it with any good melting cheese (like Tasty, Monterey Jack, Colby)
I used a non-stick pan and required no oil. Depending on your pan, you may need a light spray of oil. Be careful not to use too much as this can make the tortilla soggy. 
You can also make this with one tortilla, see above post for more details. 
Why not try adding chopped tomato, black beans, corn, diced chicken, roasted capsicum or some left over chilli?
Nutritional information is a ROUGH guide only, calculated using an online nutrition calculator. 
Nutritional facts
Calories: 175kcal | Carbohydrates: 12g | Protein: 5g | Fat: 12g | Saturated Fat: 3g | Cholesterol: 13mg | Sodium: 184mg | Potassium: 278mg | Fiber: 3g | Sugar: 1g | Vitamin A: 200IU | Vitamin C: 5mg | Calcium: 112mg | Iron: 0.9mg