These Cheese and Tomato Quinoa Balls are perfect for little hands and something the whole family can enjoy.
We eat quinoa at least once a week and now that Rory is having meals with us I wanted to make something that would be easy for him to pick up. Quinoa balls are perfect for baby-led weaning and therefore I turned one of Finn's favourite quinoa recipes into these balls. Before cooking I added some mozzarella to the centre to make it gooey in the middle. (Finn loved this part!)

I started by sautéing an onion with some garlic and then added chopped tomatoes and water. To this, I added the quinoa and brought it to a boil. I then popped a lid on, lowered the heat and allowed it simmer until the liquid was absorbed (around 15 mins). After leaving it for 5 minutes, with the pan lid still on, I added grated cheese and chopped basil. Once cooled I stirred in the beaten egg and formed the mixture into 13 heaped tablespoon sized balls. Before putting the quinoa balls in the oven I broke them in half, added a small pinch of mozzarella and closed them back up ensuring the mozzarella was fully encapsulated.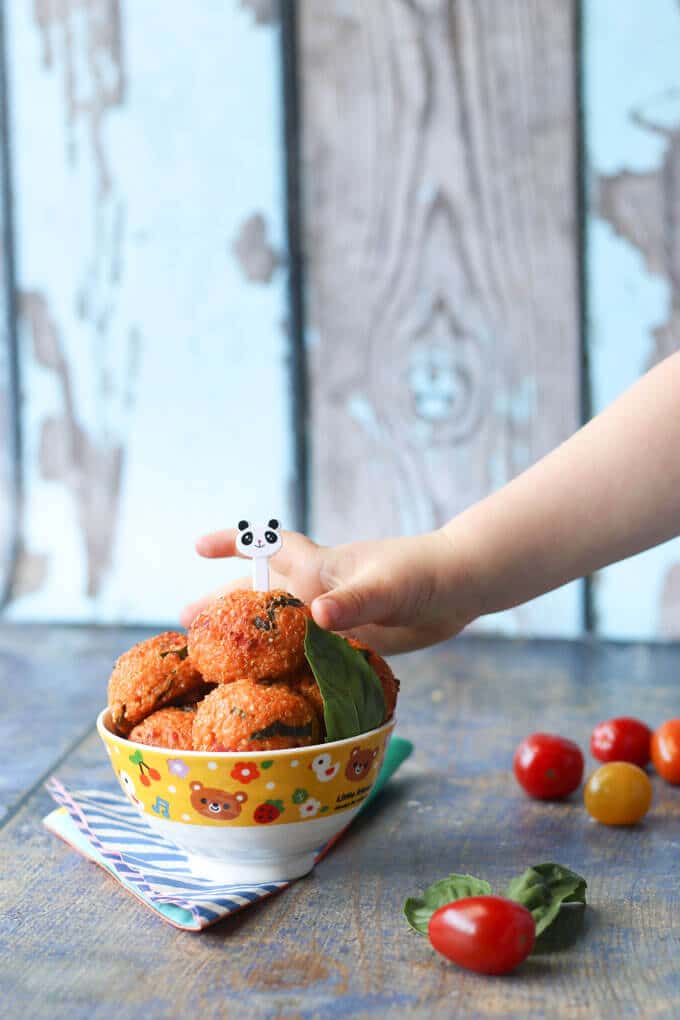 These quinoa balls taste great hot or cold. If you eat them cold you won't enjoy the gooey mozzarella centre the same but they still taste great. They would be perfect for a packed lunch or to have in the fridge ready for a quick meal.
As these were a big hit with both Rory and Finn I'm definitely going to try out a few other variations of quinoa balls. The combinations are endless but off the top of my head I'm thinking Spinach & Cream Cheese, Sweet and Sour, Mexican and Curried Chicken would all work well.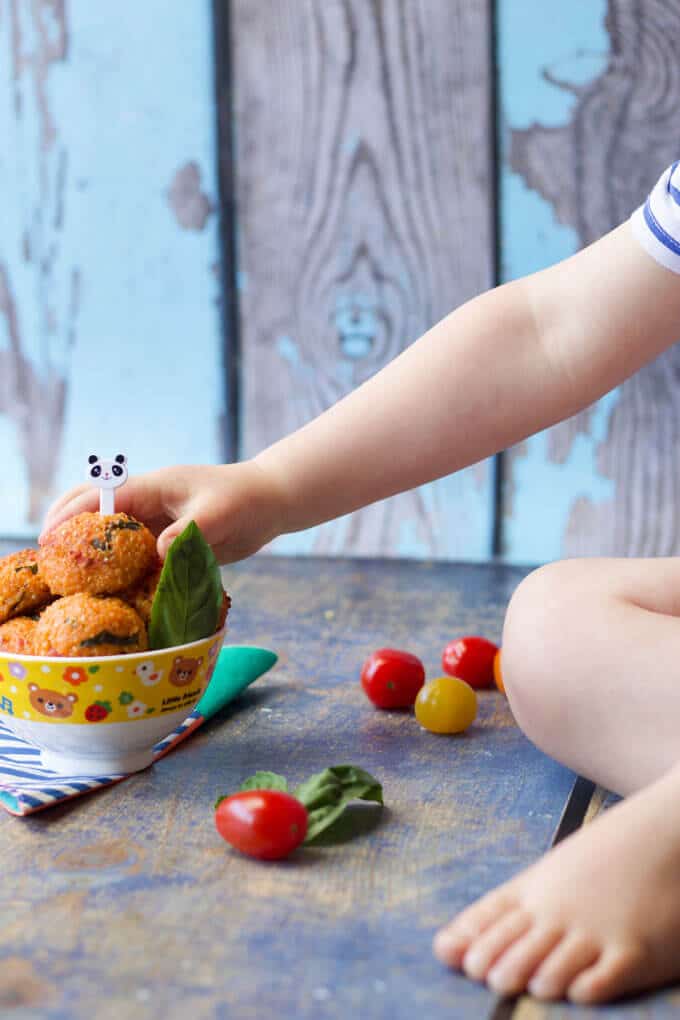 Looking for more healthy kid recipes?Sign up for my free recipe newsletter to get new family friendly recipes in your inbox each week! Find me sharing more kind-friendly inspiration on Pinterest and Instagram.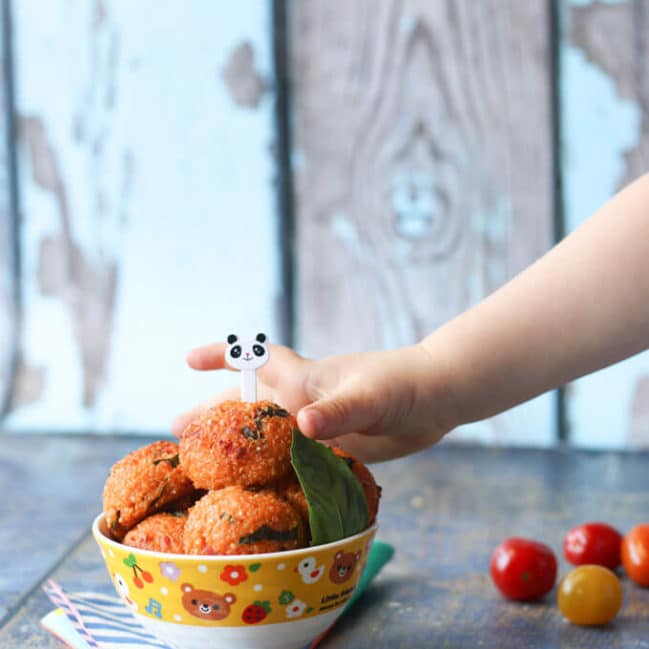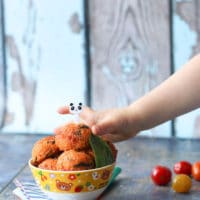 Cheese and Tomato Quinoa Balls
Delicious tomato, cheese and basil quinoa formed into balls to make it perfect for little hands.
Hover over "serves" value to reveal recipe scaler
Ingredients
100 g (1/2 cup) quinoa (uncooked)
1/2 tbsp oil
1/2 onion (finely chopped)
1/4 tsp garlic (finely chopped)
120 g (1/2 cup) canned chopped tomatoes
120 ml (1/2 cup) chicken / vegetable stock
60 g grated cheddar
1 tbsp chopped basil leaves
1 egg (beaten)
mozzarella (optional)
Instructions
Pre heat oven to 180c / 350f / gas 4

In a bowl soak the quinoa in water.

Heat oil (or butter) in a pan and gently sauté the onions and garlic until the onions become translucent.

As the onions are cooking, thoroughly rinse the quinoa.

To the onions and garlic, add the tomatoes, stock, quinoa and stir.

Bring to the boil then reduce the heat to low, cover and allow to simmer for 15 mins.

Turn the heat off and leave the quinoa to sit covered for a further 5 mins

Stir in the cheddar cheese & basil.

Allow to cool and then stir in the beaten egg.

Form heaped tablespoon sized balls.

(Optional) break each ball in half, add a small ball of mozzarella and re form the balls making sure the mozzarella is fully covered.

Cook in the oven for 25 mins or until golden.