Pasta sauces, like many meals that have a sauce base, are a great way to up the vegetable intake of your child's meal. This Veggie Pasta Sauce is loaded with six different vegetables and blended smooth, making it perfect for fussy eaters or kids with textural issues.
Although I strongly believe children should be continually exposed to vegetables (that actually look like vegetables), I believe hidden (or as I like to think of it, boosted) veggie dishes have their place too. (read more about hidden veggies here)
For some parents, hidden veggies may be the only way they can get their child to eat vegetables.
Most people struggle to eat the recommended daily servings of vegetables. Eating a meal with hidden vegetables and then serving that meal with extra vegetables is a great way to up vegetable intake.
Vegetables actually add a lot of flavour to dishes but some children struggle with their texture. Blending them allows the flavours to be enjoyed without the "bits."
Hidden vegetable meals can be a stepping stone to children accepting vegetables. Parents can explain what vegetables are in the sauce or, even better, kids can help make it and see that vegetables can be a good thing.
Variety of Vegetables
As you can see, from the picture above, this sauce is crammed with a variety of vegetables. Some children enjoy one or two vegetables and so it becomes easy to fall back on serving only the ones they like. However, for full nutritional gain, we want to eat a wide variety. This sauce adds the nutritional goodness of six different vegetables along with chopped tomatoes.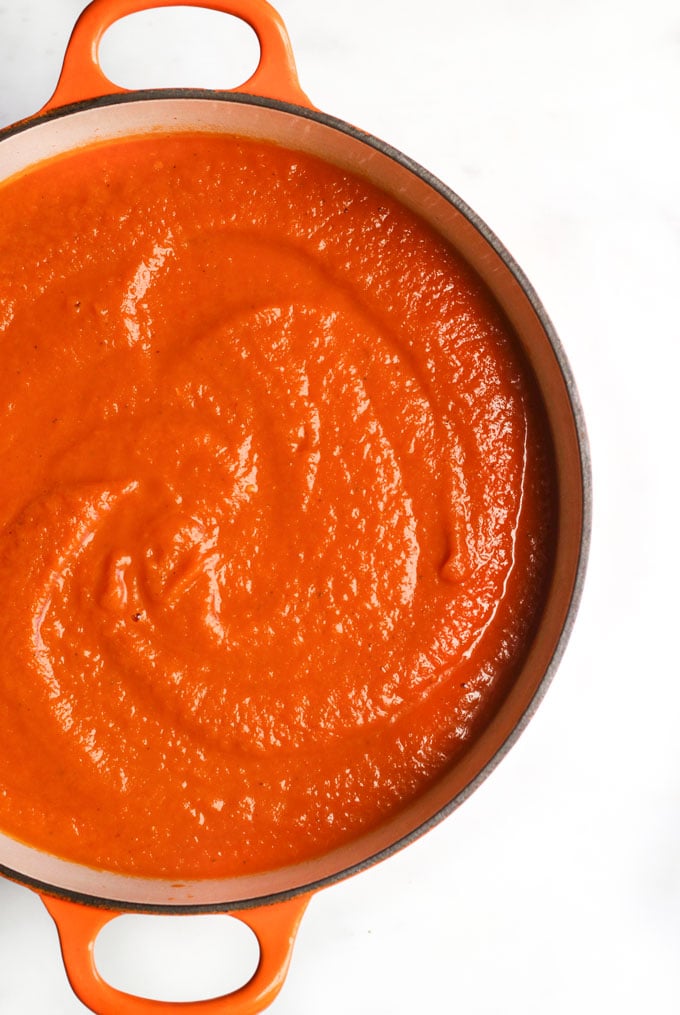 Freezer Friendly
A lot of commercial pasta sauces have added sugar and are high in salt. Although they are convenient and easy for busy weeknights this sauce is a much healthier alternative.
Although it takes time to prepare, it stores really well. You can make a big batch, say once a month, and freeze it in portions. I usually leave a jar in the fridge, to use that week, and then freeze the remaining sauce in zip lock bags.
Of course, this Veggie Pasta Sauce doesn't have to be limited to just pasta. Why not try using it as a pizza sauce or in a chicken bake or use it to replace tomato sauce/passata / chopped tomatoes in a recipe.
You may also like...
Looking for more healthy kid recipes?Sign up for my free recipe newsletter to get new family friendly recipes in your inbox each week! Find me sharing more kid-friendly inspiration on Pinterest and Instagram.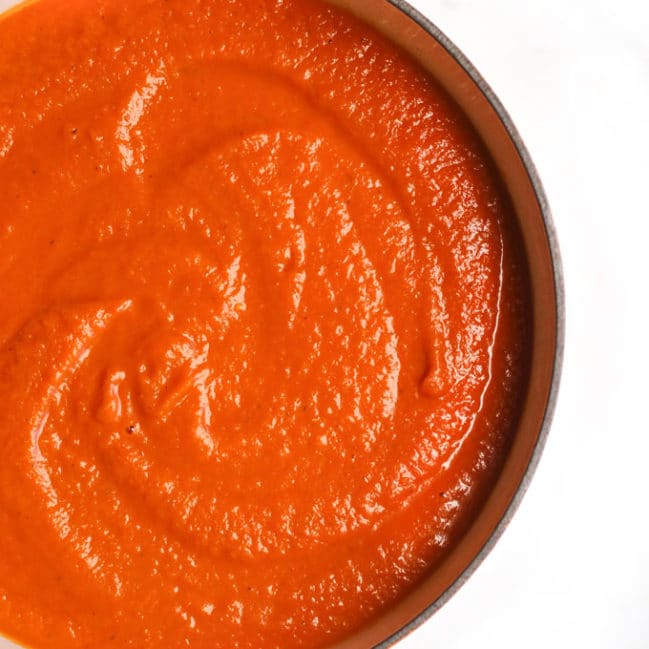 Veggie Pasta Sauce
A delicious veggie pasta sauce, crammed full of 6 different vegetables. Perfect for picky eaters or just a great way to add more veg to your family's diet. No added salt or sugar. Great for a pasta sauce or for topping pizzas. It can also be used to replace tomato sauce in most recipes.

Prep Time: 20 minutes
Cook Time: 45 minutes
Total Time: 1 hour 5 minutes
Serves:19
Hover over "serves" value to reveal recipe scaler
Ingredients
2 tbsp Olive Oil
2 Onions, finely chopped
1 tsp Minced Garlic
2 tsp Dried Mixed Italian Herbs
3 Celery stalks, trimmed and finely chopped
2 Leeks, trimmed and finely chopped
2 Carrots, peeled and finely chopped
2 Capsicums (bell peppers), finely chopped
1 Zucchini (courgette), finely chopped
1.6kg (4 x 400g Cans) Chopped Tomatoes
1 tbsp Tomato Paste (tomato puree)
500ml (2 cups) Vegetable / Chicken Stock *SEE NOTE 1
Instructions
Heat the oil in a LARGE saucepan, over a medium heat. Add the onion, garlic, and mixed herbs and stir for a couple of minutes.

Add the remaining vegetables (celery, leeks, carrots, capsicum, zucchini) and cook, covered, for around 20 minutes. Continually check and stir the vegetables, you want them to soften but not burn.

Add the tomatoes, tomato paste, and stock (SEE NOTE 1). Stir until combined. Bring to a boil, reduce the heat and allow to simmer for a further 20 mins.

Allow to cool slightly and then blend until smooth (SEE NOTE 2)

Allow to fully cool before pouring the sauce into containers/zip lock bags for storing. (SEE NOTE 3)
Recipe Notes
Can be replaced with water if you prefer. Please use water / homemade stock if serving to a baby / young child to reduce sodium levels.
You can blend using a stick blender, food processor or blender. You will probably have to do this in batches due to the volume of sauce. 
This recipe makes A LOT of sauce. (Around 2.6kg which is roughly the equivalent of 6-7 commercial jars of pasta sauce.) The reason I make so much is so I only have to make it occasionally and can freeze the remaining sauce for quick and easy weeknight meals. If you prefer you could half or even quarter the recipe. 
Nutritional information is an ESTIMATE only, calculated using an online nutrition calculator. Facts should be used as a guide only.  Facts are based on the recipe making 19 portions (each portion being around ⅓ of a standard sized jar (400g) of pasta sauce)
Nutritional facts
Calories: 50kcal | Carbohydrates: 8g | Protein: 1g | Fat: 1g | Sodium: 245mg | Potassium: 295mg | Fiber: 2g | Sugar: 4g | Vitamin A: 1855IU | Vitamin C: 28.7mg | Calcium: 51mg | Iron: 1.8mg