Delicious pancakes filled with cinnamon-spiced apple and raisins. These Apple Pancakes are a great finger food for baby-led weaning, toddlers or for adding to a lunchbox.
Recently I've had to up my game a bit on my lunch box packing. I'm now competing against a school canteen and the food my eldest sees in his friend's lunchboxes.
A few weeks ago, I found out that Finn had taken quite a bit of money, he found lying around our house, to spend at the school canteen. He spent the money on ice-pops, banana bread, chips, chocolate milk etc. His excuse was "everyone else gets to buy it."
I was pretty devastated that 1) he took money from us and 2) he used it to buy junk food! Although he doesn't get a lot of this food at home I've never stopped him from eating it at friends houses, sports games, parties or when we are out and about.
He is a fantastic eater, loves all food and is a delight to feed. I've always followed the 90% healthy 10% treat rule and thought that feeding was the one part of parenting that I had sorted. It would seem that I was wrong!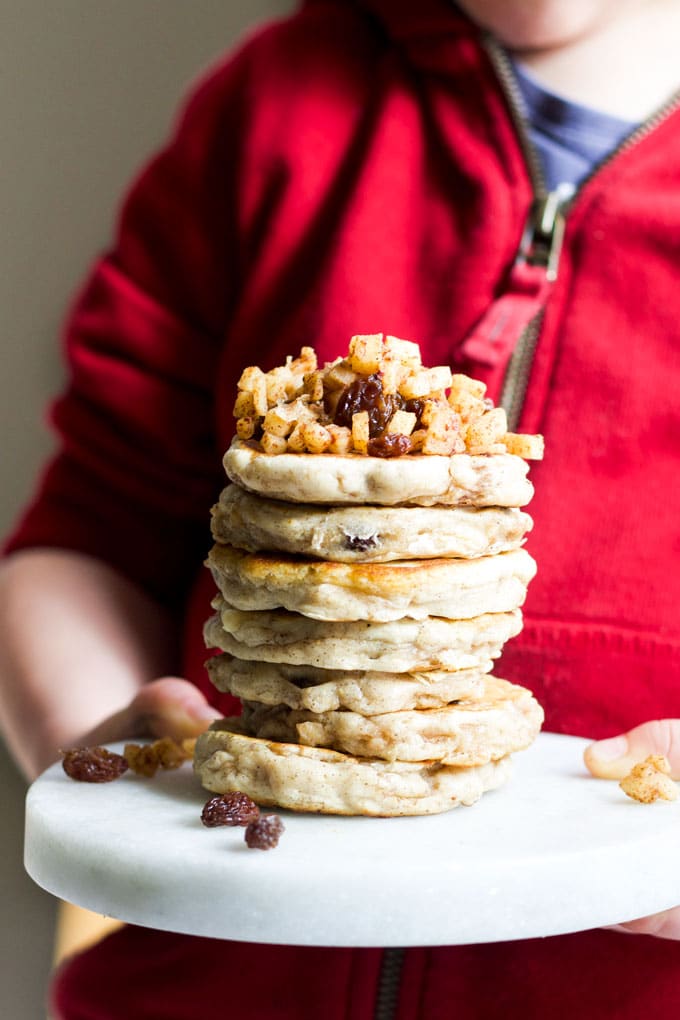 Now, every Sunday, we discuss what "treat" Finn would like in his lunchbox that week. I'm doing this to give him more ownership and to make the lunchbox more appealing.
We make a recipe together and pop what we make in the freezer, to add to the lunchboxes each morning. So far we have made apple cookies, mango oat bites, bliss balls and these apple pancakes.
Apple pancakes are perfect for the lunchbox, although they taste amazing straight from the pan, I actually think they taste even better cold.
How to Make Apple Pancakes
To make these pancakes you start by sauteeing chopped apple with cinnamon until soft. This is then added to pancake batter along with some raisins. The result is a delicious fluffy pancake with sweet apple pieces.
I have seen a lot of apple pancake recipes with raw grated apple added to the mixture. If you are short on time, or your child doesn't like "bits" then this is a great alternative.
Personally, I love the little chunks of apple along with the raisin and the texture contrast it provides.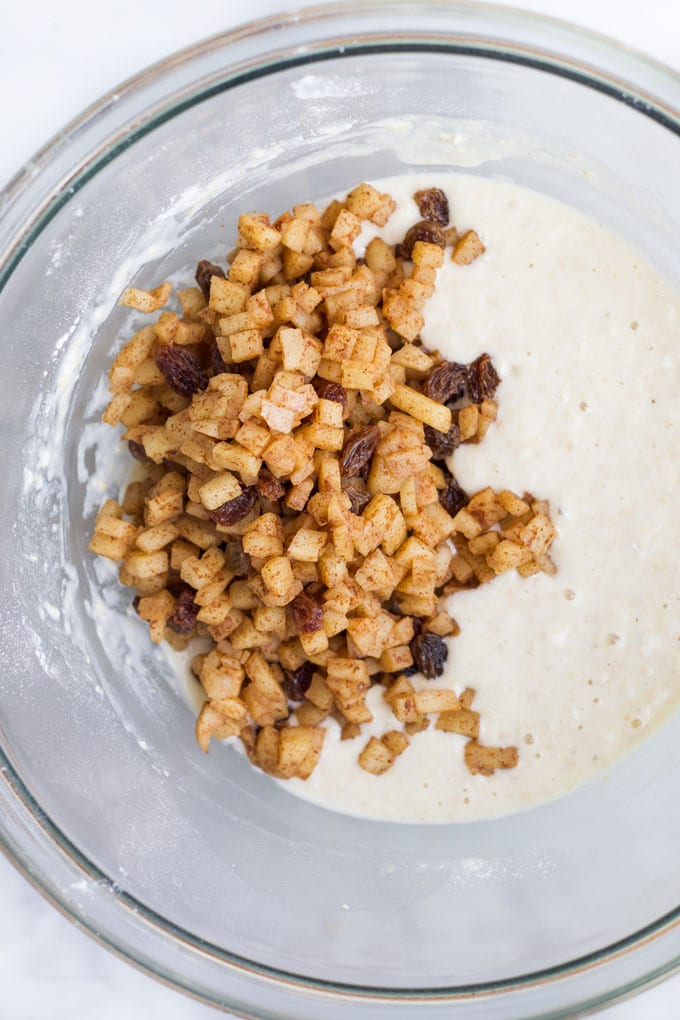 Pancake Making Tips
To ensure fluffy, delicious pancakes I follow these tips
Mix the dry and wet ingredients separately. – Mix the dry ingredients in one bowl and the wet in another bowl. Pour the wet into the dry and..
Just Barely Mix – You should still see some small and medium-sized lumps in the batter. If it is too smooth you risk your pancakes being dense. Add the apples and raisins and stir until just combined.
Get the right heat – I find a medium heat is perfect for this pancake. This will vary depending on your stove. Make a small test pancake first to check the temperature. If the outside is scorched and the inside is still raw then turn down the heat.
Wait for the bubbles – Flip the pancakes only once bubbles form on the top. The other side will cook quicker, cook until golden.
How to Store Apple Pancakes
Apple pancakes are a great make-ahead food and they can be enjoyed cold or re-heated easily.  Allow the pancakes to cool to room temperature before storing.
Refrigerating Apple Pancakes

Once cool, store in an airtight container and refrigerate.

Freezing Apple Pancakes

Place the pancakes on a baking tray, so they are close together but not touching. Place in the freezer until frozen, around 30 mins. Then transfer to a freezable container.
You can re-heat apple pancakes, from frozen, in  the
Microwave (depending on oven, around 15sec for 1 pancake)
Oven ( 175c / 350f), place on a tray, cover with foil and heat for 10 mins.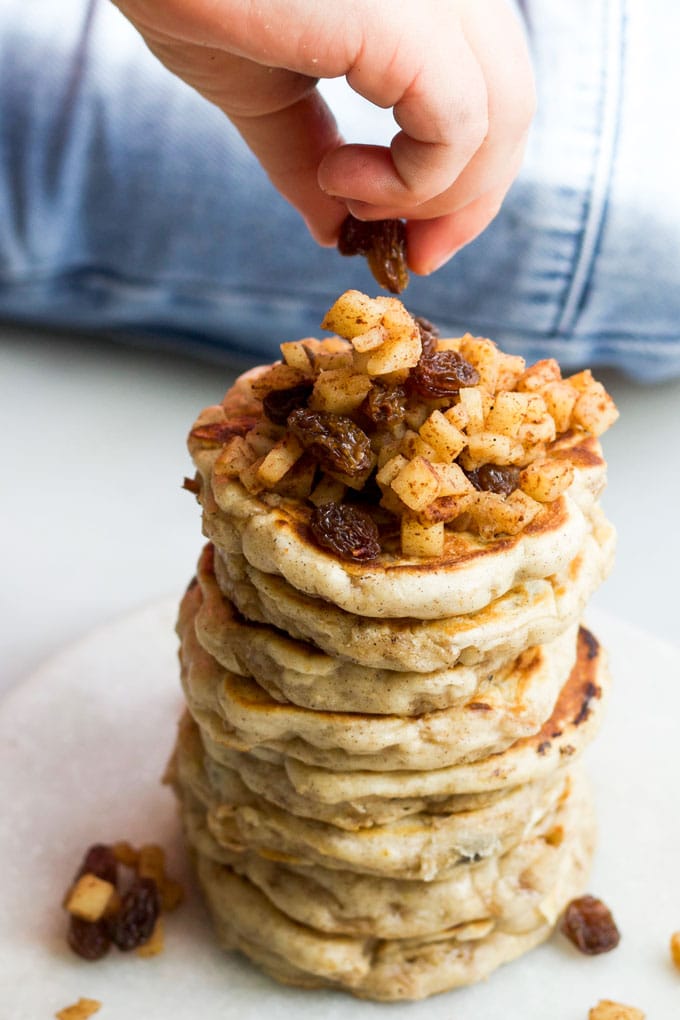 You may also like
Have you tried this recipe? I love to receive feedback! Please rate and comment below or tag me on Instagram or Facebook.
Looking for more healthy kid recipes?Sign up for my free recipe newsletter to get new family friendly recipes in your inbox each week! Find me sharing more kind-friendly inspiration on Pinterest and Instagram.
Apple Pancakes
Delicious fluffy pancakes filled with cinnamon-spiced apple and raisins.
Prep Time: 10 minutes
Cook Time: 20 minutes
Total Time: 30 minutes
Serves:18 pancakes
Hover over "serves" value to reveal recipe scaler
Ingredients
40g 1/4 cup Raisins
2 Apples, finely chopped (roughly 0.5cm cubed) I used Pink Lady
1 tsp Cinnamon
2 tsp Coconut Oil * can substitute with butter
60g Wholemeal (wholewheat) Flour * SEE NOTE 1
60g Plain (all purpose) Flour * SEE NOTE 1
2 tsp Baking Powder
3/4 cup Milk
1 Egg
Instructions
Place the raisins in a small bowl and soak with boiling water. (SEE NOTE 2)

Heat a nonstick skillet over a medium heat and add one teaspoon of the coconut oil (or butter). Add the chopped apple and cinnamon, reduce the heat, and saute until soft, around 3 mins. Remove from heat.

In a large mixing bowl combine the flours and baking powder. In a separate bowl mix together the egg and milk. Add the wet ingredients to the dry and stir. Don't over mix, a few small and medium lumps are fine.

Drain the raisins and add to the pancake batter along with the sauteed apples. Stir until just combined.

Heat a nonstick skillet on a medium heat (SEE NOTE 3) and brush with coconut oil/butter. Add tablespoons of the mixture into the pan, I did 4 at a time.

When bubbles rise to the surface, flip and cook the other side until golden.

Repeat until the mixture is finished.
Recipe Notes
I often make these with 100% wholemeal flour. Depending on what your family is used to, you can use 100% plain, 100% wholemeal or any ratio in between. 
This step is optional but I love how plump and moist the raisins become when soaked. They taste great in the pancakes. 
 The trick to making good pancakes is to get the temperature right. This will vary depending on the stove. Make a small test pancake first to check the temperature. If the outside is scorched and the inside is still raw then turn down the heat. 
Nutritional information is a rough ESTIMATE only. Results will vary depending on brands used.
Nutrition Facts
Apple Pancakes
Amount Per Serving
Calories 55 Calories from Fat 9
% Daily Value*
Fat 1g2%
Cholesterol 10mg3%
Sodium 9mg0%
Potassium 128mg4%
Carbohydrates 10g3%
Fiber 1g4%
Sugar 2g2%
Protein 1g2%
Vitamin A 40IU1%
Vitamin C 1.1mg1%
Calcium 41mg4%
Iron 0.5mg3%
* Percent Daily Values are based on a 2000 calorie diet.