This Slow Cooker Chicken Noodle Soup is as comforting as it is delicious. Packed with juicy chicken, tender vegetables, and hearty noodles it is a satisfying soup that practically cooks itself!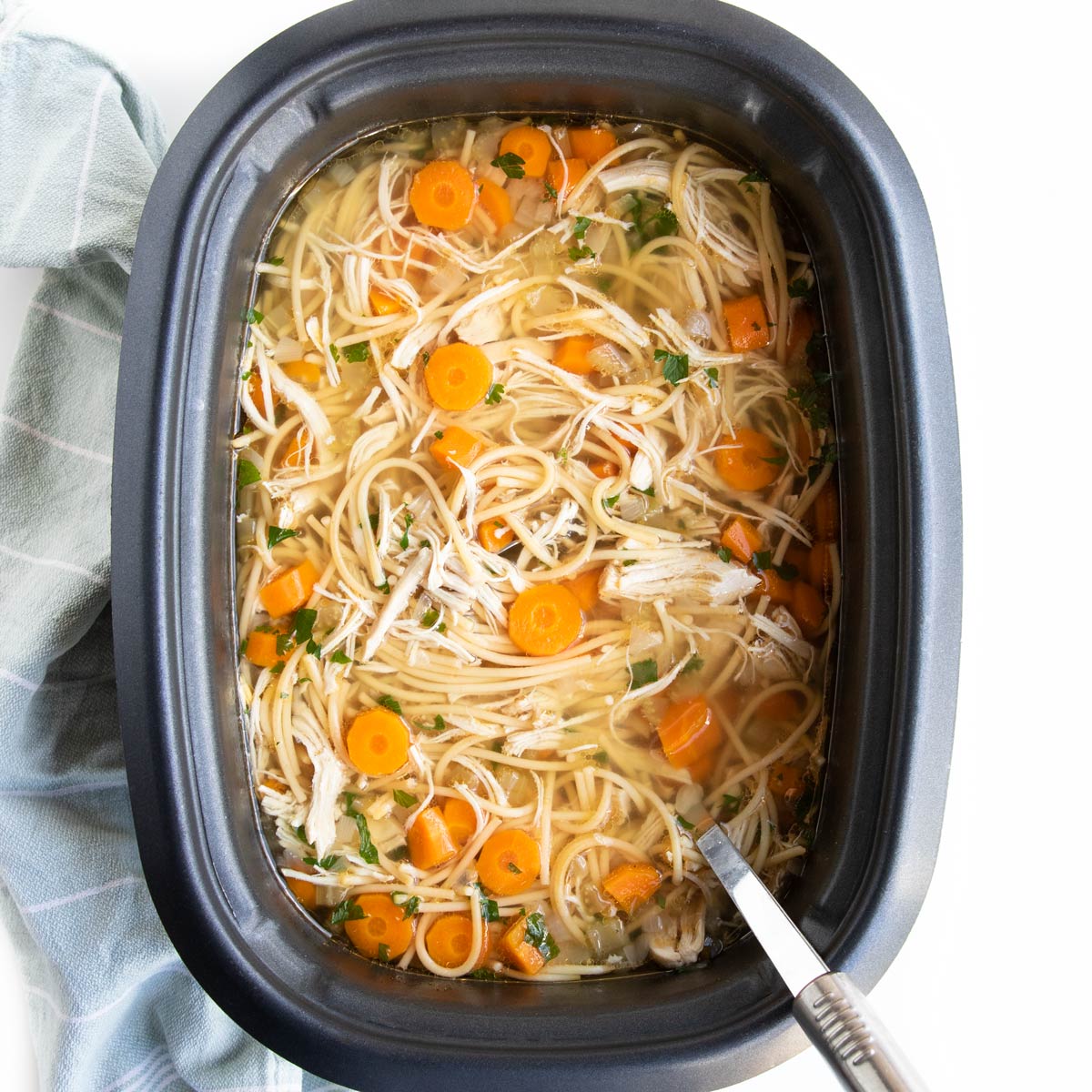 Jump to:
Slow Cooker Chicken Noodle Soup is an absolute winner, especially on busy weeknights when you don't have the energy to whip up a complicated meal. Here are some reasons why I think you will love it too:
Reasons to Love this Recipe
No Pre-Cooking: Once you have chopped your vegetables you can literally throw everything into the slow cooker and walk away with no need to sauté anything beforehand.
Everything You Need in One Bowl: With fresh vegetables, lean protein from chicken breast, and carbohydrates from the pasta, it's a well-balanced and satisfying bowl of soup.
Dinner Time Breeze: You can have everything prepped in the morning and when you come home in the evening you have a delicious hot meal waiting for you.
Cozy and Comforting: There is just something about a bowl of chicken noodle soup that feels just like a warm hug! This is the perfect soup to cozy up with on a cold day or when you are feeling under the weather.
Video Tutorial
Ingredient Information (With Alternative Suggestions)
For the full recipe, with ingredient amounts, scroll to the recipe card at the bottom of the post.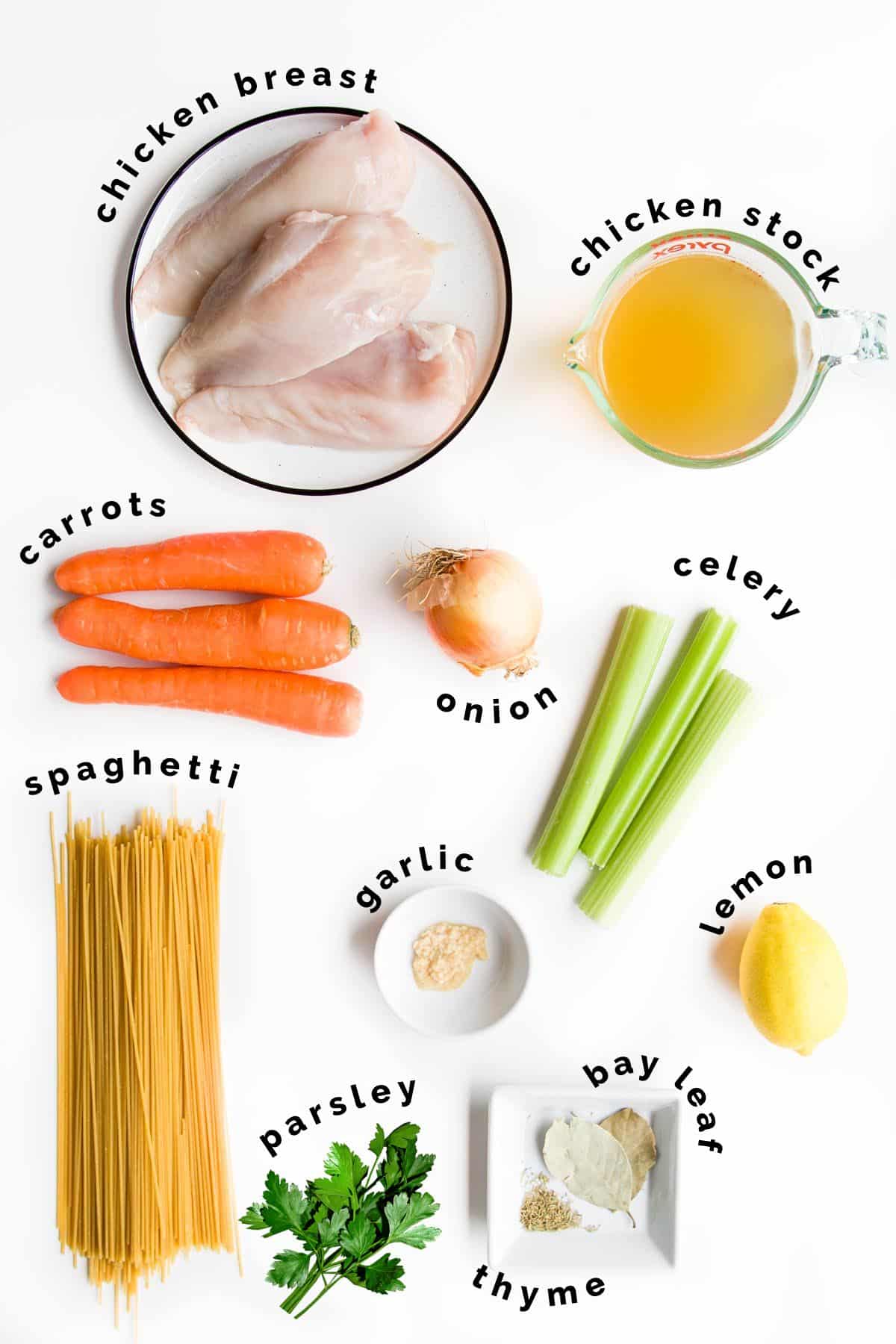 Chicken Breast: You can also use thighs if you prefer.
Onion & Celery: This is the flavour base of the soup. You can replace the celery with extra onion or vice versa. You could also use leek.
Carrots: The carrots add a little sweetness (as well as providing vitamins and fibre). You could try replacing them with other root vegetables such as parsnips.
Garlic: Adds depth of flavour to the soup.
Dried Thyme: Adds a warm, earthy flavour to the soup. Rosemary could be used as an alternative.
Bay leaves: Adds an earthy flavour. If you don't have any you can skip them.
Chicken Stock/Broth: This is the liquid base for the soup and adds flavour. Vegetable stock/broth would also work instead. If cooking for young children use homemade chicken stock or low sodium.
Spaghetti: You can replace with other types of pasta, such as macaroni or farfalle.
Lemon Juice: Added to the end of cooking to add a tangy, citrus flavour to help balance out the richness of the broth.
Parsley: Added to the end to help balance out the soup and add brightness and freshness.
Step By Step Instructions (With Images)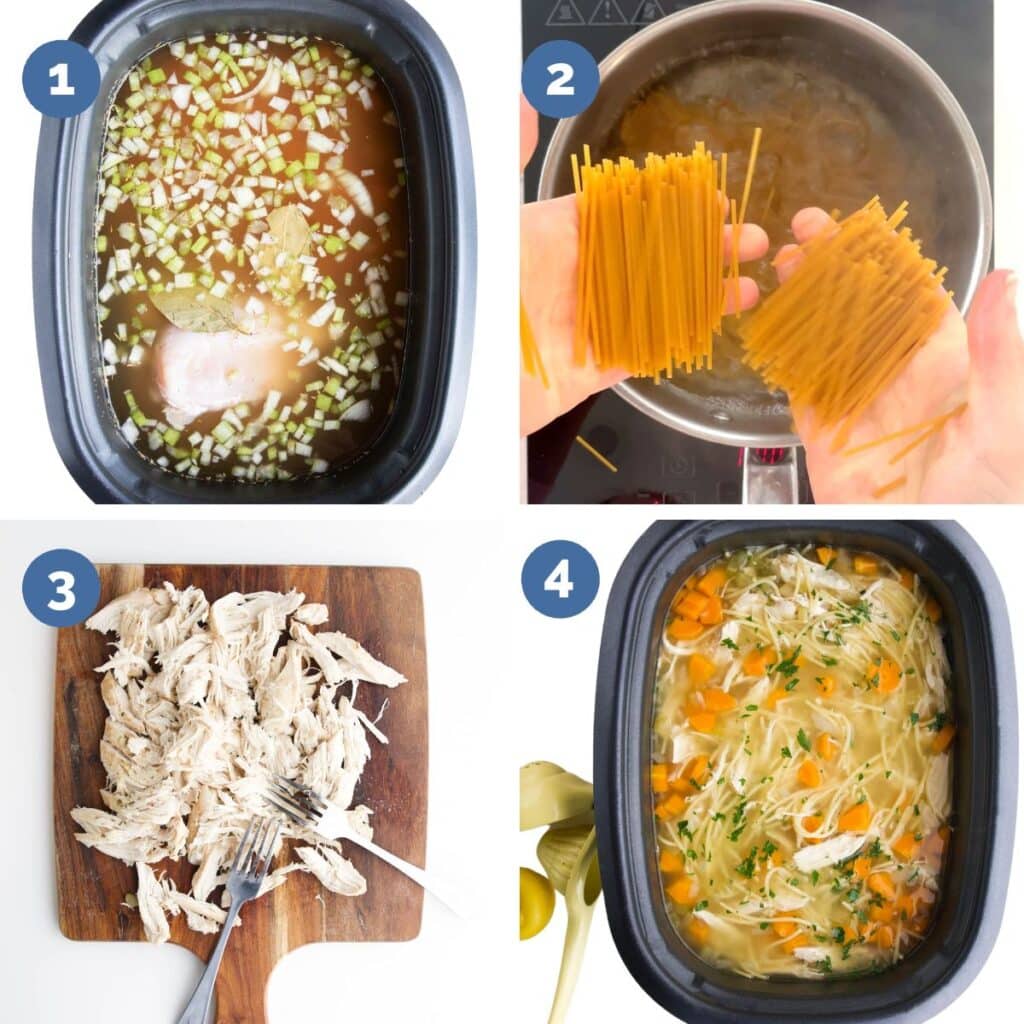 Add Raw Ingredients to Slow Cooker: Add all the ingredients except the pasta, lemon and parsley. Cook on low for 6 hours (or high for 3.5 hours).
Cook Spaghetti: Once the soup has cooked for the set time, snap the spaghetti into thirds and cook according to pack instructions.
Remove Chicken Breasts and Shred: Transfer the chicken breasts to a clean chopping board and use two forks to shred the chicken meat.
Return the Chicken and Add the Spaghetti
Finish with Lemon Juice and Chopped Parsley: Don't skip this step, it really elevates the soup by adding brightness and freshness.
Recipe FAQs
What size of slow cooker do I need?
As there is a good bit of liquid in this recipe I recommend you use at least a 6-quart slow cooker (5.6 litres). If your slow cooker is smaller I would recommend cutting the recipe in half.
Do you have to use breast meat?
No, you can use thigh meat if you prefer it. Cooking with the bone in will also provide more flavour.
Can I use frozen chicken?
It is not recommended to cook frozen chicken in a slow cooker due to the extended time required for the chicken to reach cooking temperature. This can increase the risk of food-borne illnesses. You should always thaw the chicken in the refrigerator prior to slow cooking.
Can I use other vegetables?
Yes, you can easily customise this recipe. I do feel the carrot, celery and onion give the soup great flavour but I often add some extra vegetables. Just consider the cooking time. I often add some peas or corn but always towards the end of the cooking time (when I add the noodles).
Do you have to use spaghetti noodles?
I grew up with chicken noodle soup made with spaghetti noodles so that is how I enjoy it. You can, of course, use any pasta you wish. The cooking time may vary slightly. I recommend cooking it for the stated time and if not ready, continue to cook on high and check it every couple of mins until done.
What stock/broth is best to use?
The better quality the stock is, the nicer the soup will be.
If cooking for young children you want to make sure you keep the sodium levels down. I recommend using homemade stock but if that sounds too much like hard work then look for low-sodium stocks.
How do you store leftovers?
Any leftovers I usually store in the fridge and eat the next day. If you want to freeze it, I recommend freezing it before you add the noodles.
Can I serve this soup to a baby?
If making this for a baby I recommend that you use homemade chicken stock in order to keep sodium levels down. Alternatively, you can add water and use split chicken breasts (bone-in chicken breasts) which will provide more flavour in the absence of chicken stock/broth.
Make sure that the vegetables are cut so that they aren't a choking hazard and are cooked soft enough that you can squish them between your fingers.
A great way to serve this soup to a baby is to use a slotted spoon to remove the solid pieces into a bowl and then add just a little of the broth.
Read more about soup for babies.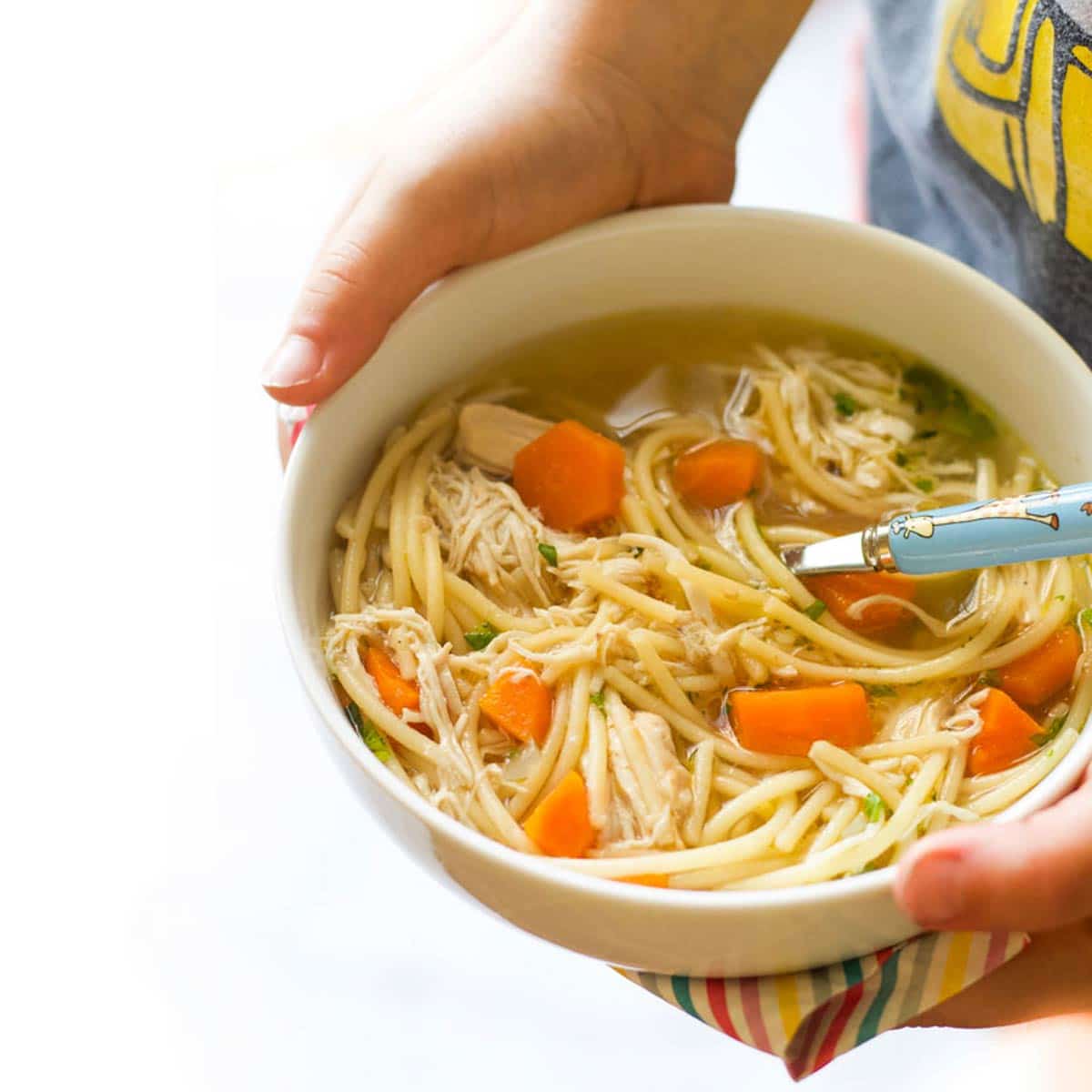 Other Slow Cooker Recipes to Try
Looking for more healthy kid recipes?Sign up for my free recipe newsletter to get new family friendly recipes in your inbox each week! Find me sharing more kid-friendly inspiration on Pinterest and Instagram.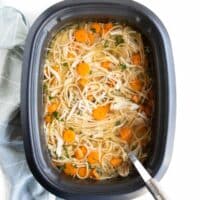 Slow Cooker Chicken Noodle Soup
A delicious and comforting soup that can made with very little effort.
Prep Time: 10 minutes
Cook Time: 6 hours 30 minutes
Total Time: 6 hours 40 minutes
Serves:8
Hover over "serves" value to reveal recipe scaler
Ingredients
700g (1½ pounds) Skinless Chicken Breast See Note 1
1 medium Onion, finely chopped
240g (approx. 3 medium) Carrots, peeled and chopped See Note 2
80g (approx. 3 stalks) Celery, finely chopped
2 teaspoon Minced Garlic
½ teaspoon Dried Thyme
2 Bay Leaves
2 litres (8 cups) Chicken Stock See Note 3
200g (8oz) Spaghetti, snapped into thirds
1 tablespoon Fresh lemon juice
1 tbsp Fresh parsley, chopped
Instructions
Add chicken, onion, carrots, celery, garlic, thyme, bay leaves and chicken stock to a slow cooker.

Cover and cook on low for 6 hours (or high for 3.5 hours). (Cook until the chicken reaches 74ºC (165ºF) adding more time if needed.

Snap the spaghetti into thirds and cook according to the pack instructions, drain.

Remove the cooked chicken breast and shred using two forks, the meat should fall apart easily.

Add the chicken back into the cooker along with the spaghetti. Stir in the lemon juice and parsley and serve.
Recipe Notes
You can replace the breast meat with thigh meat if you prefer. Just remove the bone and shred it at the same stage as you would the breast meat. 
I slice the thinner part of the carrot to give rounds and then dice the thicker end of the carrot. Slice/dice to your preference. 
For young children you should use homemade or low-sodium chicken stock to reduce the sodium level. Alternatively, reduce the amount of stock and replace it with water. 
Recipe Update March 2023: Original recipe cooked spaghetti in slow cooker which could result in an overly starchy soup. Noodles now cooked separately for better results. Original recipe available upon request; the only difference is cooking the spaghetti directly in slow cooker for 15min (on high) when returning the shredded chicken to the soup. 
Nutritional information is an ESTIMATE, calculated using an online nutrition calculator. The facts will vary depending on the brands of products used and they should be used as a rough GUIDE only. 
Nutritional facts
Calories: 237kcal | Carbohydrates: 28g | Protein: 23g | Fat: 2g | Cholesterol: 56mg | Sodium: 133mg | Potassium: 540mg | Fiber: 2g | Sugar: 3g | Vitamin A: 5125IU | Vitamin C: 5.9mg | Calcium: 30mg | Iron: 1mg