Slow Cooker Chicken Noodle Soup, a delicious and comforting meal with very little prep work.
I often get emails requesting slow cooker recipes and I can understand why. Dinner time can be stressful; often the kids are tired, hungry and cranky. This is why slow cookers are great, you can have everything prepped in the morning and when you come home in the evening you have a delicious hot meal waiting for you.
Since my eldest started school I have found slow cookers particularly useful. His busy after school schedule means that when we get in the door we need a meal ready and waiting for us. This Slow Cooker Chicken Noodle Soup is one of our favourites.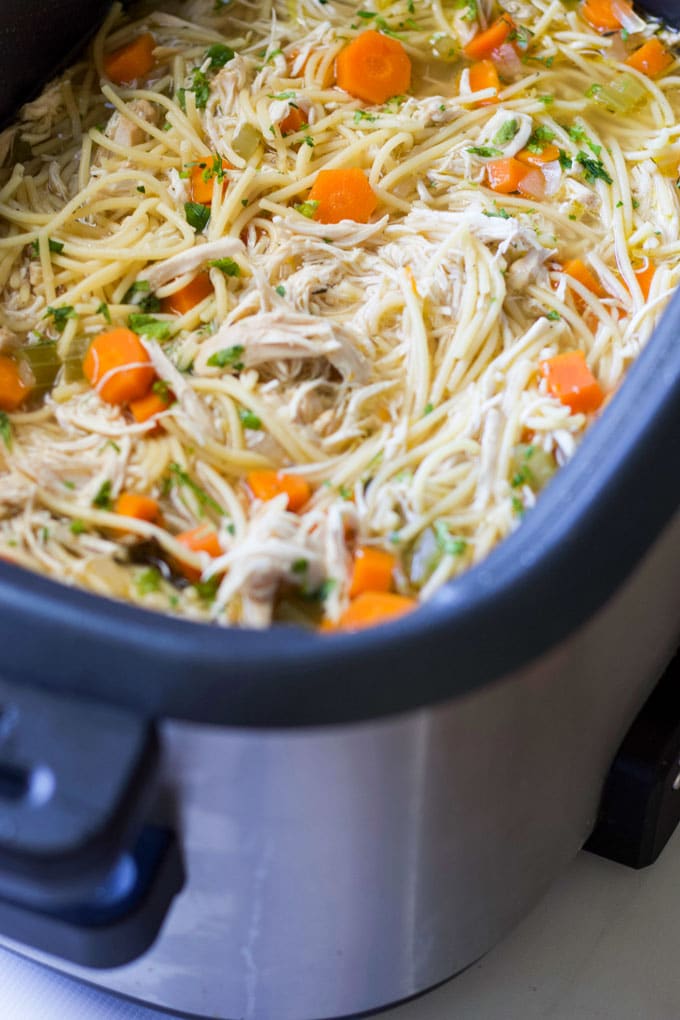 The great thing about this soup is that once you have chopped your vegetables you can literally throw everything into the slow cooker and walk away. There is no need to sauté the vegetables beforehand. Sometimes I do, sometimes I don't!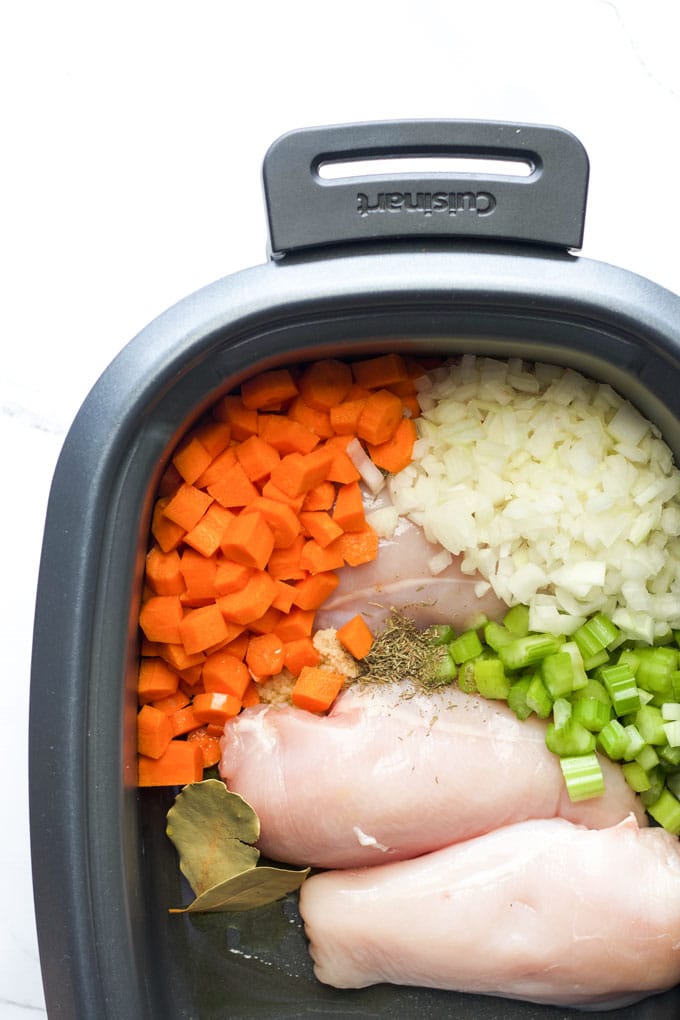 After the soup has been cooking on a low setting for 6 hours you should remove the chicken and shred it up. The chicken just falls apart and is lovely and succulent. Perfect for kids.
When I post recipes I often receive quite a few questions. I make the recipes a few times before I actually post them and by that stage it is second nature to me. I often forget to explain the reasoning behind things, say how it can be adapted and how you can store it.
I have been running the blog for a few years now and have a better understanding on what readers need and want to know about a recipe. Please keep asking the questions, it helps me become a better blogger.
Here are some tips, tricks and information you might find useful when making this Slow Cooker Chicken Noodle Soup.
Do you have to use breast meat?
No, I often use thigh meat and it literally falls off the bone. There was a time my kids only ate thigh meat as they found the breast too dry and difficult to eat. Now I use the different cuts interchangeable. I find slow cooking in liquid makes the meat so succulent, regardless of the cut, making it perfect for kids.
Can I use other vegetables?
Yes, you can easily customise this recipe. I do feel the carrot, celery and onion give the soup great flavour but I often add some extra vegetables. Just consider the cooking time. I often add some peas or corn but always towards the end of the cook time (when I add the noodles).
Do you have to use spaghetti noodles?
I grew up with chicken noodle soup with spaghetti noodles in it so that is how I make it! You can, of course, use any pasta you wish. The cooking time may vary slightly. I recommend cooking it for the stated time and if not ready, continue to cook on high and check it every 5-10 mins until done.
What stock is best to use?
If cooking for young children you want to make sure you keep the sodium levels down. I recommend using homemade stock but if that sounds too much like hard work then look for low sodium stocks.
How do you store leftover Slow Cooker Chicken Noodle Soup?
Any leftovers I usually store in the fridge and eat the next day. If you want to freeze it, I recommend freezing it before you add the noodles.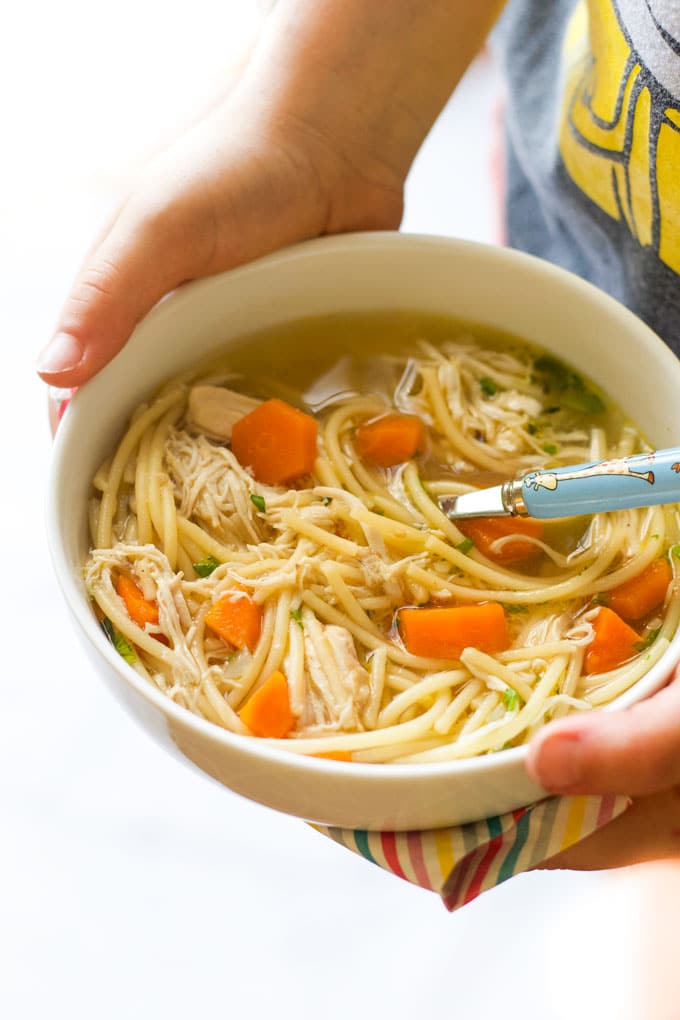 Love slow cooker recipes? Why not try
Have you tried this recipe? I love to hear your feedback, please leave a comment below or tag me on Instagram @healthylittlefoodies
Looking for more healthy kid recipes?Sign up for my free recipe newsletter to get new family friendly recipes in your inbox each week! Find me sharing more kid-friendly inspiration on Pinterest and Instagram.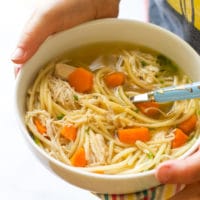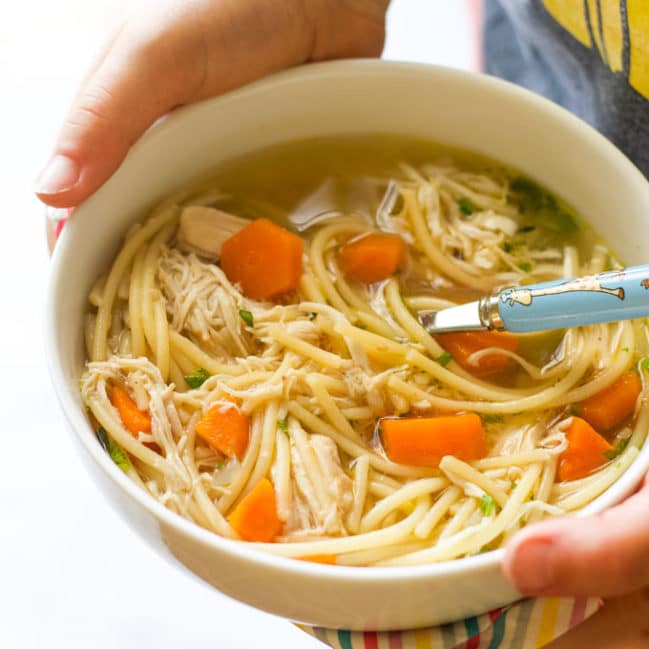 Slow Cooker Chicken Noodle Soup Recipe
A delicious and comforting soup with very little prep.
Prep Time: 10 minutes
Cook Time: 6 hours 30 minutes
Total Time: 6 hours 40 minutes
Serves:8
Hover over "serves" value to reveal recipe scaler
Ingredients
700g (1 1/2 Pounds) Skinless Chicken Breast *See Note 1
1 medium Onion, finely chopped
240g (approx 3 medium) Carrots, peeled and chopped * See Note 2
80g (approx 3 stalks) Celery, finely chopped
2 tsp Minced Garlic
1/2 tsp Dried Thyme
2 Bay Leaves
2 litres (8 cups) Chicken Stock *See Note 3
250g (8.8oz) Spaghetti, snapped into pieces *See Note 4
1 tbsp Fresh lemon juice
1 tbsp Fresh parsley, chopped
Instructions
Add chicken, onion, carrots, celery, garlic, thyme, bay leaves and chicken stock to a slow cooker.

Cover and cook on low for 6 hours

Remove the cooked chicken breast and shred using two forks, the meat should fall apart easily.

Add the chicken back into the cooker along with the pasta. Switch to a high setting, cover and cook for around 15 - 20 mins, until the noodles are cooked.

Stir in the lemon juice and parsley.

Serve
Recipe Notes
You can replace the breast meat with thigh meat if you prefer. Just remove the bone and shred at the same stage as you would the breast meat. 
I slice the thinner part of the carrot to give rounds and then dice the thicker end of the carrot. Slice / dice to your preference. 
For young children you should use homemade or low sodium chicken stock to reduce the sodium level. Alternatively reduce the amount of stock and replace with water. 
You can use any pasta you wish but the cooking time may vary, check every five mins after the set cooking time, until cooked. I like to use spaghetti and snap it into thirds, you can snap it into smaller pieces if you prefer. 
Nutritional information is an ESTIMATE, calculated using an online nutrition calculator. The facts will vary depending on the brands of products used and they should be used as a rough GUIDE only. 
Nutrition Facts
Slow Cooker Chicken Noodle Soup Recipe
Amount Per Serving
Calories 237 Calories from Fat 18
% Daily Value*
Fat 2g3%
Cholesterol 56mg19%
Sodium 133mg6%
Potassium 540mg15%
Carbohydrates 28g9%
Fiber 2g8%
Sugar 3g3%
Protein 23g46%
Vitamin A 5125IU103%
Vitamin C 5.9mg7%
Calcium 30mg3%
Iron 1mg6%
* Percent Daily Values are based on a 2000 calorie diet.