Whether you wish to make Carrot Puree as a first food for your baby or as a bright and nutritious family side dish, this recipe and guide have you covered.
How to Make Carrot Puree
Carrot puree is very easy to make:
Peel and cut carrots into evenly-sized pieces
Simmer in just enough water to cover the carrots
Drain, reserving the cooking liquid
Transfer carrots to a blender/food processor, add 2-4 tablespoon of the reserved liquid and blend until smooth

Carrot Puree for Babies
Carrot is a very versatile vegetable and is the perfect puree to mix with a range of other fruits, veggies and meats. Once your baby has enjoyed carrot puree by itself then why not try mixing it with:
parsnip puree
mashed potato

Other Ways to Use Carrot Puree
Many parents serve purees to their babies but stop pureeing food once they get older, which is understandable as we want our babies to progress and get used to different food textures.
However, purees can be a great way to add fruit or vegetables to a meal. Carrot puree can add colour, nutrition and flavour to many meals. Why not try:
Serving it as a base for your meal or a colourful accompaniment. (Try topping it with chicken or pan-fried fish)
Mixing it with mashed potato
Adding it into baked goods like carrot cake or muffins
Stirring it through sauces (e.g pasta sauce) for a nutritional boost
If serving it as a meal accompaniment try adding a knob of butter when you cook the carrots and then, once pureed, season with salt, pepper and lemon juice to taste.
Storage and Reheating Instructions
Refrigerate: Place in an airtight container and refrigerate for up to two days.
Freeze: Spoon the puree into flexible ice-cube trays, or baby food containers, and freeze until solid. (Freezing in ice cube trays allows you to defrost the small amounts when you need it). Once they're fully frozen, quickly pop them all out and place the frozen cubes into a freezer bag or container and return to the freezer. Thaw in the refrigerator.
Moving on from purees? You may also like this post on carrots for babies, showing how to prepare and serve carrots and some great baby-friendly carrot recipes
Have you tried this recipe? I love receiving your feedback. Please rate and comment below or tag me on Instagram @healthylittlefoodies
Looking for more healthy kid recipes?Sign up for my free recipe newsletter to get new family friendly recipes in your inbox each week! Find me sharing more kid-friendly inspiration on Pinterest and Instagram.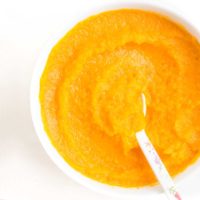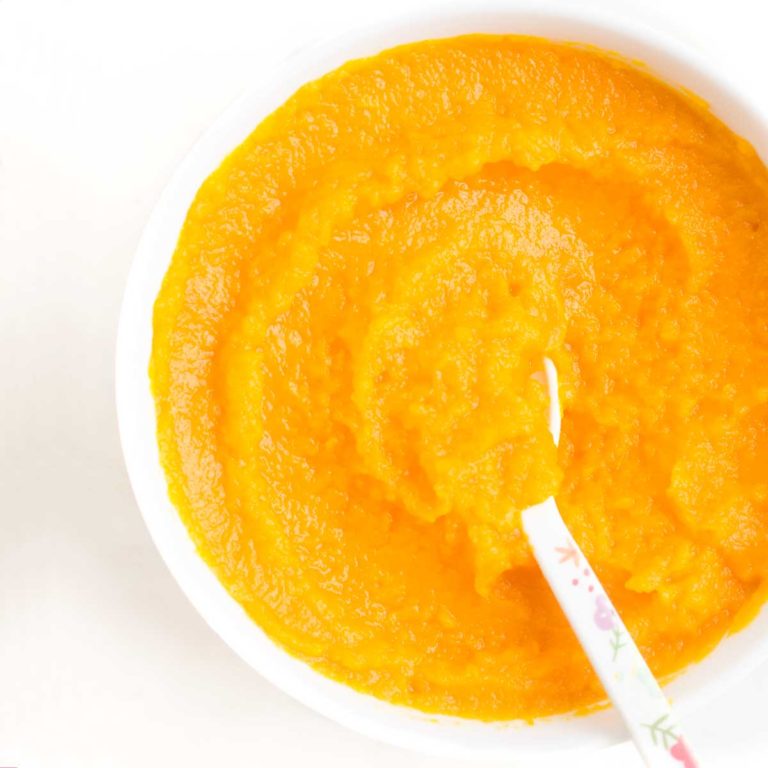 Carrot Puree
A delicious first puree for babies or a vibrant and nutritious side dish.
Prep Time: 5 minutes
Cook Time: 20 minutes
Total Time: 25 minutes
Serves:8
Hover over "serves" value to reveal recipe scaler
Equipment
High Speed Blender or Food Processor
Ingredients
500g (1.1lb) Carrots trimmed, peeled and chopped into small equal sized pieces
Instructions
Place carrots in a medium saucepan, and cover with just enough water. Bring to a boil, reduce the heat, cover with a lid and simmer until the carrots are tender (around 20 mins).

Drain the carrots, reserving the liquid.

Place the carrots into a blender, or food processor, along with 2-4 tablespoon of the reserved cooking liquid. Puree on high until very smooth, adding more liquid if required.
Recipe Notes
The amount of liquid you add really depends on the consistency you are looking for. 
Why not try adding a pinch of cumin, ginger, curry powder or nutmeg to your puree to introduce spices to your baby.   
If making as a family side dish then try cooking with some butter and after pureeing add salt, pepper and some lemon juice to taste. 
You can freeze the leftover puree in an ice cube tray or small plastic containers. See post above for more information. 
Nutritional Information is a ROUGH guide only, calculated using an online nutrition calculator. 
Nutritional facts
Calories: 26kcal | Carbohydrates: 6g | Protein: 1g | Fat: 1g | Saturated Fat: 1g | Sodium: 43mg | Potassium: 200mg | Fiber: 2g | Sugar: 3g | Vitamin A: 10441IU | Vitamin C: 4mg | Calcium: 21mg | Iron: 1mg