Sweet Potato Puree is a great first food for babies. However, this delicious puree shouldn't be limited to babies. Store some in your freezer to add extra nutrition, flavour and texture to oatmeal, sauces or baked goods.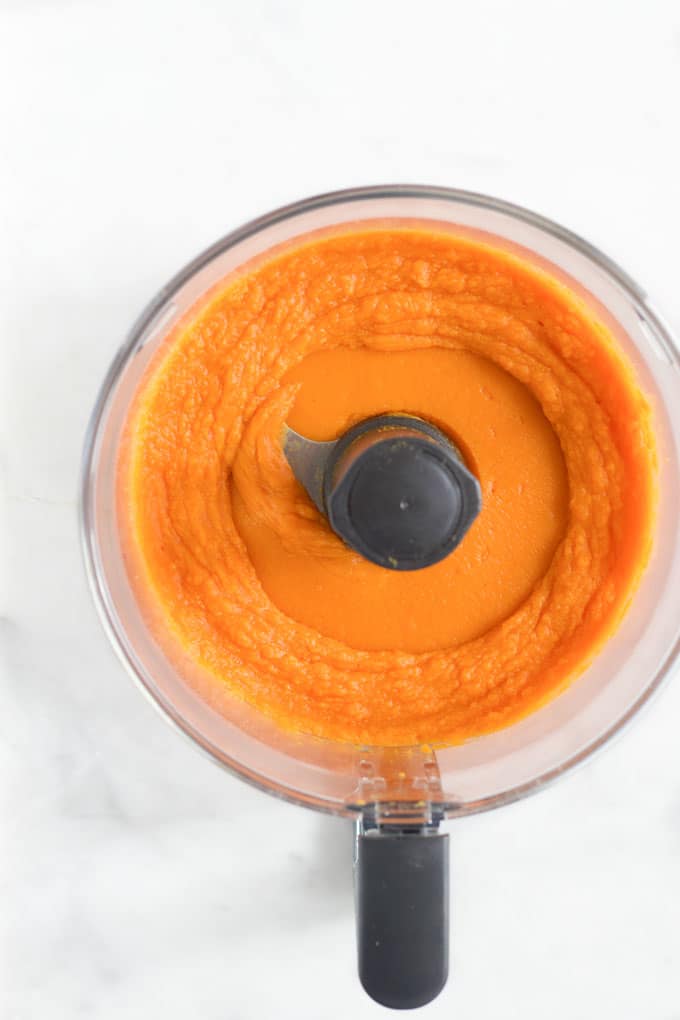 HOW TO MAKE SWEET POTATO PUREE
Making homemade sweet potato puree is easy and you only need one ingredient – sweet potato! There are several ways to cook a sweet potato and all methods will work for pureeing but, in my opinion, roasting provides the best-tasting puree.
Cooking Sweet Potato
Roasting – Roasting sweet potatoes produces a delicious caramelised flavour, making the puree extra delicious. Preheat oven to 200C / 400F. Pierce sweet potatoes with a fork and place on a baking tray. Bake for 45 minutes or until tender, and the skin is wrinkled. Allow to cool before peeling
Boiling – Peel sweet potato and cut into 1.5 cm (half-inch) cubes. In a pan, bring water to a boil and add sweet potato chunks. Reduce to a simmer and cook until tender, around 15 minutes.
Steaming – Peel and cut sweet potatoes into 1.5 cm (half-inch) cubes and steam, using a steamer, until soft.
Pureeing the Sweet Potato
Food Processor – This is what I always use.
Blender – A high-speed blender works great.
Stick Blender – Place the cooked potato into a large jug/pan and blend until smooth
Masher – Provides a chunkier puree
Thinning the Puree
Is your puree too thick? You can thin with a splash of milk (you can use breast or baby milk for babies)
HEALTH BENEFITS OF SWEET POTATOES
The sweet potato is a healthy pantry staple, containing a good mix of nutrients and vitamins. Sweet potatoes are:
High in dietary fibre – Helps keep the digestive system healthy
An excellent source of vitamin A – Essential for growth, healthy skin and for good vision.
A good source of Vitamin C – Needed for growth and healing of wounds. It also helps in the absorption on iron.
Vitamin B6 – Helps protein metabolism
Potassium – Helps the heart and muscles work better
SWEET POTATO PUREE FOR BABIES
Sweet Potato Puree can be enjoyed as it is or mixed with a range of other pureed or mashed foods. Some suggestions include….
Apples
Pears
Carrots
Parsnip
Peas
Pumpkin
Brown Rice
Quinoa
Lentils
Chicken
Beef
Yoghurt
If you want to add more texture to your puree, simply mash using a masher or blend for a shorter time
OTHER GREAT USES FOR SWEET POTATO PUREE
Add to Oatmeal – For a warm and comforting start to the morning! Why not try these Sweet Potato Pie Oats.
Use in baking – Great for adding sweetness, using as a binding agent and for adding moisture to baked goods. Use in muffins, brownies and cakes.
Add to risotto – Adds a different, yet tasty, touch to a risotto. This sweet potato and mushroom risotto looks amazing!
Stir into Sauces – Add some creaminess and sweetness to a range of different sauces.
Mix into smoothies – Sweet Potato goes well with a range of smoothie ingredients and will make a smoothie ultra creamy.
Extra Smooth Pie Topping – Great for kids with textural issues. Use it to top this Lentil and Sweet Potato Shepherds Pie
Use as an Egg Replacement in Baking – Learn more in this egg substitution guide.
HOW TO STORE SWEET POTATO PUREE
Refrigerate
Place in an airtight container and refrigerate for up to three days.
Freeze
Spoon the puree into ice-cube trays and freeze until solid. (Freezing in ice cube trays allows you to defrost the small amounts when you need it.)
Flexible ice cube trays work best as it is easier to pop out the frozen cubes.
Once they're fully frozen, quickly pop them all out and place the frozen cubes into a freezer bag or container and return to the freezer.
Thaw in the refrigerator.
Do not refreeze if puree has previously been frozen.
Looking for more healthy kid recipes?Sign up for my free recipe newsletter to get new family friendly recipes in your inbox each week! Find me sharing more kid-friendly inspiration on Pinterest and Instagram.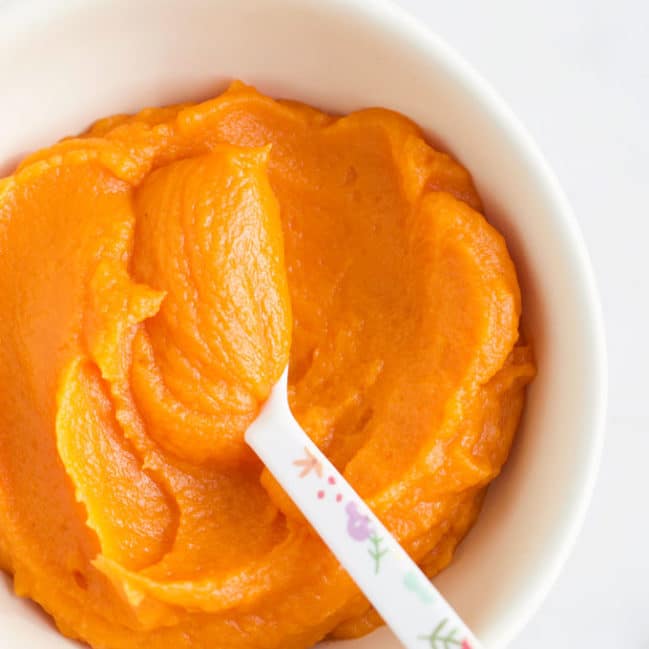 Sweet Potato Puree
Sweet Potato Puree is a great first food for when you start weaning your baby. However, this delicious puree shouldn't be limited just to babies. Stock some in your freezer to add extra nutrition, flavour and texture to oatmeal, sauces or baked goods.
Prep Time: 10 minutes
Cook Time: 50 minutes
Total Time: 1 hour
Serves:6 portions
Hover over "serves" value to reveal recipe scaler
Instructions
Preheat oven to 200C / 400F and line a baking tray with baking paper/foil.

Wash and dry the potatoes. Using a fork, pierce the potatoes several times, on both sides.

Place in the oven and roast for around 50 mins (checking after 45 mins), or until the potato is wrinkled and tender.

Allow the sweet potatoes to cool for around 10 minutes, peel the potato and place the flesh in a food processor. Blend until smooth.
Recipe Notes
If using large sweet potatoes, cut in half, lengthways, before roasting.
The length of time needed will depend on the size and thickness of the potato. 
Nutritional information is a ROUGH guide only, calculated using an online nutrition calculator. 
Nutrition Facts
Sweet Potato Puree
Amount Per Serving
Calories 64
% Daily Value*
Sodium 41mg2%
Potassium 253mg7%
Carbohydrates 15g5%
Fiber 2g8%
Sugar 3g3%
Protein 1g2%
Vitamin A 10690IU214%
Vitamin C 1.8mg2%
Calcium 23mg2%
Iron 0.5mg3%
* Percent Daily Values are based on a 2000 calorie diet.
Resources & Learn More