These Banana Oatmeal Cookies are naturally sweetened and easy to prepare. With only two base ingredients and a variety of ways to customise, you can make a version to suit every family member!
I first made these 2 ingredient banana oat cookies when my eldest was a baby, I saw the idea in a baby book (made into bars) and loved how simple they were. They are fantastic for babies but, with a little customisation, they can also be enjoyed by kids (and adults) of all ages.
Why Banana Oat Cookies Rock, Despite Your Age!
Babies - they are a great teething cookie! Use oat flour for a smoother cookie and add a little spice (cinnamon, nutmeg, cardamom) to introduce different flavours. Also a good handheld breakfast option.
Toddlers - a super easy recipe to make with young kids and with no raw egg, they can taste as much of the mixture as they like!
School kids - allow your kids to get creative in the kitchen and customise their own cookie for their lunchbox.
Adults - a healthier version of regular cookies and a great on-the-go breakfast.
Allergy Friendly - use gluten-free oats and you have yourself a gluten, egg, nut and dairy free cookie!
Just remember that these cookies are made with banana and oats - they are never going to taste like cookies with a ton of sugar and butter!
How To Make Banana Oatmeal Cookies
Mash Banana
Add Oats and mix
Add in anything else you like
Form into Cookies (these cookies aren't like regular cookies, they will not flatten when you bake them so you need to flatten and shape them before they go into the oven.)
Bake
It is an ideal recipe to get your kids (of all ages) into the kitchen. Young kids can help with mashing, stirring and forming the cookies. Older kids can develop their own cookie. Baking is usually so precise but this recipe really allows kids to experiment with flavours. They can taste and readjust as they make them.
Customise Your Banana Oatmeal Cookies - Add-In Ideas
The great thing about these cookies is that they are really adaptable. You can add a range of different ingredients to change the flavour profile, to add sweetness, add texture or add a little nutritional boost.
Below are a few add-in suggestions. Experiment and let your kids experiment too, they will love to come up with their own creation!
Spices (e.g Cinnamon, Cardamom, Vanilla, Clove, Ginger, Nutmeg, All Spice)
Citrus (e.g lime / lemon / orange zest and juice)
Chopped Nuts (e.g peanuts, macadamia, almond, cashew, hazelnut, pecan, walnut)
Coconut (desiccated, shredded, flakes)
Seeds (chia, sunflower, flax, pumpkin)
Raisins/Sultanas (soak them in boiling water first to stop them burning and going bitter)
Other dried fruit pieces
Fresh Fruit (e.g Raspberries/cherry/blueberries/ ripe pear/mango/ grated apple)
Veggies (Grated zucchini, grated carrot)
Here are a few varieties I created with the boys (pictured below).
Raspberry & Coconut (Crushed raspberries & coconut)
Zucchini and Chocolate (Vanilla, grated zucchini & choc chips)
Apple Pie (Cinnamon, ginger, grated apple & raisin)
Chocolate Orange (Orange zest, orange juice & choc chips)
Ginger and Nutmeg (Powdered ginger & nutmeg)
Macadamia & Date (Chopped macadamia and chopped date)
Cardamom and Vanilla (Cardamom and vanilla extract)
Carrot Cake (Cinnamon, grated carrot and raisin)
Chunky Monkey (Chopped Date, choc chips and a banana slice on top)
Coconut & Lime (Coconut flakes, lime zest, lime juice and vanilla)
Pepita & Honey (Pepita seeds and honey)
Cinnamon (Cinnamon)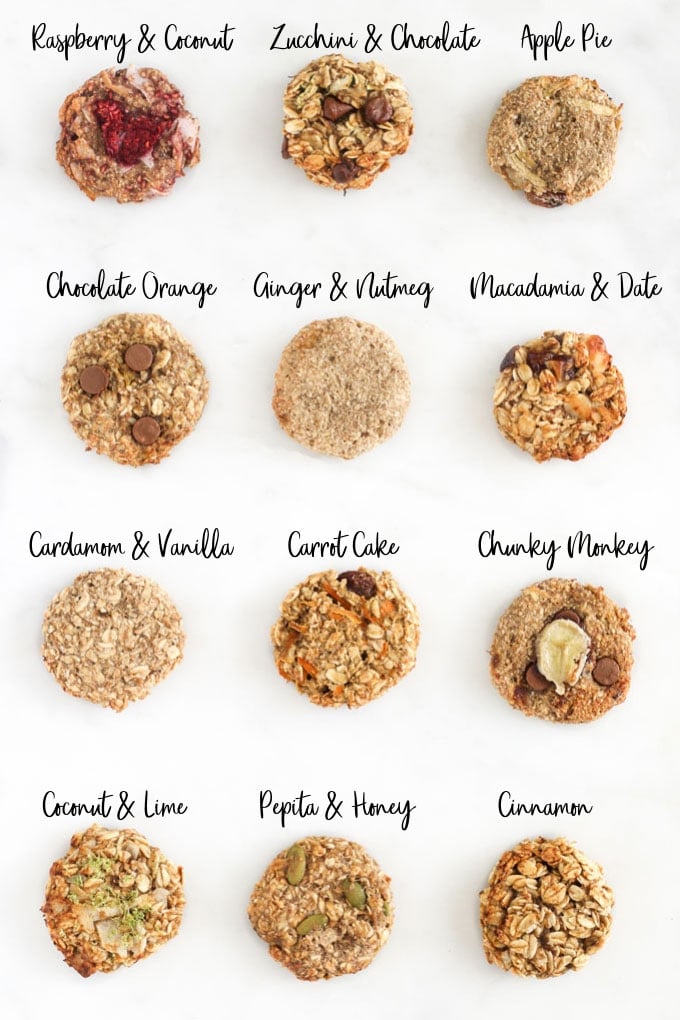 The Texture of Banana Oat Cookies
These cookies are not the same as regular oatmeal cookies. They are quite crispy on the outside with a soft, chewy inside. The oats provide the chewy texture and the type of oats you use will affect the overall texture. Personally, I prefer the texture of rolled or quick oats, I find the oat flour a little gummy but some kids may prefer the smoother texture.
The add-ins you choose will also affect texture.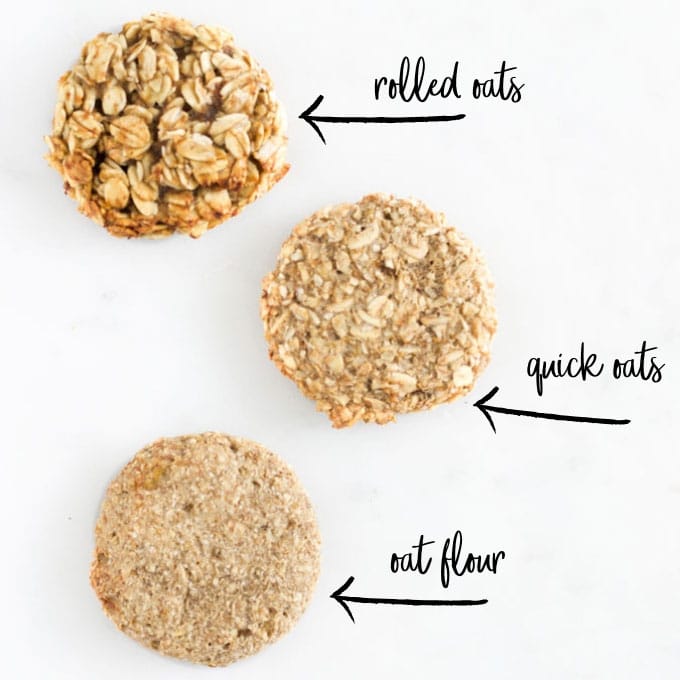 Are Banana Oatmeal Cookies Healthy?
The base recipe of this cookie is healthy but how you customise it, will affect the nutritional value. e.g
You can boost the nutrition by adding grated veg or up the protein and good fats with some crushed nuts.
You can create a sweeter, more indulgent cookie by adding a lot of dried fruit, chocolate, honey etc.
How To Store Banana Oatmeal Cookies
Store cookies in an airtight container for 1 -2 days.
Freeze - Freeze on a baking tray in a single layer. Once frozen transfer to an airtight container and store for up to 3 months.
Other Banana Oat Cookie Recipes
Some more creations, using the banana oat cookie base recipe.
Have you tried this recipe, I love to read your feedback. Please rate and leave a comment below or tag me on Instagram @healthylittlefoodies
Looking for more healthy kid recipes?Sign up for my free recipe newsletter to get new family friendly recipes in your inbox each week! Find me sharing more kid-friendly inspiration on Pinterest and Instagram.
Banana and Oat Cookies
Banana Oatmeal Cookies are naturally sweetened and easy to prepare. With only two base ingredients and a variety of ways to customise, you can make a version to suit every family member!
Prep Time: 10 minutes
Cook Time: 15 minutes
Total Time: 25 minutes
Serves:15
Hover over "serves" value to reveal recipe scaler
Ingredients
2 Ripe bananas *NOTE 1
165g 1 ¾ cup Oats *NOTE 2 & 3
Instructions
Pre heat oven to 180C / 350F / Gas Mark 4 and line a baking tray/sheet with baking/parchment paper

In a large mixing bowl mash the bananas really well, until smooth. Add the oats and mix until fully combined.

Add in any additions to suit taste *NOTE 4

Form tablespoon sized cookies and place on prepared baking tray. (make sure to form cookie shapes and not balls as these will not spread into shape like normal cookies)


Bake for approx 15 mins, or until cookies are golden and set.


Allow to cool before eating.
Recipe Notes
The riper your bananas the sweeter your cookie will be.
You can use rolled oats, quick oats or oat flour. I rarely buy quick oats but I usually blitz rolled oats in a blender for a couple of seconds to break them down a bit.
You need roughly 165g of oats to two large bananas. This roughly equates to 1 ¾  cups rolled oats or 1 ½ cups quick oats /oat flour.
Add a range of additional ingredient to change the flavour profile (e.g spices, lime/ orange zest, choc chips, dried fruit etc. See post for a detailed list of suggestions and flavour combinations.) 
Store in an airtight container for 1-2 days or freeze. 
Nutritional information is a ROUGH guide only, calculated using an online nutrition calculator. It does not include any additional add-ins. 
Nutritional facts
Calories: 55kcal | Carbohydrates: 11g | Protein: 1g | Fat: 0g | Saturated Fat: 0g | Cholesterol: 0mg | Sodium: 0mg | Potassium: 96mg | Fiber: 1g | Sugar: 2g | Vitamin A: 10IU | Vitamin C: 1.4mg | Calcium: 7mg | Iron: 0.5mg
I first published this recipe in Nov 2013. I have updated the post to include new photos, recipe information and have altered the recipe. The original recipe included add-ins of ripe pear and flaked almonds. I have changed it to give a base recipe with a range of different add-in options.