This Curried Lentil and Coconut Soup is topped with coconut and raisins to complement the spices and appeal to kids.
Finn struggled to eat meat when he was very young so I had to look to alternative protein sources (such as eggs, beans, quinoa and nuts.) Lentils are a great source of protein and I have used them in a lot of meals since Finn has been eating with us. This curried lentil and coconut soup is a favourite of his. It could be the creaminess of the coconut milk, or it could be that I serve it with coconut and raisins on top. Whatever the reason is I know that he will always scrape the bowl clean!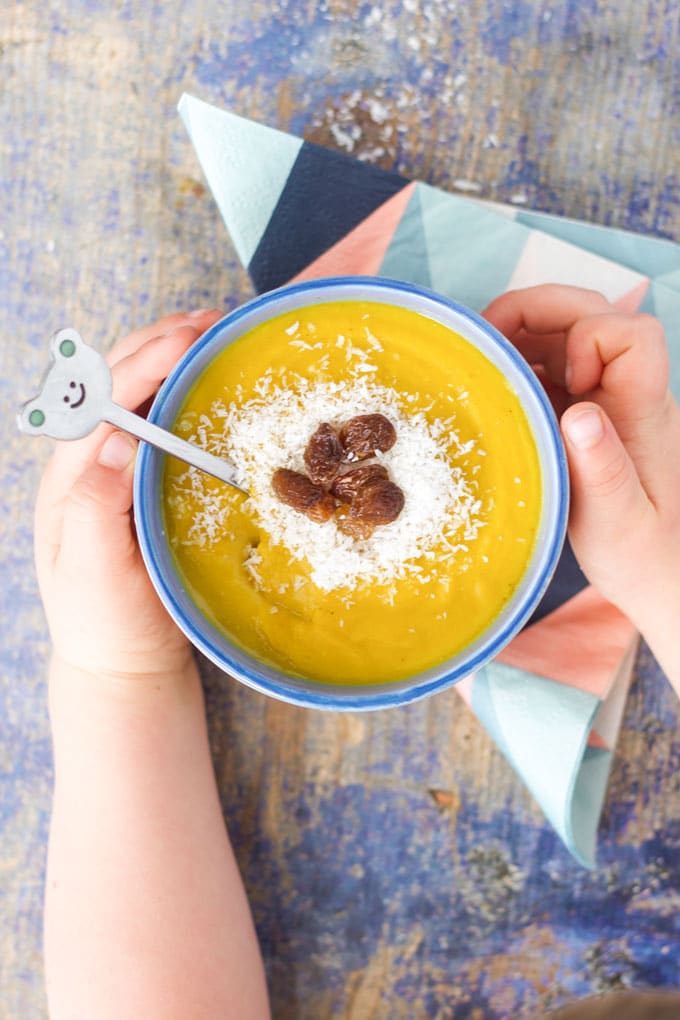 I love to add little toppings when serving soup to kids. I have fond memories, from when I was a kid, crumbling oatcakes on top of my soup or tearing bread up and piling it into my soup. It just made it more interesting and so now I like to add something to every soup I serve to Finn. I've added apple sticks to this Butternut Squash and Apple Soup, parmesan to this Zucchini Soup and I absolutely loved adding Baked Chickpeas to a range of soups.
This Curried Lentil and Coconut Soup is quite thick so if you like a thinner soup add a little more stock before pureeing. The curry powder you use can also greatly change the flavour of the soup. Have a look at the ingredient lists of the powder you buy. Some can contain a lot of salt, which you want to avoid for young kids. Some also contain added sugar which I personally avoid.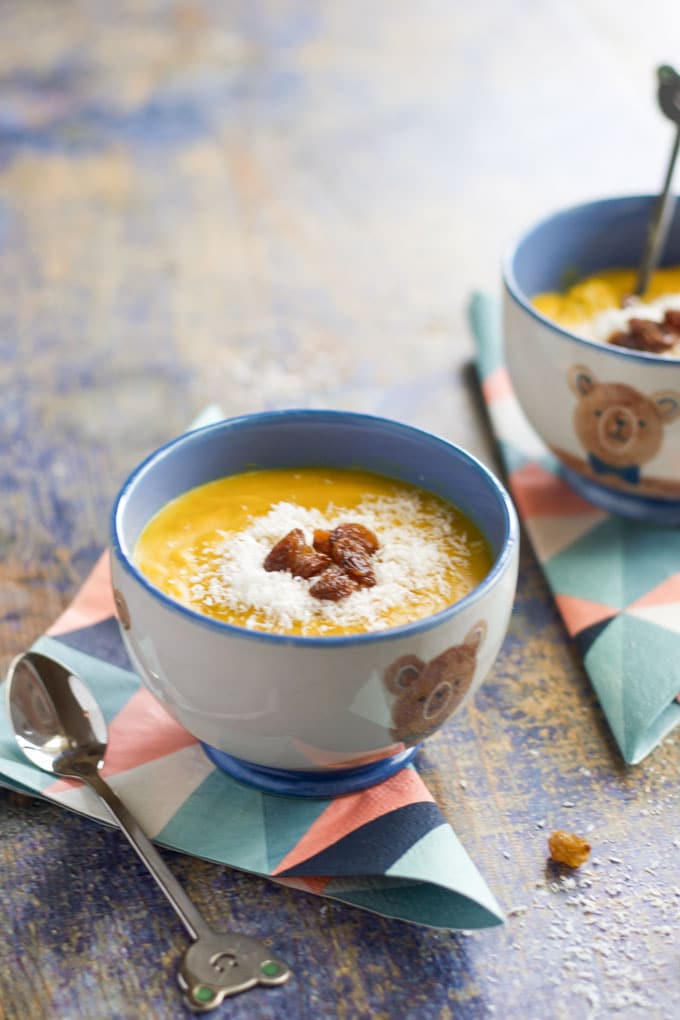 Looking for more healthy kid recipes?Sign up for my free recipe newsletter to get new family friendly recipes in your inbox each week! Find me sharing more kind-friendly inspiration on Pinterest and Instagram.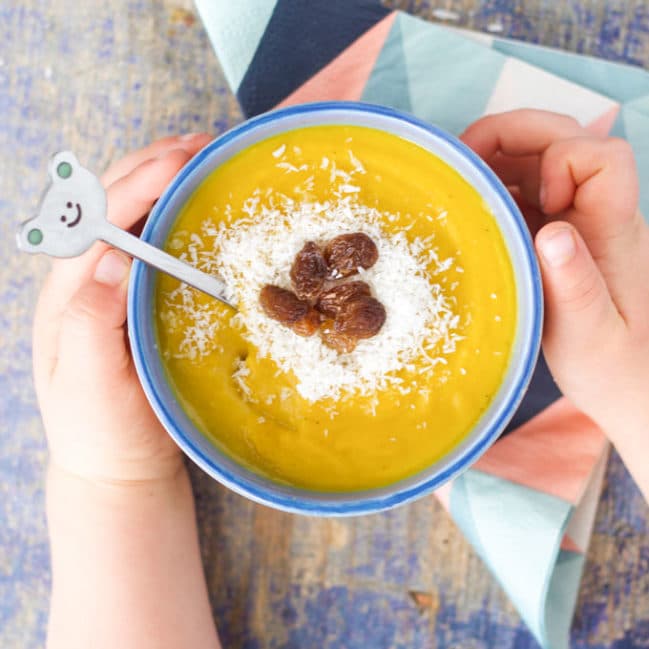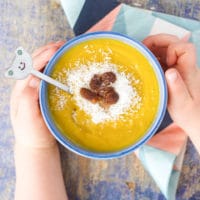 Curried Lentil and Coconut Soup
A mildly spiced soup with delicious sweet toppings to complement the spice.
Prep Time: 15 minutes
Cook Time: 30 minutes
Total Time: 45 minutes
Serves:5 people
Hover over "serves" value to reveal recipe scaler
Ingredients
25g (2 tbsp) butter
1 onion (brown or white), finely chopped
3 carrots, peeled and finely chopped
1 tbsp mild curry powder
130g (1 cup) red split lentils
1 litre (4 cups) Vegetable or chicken stock (broth) * See Note 1
400g (1 can) coconut milk
Desiccated Coconut & raisins to top (optional)
Instructions
Heat the butter in pan. Add the onion and carrots and cook on a medium / low heat until softened. (around 10 mins)

Add the curry powder and cook, continually stirring, for a further minute.

Add the lentils, stock and coconut milk and bring to the boil. Reduce the heat and simmer for 15 - 20 minutes (until the lentils are tender)

Puree and serve.
Recipe Notes
If serving to a baby / young child reduce the sodium levels by using home made stock (broth), low sodium stock or mix half and half with water. 
Nutritional information is a ROUGH guide only, calculated using an online nutrition calculator. 
Nutrition Facts
Curried Lentil and Coconut Soup
Amount Per Serving
Calories 327 Calories from Fat 198
% Daily Value*
Fat 22g34%
Cholesterol 10.8mg4%
Sodium 448mg19%
Carbohydrates 25.6g9%
Sugar 3.1g3%
Protein 11g22%
* Percent Daily Values are based on a 2000 calorie diet.