This Avocado Egg Salad is a perfect sandwich filler, toast topping, baked potato filling or can just be enjoyed eaten by the spoonful!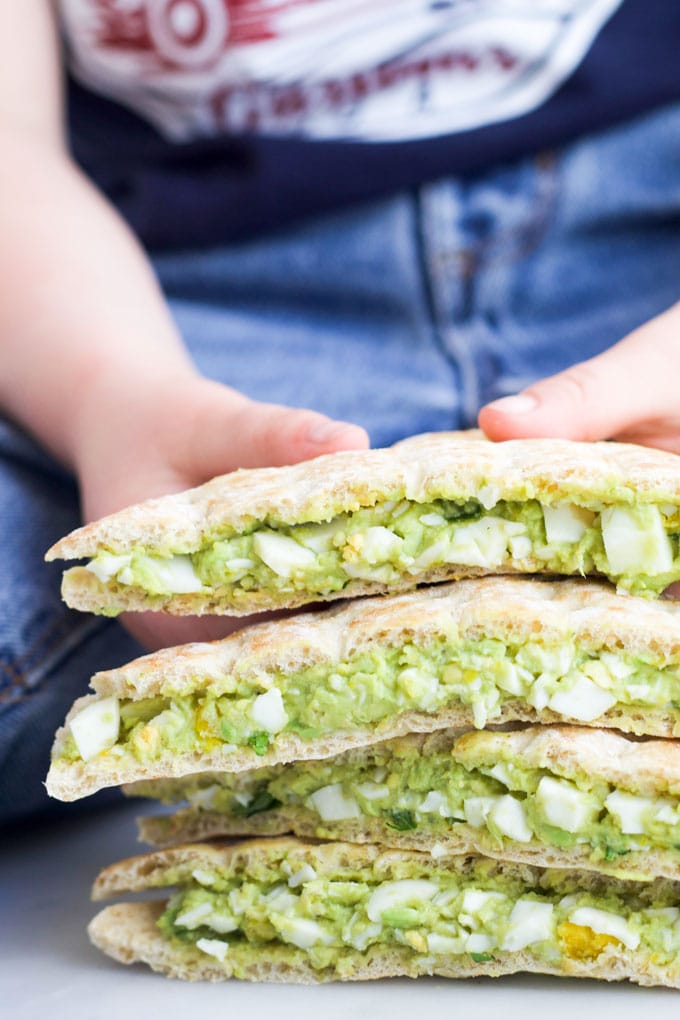 Some food combinations are just meant to go together
and of course,
That's probably why replacing mayonnaise with avocado, when making egg salad, works REALLY well. Avocado boosts the nutritional value without compromising on taste or the creamy texture.
Ingredient Information
EGGS - You can't have egg salad without egg! I find three eggs to one avocado works great.
AVOCADOS - A ripe avocado works best in this recipe. You want it to be lovely and soft so it will mash well and provide a creamy texture for coating the egg.
LEMON - Lemon juice gives the salad a delicious citrus tang but it also prevents the avocado from turning brown too quickly. You can sub with lime juice if you prefer.
HERBS - Parsley is delicious in this spread but you can skip it if your kids aren't keen or use a different herb. Dill, chives or coriander all work great too.
How to Make Avocado Egg Salad (With Tips and Tricks)
COOK EGGS
I use an egg cooker to make boiled eggs. You simply add your eggs and the required amount of water, switch it on and then forget about it until it buzzes. They make perfect eggs every time.
Of course, you can hard boil your eggs using your preferred method, just make sure not to overcook them. You don't want to have that grey circle around the yolk from overcooking - not attractive!
Once cooked and cooled, roughly chop.
MASH AVOCADO
You can leave the avocado quite chunky or make a smoother mash depending on your preference.
COMBINE
Add the lemon juice and chopped herbs to the avocado and stir to combine. Then add the chopped egg and gently mix through until coated in the avocado.
Avocado Egg Salad for Babies
Babies can have avocado egg salad from 6 months (depending on the baby). As eggs are a common food allergen you should start with very small amounts of well-cooked egg and gradually increase the volume served. Mash the egg and avocado together until desired consistency is achieved. Read more about eggs for babies and avocados for babies.
How to Keep Avocado Egg Salad from Turning Brown
This isn't a dish that I recommend you make too far in advance. Once cut, the surface of an avocado can quickly turn brown. This is because of the enzyme called polyphenol oxidase which is found under the skin. Once the enzyme comes in contact with oxygen, the avocados turn brown.
The browning can, however, be prolonged by:
Lemon Juice The lemon juice, included in the recipe, will slow down the browning. The enzymes which enable the enzymatic browning reactions to occur are sensitive to acidic conditions and work much slower in them.
Properly Covering Wrapping properly will help prevent oxygen from reaching the avocado, which is needed for browning to take place. Place a sheet of clingfilm over the top and press down onto the salad, make sure the air is pressed out and the clingfilm is firmly against the avocado egg salad.
Chilling. Chilling in the fridge can also slow down the enzymes to an extent, as their activity is lower at lower temperatures
I have made this egg salad in the morning and the salad was still great at lunchtime. (storing as above)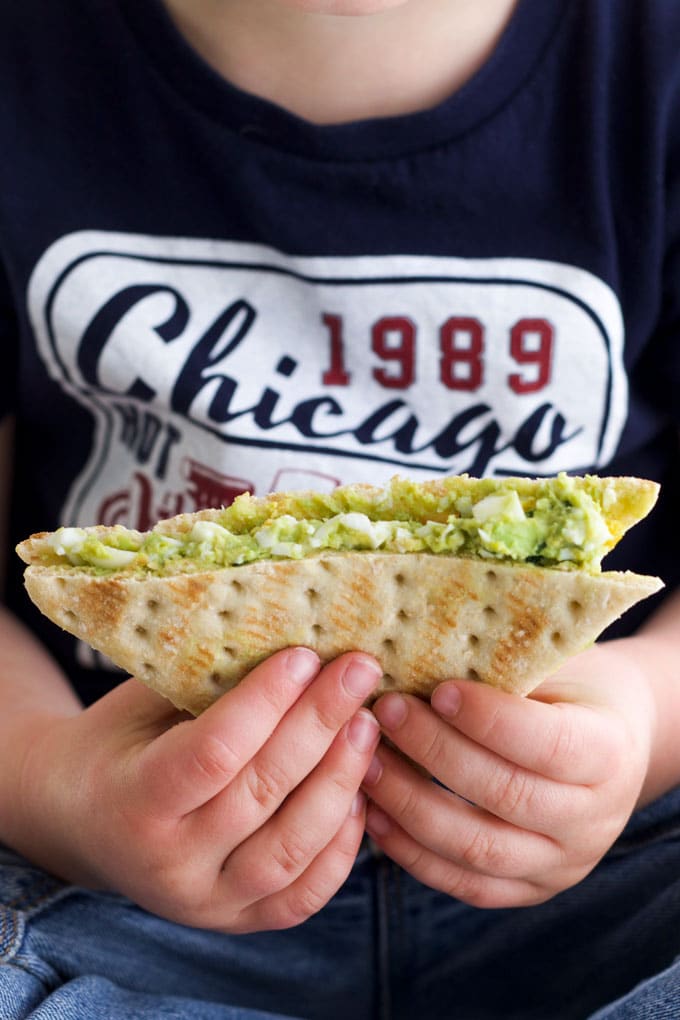 You might also like...
Have you tried this recipe? I love to hear your feedback. Rate and leave a comment below or tag me on Instagram or Facebook.
Looking for more healthy kid recipes?Sign up for my free recipe newsletter to get new family friendly recipes in your inbox each week! Find me sharing more kid-friendly inspiration on Pinterest and Instagram.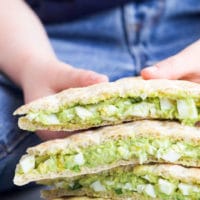 Avocado Egg Salad
This Avocado Egg Salad is a perfect sandwich filler, toast topping, baked potato filling or can just be enjoying eaten by the spoonful!
Prep Time: 5 minutes
Total Time: 5 minutes
Serves:3 people
Hover over "serves" value to reveal recipe scaler
Ingredients
1 Avocado *NOTE 1
3 Eggs, hard boiled
1 tbsp Fresh Lemon Juice
1 tablespoon Parsley, chopped
Instructions
Scoop the avocado flesh into a small mixing bowl and mash well with a fork. Add the lemon and parsley and mix well

Roughly chop the hard-boiled eggs and add to the avocado mixture. Gently stir to combine.
Recipe Notes
Ripe avocados work best. You want it to be easy to mash.
I love to use an egg maker when making hard-boiled eggs as you can set and forget. If boiling use your preferred method but be careful not to overcook them to the point that the yolk starts to turn grey. 
Nutritional information is a ROUGH guide only, calculated using an online nutrition calculator. 
Nutritional facts
Calories: 186kcal | Carbohydrates: 6g | Protein: 7g | Fat: 15g | Saturated Fat: 3g | Cholesterol: 186mg | Sodium: 67mg | Potassium: 387mg | Fiber: 4g | Sugar: 1g | Vitamin A: 465IU | Vitamin C: 10.3mg | Calcium: 33mg | Iron: 1mg