Roasted Peas are a delicious and crunchy snack, perfect for on the go. Pop them into lunchboxes or use them to top salads for added texture.
Peas are starchy and sweet and are probably one of the more kid-friendly vegetables out there. If you have a kid who loves peas then this snack is sure to be a hit.
But what if your kid hates peas? Maybe the crunchy texture, achieved from roasting, will win them over....fingers crossed!
HOW TO MAKE ROASTED PEAS
Defrost and dry the peas - Don't be tempted to bake straight from frozen. You need to remove as much moisture as possible so that they will crisp up. Run the peas under hot water, to defrost them, and then gently pat dry using a clean dishcloth.
Oil & Flavour - Add the peas to a mixing bowl and coat in oil and flavouring (if using).
Spread Peas on a prepared baking tray - Make sure not to overcrowd the pan, you want a single layer of peas to allow them to crisp up.
Bake at 175C (350F) - This is the oven temperature I found worked best. Bake at too high a temperature, the peas burn quickly. Too low, crisping takes a long time to happen. Every oven is different so keep an eye on your peas, they can burn quickly, especially at the end of cooking.
Allow to Cool - Cooling does crisp the peas further so if you taste them straight out of the oven and they aren't crispy, allow them to cool for 5 mins before you decide to pop them back in the oven.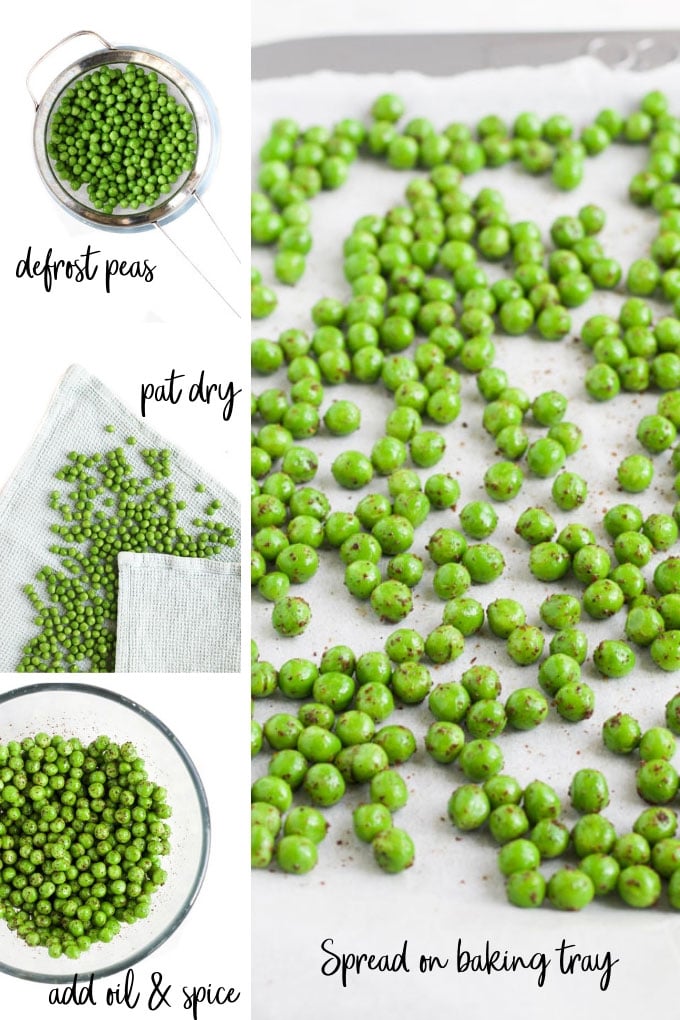 FLAVOURING ROASTED PEAS
I love the tangy taste sumac adds to roasted peas. If you are not familiar with sumac then I suggest you try it, it is one of my favourite spices and tastes delicious on eggs, sweet potato, carrots, chicken, fish and lamb. I also love stirring it into yoghurt for a super quick dip or adding it to hummus for extra flavour!
If you prefer, you can leave the peas plain or add a different spice. Why not try
Garlic powder
Paprika / Smoked Paprika
Mixed herbs
Curry powder
or after cooking stir in some lemon rind or fresh mint.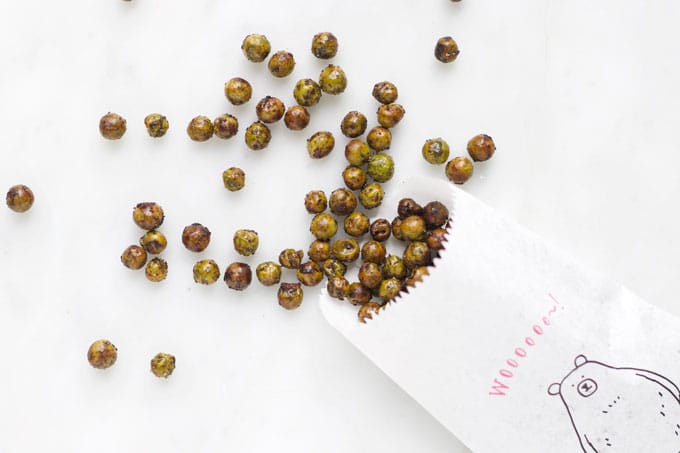 GREEN PEA NUTRITION
Green peas are fantastic food to include in your kids' varied diet. They are high in nutrients, fibre and antioxidants and are one of the best plant-based sources of protein.
STORING ROASTED PEAS
To be honest, if your household is anything like mine there will be absolutely no need to know how to store these delicious crispy peas! They don't last long after they come out of the oven!
If you have any left that you wish to store or keep for lunchboxes etc, place in a Tupperware container or jar and cover with some kitchen towel. These are best eaten the day you cook them, but they will last for around 3 days at room temperature.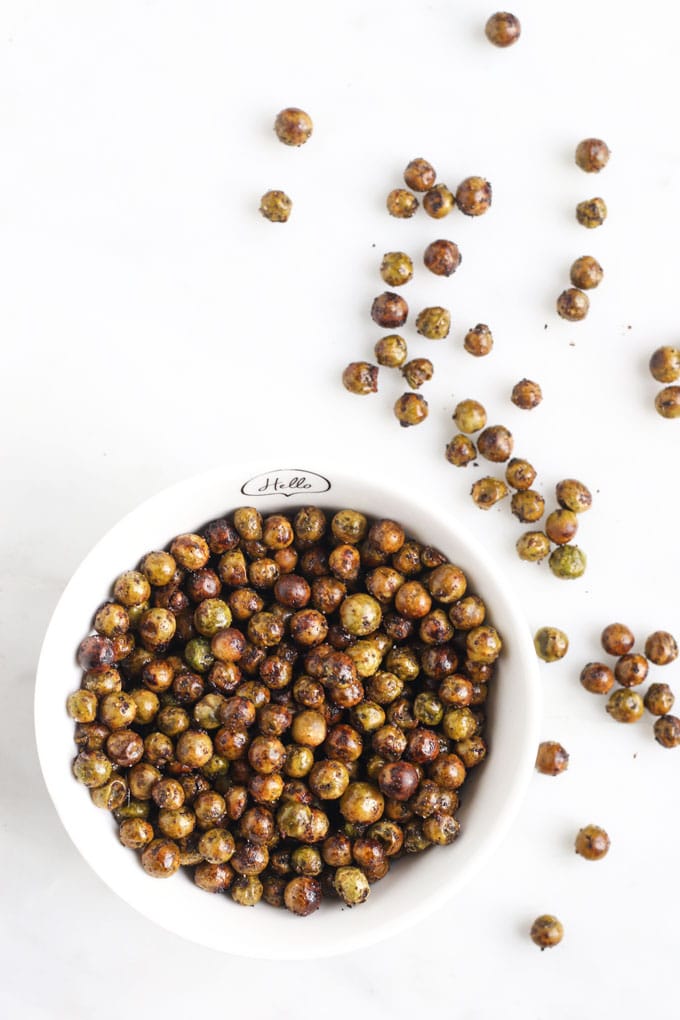 You may also like
Have you tried this recipe? I love receiving your feedback, please rate and leave a comment below or tag me on Instagram @healthylittlefoodies.
Looking for more healthy kid recipes?Sign up for my free recipe newsletter to get new family friendly recipes in your inbox each week! Find me sharing more kid-friendly inspiration on Pinterest and Instagram.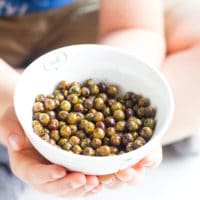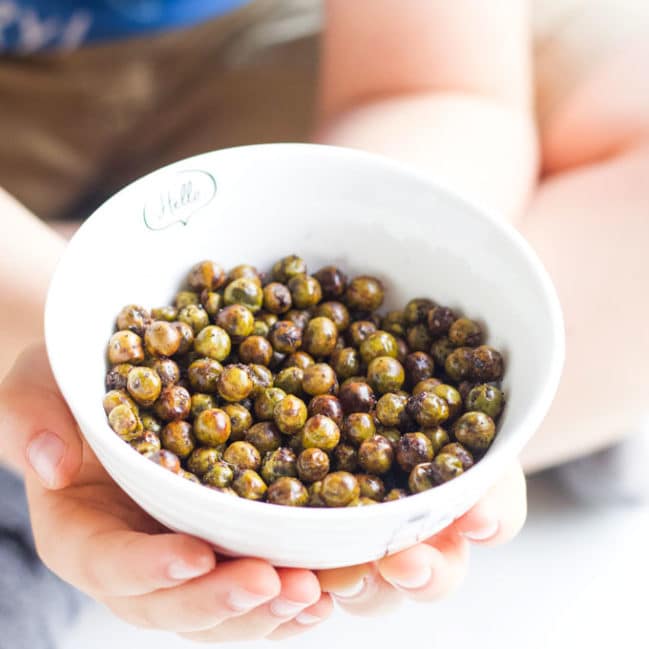 Roasted Peas
Roasted Peas are a delicious and crunchy snack, perfect for on the go. Pop them into lunchboxes or use them to top salads for added texture.
Prep Time: 5 minutes
Cook Time: 40 minutes
Total Time: 45 minutes
Serves:4
Hover over "serves" value to reveal recipe scaler
Ingredients
250g (2 cups) Frozen Peas
1 tsp Olive Oil
1 tsp Sumac *Optional
Instructions
Preheat oven to 175C / 350F and line a baking tray with baking paper or foil.

Thaw the frozen peas, lay them on a clean dish towel/ paper towel and pat dry.

Place peas in a mixing bowl, add the olive oil and sumac (or another flavouring you wish to use). Stir to coat the peas.

Place peas on the prepared baking tray and spread out. Do not overcrowd the pan or the peas will steam and not roast well.

Bake for 40 mins, checking on them every 10 mins and giving them a little shake to ensure even cooking. Keep a good eye on them after 30 mins for burning.

Allow cooling on the baking tray before serving.
Nutritional facts
Calories: 60kcal | Carbohydrates: 9g | Protein: 3g | Fat: 1g | Saturated Fat: 0g | Cholesterol: 0mg | Sodium: 3mg | Potassium: 152mg | Fiber: 3g | Sugar: 3g | Vitamin A: 480IU | Vitamin C: 25mg | Calcium: 16mg | Iron: 0.9mg