These easy Lentil Burgers are a great protein alternative to meat dinners. They can be enjoyed any time of the year and, as they freeze well, they can be prepped ahead of time for easy weeknight dinners.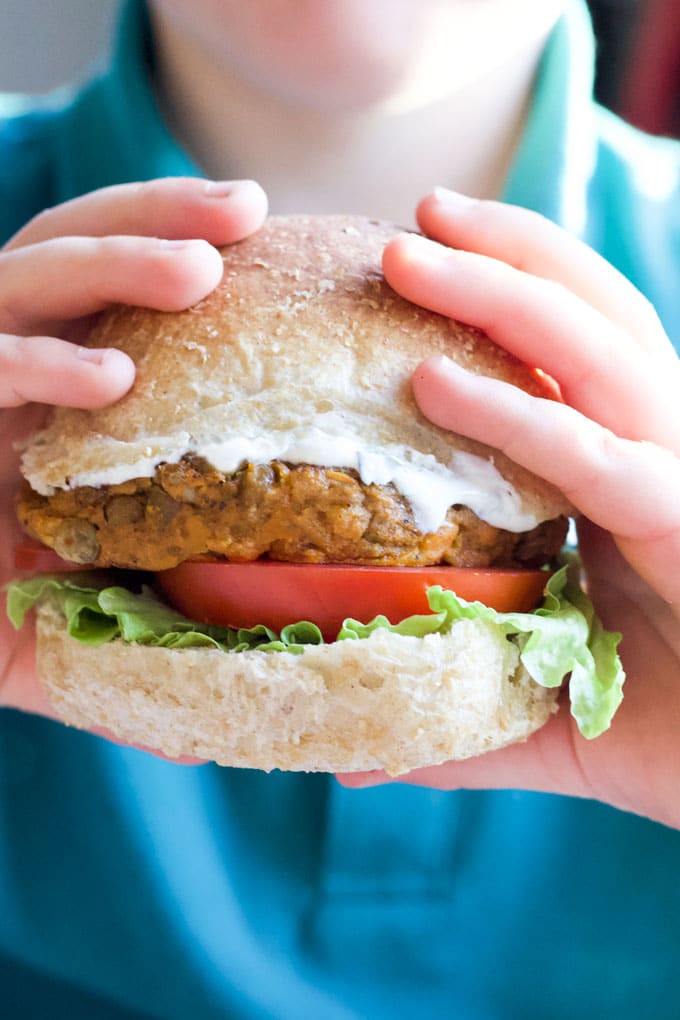 What Lentils Should I Use in Lentil Burgers
Whenever I post a lentil recipe I am asked, without fail, whether the variety of lentils I have used can be subbed for a different variety. Each lentil variety cooks up differently and therefore suits different types of meals.
Generally
Red / Yellow Split Lentils break down when cooked and have a soft "mushy" texture. They are perfect for stews/soups. I like to use them to make Lentil Pancakes and soft finger foods for babies, such as these Lentil, Carrot and Sweet Potato Croquettes.
Brown / Green Lentils keep their shape more when cooked but can go mushy if overcooked. I like to use these lentils in lentil tacos (I must post my recipe for this soon) or when making meat alternative sauces (like lentil bolognese).
Puy Lentils are firmer lentil that keeps their shape when cooked. They are delicious in salads.
Black Beluga Lentils are small lentils that hold their shape and firm texture when cooked. I also like to use these lentils in salads.
When developing this recipe I decided to try the burgers using different lentil varieties. I experimented using red split lentils, green lentils, puy lentils and canned lentils. I have detailed the results below
Green - Good texture and flavour. Easy to handle and sticks / holds together well.
Red Split - Smooth texture, ideal for babies/kids with textural issues, soft and harder to handle but still cook up well with care.
Puy - Good flavour and very textured. Although it cooks up nicely it doesn't stick together as well and more care is needed when cooking
Canned - Good texture and flavour. Easy to handle and holds together really well.
I also tried
Blending the Green Lentil Mixture - Smooth texture, ideal for babies and kid with textural issues. Holds together really well and is easy to handle when cooking.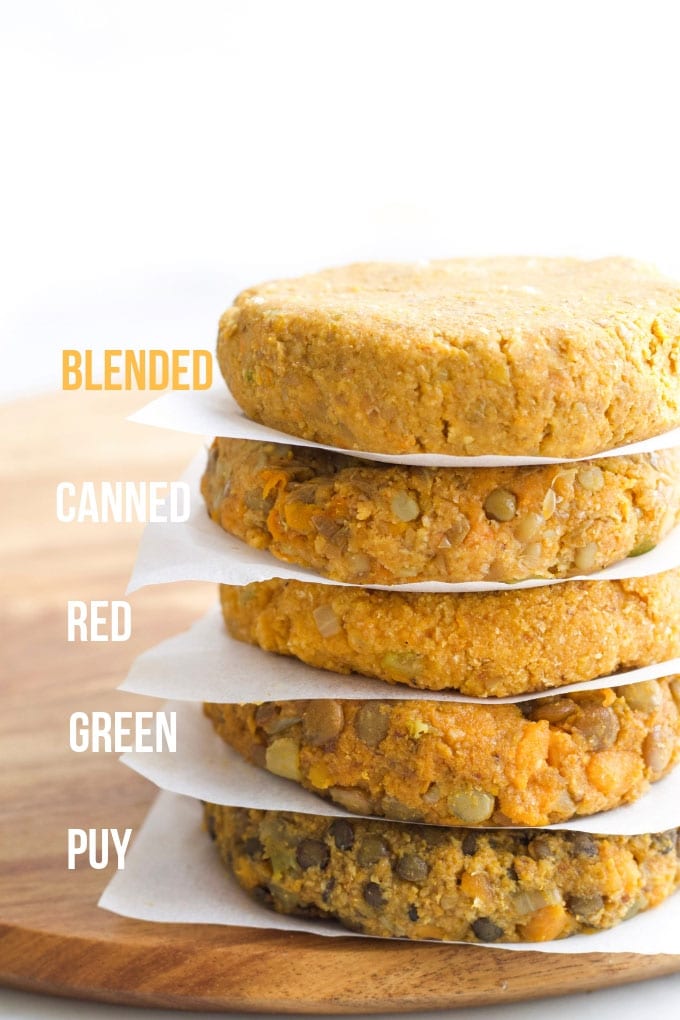 Canned Lentil Burgers
If you decide to used canned lentils then the cooking process is different. You will not need to cook the lentils and you will have to cook the potato separately (using your preferred cooking method.)
I cooked the vegetables as per instructions and then added the spices. I mixed the vegetables with the can of lentils (drained) and added 130g (½ cup) of mashed sweet potato. The rest of the cooking instructions remained the same.
Fry or Bake Lentil Burgers?
I tried pan-frying and baking the burgers. Pan-frying produced a better result. The baked burgers were slightly drier but both my boys were more than happy to eat them.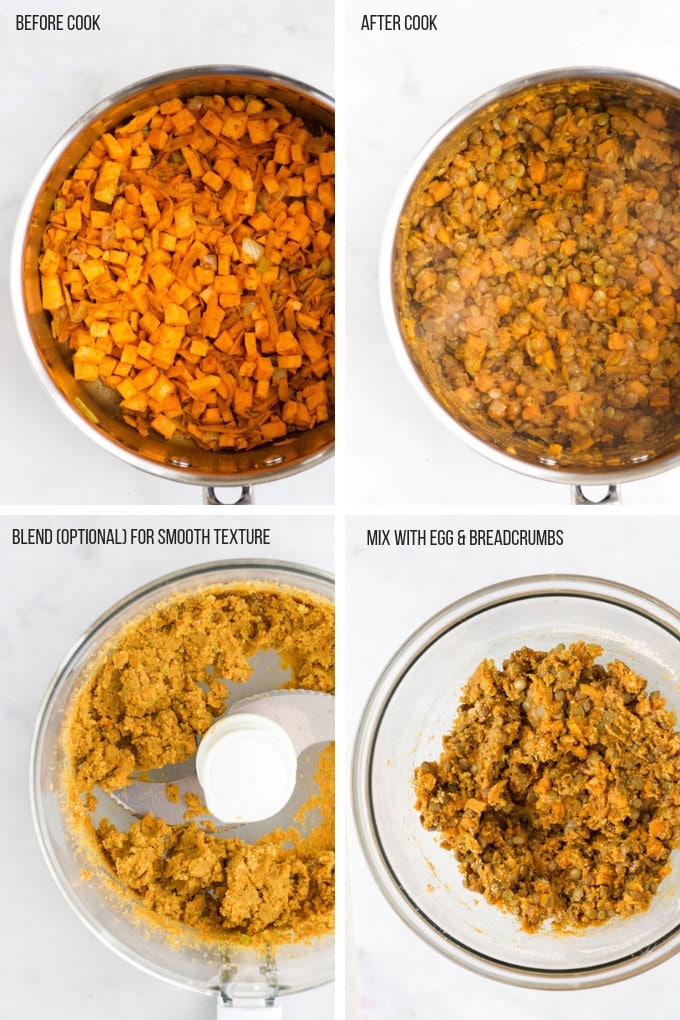 Lentil Burgers for Babies / Toddlers
As detailed above, red lentils produce a smoother and softer burger that babies may prefer. You can also blend the burger mixture to achieve a smooth texture.
If you prefer, you can make bite-sized balls or croquettes with the mixture. If making balls, I find that baking them is easier than pan-frying.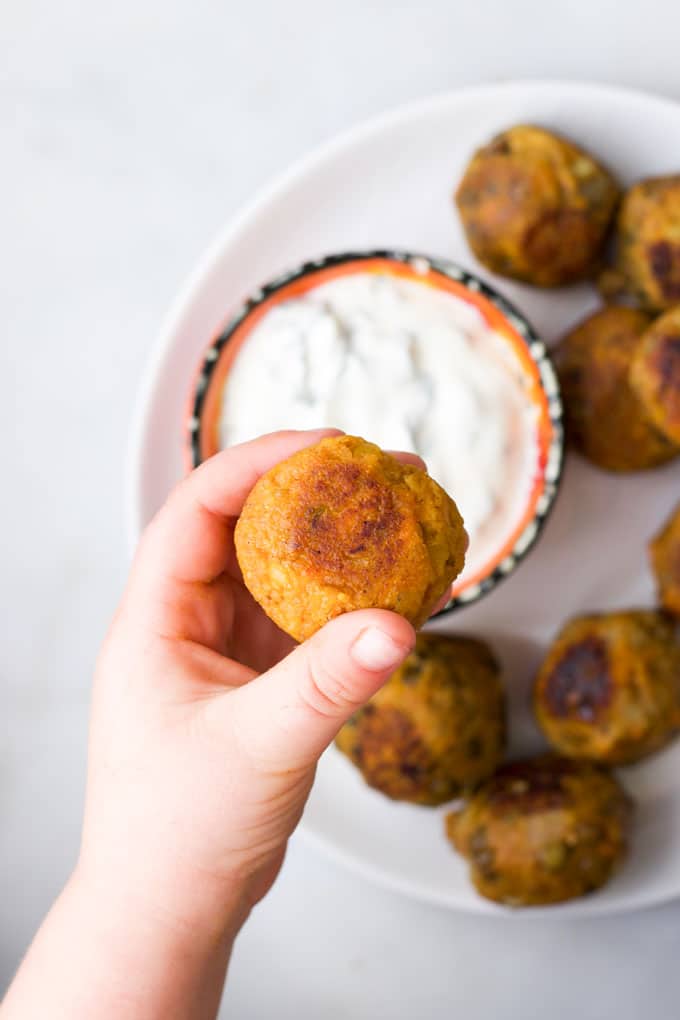 How to Store Lentil Burgers
I love to make a double batch of these burgers so that I can freeze them for quick and easy midweek dinners.
I freeze the patties before cooking them. Freeze flat on a baking sheet until solid, about 3 hours. Transfer to freezable container/zip lock bag.  They will keep in the freezer for about 3 months.
Have you tried this recipe? I love hearing your feedback. Please rate and leave a comment below or tag me on Instagram.
Looking for more healthy kid recipes?Sign up for my free recipe newsletter to get new family friendly recipes in your inbox each week! Find me sharing more kid-friendly inspiration on Pinterest and Instagram.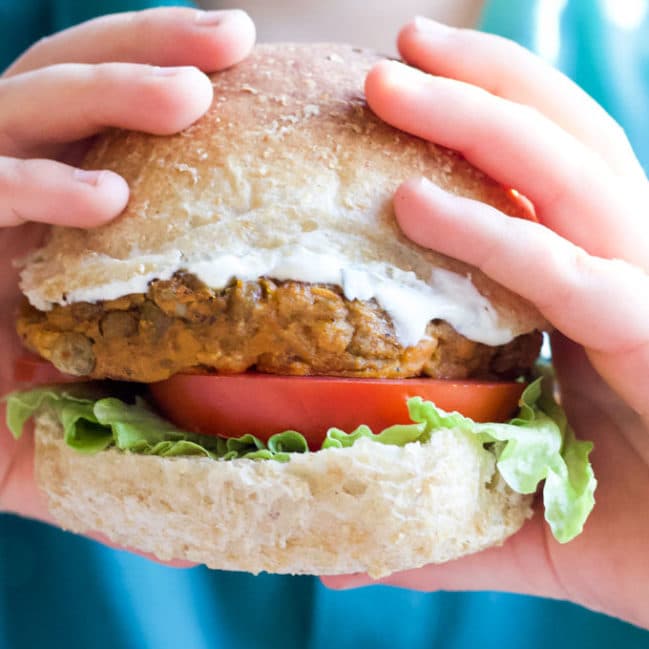 Lentil Burgers
These easy Lentil Burgers are a great protein alternative to meat dinners
Prep Time: 10 minutes
Total Time: 10 minutes
Serves:4 burgers
Hover over "serves" value to reveal recipe scaler
Ingredients
1 tablespoon Oil
½ onion
½ teaspoon Minced Garlic
½ Celery Stalk
1 Medium Carrot
250g (0.55 lb) Sweet Potato, peeled and cut into 1cm cubes *SEE NOTE 2
1 tablespoon Curry Powder *SEE NOTE 1
1 teaspoon Smoked Paprika
½ teaspoon Cumuin
115g (½ cup) Dry Green Lentils *SEE NOTE 3
(1 ½ cups) Water
1 Egg
24g ¼ cup Dried Breadcrumbs *SEE NOTE 4
1 tablespoon Oil (for frying patties)
Instructions
Heat oil in a large pan over a medium heat. Add the onion, garlic, celery and carrots then reduce the heat to low and cook for approx. 5 mins (until softened.)

Add the sweet potato, curry powder, smoked paprika & cumin then stir for a further minute.

Add the lentils & water. Bring to the boil, then reduce the heat to low and allow to simmer until cooked, soft and water absorbed (approx. 25 mins)

(OPTIONAL) If your children do not like seeing "bits" in their food or prefer smoother textured burgers then you can blend the mixture at this stage. Add to a food processor until blend until smooth.

Transfer the mixture to a mixing bowl and allow to cool. Add the egg and breadcrumbs then stir until combined.

Divide the mixture to form 4 patties. (You can make smaller ones if prefered)

Heat the oil in a large frypan over a medium heat. Cook the patties for 4-5 minutes each side or until golden and warmed through. (*SEE NOTE 5 for Oven Cooking)
Recipe Notes
Curry powders can vary greatly and can change the taste of the dish. Check the ingredients and avoid those that have a high salt content if cooking for babies and young toddlers. 
You can replace the sweet potato with regular potato.
You can sub the green lentils for other varieties. Please see above post for my results.  If using canned lentils, you can replace the 115g of uncooked lentils with 1 400g can of lentils. You will not need to cook the lentils and you will need to cook the potato separately (using your preferred cooking method.) If using leftover cooked potato add 130g (½ cup) mashed potato.) Be mindful of the added sodium in canned lentils. Drain and rinse the lentils thoroughly to reduce the salt levels. 
I tried the recipe with both fresh and dried breadcrumbs. The dried breadcrumbs gave a better result. If you do wish to sub with fresh breadcrumbs you can use the same g weight or replace the ¼ cup of dried with ⅓ cup of fresh.
If you prefer, you can bake these lentil burgers. The end result is slightly dryer but they are still good and my boys were happy to eat them.  Preheat oven to 190C / 375F. Add the burgers to a lined baking tray, lightly spray with oil and bake for around 25min, turning halfway through the cooking time.  For babies and younger children, who like smaller portion sizes, you can use the mixture to make small balls or croquettes. 
Nutritional information is a rough GUIDE only, calculated using an online calculator. Results will vary depending on lentil variety, potato variety, cooking method etc. 
Nutritional facts
Calories: 271kcal | Carbohydrates: 39g | Protein: 11g | Fat: 8g | Saturated Fat: 1g | Cholesterol: 40mg | Sodium: 100mg | Potassium: 617mg | Fiber: 12g | Sugar: 4g | Vitamin A: 11760IU | Vitamin C: 5.9mg | Calcium: 57mg | Iron: 3.9mg