These strawberry pancakes are fluffy, delicious and easy to make. Serve for breakfast, as a snack or as a lunch box filler and enjoy bursts of strawberry in every bite.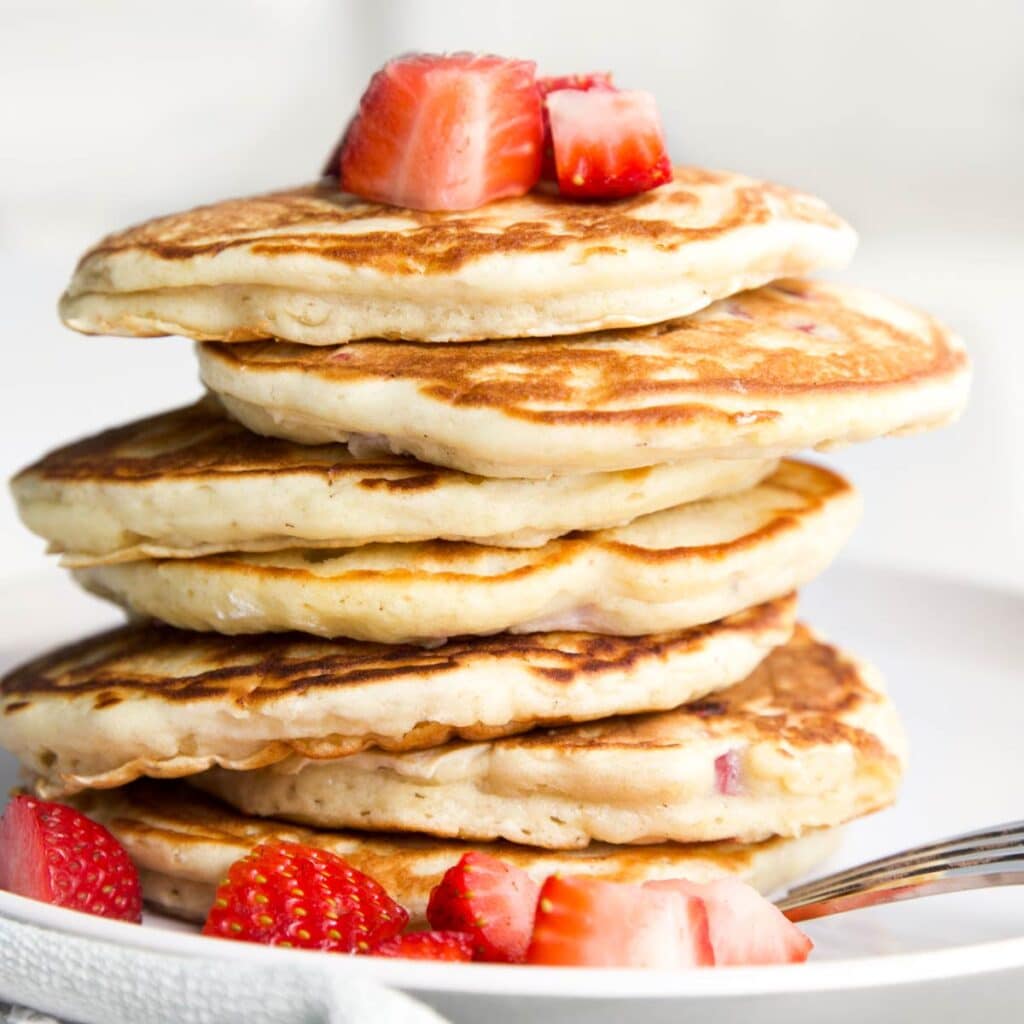 Reasons to Love these Pancakes
EASY: Simple ingredients and an easy process.
TEXTURE EXPERIENCE: As well as introducing lots of flavours to our little ones' diets, we also want to introduce a variety of textures early. These pancakes provide a great texture experience, they have slightly crispy edges, are soft and fluffy on the inside with bites of warm strawberry.
FREEZER FRIENDLY: Double the batch and freeze for an easy breakfast, snack or lunchbox filler option.
Watch How to Make them (Video)
Ingredient Information (With Alternative Suggestions to Suit Dietary Needs)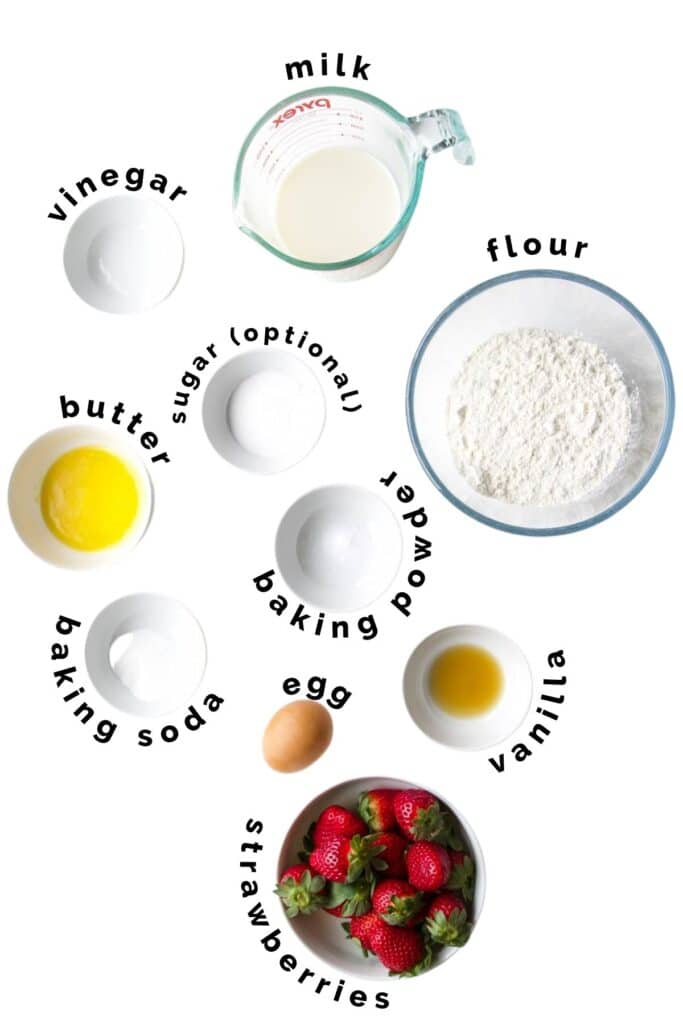 You will find the full list of ingredients in the recipe card (below). In this section some of the ingredients are explained further and alternative ingredients are noted.
STRAWBERRIES: For the best flavour use fresh ripe strawberries. Choose berries that have a bright red colour and a natural shine. Frozen strawberries have been tested and did not work well in this recipe.

FLOUR: This recipe uses all purpose (plain) flour, you can replace some of the all purpose with whole wheat (wholemeal) up to 50%. Any more and the pancakes can get a little dense. No gluten-free flour replacements have been tested.

BAKING POWDER AND BAKING SODA: Responsible for the bubbles in the batter, and for making the pancakes light and fluffy. Your baking soda & powder should ideally be less than 6 months old, any older and it doesn't do its job properly.

VINEGAR: Used to activate the baking soda to give extra lift. Don't worry about the taste, you won't be able to tell it is in there. If you prefer, you can replace the vinegar with lemon juice or you can use buttermilk in place of both the milk & vinegar.

MILK: This recipe has been tested using dairy milk and almond milk and both work well.

EGG: A flax egg has also been tested in this recipe and worked well.

BUTTER: Coconut oil has been tested as a replacement and produced good results.
Process Shots and Cooking Tips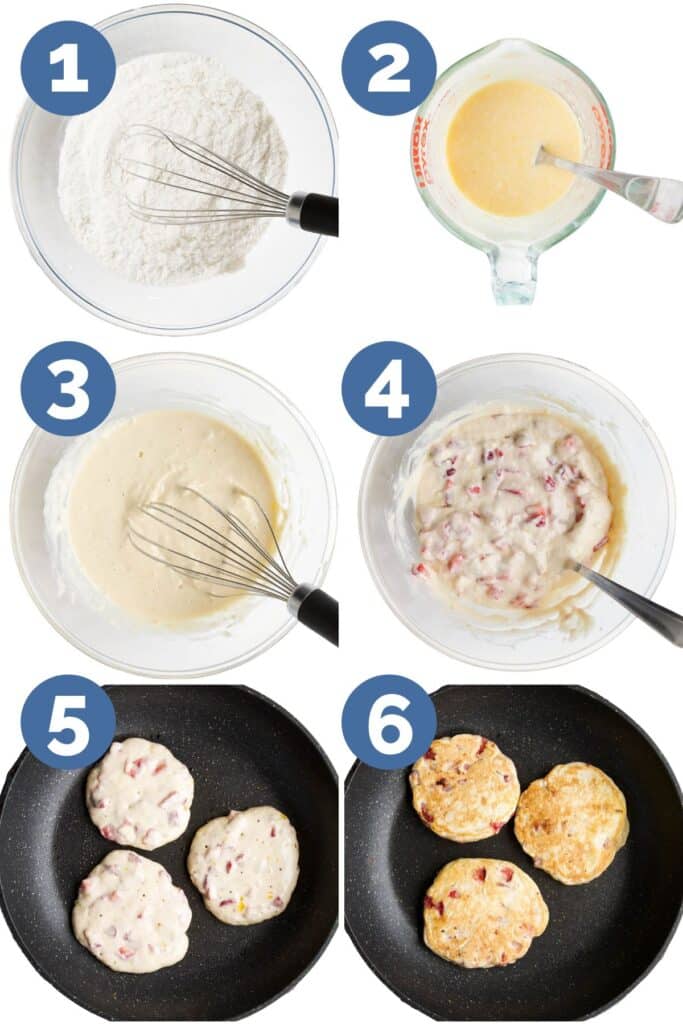 Combine Dry Ingredients: Flour, baking powder, baking soda and sugar (optional)
Combine Wet Ingredients: Milk, egg, melted butter, vanilla
Add the Wet into Dry: Whisk until just incorporated.
Fold through the Strawberries - Make sure the strawberries are finely chopped, if they are too big then the pancake batter will not cook properly and you will find that they can be wet inside. Do not over-mix at this stage.
Cook: add 2 tablespoons to ¼ cup (depending on how big you want your pancakes) of the batter to heated skillet. How many you fit in the pan will be depending on the size of your pancakes and pan. Cook for 1 ½ minutes until bubbles appear, start to burst, and the underside is mostly golden.
Flip and cook on the other side for around 1 min.
Strawberry Pancakes for Babies
If making for a baby skip the sugar. These pancakes contain common allergens (wheat, egg and dairy) so make sure to introduce these separately before serving your baby these pancakes. Allow to cool slightly before serving as the strawberries can get very hot.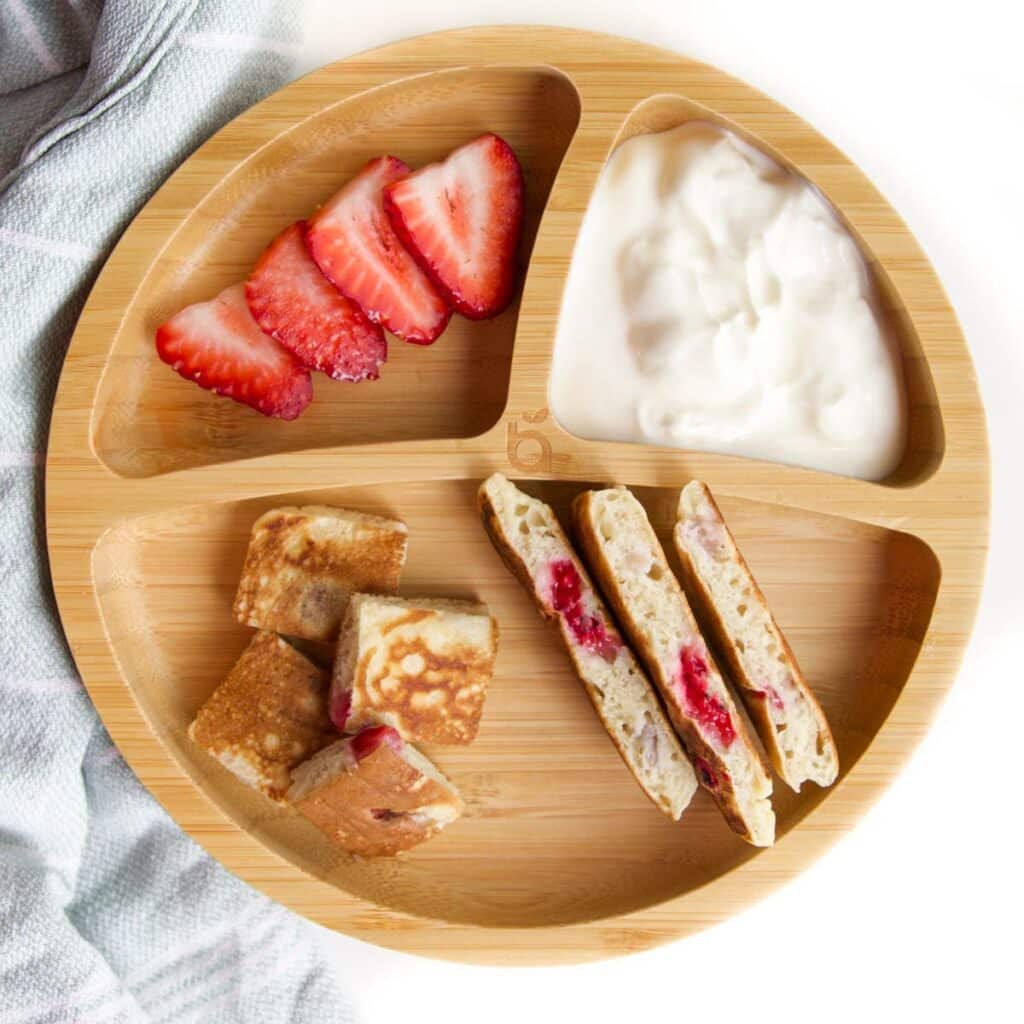 Serving Suggestions
I recommend serving these pancakes with a source of protein/fat to make the meal/snack more balanced and to keep your little one fuller for longer.
Try serving with a yogurt dip, some nut butter (thinned out for babies) or along with some scrambled eggs. You can serve with a side of fruit and maybe some chia jam. Maple syrup is a favorite dip / topping for pancakes but I'd skip for babies /under twos.
Storage and Reheating Instructions
Refrigerate in an airtight container for up to 2 days
Freeze the pancakes on a single layer (e.g on a baking sheet) until solid and then transfer to a freezer safe container or zip lock bag. Return to the freezer and store for up to three months.
Strawberry pancakes are delicious cold but you can also reheat in the microwave (in 10 second increments), the toaster or oven (covered for around 5-10 mins @ 175C/350F)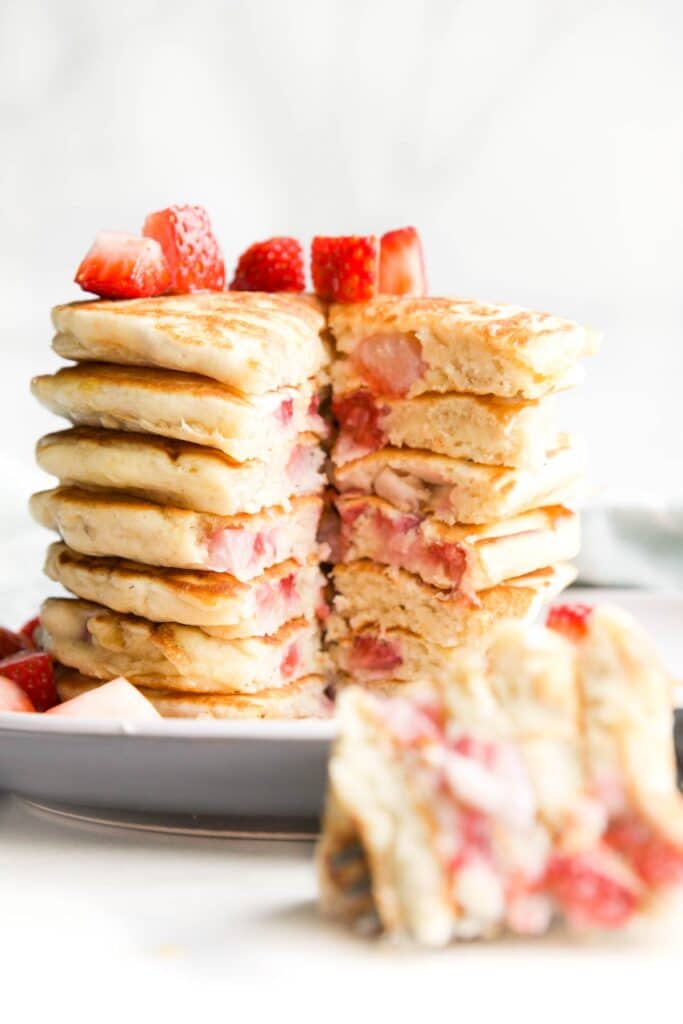 If strawberries are cheap and you are on the hunt for other ways to use them, why not try
Other pancakes to try...
Looking for more healthy kid recipes?Sign up for my free recipe newsletter to get new family friendly recipes in your inbox each week! Find me sharing more kid-friendly inspiration on Pinterest and Instagram.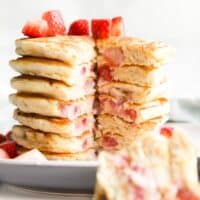 Strawberry Pancakes
Soft and fluffy pancakes with soft strawberry pieces in every bite.
Prep Time: 5 minutes
Cook Time: 15 minutes
Total Time: 20 minutes
Serves:9 ¼ cup pancakes
Hover over "serves" value to reveal recipe scaler
Ingredients
Dry
150g (1 cup) All Purpose (Plain) Flour
1 tablespoon White Sugar *This is optional, if serving baby/toddler skip.
1½ teaspoons Baking Powder
¼ teaspoon Baking Soda
Wet
1 Egg
2 tablespoons Butter melted and cooled
185ml (¾ cup) Milk dairy or non dairy
1 teaspoon Vanilla Extract
1 teaspoon White Vinegar
Stir-In / Frying
125g (1 cup) Strawberries, cut into small pieces around ½-1 cm ( ¼ inch) in size.
Butter or oil for frying
Instructions
Whisk together the dry ingredients in a large mixing bowl

Mix together the wet ingredients in a jug or seperate bowl.

Add the wet ingredient to the dry and whisk until just incorporated. Do not over mix. Stir through the strawberries.

Melt about 1 teaspoon of butter in a non stick skillet (pan) over medium heat.

Add 2 tablespoons to ¼ cup of the batter (depending on how big you want your pancakes) into the skillet

Cook for around 1½ minutes until you see bubbles forming on the top and starting to burst. The underside should be golden.

Flip and cook for a further minute.

Repeat with remaining batter, using extra butter/oil as required.
Recipe Notes
Vinegar: You can't taste it once cooked, can be replace with lemon juice or replace both the milk and vinegar with buttermilk. 
Sugar: Only 1 tablespoon of sugar is added to this recipe, which is a lot less than many other strawberry pancake recipes. They aren't overly sweet as often sweet toppings are added. If making for baby/toddler skip the sugar. 
Dietary Subs:
Dairy free, use a non dairy milk and replace the butter with oil. (I have tested with almond milk and coconut oil)
Egg free, works with a flax egg (1 tablespoon of flaxseed mixed together with 2.5tbsp water, rest for 5 mins)
Nutritional information is a rough guide only, calculated using an online nutrition calculator. For pancake only, excludes any toppings added. 
Nutritional facts
Calories: 125kcal | Carbohydrates: 16g | Protein: 3g | Fat: 5g | Saturated Fat: 3g | Polyunsaturated Fat: 0.4g | Monounsaturated Fat: 1g | Trans Fat: 0.2g | Cholesterol: 31mg | Sodium: 120mg | Potassium: 147mg | Fiber: 1g | Sugar: 2g | Vitamin A: 182IU | Vitamin C: 8mg | Calcium: 64mg | Iron: 1mg