This mild chilli, or chili depending on where you are from, has four different vegetables packed into it to make a delicious and nutritious meal for the whole family. It is perfect for anyone looking to up their vegetable content without even trying/noticing.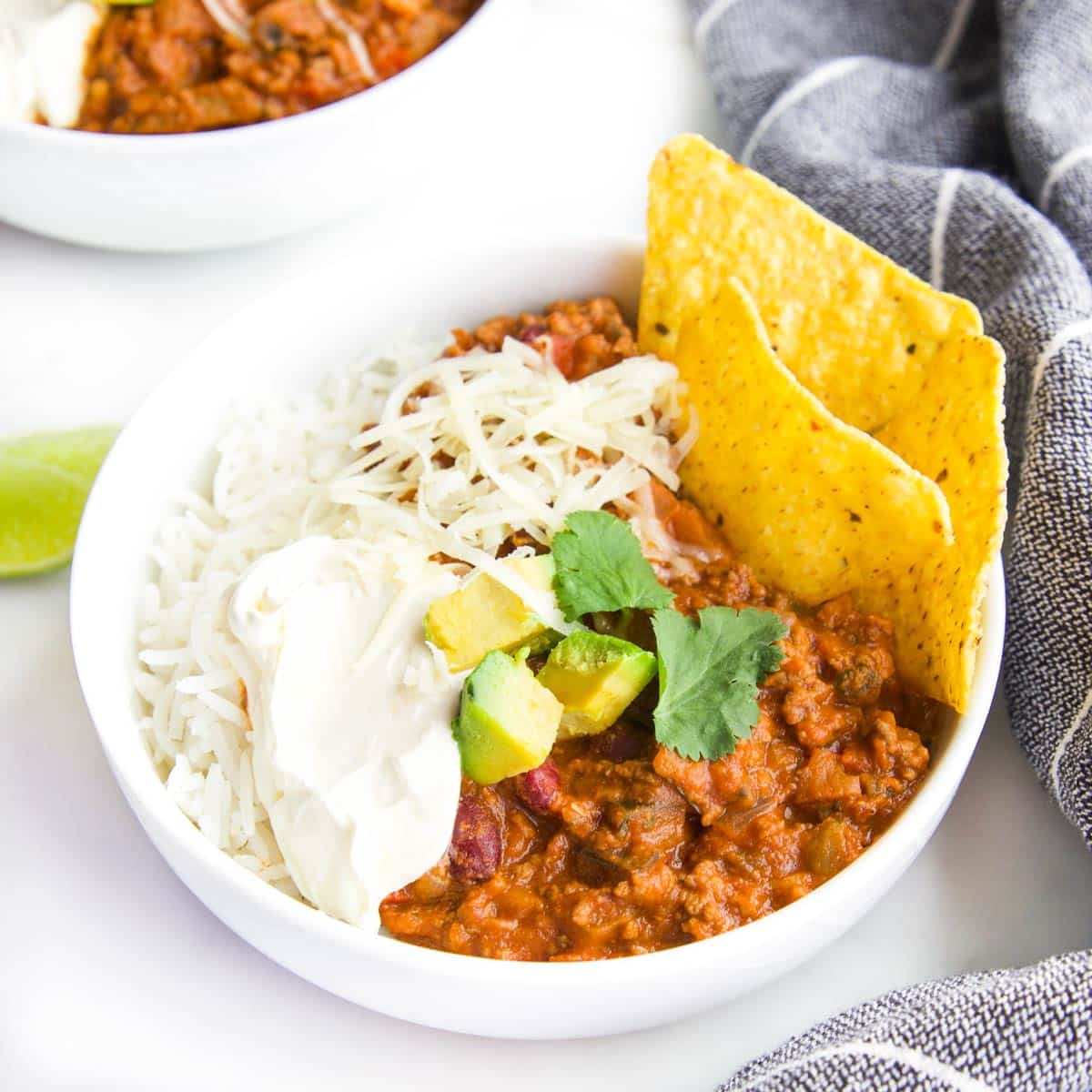 You will be amazed at the incredible amount of nutrient-packed vegetables in this mild chilli recipe, which not only boosts its nutritional value but also adds great flavour. If you love the sound of this added veg trick, then check out these other veggie-packed recipes such as baby bolognese, gnocchi bake, chicken pasta bake and cottage pie.
Jump to:
Reasons to Love this Recipe
Iron-Rich: Iron deficiency is the most common nutritional deficiency in the world, with infants and young children at the highest risk (1) Babies need iron from 6 months, therefore iron-rich recipes such as this chilli are great for both babies and kids. Read more about Iron-rich foods for kids
Packed With Vegetables: Eating a variety of vegetables is key and this chilli is packed with four different veggies.
Adaptable: The amount and type of added vegetables you choose to use is up to you. Check out the Ingredient Information section for alternative suggestions.
Versatile: The great thing about this mild chilli is that you can serve it in a variety of ways. See the serving suggestions section for ideas.
Freezer Friendly: Chilli freezes and reheats really well.
Video Tutorial
Ingredient Information (and Alternative Suggestions)
For the full recipe, with ingredient amounts, scroll to the recipe card at the bottom of the post.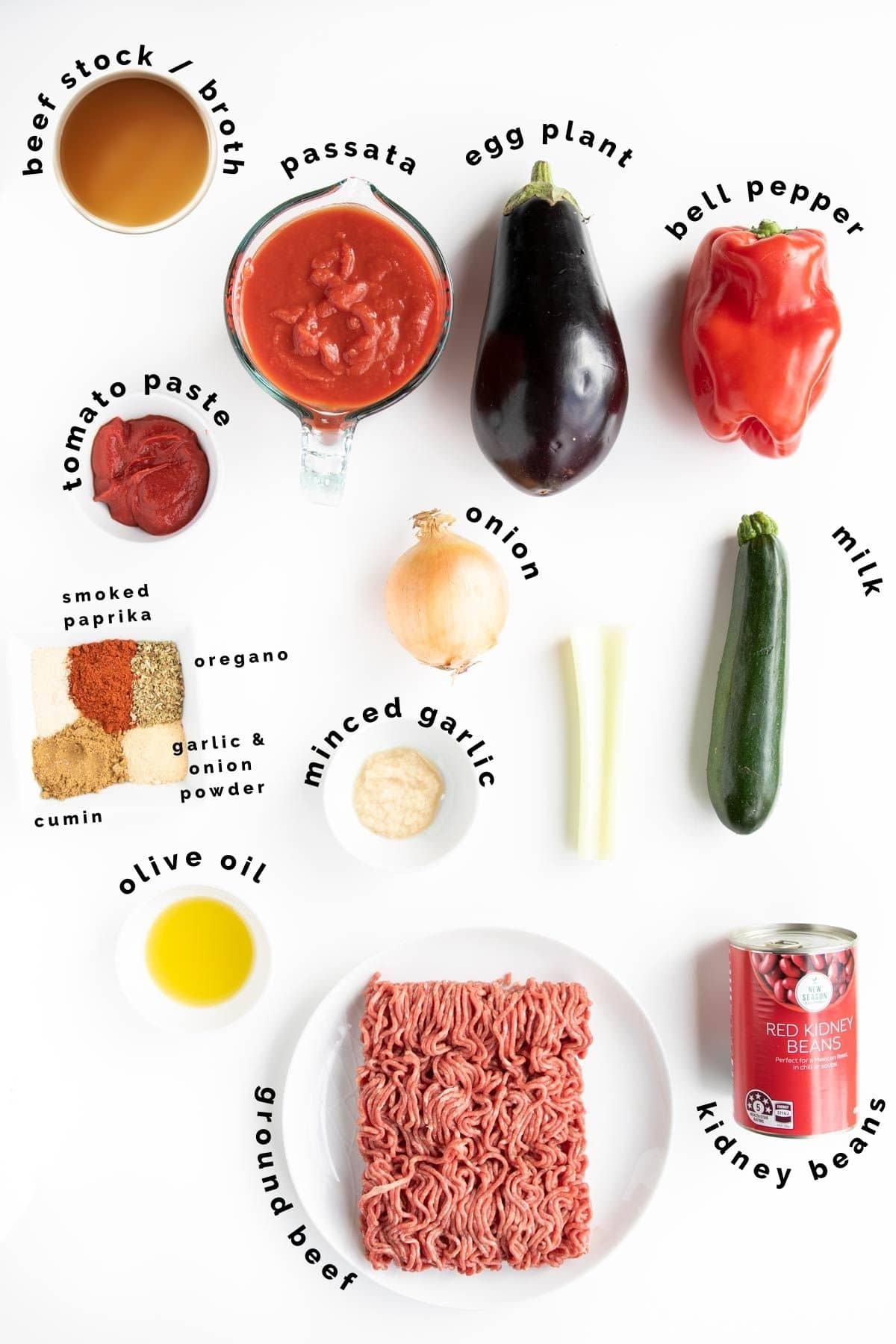 Ground Beef:
I always use lean ground beef. You could sub with ground turkey/chicken.

Regular Chili Veggies:
Onions & bell pepper are found in most chilli recipes. Sautéing onion in olive oil and garlic provides an excellent flavour base for the chilli. The bell pepper adds a lovely sweetness.

Extra Veggies:
Eggplant, zucchini & celery isn't something you would normally find in chilli but you will find that they literally "melt" into the meat as it simmers.
I don't tend to peel the vegetables but if you have children who are opposed to "bits" in their meals then peeling will make it go a little more unnoticed.
If you are worried about adding this large amount of vegetables, you can always start with half the amount and work your way up. You can also sub or add extra vegetables such as grated carrot, spinach, sweet corn or peas.

Kidney Beans
Kidney beans are used in this recipe but you can replace them with your bean of choice.

Passata:
Passata can easily be subbed with canned crushed or chopped tomatoes.

Beef stock/broth:
Adds flavour and richness to the sauce. You can adjust the amount depending on how "saucy" you like your chilli. Socks/broths can be very high in sodium. If cooking for a baby check the packaging and choose a low salt version and use homemade. You could also replace it with a little extra passata or water.

Spices:
Smoked paprika, cumin, oregano, garlic powder and onion powder. I've replaced cayenne pepper with smoked paprika to provide a mild, yet flavoursome chilli. You may feel that there is quite a bit of smoked paprika but as long as you don't use a hot version you will find it provides a lovely smoked flavour rather than heat.
Step-by-Step Instructions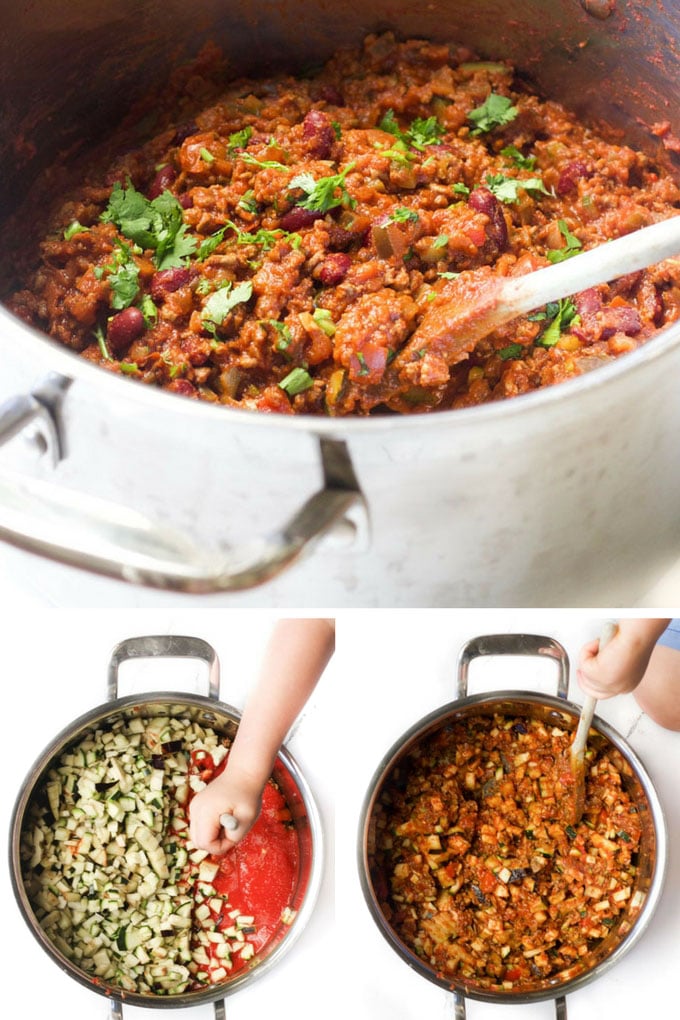 Saute onion, celery and garlic for around 1 min, add the bell pepper and cook for around another 3 minutes;
Brown the beef – turn the heat up high and cook the beef, breaking it up as you go, until browned
Add Spices - Add the spices a cook for around 1 min, until beef is coated in spices.
Add everything else, give it a good stir then simmer, covered, for at least one hour but more if you have time. The slow cooking makes the beef incredibly tender and helps the vegetables to break down into the sauce and develop extra flavour.
When you make this you might feel that there is an overload of vegetables, but they do cook right down and are barely noticeable once it has been simmering for around an hour.
Serving Suggestions
The great thing about chilli is that it can be served in a variety of ways
In a bowl with lots of toppings and corn chips for dipping/scooping.
Over rice with or without toppings
As a baked potato filling.
As a topping for nachos
In these healthy chili cheese fries
In rolls (Chili Sloppy Joes)
Over quinoa with a range of toppings.
As a quesadilla filling.
Topping Suggestions
Toppings are great for bringing chilli to the next level of tasty! Bonus - most kids love toppings, especially when they are laid out for them to choose from.
Sour cream or yoghurt to dollop on top
Grated cheese: Add while the chilli is hot and it will melt in - yum!
Diced Avocado: For an extra veggie and creamy mouthfeel
Fresh coriander (cilantro): Adds great flavour
Slices of jalapeno (for those family members who prefer something spicy).
Tortilla Strips to add some crunch
Lime wedges to squeeze over
Storage Instructions
REFRIGERATE: Allow to cool and store in an airtight container for up to 2 days.
FREEZE: Once cooled, add to a freezable container or ziplock bag. Freeze for up to 2 months.
RE-HEAT: Thaw is the refrigerator, overnight, reheat in a saucepan or microwave until piping hot throughout.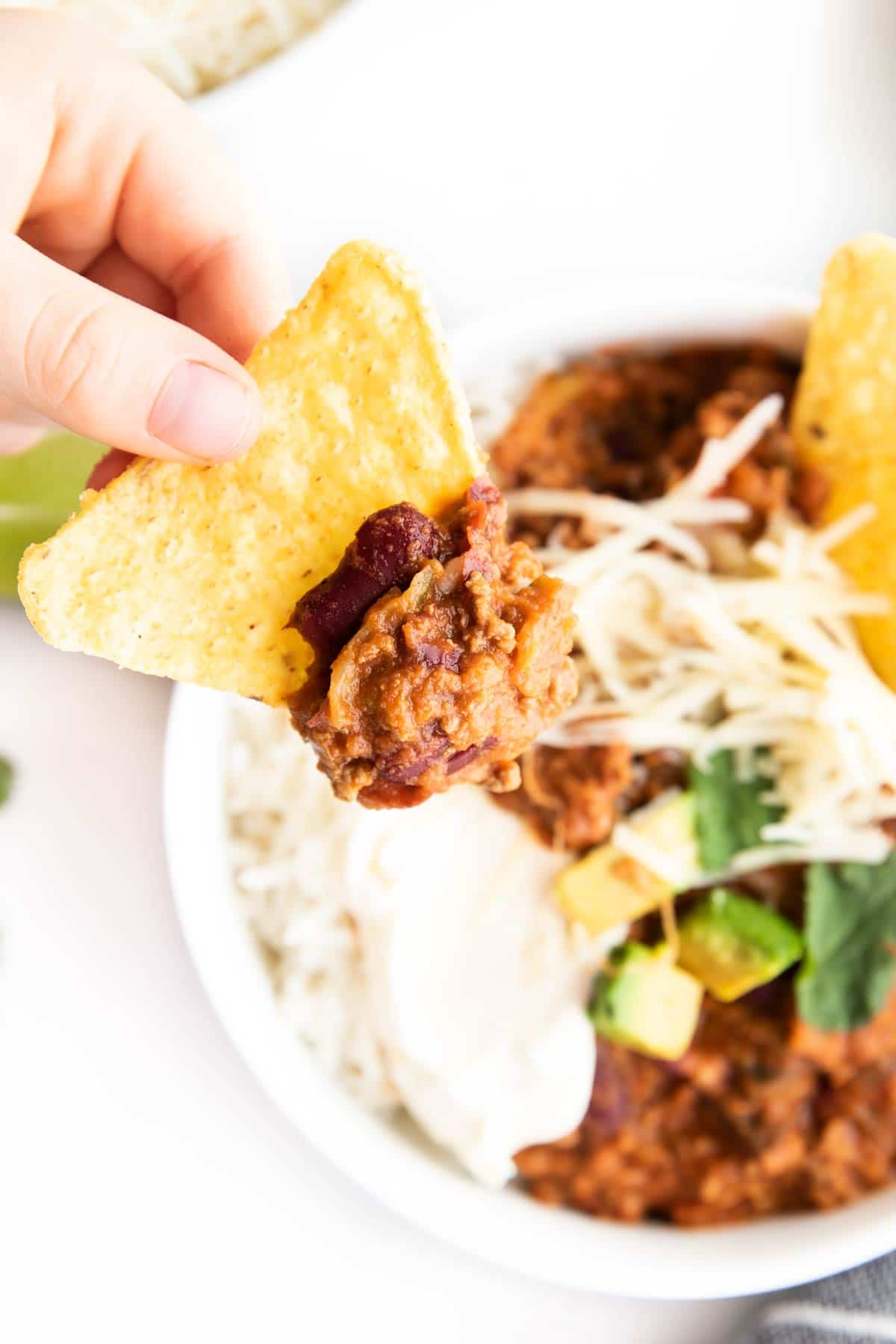 You may also like...
Looking for more healthy kid recipes?Sign up for my free recipe newsletter to get new family friendly recipes in your inbox each week! Find me sharing more kid-friendly inspiration on Pinterest and Instagram.
Kid/Baby Friendly Chilli
A delicious mild chilli packed full of vegetables that cook down into the meat sauce.
Prep Time: 15 minutes
Cook Time: 1 hour 15 minutes
Total Time: 1 hour 30 minutes
Serves:6 cups
Hover over "serves" value to reveal recipe scaler
Ingredients
1 tablespoon Olive Oil
1 Onion (red, white or brown) finely chopped
1 Celery stick finely chopped
2 Garlic cloves minced
1 Red bell pepper (capsicum) finely chopped
500g (1.1lb) Lean beef mince (ground beef)
3 teaspoon Ground cumin
3 teaspoon Smoked paprika
2 teaspoon Garlic powder
2 teaspoon Onion powder
2 teaspoon Dried Oregano
2 tablespoon Tomato Paste
500ml (2 cups) Passata
(½ cup - 1 cup) Beef Stock/broth
1 medium Zucchini (courgette) grated
1 Eggplant (aubergine) finely chopped
400g 14 oz Can Kidney beans drained and rinsed
Instructions
Heat the oil, over a medium heat, in a large sauce pan and add the onion and celery. Sauté for a few minutes until the onion starts to turn translucent.

Add the garlic & bell pepper, stir and allow it to cook for a couple more minutes, stirring occasionally.

Turn the heat up and add the minced beef. Break the meat up in the pan and keep stirring until browned all over.

Add the spices (cumin, smoked paprika, onion powder & garlic powder) and stir for a further min.

Add the remaining ingredients (tomato paste, passata, beef stock, zucchini, eggplant and beans). Bring to the boil, reduce the heat to a simmer and cover. Cook for at least one hour. You should check on the pan occasionally to make sure the sauce isn't drying out or catching on the bottom of the pan. If it is add a little more stock.  

Season to taste (if serving a baby remove baby portion before seasoning)
Recipe Notes
If you have a child that doesn't like "bits" you can peel the vegetables before grating/chopping. If you do this they should go unnoticed.  
If you don't have passata you can replace it with canned chopped tomatoes. 
Depending on how saucy you like your chilli and how long you cook it for, you may wish to add more beef stock. Start with ½ cup and add more as needed. 
If cooking for a baby, make sure to use low sodium stock or homemade. 
Nutritional Information is a ROUGH guide only, calculated using an online nutrition calculator. 
*Originally published Nov 2013. Recipe improved slightly in May 2021. Photos and post updated, recipe video added
Nutritional facts
Serving: 1cup | Calories: 311kcal | Carbohydrates: 35g | Protein: 28g | Fat: 8g | Saturated Fat: 2g | Polyunsaturated Fat: 1g | Monounsaturated Fat: 4g | Trans Fat: 1g | Cholesterol: 52mg | Sodium: 171mg | Potassium: 1416mg | Fiber: 11g | Sugar: 10g | Vitamin A: 1730IU | Vitamin C: 46mg | Calcium: 90mg | Iron: 7mg