Fresh, vibrant and super tasty, these Vegetable Rice Paper Rolls are served with a delicious peanut dipping sauce that only takes minutes to make.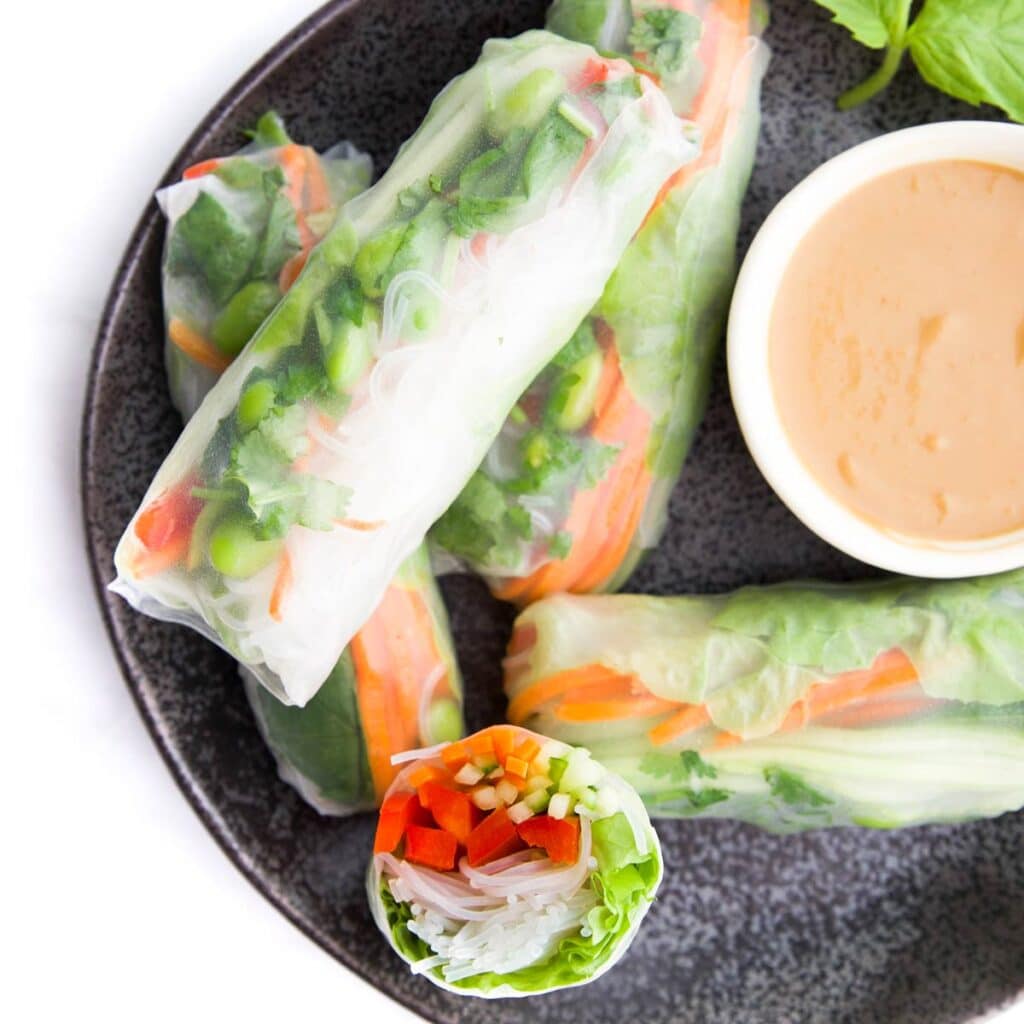 Reasons to LOVE Vegetable Rice Paper Rolls
NUTRITIOUS - These rice paper rolls contain a rainbow of vegetables which means you are eating a variety of important nutrients, they contain edamame beans for protein and are served with a peanut dip that provides healthy fats to round out the meal/snack.
FUN - Bright, colourful and fun. Kids love finger foods, especially when served with a dip.
EASY: They may appear fiddly, and with your first attempt it may take a couple of tries to get used to them but after that, you will find them so quick and easy to make.
FAMILY STYLE - This is a great meal to serve family style. Lay all the components from the recipe out on the table, along with a large bowl of water so that everyone can customise and make their own fresh spring rolls.
Watch How to Make Them (Video)
Ingredient Information (with Alternative Suggestions)
This section gives more information on the ingredients and suggests alternatives where possible. For the full recipe, with ingredient amounts, scroll to the recipe card at the bottom of the post.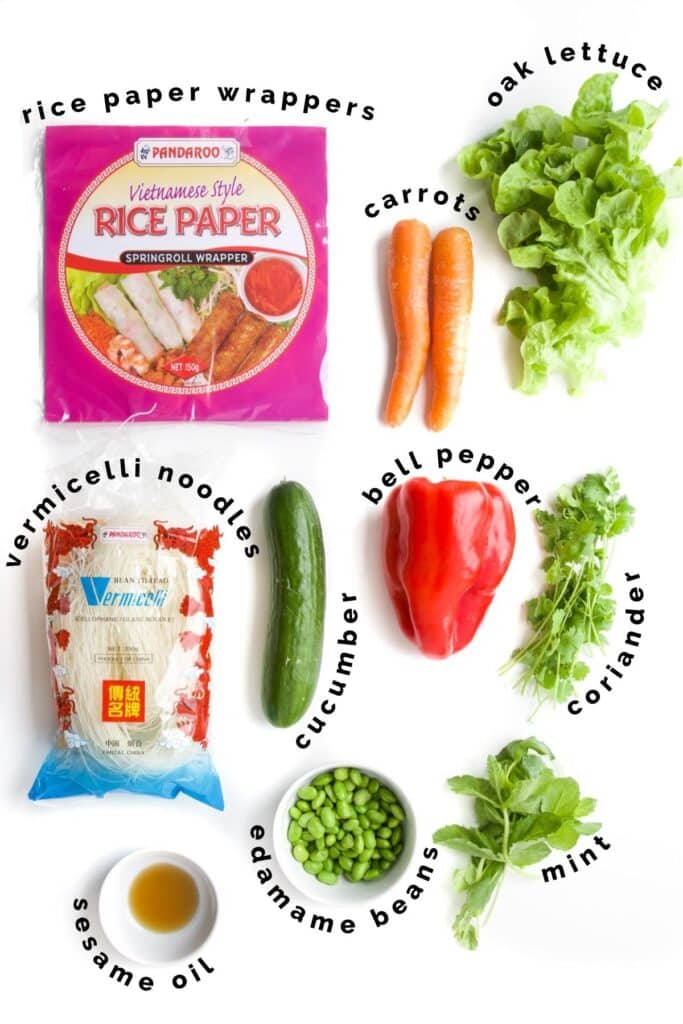 RICE PAPER SHEETS - Thin, translucent wrappers. They are available to buy in the Asian section of most supermarkets, health stores or Asian grocers.
LETTUCE - I prefer to use softer lettuce such as butter or oak. Iceberg and other crunchier lettuce are more prone to tearing the rice paper so just be mindful of this.
VERMICELLI NOODLES - Adds another texture dimension, you can skip them if you prefer.
VEGETABLES - I've used bell pepper (capsicum), carrot and cucumber. You could also use beansprouts, cabbage, spinach, avocado, spring (green) onion and radish. Get creative!
EDAMAME BEANS - Added for a protein source, you could sub with chickpeas, tofu, prawns, shredded chicken or salmon.
HERBS - Mint and coriander add great flavour but you can skip or change them up with chive or Thai basil.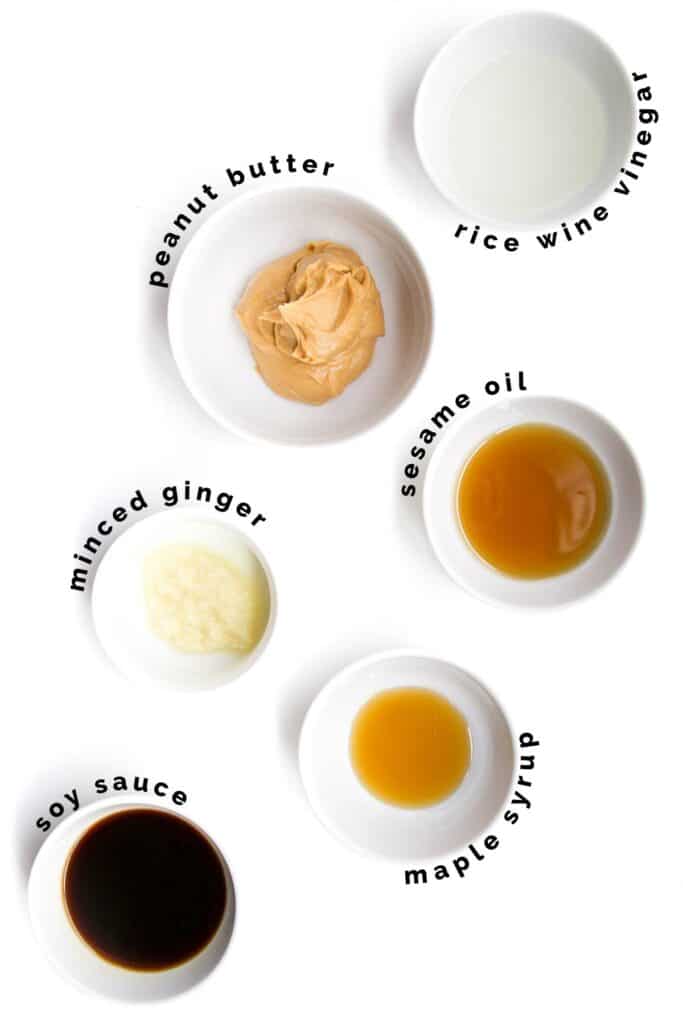 To make the dipping sauce combine the following ingredients.
PEANUT BUTTER - Can be replaced with another nut butter or a seed spread if you have a nut allergy.
SESAME OIL - Gives a lovely nutty flavour but you can sub with a neutral-tasting oil or water.
SOY SAUCE - Can be subbed with tamari or coconut aminos if looking for a lower sodium / gluten-free alternative.
RICE WINE VINEGAR - If you don't have any, you could replace it with a different vinegar such as white wine, apple cider, or lime juice.
MAPLE SYRUP -Adds a little sweetness to balance out the sauce. Could be replaced with a little brown sugar or honey. You may even find that you don't need the sweetness.
MINCED GINGER - Adds great flavour, adjust the amount to suit taste.
WATER - Used to thin out the sauce. Depending on the peanut butter consistency, you will need 1 -3 tbsp.
Process Shots and Cooking Tips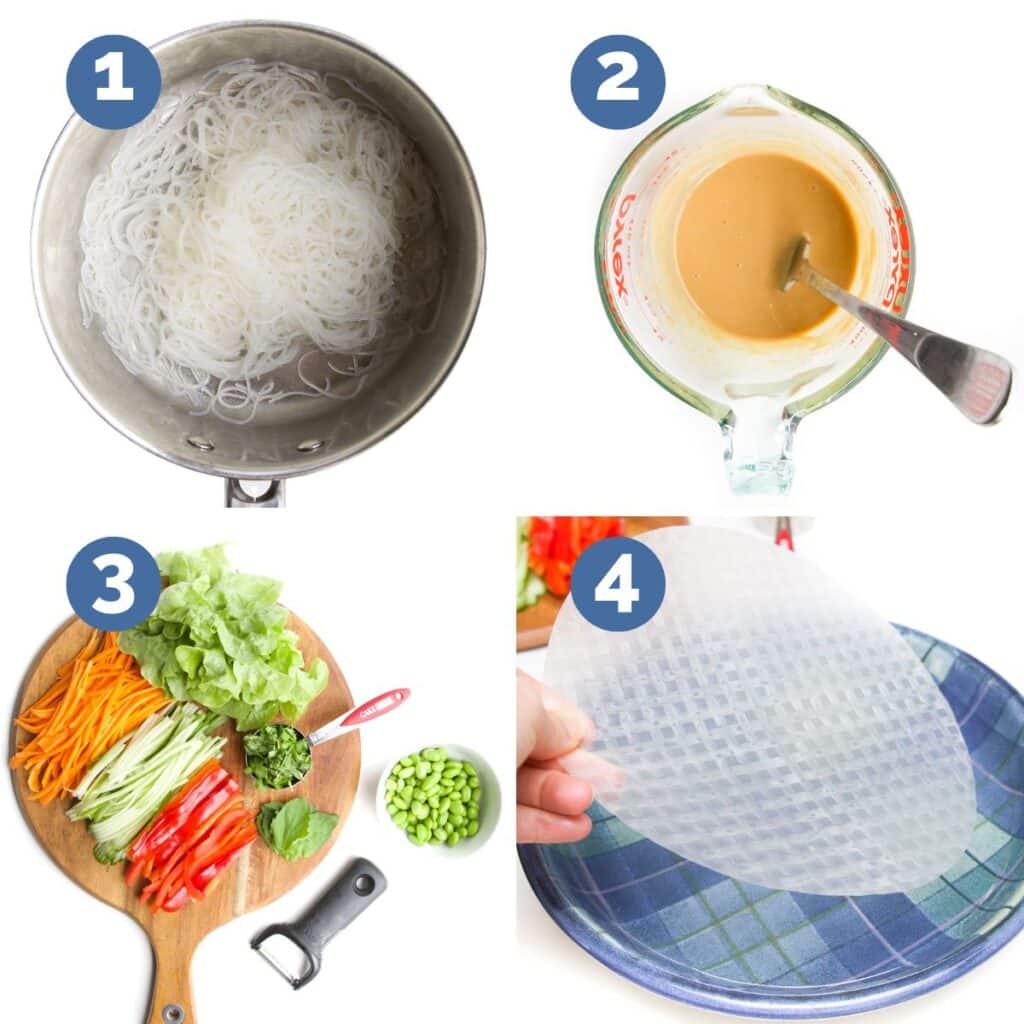 The key to successful rice paper roll making is to be organised. Have your noodles made and chilled, the vegetables/herbs chopped and the sauce mixed before you start assembling.
Cook noodles - Boil for 2 mins, drain, run under cold water and place in a bowl.
Prepare Dipping Sauce - Add all the sauce ingredients to a jar/bowl and whisk until fully combined and creamy. It takes a couple of mins, just keep whisking! Taste and adjust accordingly.
Prepare Vegetables / Filling - Wash, peel and chop the vegetables and have them laid out so they can easily be picked up. I use a julienne peeler for the carrot and cucumber and then thinly slice the bell pepper.
Soak Rice Paper -Fill a large bowl with warm water. Add one of the sheets of rice paper to the bowl for around 5 seconds. Remove the sheet and allow any excess water to drip off. The rice wrapper should still feel pretty firm at this point. It will soften as it sits and as you add the filling ingredients. (Don't be tempted to let it soak for too long as it will tear more easily when rolled.)
Assembling the Wraps (with Process Shots)
Place rice paper on a damp surface. I like to use a damp, clean cloth. Add the fillings to the bottom of the wrapper.
Pick up the edge closest to you and pull over the toppings.
Fold in the sides
Continue to roll up until tightly wrapped.
You want to make sure you are applying just the right amount of pressure. Too tight and the rice paper could tear but not tight enough and the ingredients will fall out when you cut/bite.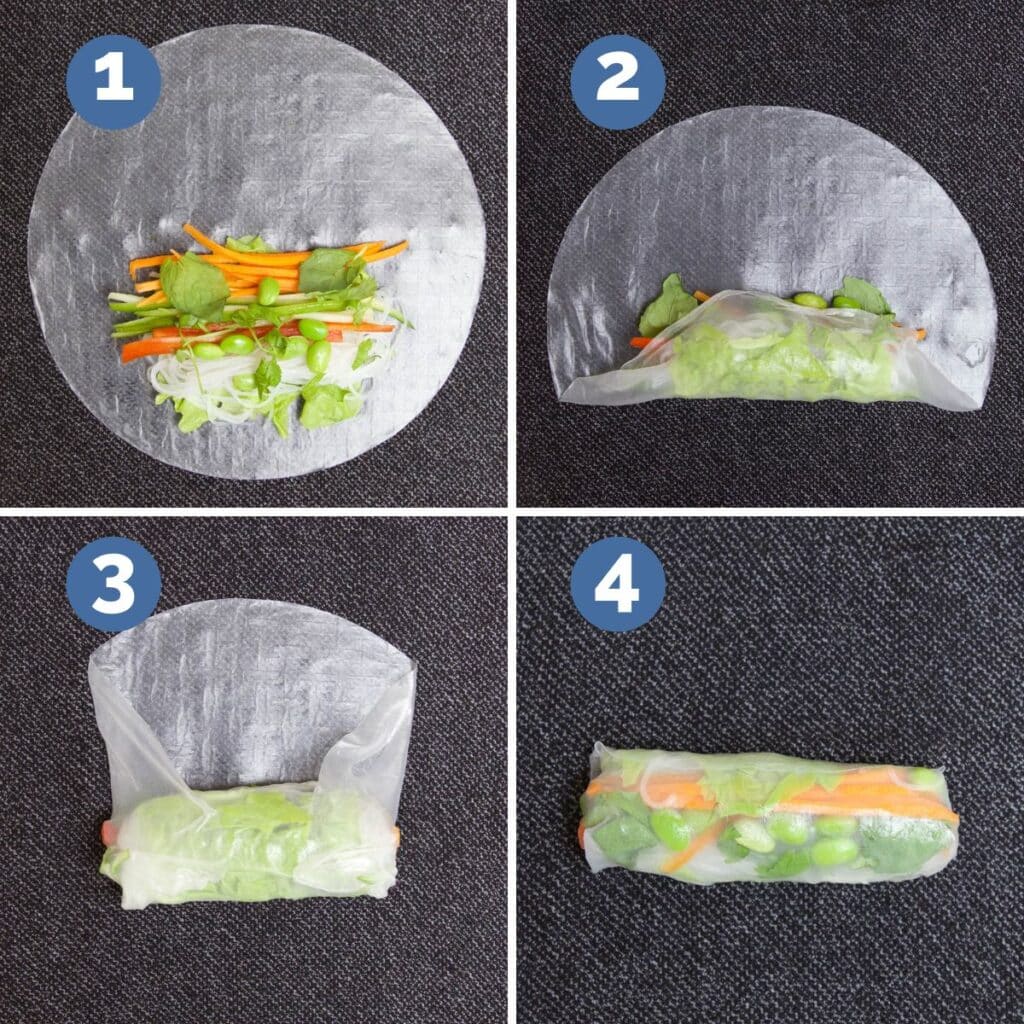 Top Tips
BE PREPARED! - The key to making these vegetable rice paper rolls is to have all the filling ingredients prepared before you start getting involved with soaking the rice paper wraps.
PREVENT STICKING - Once soaked the wrappers get sticky. Place the soaked rice paper wrapper on a clean damp cloth or damp chopping board to stop the rice paper from sticking. Once rolled, place on a damp cloth/board until ready to serve. Try not to let them touch as they will stick together.
DON'T OVERFILL - Too much filling and they will become difficult to roll and your wrapper will likely tear.
CUTTING -If you want to cut the rolls in half then use a sharp, wet knife to avoid ripping the wrappers.
Storage Instructions
While you can make these rolls in advance they are best eaten fresh, right after making.
If you wish to make them ahead of time they will last roughly 6-8 hours if stored correctly. Any longer than that and they start to dry. Wrap each one individually in cling film straight after making and then refrigerate.
If you want to add them to a lunch box I would also recommend wrapping them individually. If not, when sitting side by side in the lunchbox they can stick together.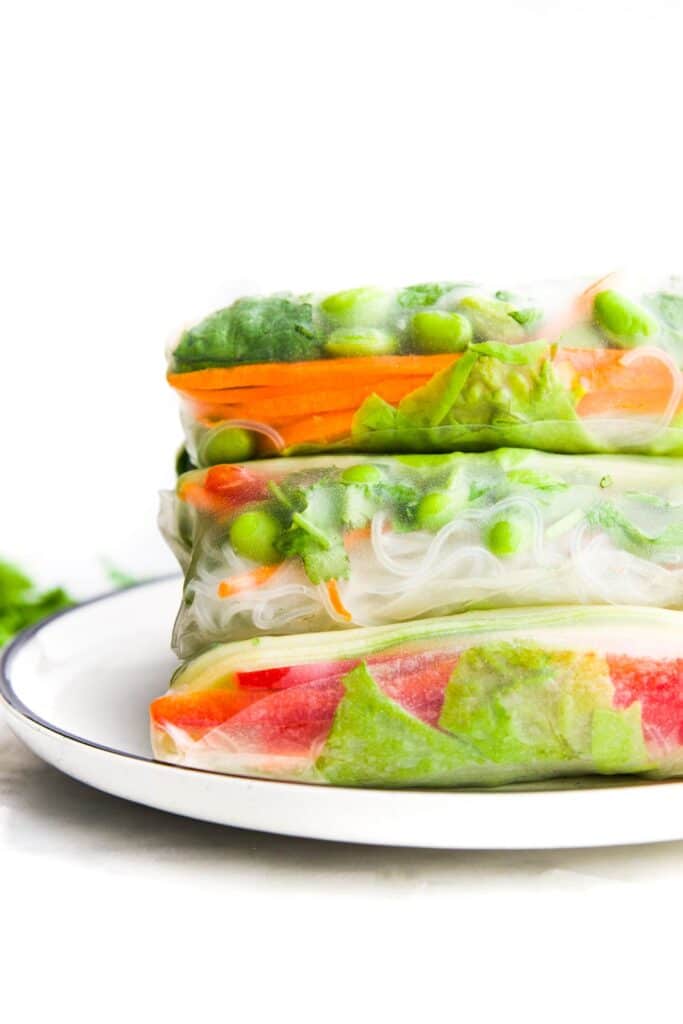 You May Also Like...
Looking for more healthy kid recipes?Sign up for my free recipe newsletter to get new family friendly recipes in your inbox each week! Find me sharing more kid-friendly inspiration on Pinterest and Instagram.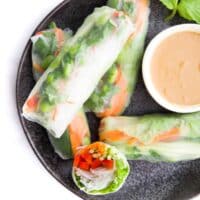 Vegetable Rice Paper Rolls with a Peanut Dipping Sauce
Fresh, vibrant and super tasty rice paper rolls served with a delicious peanut dipping sauce.
Prep Time: 20 minutes
Total Time: 20 minutes
Serves:8 rolls
Hover over "serves" value to reveal recipe scaler
Ingredients
Vegetable Rice Paper Rolls
50g / 1.5 oz Dried Vermicelli Noodles
8 Lettuce Leaves Use soft lettuce such as Oak or Butter lettuce.
1 Red Bell Pepper (Capsicum) thinly sliced
2 Carrots peeled and sliced into strips with a julienne peeler or thinly sliced into matchsticks
1 Cucumber sliced into strips with a julienne peeler or thinly sliced into matchsticks
½ cup Edamame Beans
¼ cup Coriander (Cilantro) roughly chopped
16 Mint Leaves
8 Rice Paper Wrappers
Peanut Dipping Sauce
3 tablespoon Peanut Butter
1½ tablespoon Rice Wine Vinegar
2 tablespoon Soy Sauce
1 tablespoon Sesame Oil
½ tablespoon Maple Syrup
½ tablespoon Ginger, minced
2-3 tablespoon Water as needed
Instructions
Peanut Sauce
Combine the Peanut Dipping Sauce ingredients and whisk until smooth. Add 2 - 3 tablespoon of water, as needed. Taste and adjust the sauce as needed
Rice Paper Rolls
Bring a pan of boiling water to a boil, place noodles in the pan and cook for 2 mins (or according to package directions). Drain and rinse under cold water.

Make sure you have all the filling ingredients prepared and within reach.

Fill a large bowl with warm water. Submerge one sheet of rice paper into the water for 5 seconds. Remove, allow any excess water to drip off and carefully place on a clean damp dish towel or damp board. (prevents sticking to surface)

On the bottom half of the paper add a lettuce leaf, followed by a small handful of noodles, a little of each vegetable, a sprinkle of coriander (cilantro) and 2 mint leaves.

Lift the bottom edge of the rice paper up over the fillings until the filling is completely covered. Fold in the sides and then continue rolling to seal. Repeat with remaining rice paper wraps.

Serve the spring rolls with the dipping sauce on the side. Either serve whole or slice in half with a sharp, wet knife.
Recipe Notes
Lettuce: Soft lettuce, such as butter or oak, are perfect for rolling up. Crunchier lettuces, such as iceberg, don't work as well because they break when you roll them and are more likely to tear the rice paper. Sauce: Peanut butter can vary in consistency and soy sauce in strength so taste and adjust the sauce if needed. (Add more water to thin or to reduce saltiness, add more maple to sweeten etc. If you want a little bit of spice add some minced chilli) Storage: Best eaten fresh but if you wish to make them ahead of time they will last roughly 6-8 hours if stored correctly. Wrap each one individually in cling film straight after making and Nutritional Information is a ROUGH guide only, calculated using an online nutrition calculator. 
Nutritional facts
Calories: 162kcal | Carbohydrates: 23g | Protein: 5g | Fat: 6g | Saturated Fat: 1g | Polyunsaturated Fat: 2g | Monounsaturated Fat: 2g | Cholesterol: 2mg | Sodium: 279mg | Potassium: 250mg | Fiber: 2g | Sugar: 3g | Vitamin A: 3639IU | Vitamin C: 21mg | Calcium: 41mg | Iron: 2mg