Enjoy the delicious blend of red lentils and aromatic spices in these Red Lentil Pancakes. Perfect for breakfast or as a nourishing part of a main meal. These egg-free, dairy-free and gluten-free pancakes are a perfect choice for those with special dietary requirements.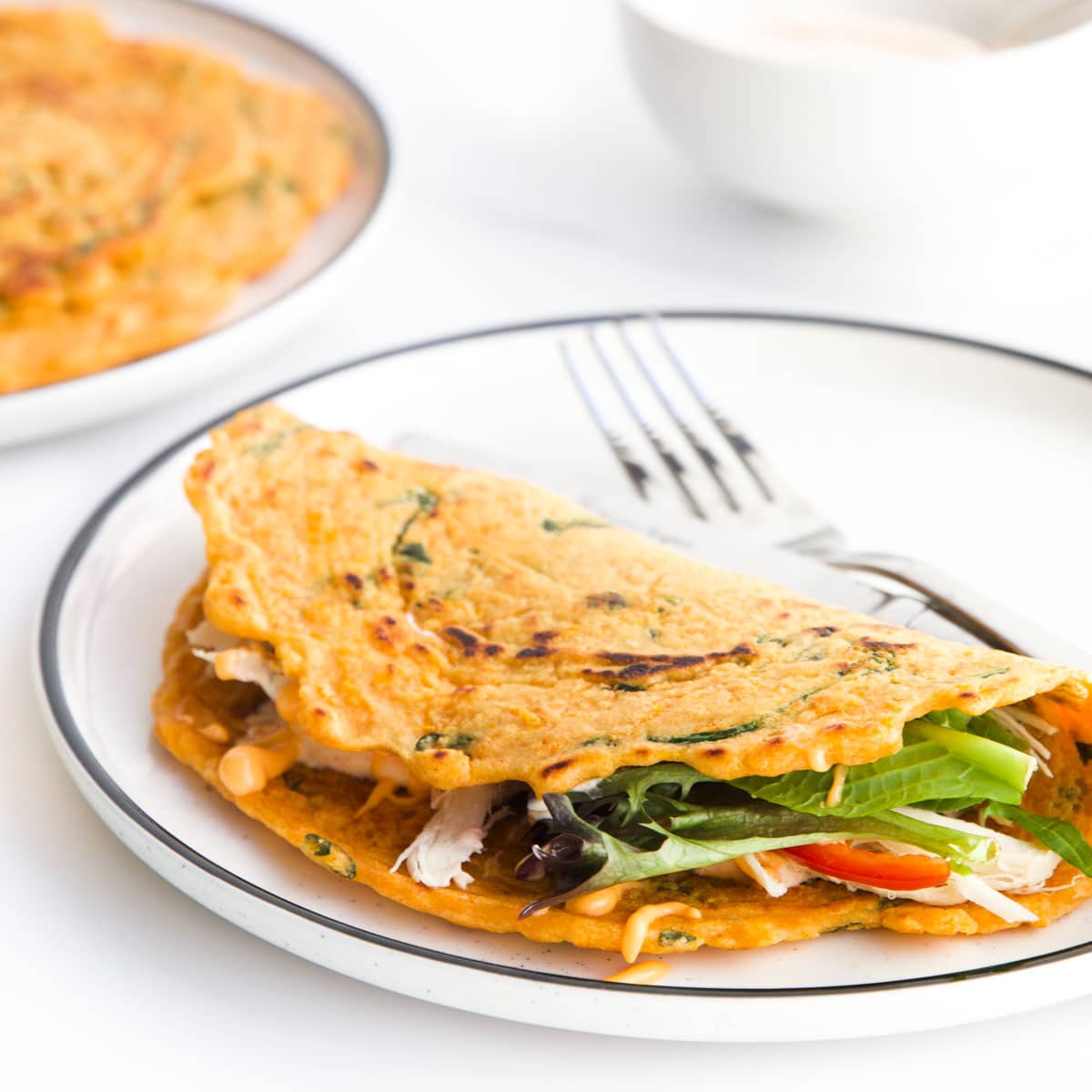 Lentils have always been a staple in our house, and I'm excited to share my new recipe for red lentil pancakes with you. They join the ranks of some of my other family-friendly lentil recipes such as lentil puree, lentil curry, lentil pasta sauce, lentil shepherds pie and lentil croquettes.
Jump to:
Reasons to Love this Recipe
Wholesome Ingredients: Packed with red lentils, carrots, spinach and spices these pancakes are a wholesome and nutritious option that will leave you feeling satisfied and nourished.
Special Diet-Friendly: With no eggs, dairy or gluten, these pancakes cater perfectly to those on special diets or those with dietary restrictions.
Easy To Adapt: Try them with different spices or add some other veggies into the mix. 
Video Tutorial
Ingredient Information (& Alternative Suggestions)
For the full recipe, with ingredient amounts, scroll to the recipe card at the bottom of the post.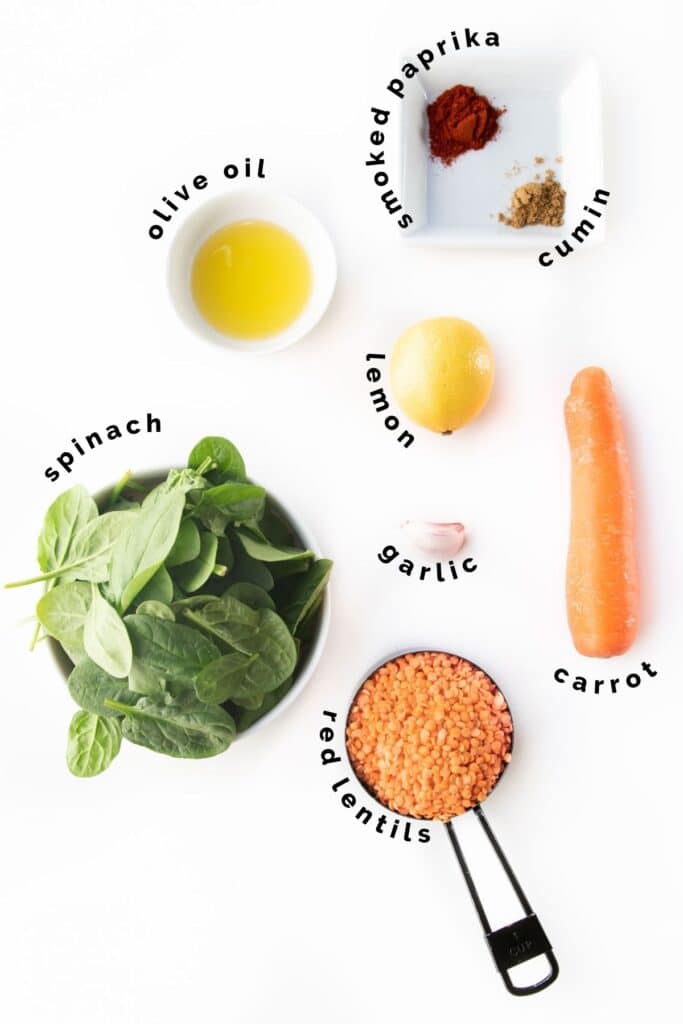 Red Split Lentils: Serve as the essential base ingredient. Other lentil varieties will not produce the same result, stick to red lentils.
Garlic: Adds flavour, if you prefer a milder flavour, or don't have garlic to hand, you can substitute with garlic powder or omit it altogether.
Carrot: Adds a touch of natural sweetness and texture. Feel free to replace with other grated vegetables like zucchini (courgette) or omit if you prefer.
Spinach: Adds a pop of freshness and a boost of nutrition. Skip if you wish.
Smoked Paprika: Elevates the flavour profile of the pancakes. If you don't have smoked paprika your can use regular paprika or omit it.
Cumin: Brings a warm, earthy flavour to the pancakes, adding depth to the overall taste. If you are not a fan of cumin you can omit it or replace with ground coriander or curry powder for alternative flavour profiles.
Lemon Juice: The lemon juice really brightens the flavours, adds a tangy notes and balances the earthiness of the lentils and spices. If you don't have lemon juice, you can substitute with lime juice or even apple cider vinegar for a tangy element.
Salt: A little salt enhances the overall flavours of the lentil pancakes, balancing the other ingredients and bringing out their natural tastes. Adjust the amount according to your personal preference and skip if making for a baby.
Step by Step Instructions and Cooking Tips
This is a simple recipe, that doesn't take long to make, but you do have to allow time to soak the lentils to ensure you get an easy blending, creamy batter.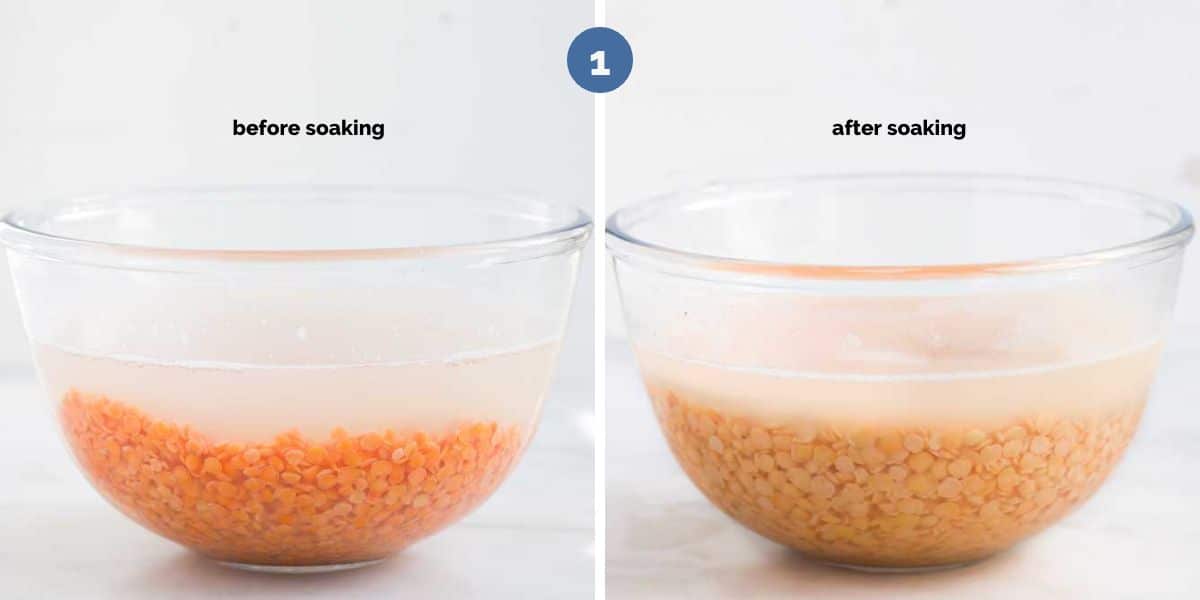 Soak the lentils overnight - Rinse the red split lentils, then place them in a bowl and cover with water. Allow to the lentils to soak overnight ideally but for at least for 4-6 hours. This helps soften them, making them easier to blend and cook.
Drain the lentils - After soaking drain the lentils using a fine-mesh sieve. Discard the soaking water.
Puree lentils - Transfer the drained lentils to a blender. Add a small amount of water, around ½ cup, to aid in blending. Puree until you achieve a smooth batter-like consistency. The batter should be thick but pourable.
TIP: Start with a smaller amount of water and gradually add more as needed. The goal is to have a smooth batter that can be easily poured but not too watery.
Sauté Vegetables - Heat a small amount of oil in a frying pan. Add the grated carrot and cook for a few minutes until it begins to soften. Then, add the spinach and sauté until it wilts. Finally, add in the spices and continue to cook for a further minute to release their flavours.
Tip: Grate the carrot using a fine grater to ensure it cooks quickly and evenly.
Mix the batter - Mix the pureed lentils and sautéd vegetables together until combined.
Fry - You can create either large, crepe-like pancakes for filling or small, tablespoon-sized pancakes perfect for dipping or snacking.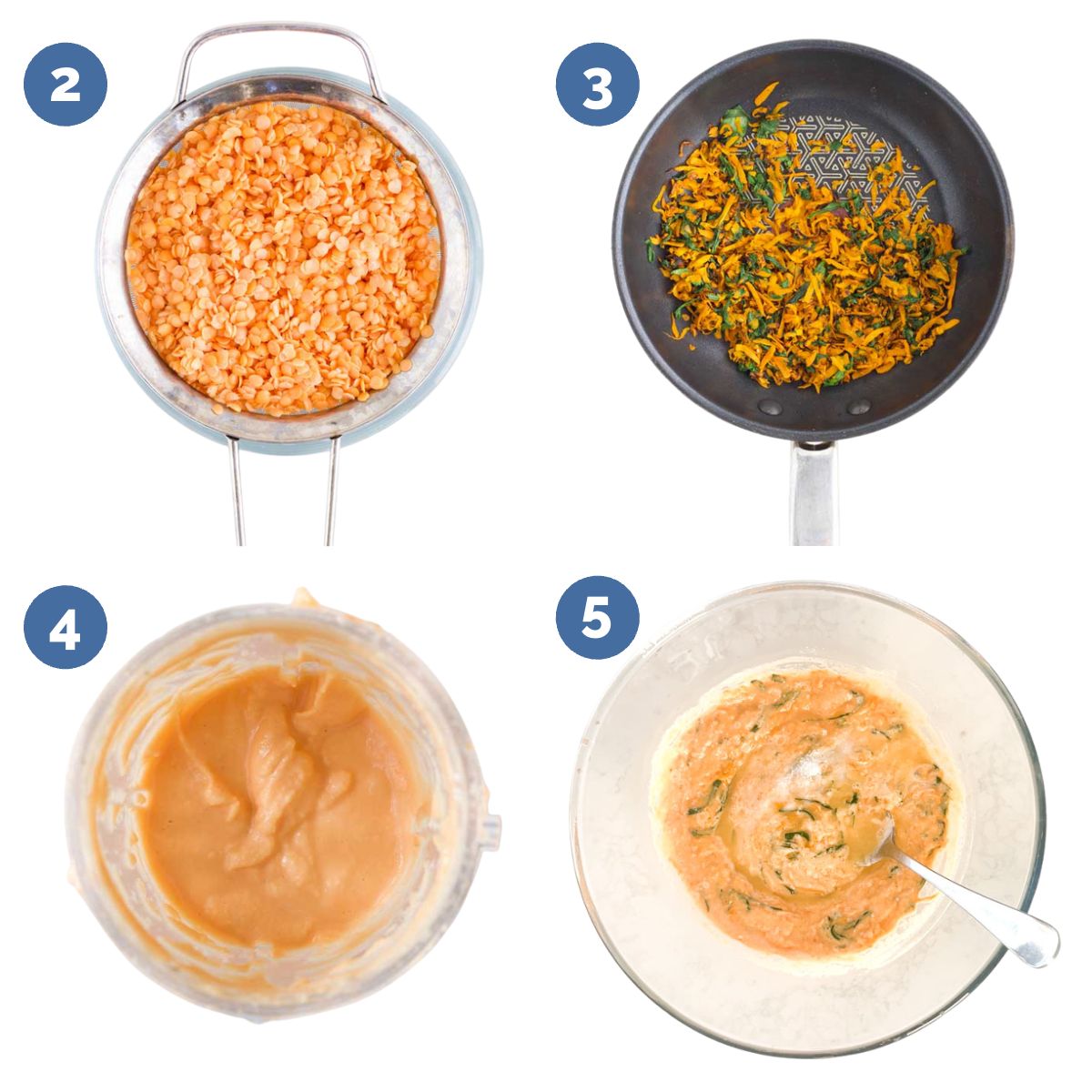 Large Pancakes: Heat a non-stick pan over medium-high heat. Pour around ¼ of the mixture onto the hot pan, spread it in a circular shape, and cook for 3 minutes on one side, then flip and cook for 2 more minutes on the other side.
Small Pancakes: Heat a non stick pan, over medium-high heat. Drop a tablespoon of batter onto the pan, spreading it slightly with the back of a spoon. Cook for around 2 minutes on each side.
TIP: Adjust the heat if needed to prevent burning or undercooking. Look for bubbles forming and ensure the pancake is easily flippable before turning.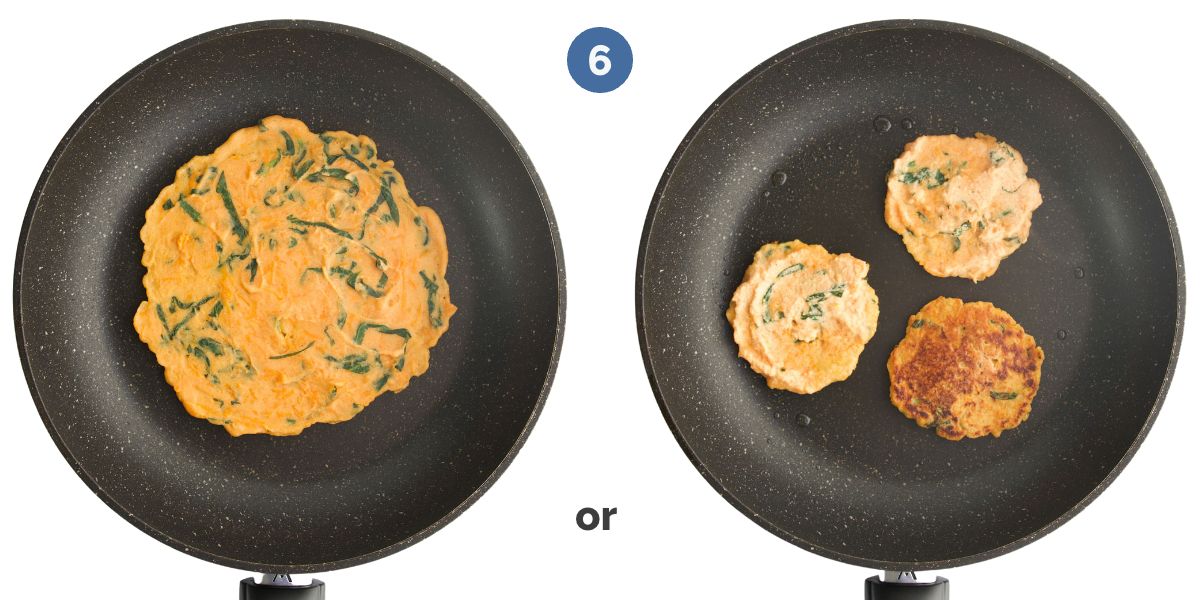 Serving Suggestions
For the larger, crepe style, pancake fill one side with your choice of ingredients, such as sautéed vegetables, slow cooked shredded chicken , guacamole or hummus. Fold it over and serve with a side salad.
Smaller pancakes are ideal for baby-led weaning, kids or for snacking. Serve them with some dips (such as avocado dip, beetroot dip, paprika dip or hummus) or alongside curries or stews. Their bite-sized nature make them perfect for dipping into flavourful sauces.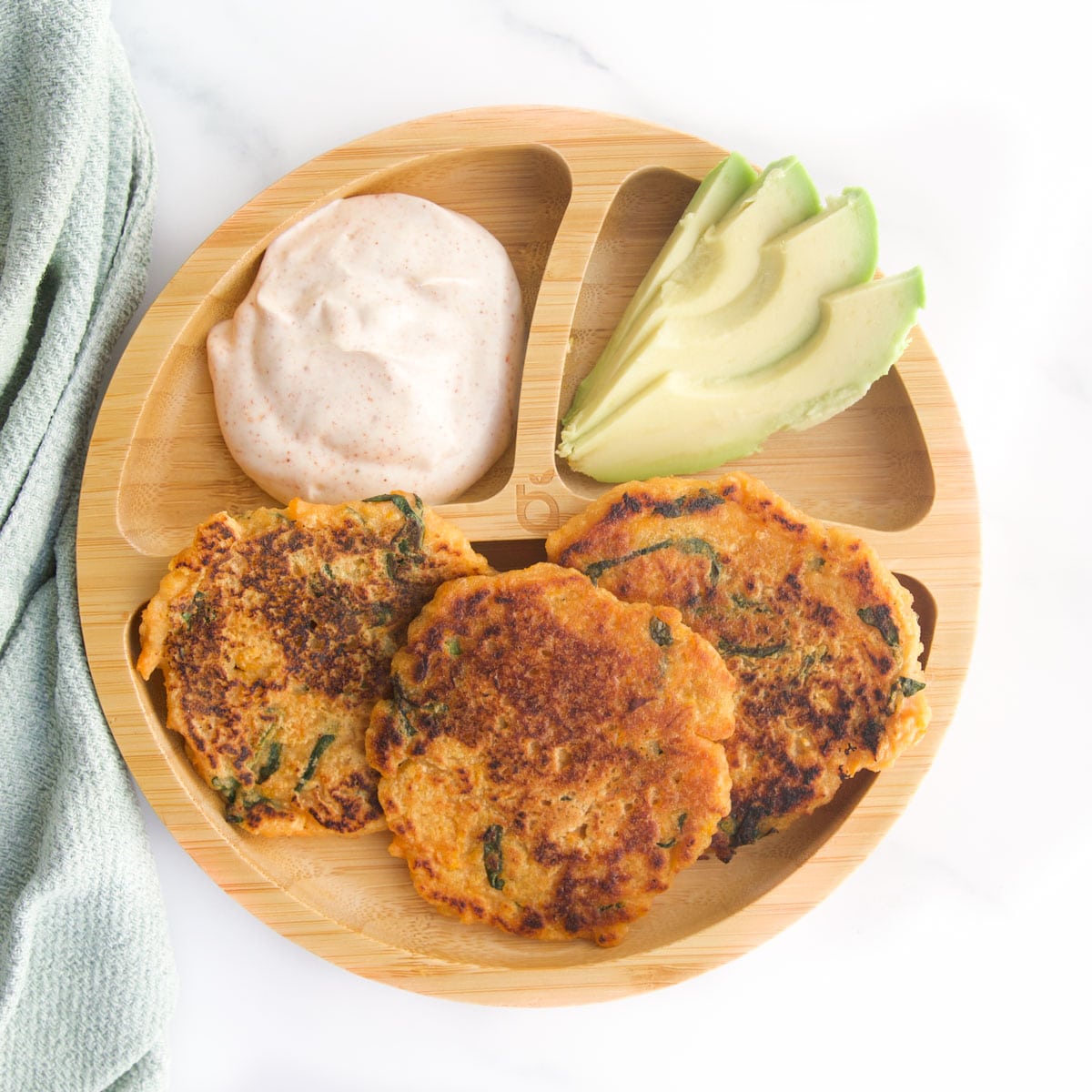 Recipe FAQs
Can I use different lentils?
No, this recipe has been developed using red split lentils, other lentils will not break down in the same way.
Do I have to soak the lentils?
Yes, this is necessary to soften the lentils for blending into a batter.
Do you need to cook the lentils before blending?
No, you should no cook the lentils, doing this will change the texture and the recipe will not work.
Are lentil pancakes suitable for babies?
Babies can typically start eating lentil pancakes once they have been introduced to solid foods, from 6 months plus. Just ensure that you skip any added salt.

If your baby hasn't already tried lentil or any of the ingredients within this pancake you should start by introducing a small amount for the first few servings and watch closely.

Smaller tablespoon-sized pancakes will be perfect for little hands.
How do I store leftovers?
Lentil pancakes are best served warm, straight after cooking. You can refrigerate and freeze them but the taste and texture is not as good. I often freeze them and my boys are happy to eat them cold or re-heated.  
Refrigerate: Store in an airtight container for up 1 day. 
Freeze: Store in an airtight container for up to 3 months. 
Reheat: You can gently heat in a pan, microwave or toast them. 
Other Recipes You May Like..
Looking for more healthy kid recipes?Sign up for my free recipe newsletter to get new family friendly recipes in your inbox each week! Find me sharing more kid-friendly inspiration on Pinterest and Instagram.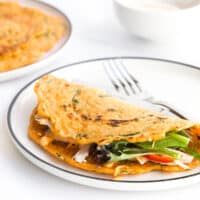 Lentil Pancakes
Pancakes made with red split lentils, spices and vegetables.
Prep Time: 5 minutes
Soaking Time: 12 hours
Cook Time: 10 minutes
Total Time: 12 hours 15 minutes
Serves:4
Hover over "serves" value to reveal recipe scaler
Ingredients
180g (1 cup) Red Split Lentils
½ cup Water
1 Garlic Clove ,minced
1 Carrot ,finely grated
¼ teaspoon Ground Cumin
½ teaspoon Smoked Paprika
2 handfuls Baby Spinach ,finely chopped into ribbons
2 tablespoon Fresh Lemon Juice
½ tsp Salt ,do NOT add if making for a baby
1 tablespoon Olive Oil ,for frying
Instructions
Add the lentils to a mixing bowl and cover with water. Allow to soak overnight.

Drain the lentils and add to a high-speed blender along with the water. Blend until you have a smooth batter.

In a frying pan, heat ½ tablespoon of the oil over a medium-high heat. Add the carrot, garlic, smoked paprika, cumin and spinach, reduce the heat to medium-low and cook until softened (around 4-5 mins).

In a large mixing bowl mix together the lentil batter along with the sautéed vegetables, lemon juice and salt (if adding).

Heat a non stick frying pan over a medium-high heat. When hot add a drizzle of oil (or alternatively use a spray oil).
Large Crepe-Like Pancakes
Pour around ¼ of the mixture onto the hot pan and spread it in a circular shape using the back of a spoon.

Cook for 3 minutes on one side, then flip and cook for 2 more minutes on the other side.

Remove pancake from the pan and repeat with the remaining mixture. Serve
Small Pancakes
Add a tablespoon of the batter to the pan and use the back of your spoon to spread it out a little (to make them thinner) Repeat to fill the pan.

Cook for around 2 minutes on each side (this will vary depending on the pan, heat and how thin your pancake is). You want to look for bubbles forming and your pancakes should be able to be flipped easily. 

Remove pancakes from the pan and repeat with the remaining mixture. Serve
Recipe Notes
The amount of oil you need will depend on your pan. I find I can use very little when using a non-stick pan, a light spray is usually enough. 
I do not normally add salt to my recipes but I do feel that the salt greatly enhances the recipe and helps to balance the flavours.  This is optional and for taste only. Leave out if cooking for a baby.
These pancakes are best served with a dip or curry or stuffed like you would a wrap. See post for suggestions and recipe links. 
Nutritional Information is a ROUGH guide only, calculated using an online nutrition calculator. 
Nutritional facts
Calories: 203kcal | Carbohydrates: 30g | Protein: 12g | Fat: 4g | Saturated Fat: 1g | Polyunsaturated Fat: 1g | Monounsaturated Fat: 3g | Sodium: 318mg | Potassium: 581mg | Fiber: 15g | Sugar: 2g | Vitamin A: 4097IU | Vitamin C: 10mg | Calcium: 50mg | Iron: 4mg