Sweet Potato Wedges have been a staple in our household since my oldest was a baby. They are fantastic for babies starting out on baby-led weaning but something the whole family will enjoy too.
Sweet Potato was something that I never really ate until I had children. When my eldest started solids, I pureed sweet potatoes and spoon fed it to him as one of his first foods. I then combined it with a range of other foods and he gobbled up every last drop. It was clear from the start that I had myself a sweet potato fan!
Finger foods came next and these Sweet Potato Wedges were perfect for him. They were easy to pick up, sweet and soft. I couldn't believe how much I enjoyed them myself and they soon became a regular in our weekly meals.
My eldest is now seven and I have had many years of making these wedges. Over the years I have picked up some tips and tricks to ensure the wedges are perfect every time!
Sweet Potato Wedges Cooking Tips
Keep the Skin On -This is, of course, personal preference but I find the skins help to keep the shape of the wedges and if you are feeding babies / young toddlers then it makes it easier for them to pick up / hold. Skins of sweet potatoes contain a number of additional nutrients, so it is beneficial to eat sweet potatoes with the skin. Scrub them well first to remove any dirt.
Cut Evenly -To make sweet potato wedges, I cut the potato in half lengthways and then cut each half lengthways again and finally cut each piece in half again so you end up with 8 wedges. Obviously, sweet potatoes vary in size and if they are particularly large or long I have to cut them in half along the middle to make them smaller. Whatever way you wish to cut your wedges, try to get sizes that are roughly the same for more even cooking.
Coat Well - You want to make sure you coat your sweet potatoes well and evenly in oil. The oil helps prevent the wedges from sticking to the roasting pan. It also encourages extra browning and caramelisation which makes the wedges so irresistible.
Don't Overcrowd the Pan - Cramming too many wedges in the pan will cause excess moisture and you will end up with soggy wedges. Spread them out!
Cook Straight on the Pan or use Foil - I find what I cook sweet potato wedges on can make a difference to the texture. I find roasting straight on the roasting pan or on foil produces the best result.
Leave the Wedges to Sit for a Couple of Minutes after cooking - Leaving the wedges to sit for a couple of minutes will make it easier to remove them from the tray and allows them a little more time to crisp up.
What to Season Sweet Potato Wedges With
Don't be afraid to add spices and herbs when making food for your baby. It is great to introduce a wide range of flavours at a young age and remember that just because you don't like a particular seasoning doesn't mean your baby/child will too.
When making wedges I like to toss them in olive oil and add a good shake of spice.
Smoked paprika is my favourite and the boys adore them cooked with cinnamon. Sometimes I serve a mix of smoked paprika and cinnamon for a delicious sweet and smoky flavour.
Mixed Italian dried herbs also work well ( I call this pizza wedges for extra kid appeal.)
What to Serve Sweet Potato Wedges With
The great thing about sweet potato wedges is that they go with so many things.
They are delicious on their own, served with dips. (Pictured below is an avocado dip)
My kids also love them cold, so I often pop them into lunchboxes.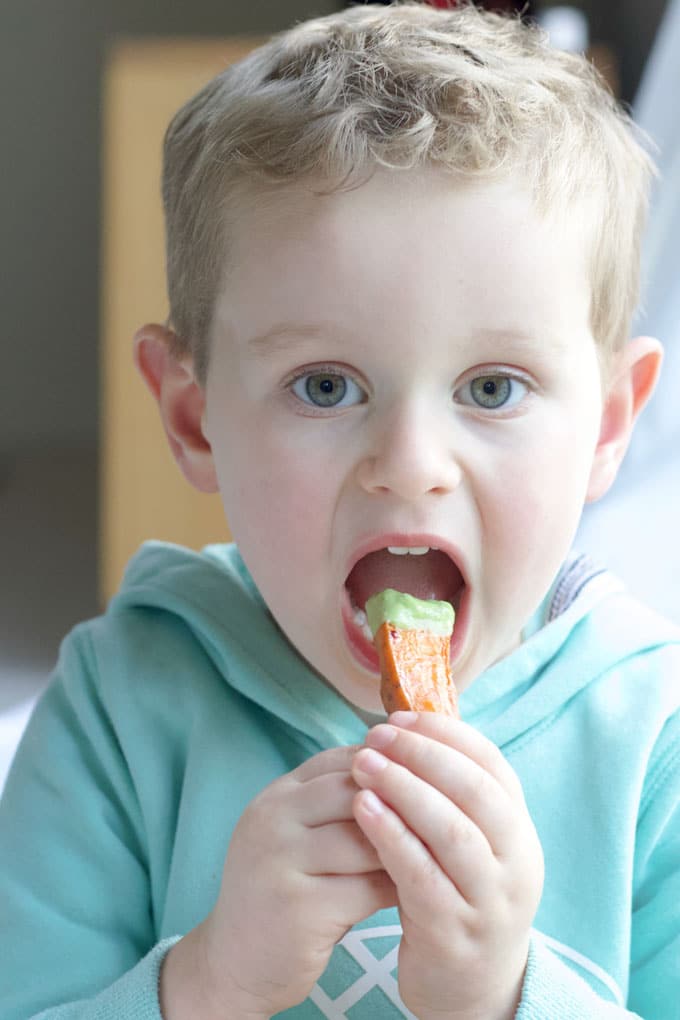 Looking for other sweet potato ideas? You may like
Have you tried this recipe? I love to hear your feedback. Please rate and leave a comment below or tag me on Instagram.
Looking for more healthy kid recipes?Sign up for my free recipe newsletter to get new family friendly recipes in your inbox each week! Find me sharing more kid-friendly inspiration on Pinterest and Instagram.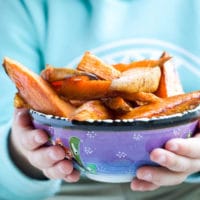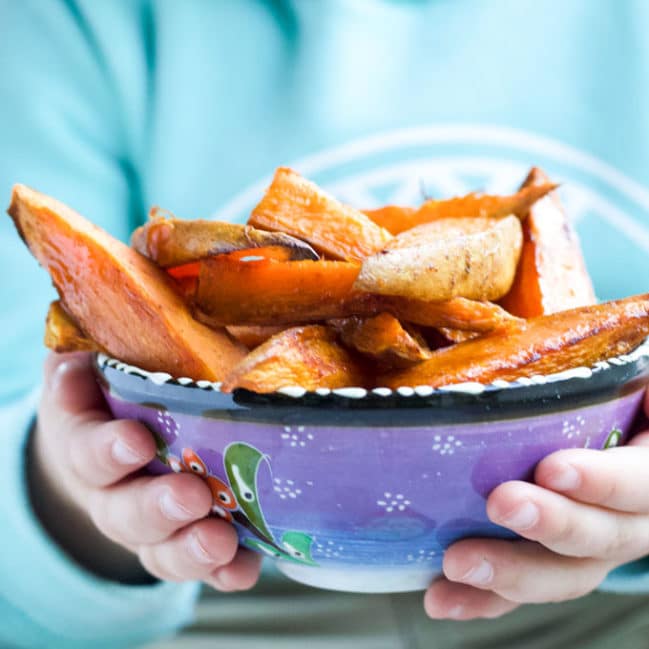 Sweet Potato Wedges
Delicious sweet potato wedges that the whole family will love.
Prep Time: 10 minutes
Cook Time: 35 minutes
Total Time: 45 minutes
Serves:4
Hover over "serves" value to reveal recipe scaler
Ingredients
2 medium sweet potatoes
1 tablespoon olive oil
1 teaspoon smoked paprika SEE NOTE 1
Instructions
Pre heat oven to 200C / 400F / Gas 6

Wash and scrub sweet potatoes and cut off the ends.

Cut each potato lengthways into 8 wedges and place into a large mixing bowl (SEE NOTE 2)

Add the olive oil and smoked paprika and toss to combine. (SEE NOTE 3)

Arrange potatoes in a single layer on baking tray/s (SEE NOTE 4)

Bake for 30 - 35 mins flipping halfway through the cook time. Allow the wedges to cool on the baking tray for 5 mins and then serve.
Recipe Notes
Adding smoked paprika is optional, you can miss it out or choose a different herb or spice.
The aim is to cut wedges that are roughly the same in size to achieve more even cooking. As sweet potatoes vary greatly in size you may have to cut them in half down the middle. The cooking time can differ depending on the size of your potatoes.
Make sure to coat all the wedges evenly.  You may need more/less oil, depending on the size of your potatoes.
 Take care not to overcrowd your baking tray/s as this can cause excess moisture and soggy wedges.
Nutritional information is a ROUGH guide only, calculated using an online calculator.
Nutritional facts
Calories: 88kcal | Carbohydrates: 13g | Protein: 1g | Fat: 3g | Saturated Fat: 0g | Cholesterol: 0mg | Sodium: 36mg | Potassium: 230mg | Fiber: 2g | Sugar: 2g | Vitamin A: 9470IU | Vitamin C: 1.6mg | Calcium: 19mg | Iron: 0.5mg
I first published this post in April 2015 and, like many of my old posts, the photos were shocking and the recipe was on the brief side. I have edited to include new photos and cooking tips.