Banana bread is a great snack for kids but can be loaded with sugar. This healthier version has no refined sugar and is made using greek yoghurt.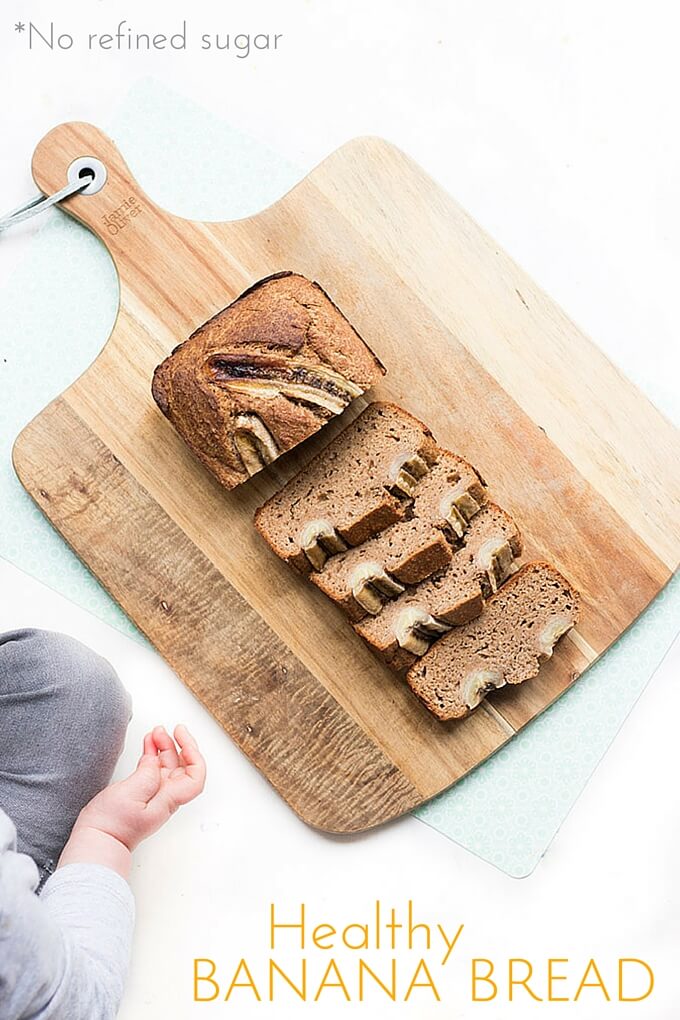 Finn just loves it when the bananas in the fruit bowl start to turn brown. He knows that we will get to turn them into a delicious treat! In fact I'm sure that he puts extra bananas in the shopping trolley knowing that some of them will turn brown before we will get a chance to eat them. We often make banana bread which I slice and freeze so I can give it to Finn for breakfast or as a snack. So many recipes for banana bread contain a lot of sugar and butter and although they taste delicious it isn't the healthiest of snacks. I have tried many healthy alternatives and this has to be my favourite. I adapted this recipe from one I saw on Nic's Nutrition webpage. It is a great site and I love to read her articles and recipes.
Keeping the base recipe the same (using spelt flour instead of plain flour, greek yogurt instead of butter and cinnamon & dates to replace refined sugar) I have made many different versions of this bread. I love it with some chopped walnuts and raisins and Finn's favourite is with a handful of blueberries chucked in. We have also tried it with raspberries and some coconut. It is a simple recipe to follow and a great one for you to do with your kids – why not let them decide what additions they want to add to the bread. Please let me know and send me your pictures.
Looking for more healthy kid recipes?Sign up for my free recipe newsletter to get new family friendly recipes in your inbox each week! Find me sharing more kind-friendly inspiration on Pinterest and Instagram.
Banana Bread
Prep Time: 10 minutes
Cook Time: 45 minutes
Total Time: 55 minutes
Serves:12
Hover over "serves" value to reveal recipe scaler
Ingredients
3 large ripe bananas
approx. 4-5 dates (45g)
1 tbsp coconut oil
180 g natural greek yoghurt
2 eggs
1 tsp vanilla essence
200 g (1.5 cups) flour (I used spelt)
2 tsp cinnamon
1 tsp baking powder
(optional decoration - 1 banana sliced in half lengthways)
Coconut oil / butter to grease tin
Instructions
Pre heat oven to 175C / 350F

Blend the banana and dates together until smooth. Add the coconut oil, yoghurt, eggs and vanilla. Stir until fully combined.

Mix the dry ingredient together in a separate bowl.

Combine the wet and dry ingredients and spoon/ pour the mixture into a greased loaf pan.

(optional decoration - place both banana slices on top of batter)

Bake for 45 mins.

Allow to cool, slice and enjoy!