This baked falafel recipe uses canned chickpeas, fresh herbs and spices to create flavoursome and nutritious patties that the whole family can enjoy.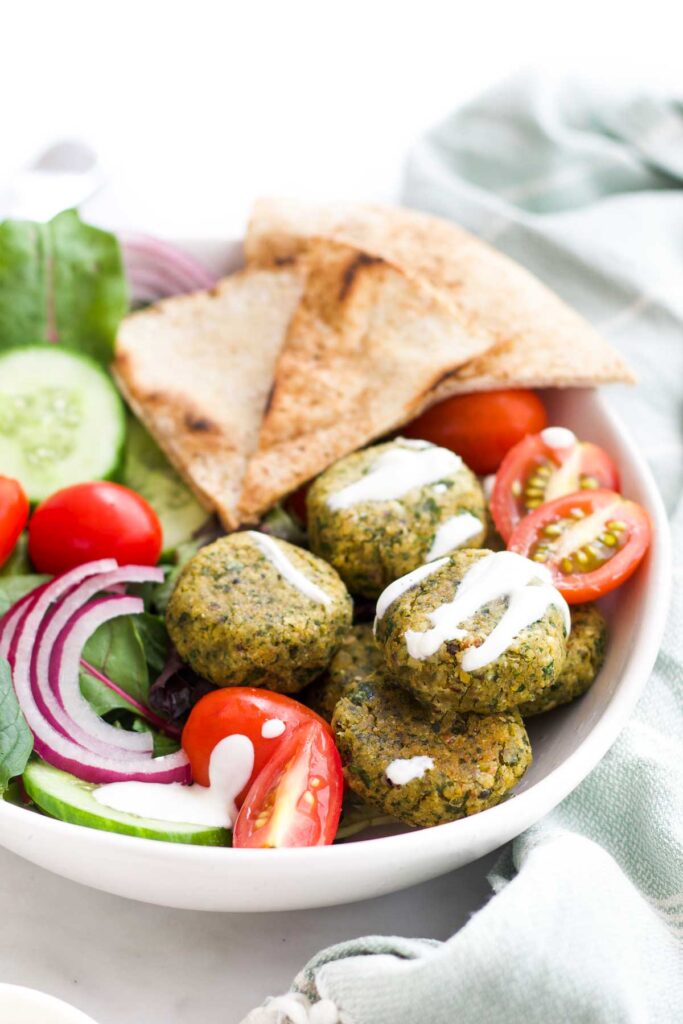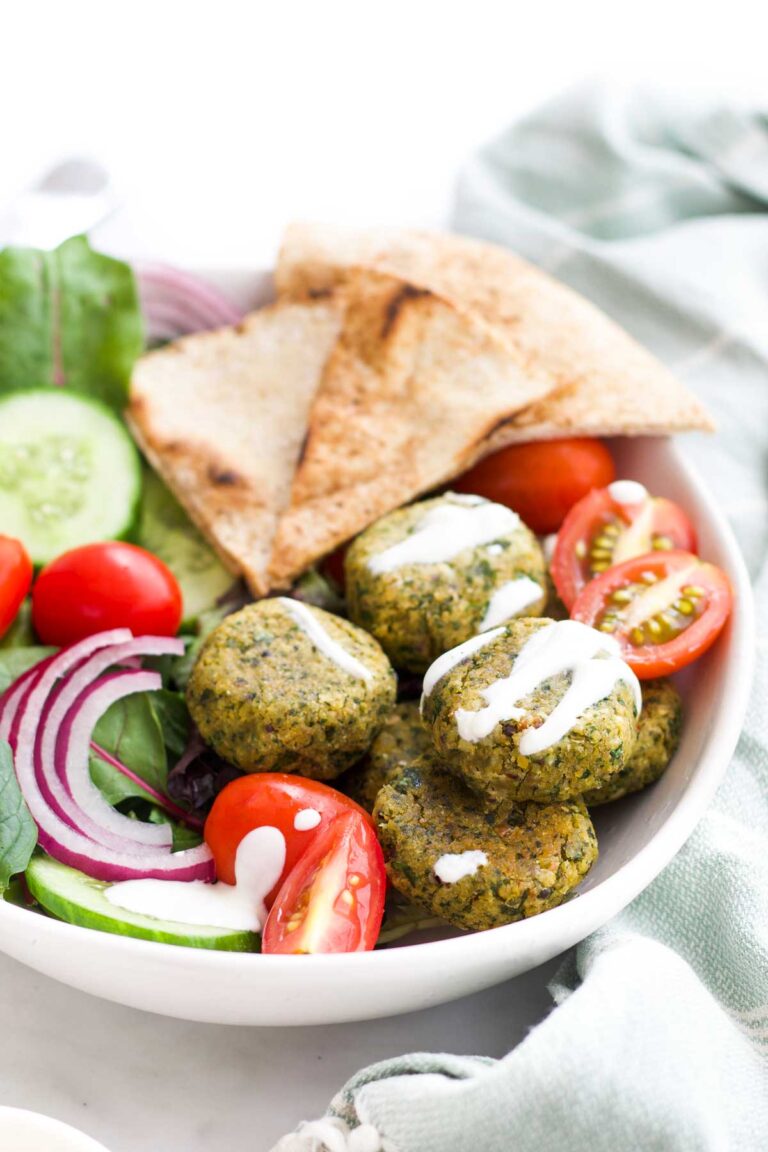 Falafel is a Middle Eastern dish made from chickpeas and/or fava beans, fresh herbs and spices. The mixture is formed into patties or balls and is traditionally deep-fried to yield a crispy exterior.
Although this recipe involves baking, instead of frying, and uses canned chickpeas, for ease, the flavour and texture have not been compromised. They are perfect for babies, toddlers, big kids and adults.
5 Reasons to Love This Baked Falafel Recipe
Canned Chickpeas - for when you don't have time to wait 6+ hours to soak dried chickpeas. Easy and convenient for busy parents.
Baked not Fried - a healthier choice but also an easier option - let the oven do the cooking for you!
Full of Flavour - with all the herbs and spices there is no denying that these patties are packed with flavour. Adding herbs and spices to baby food is a great way to encourage little foodies.
Great for Kids to Help With - a very easy recipe for getting little ones involved in the kitchen and the mixture is safe to try before baking.
Freezable - make in advance and freeze for a quick snack, lunch or dinner option.
Ingredient Information
Canned Chickpeas - Traditional falafel requires you to soak dried chickpeas. Canned chickpeas are not normally recommended, however, I wanted to develop a recipe that worked for busy parents that don't always have time to remember to pre-soak chickpeas.
Bread - Not normally an ingredient in falafel (sorry traditionalists) However, as canned chickpeas are used in this recipe the bread is needed to soak up excess moisture to stop them from becoming too pasty in texture.
Fresh Herbs (Parsley & Coriander (Cilantro) - Don't skip the fresh herbs but vary the amounts to suit taste.
Spices (cumin, coriander, cardamom, smoked paprika) - This spice is warm and aromatic and adds great flavour.
Baking Powder - Gives the falafel a fluffier texture. You can skip it but your patties will be denser.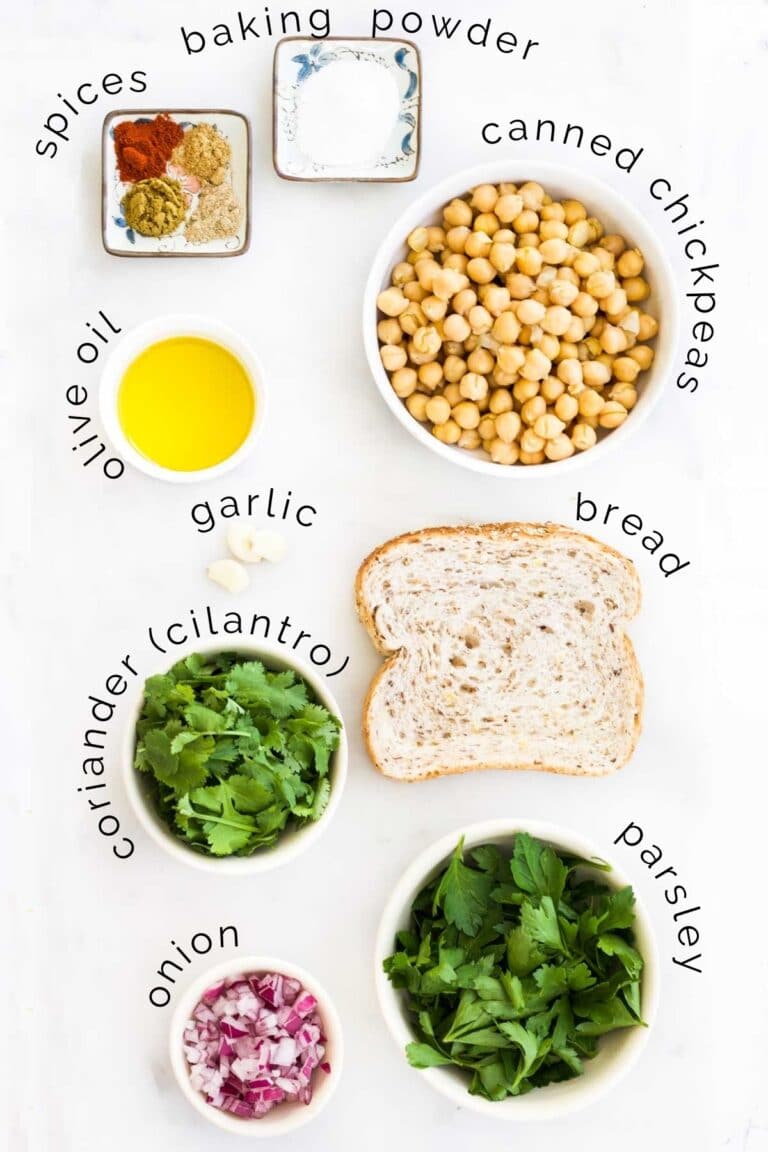 Process Steps & Tips
Baked Falafel is so easy to make and you really can't go wrong. So get your kids in the kitchen and let them have fun! Here's what you need to do:
Drain the chickpeas, and add them to a food processor with all the other ingredients.
Mix/pulse to combine. Be careful not to blend too long. Aim for a crumbly mixture, not a paste (see photo).
Add a little oil to a baking tray and turn/brush until the tray is coated. Roll around 1 tablespoon of the mixture into a ball and repeat until the mixture is used up. Slightly flatten each ball to form patties and place it on the oiled tray. Turn to ensure both sides of the falafel have a light coating of oil.
Place in a preheated oven (190C /375F) and bake for 25 to 30 minutes, carefully flipping the falafels halfway through baking. Allow cooling for a few minutes before serving, as they cool they will firm up.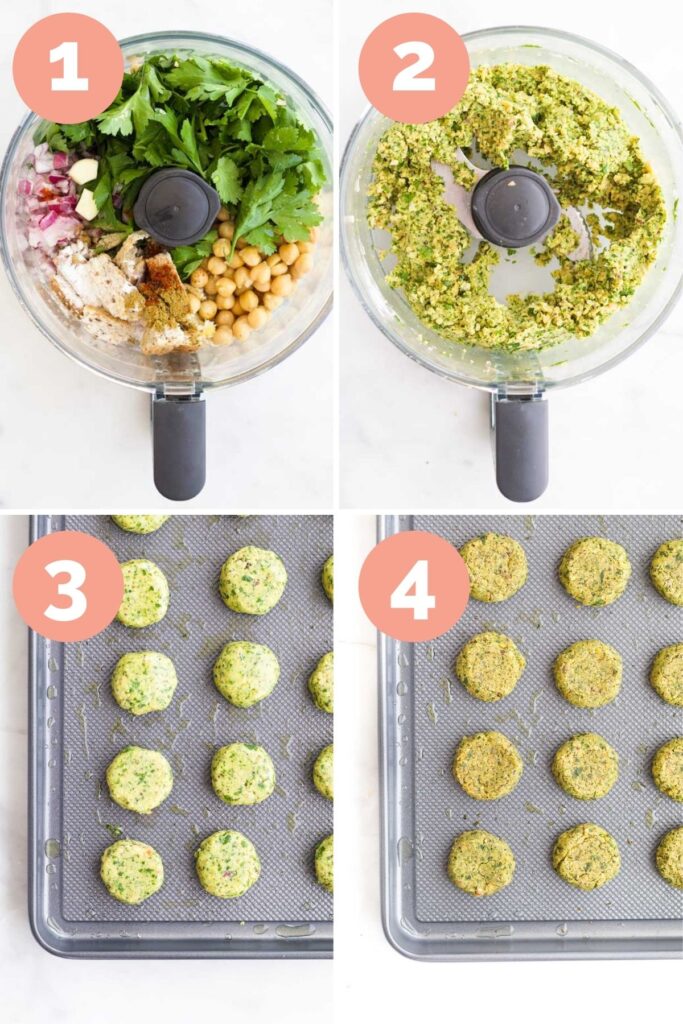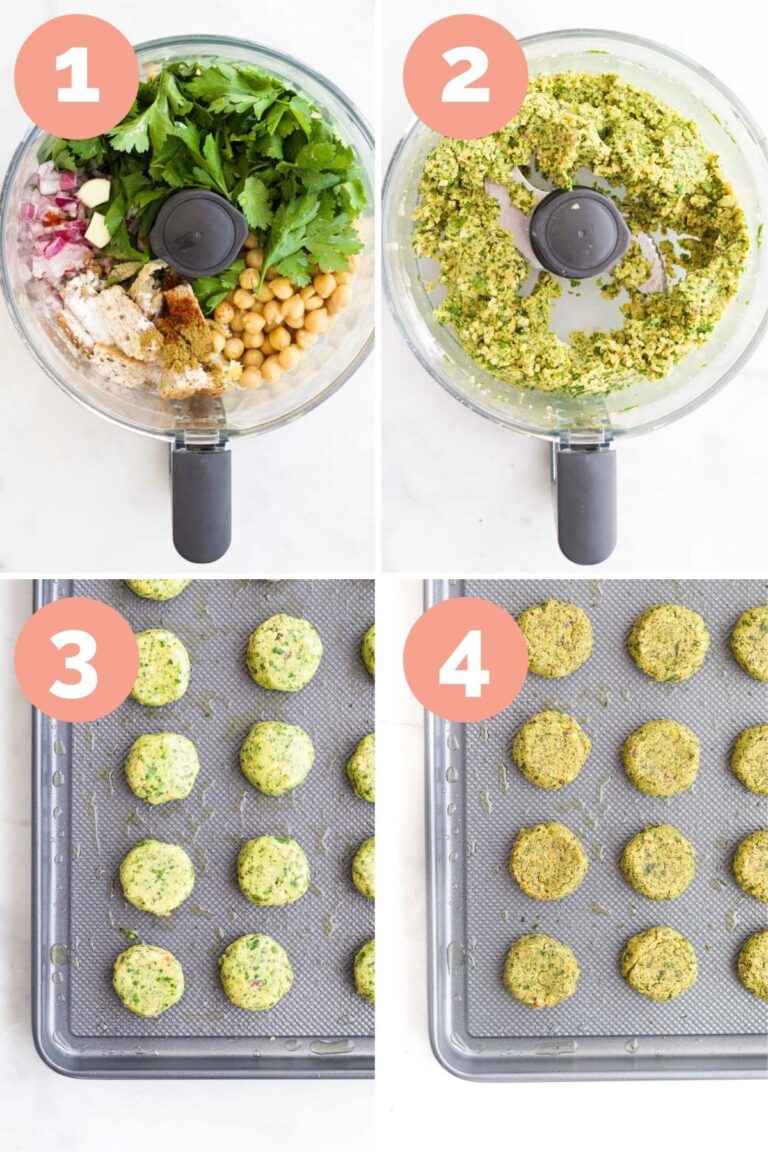 Serving Suggestions
A few of our favourite ways to enjoy freshly baked falafel....
SNACK / SNACKING BOARD - Serve at snack time with a couple of dips (e.g hummus, garlic & lemon yoghurt dip, avocado dip, tahini dip) and some veggie sticks.
IN A PITA SANDWICH - Fill toasted pita bread with salad, falafel and a lemon yoghurt dressing.
AS PART OF A SALAD BOWL - Great for adding a little protein to a salad. Use fresh and/ or roasted vegetables, throw in some pitta chips and top with a creamy dressing.
Make Ahead & Storage Instructions
Make ahead: Prepare the falafel mixture up to 1 day in advance. Cover and refrigerate. Form patties and bake as recipe instructions.
Refrigerate: After baking, refrigerate any leftovers in an airtight container. Best eaten the day of cooking but stores well for up to 2 days after baking
Freeze (Uncooked): Place uncooked falafel disks on a baking sheet lined with parchment paper and freeze until hardened (around 1 hour). Transfer the patties into a freezer bag / airtight container and freeze for up to 1 month. Falafel can be cooked from frozen.
Freeze (Cooked): Place on a baking sheet until hardened. Transfer to a freezer bag/ airtight contianer for up to one month. Thaw in the refrigerator.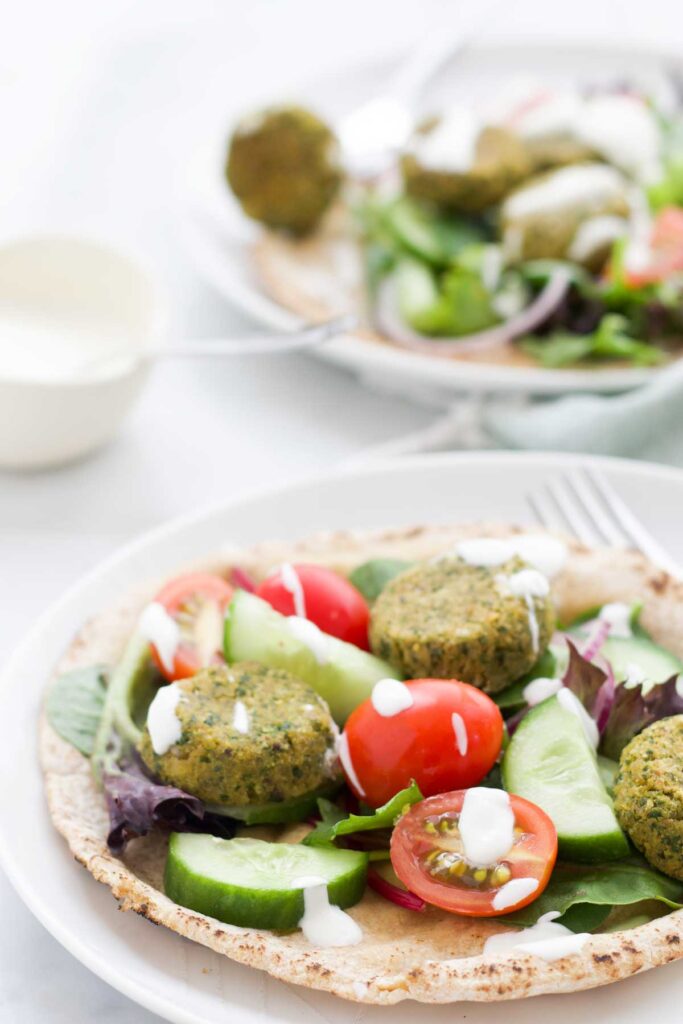 You May Also Like
Please let me know how you / your children like this falafel in the comments. I hope you love them as much as we do.
Looking for more healthy kid recipes?Sign up for my free recipe newsletter to get new family friendly recipes in your inbox each week! Find me sharing more kid-friendly inspiration on Pinterest and Instagram.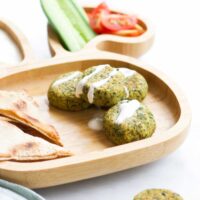 Baked Falafel
This baked falafel recipe uses canned chickpeas, fresh herbs and spices to create flavoursome and nutritious patties that the whole family can enjoy.
Prep Time: 10 minutes
Cook Time: 12 minutes
Total Time: 22 minutes
Serves:12
Hover over "serves" value to reveal recipe scaler
Equipment
Food Processor

Baking Tray
Ingredients
1 (400g / 15oz) Can Chickpeas Rinsed, drained and patted dry. (Drained weight 240g)
2 slices Bread Broken into pieces
½ Onion (Red, white or Brown) Chopped
3 Garlic Cloves Peeled
15g (½ cup) Fresh Flat Leaf Parsley
10g (⅓ cup) Fresh Coriander (Cilantro)
½ teaspoon Cumin
¼ teaspoon Smoked Paprika
¼ tsp Coriander
¼ tsp Cardamom
¾ teaspoon Baking Powder
1½ tablespoon Olive Oil 1 tablespoon for mixture, ½ tablespoon for coating baking tray
½ teaspoon Sea Salt Optional. Season to taste and do not add if making for a baby.
Instructions
Preheat oven to 190C / 375F

Add all ingredients apart from the salt (and only 1tbsp of the oil) to a food processor and mix/pulse to combine. Be careful not to overmix, the mixture should still be crumbly, not a paste (photo in post for reference).

Taste and salt as needed. If making for a baby remove baby portions before seasoning.

Add the remaining ½ tablespoon of oil to a baking tray and tilt / brush to coat.

Scoop out tablespoon amounts of the mixture and gently form into 12 small balls. Flatten slightly to produce disks. Place each disk on the baking tray and flip to coat both sides in the oil.

Bake for 25 to 30 minutes, carefully flipping the falafels halfway through baking.
Recipe Notes
Nutritional information is a ROUGH guide only, calculated using an online nutrition calculator. 
Nutritional facts
Calories: 50kcal | Carbohydrates: 6g | Protein: 2g | Fat: 2g | Saturated Fat: 1g | Trans Fat: 1g | Sodium: 179mg | Potassium: 86mg | Fiber: 1g | Sugar: 1g | Vitamin A: 187IU | Vitamin C: 3mg | Calcium: 30mg | Iron: 1mg