This Vegetarian Chilli is perfect for the whole family. It is hearty, healthy, delicious and best of all EASY! It is packed with wholesome ingredients like vegetables, beans and lentils and can easily be customised to suit taste. Serve with a range of toppings and sides to make it a fun, interactive meal the kids will love.
When I first met my husband he said that a meal isn't complete without some sort of meat on the plate. If he had known then that ten years later a huge proportion of his meals would be vegetarian I think he may have run a mile!
I started to ramp up the vegetarian meals once my eldest started eating with us. He struggled with meat and so I focussed on adding more fish, lentils & beans to our diets. To my husband's surprise, he really enjoyed the meals and was quite accepting of his new diet. We haven't really looked back since.
Why This Vegetarian Chilli is a Great Family Meal
One-Pot - Which means less washing up. A huge plus in my book!
Pantry staples: Apart from the veggies, all you need to make this recipe are some pantry staples - beans, tinned tomatoes, lentils and stock.
Customisable: This recipe is extremely flexible, not only can you switch up the veggies but you can also vary the beans you use, the toppings and what you serve it with (more on that below!)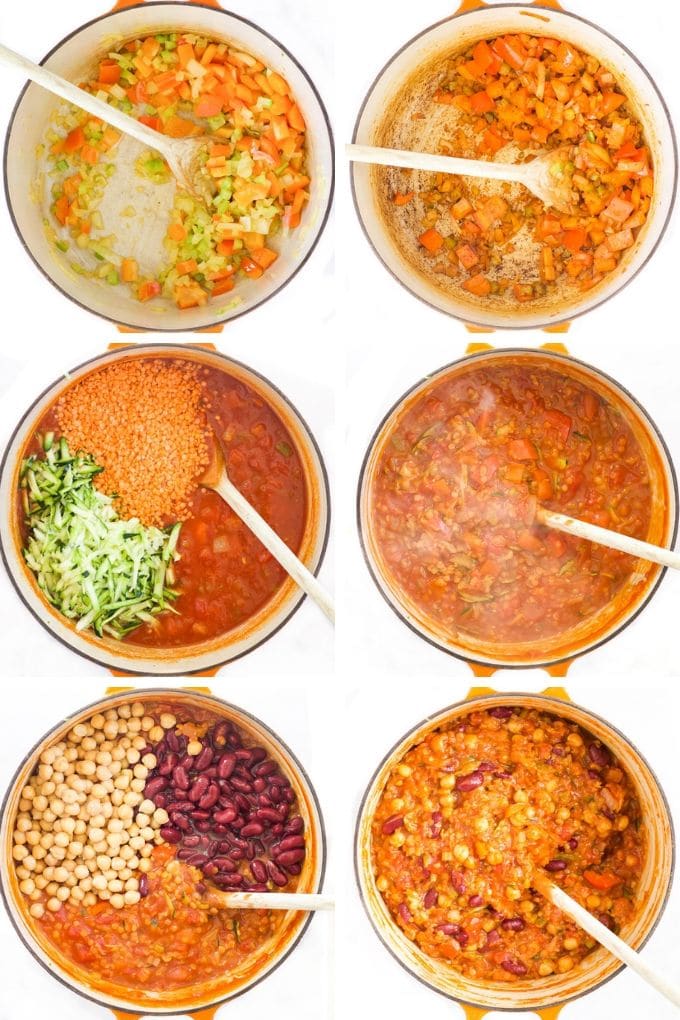 Vegetarian Chilli Ingredients & Cooking Tips
Veggies: I start by added onion, celery and garlic. They add great flavour and are a starting point for many of my meals. I also add red bell pepper (capsicum), and zucchini (courgette) but I don't always stick to this vegetable combination. You can add more or fewer vegetables depending on taste or what you have available. If you like a sweeter chilli, then you can try adding some grated carrot or a small sweet potato. If your child doesn't like too much texture then you can mince or grate the vegetables. They will cook down and disintegrate into the chilli.
Veggie stock: If cooking for a baby/young child I recommend you use homemade stock to help keep sodium levels down. If you aren't vegetarian chicken stock also works great in the recipe. You may need to add in more/less according to how soupy you like your chilli to be.
Diced tomatoes: I use diced tomatoes but if you, or your kids, prefer a smoother texture you could replace with passata.
Beans: I added one can of red kidney beans and one can of chickpeas but any canned beans will work. You can reduce to one can if you prefer a less "beany" chilli.
Lentils: Adding lentils makes the chilli a bit more "meaty" and less like a soup. I used red split lentils, which soften into the chilli. If you would prefer the lentils to hold their shape then substitute the red split lentils with green or brown lentils.
Seasoning: A little smoked paprika and cumin give this chilli a lovely flavour but adding some salt to the chilli really brings out the flavours. Remove your baby's portion and then salt to taste.
What to Serve Vegetarian Chilli With
Chilli is a great meal to serve "family style" and it works with a range of toppings and sides. Serve a big pan of chilli along with an array of toppings and sides and let your children get creative. If your children are anything like mine, they will be loading their chilli up with as many toppings possible! (Note; not all these suggestions are dairy-free / gluten-free)
Topping Ideas
Chunks of avocado
Lime wedges
Grated Cheese
Sour Cream
Corn
Salsa
Sides
Rice
Quinoa
Cous Cous
Corn on the Cob
Crusty Bread
Mashed Potato
Storage Instructions
Refrigerate: Transfer to a sealed container and refrigerate for up to 3 days
Freeze: Transfer to a freezable container and freeze for up to 3 months.
You May Also Like
Have you tried this recipe? I love receiving your feedback, please rate and leave a comment below or tag me on Instagram @healthylittlefoodies
Looking for more healthy kid recipes?Sign up for my free recipe newsletter to get new family friendly recipes in your inbox each week! Find me sharing more kid-friendly inspiration on Pinterest and Instagram.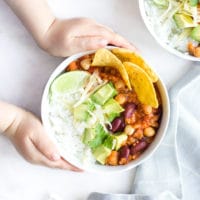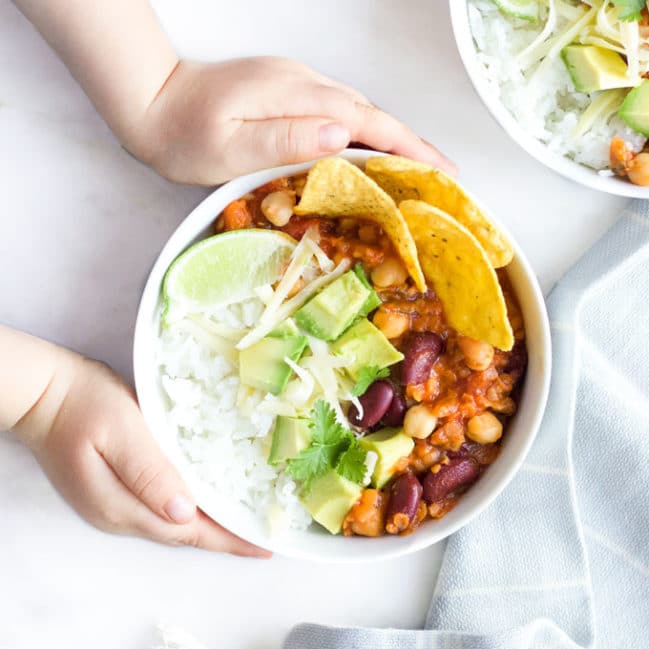 Vegetarian Chilli for Kids
This dish is packed with veggies, lentils and beans. It is a great family, one-pot meal.
Prep Time: 10 minutes
Cook Time: 35 minutes
Total Time: 45 minutes
Serves:4
Hover over "serves" value to reveal recipe scaler
Ingredients
1 tablespoon Olive Oil
1 Onion, finely chopped
1 Celery stalk, finely chopped
1 Red Bell Pepper (capsicum), finely chopped
2 Garlic cloves, finely chopped
2 teaspoon Smoked Paprika
1 teaspoon Cumin
1 tablespoon Tomato Puree (paste)
2 x 410g Cans (2 x 14oz can) Chopped tomatoes
375ml (1 ½ cups) Vegetable Stock
130g (¾ cup) Red Split Lentils (rinsed)
1 medium (210g) Zucchini (courgette), grated
1 x 410g Can (1 x 14oz can) Kidney Beans, drained
1 x 400g can (1 x 14oz can) Chickpeas, drained
Instructions
Heat oil in a heavy-based large pan over medium heat.

Add the onion, celery and bell pepper(capsicum) and sauté for ⅔ mins, stirring frequently. Add the garlic and stir for a further min.

Add the smoked paprika and cumin and stir for a further minute. Add the tomato puree (paste), canned tomatoes and stock and bring to the boil.

Add the lentils and zucchini (courgette), reduce the heat to low and allow to simmer for around 10 mins. Stir occasionally and add more liquid (stock or water) if the mixture is starting to dry up.

Add the kidney beans and chickpeas, cover and allow to simmer for a further 20 mins. (Stirring occasionally)

Season to taste.
Recipe Notes
Use homemade/low salt stock for young children/babies. You could also use water to replace the stock. You may need more stock if the mixture starts to dry up.
This chilli benefits from salt. Remove your baby's / young child's portion and then season to taste. 
Nutritional information is a ROUGH guide only, calculated using an online nutrition calculator. 
Nutritional facts
Calories: 399kcal | Carbohydrates: 67g | Protein: 22g | Fat: 7g | Saturated Fat: 1g | Sodium: 693mg | Potassium: 1427mg | Fiber: 23g | Sugar: 14g | Vitamin A: 2063IU | Vitamin C: 73mg | Calcium: 154mg | Iron: 9mg
(First published Feb 2017, the post has been updated with new images and more information)