If you're searching for a flavoursome and healthy salad that your whole family is sure to love, then this delicious Cucumber Apple Salad is for you.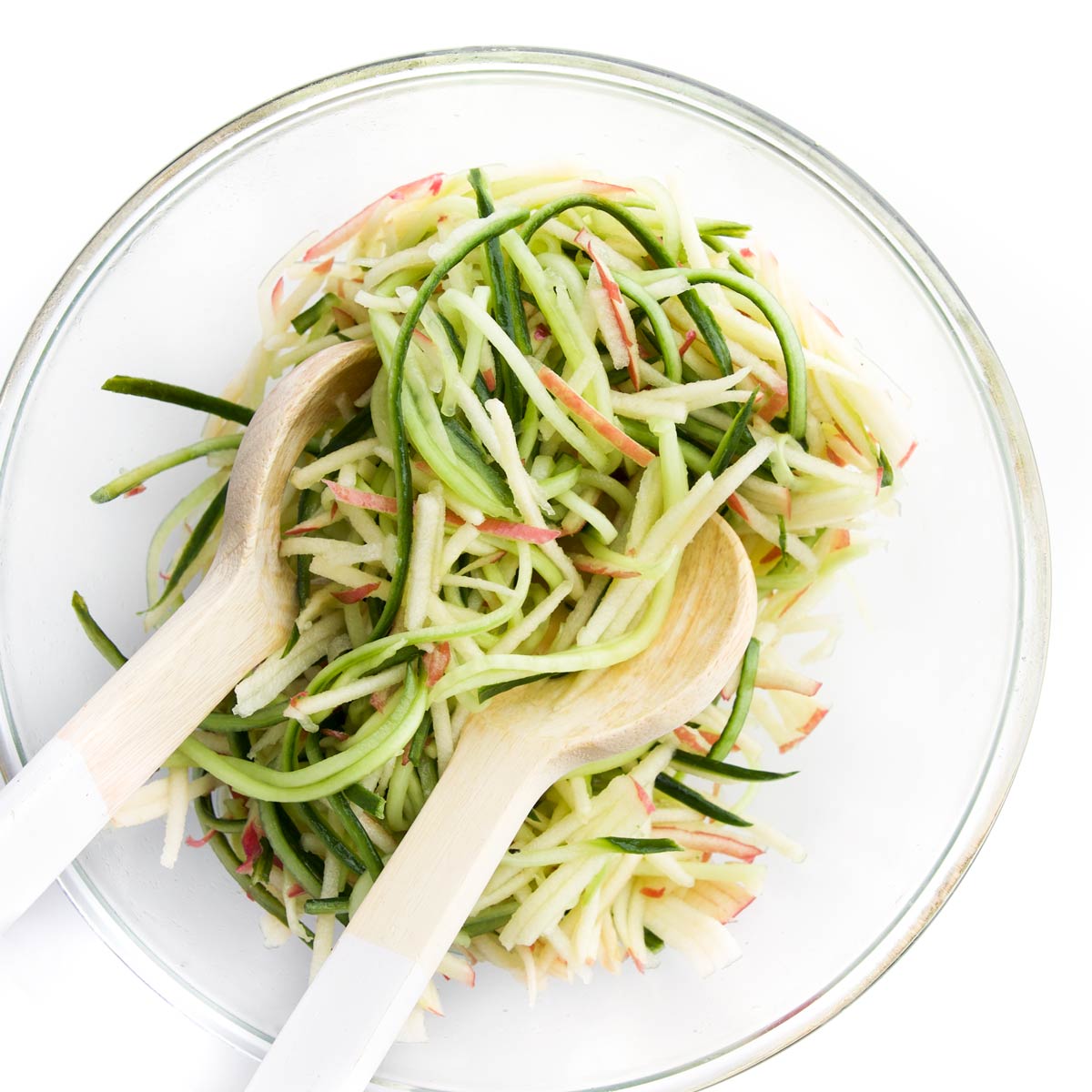 Salads have a reputation for being less than thrilling for kids but that doesn't mean we should avoid them altogether, we just need to make them more appealing. I find adding fruit to a salad can make it instantly more enticing.
In my experience kids love salads like Watermelon and Feta Salad, Waldorf, or any that include a few juicy berries or orange segments. And if you are looking for something new to try, this apple and cucumber salad is certainly a winner.
Jump to:
Watch How to Make It (Video)
Reasons To Love This Salad
Nutritious: Apples and cucumbers are not only nutritious but also packed with nutrients. They are high in fibre, vitamins and minerals, which are essential for good health and well-being.
Quick and Easy: This salad can be made in just a few minutes, making it a great option for busy weeknights.
Versatile: Whether you prefer your apples and cucumbers chopped, grated, julienned, sliced or spiralized this salad can be presented in a variety of ways. You can also adjust the apple-to-cucumber ratio and the dressing to suit your taste preferences.
Kid Friendly: With no intimidating leafy greens and the addition of sweet, crunchy apples, this salad is sure to be a hit with most kids.
Fun for kids: This is a simple recipe to make with your kids. There are so many benefits to cooking with children and they may be more likely to eat the salad if they have a hand in making it.
Ingredient Information
See recipe card below for full information on ingredients and quantities.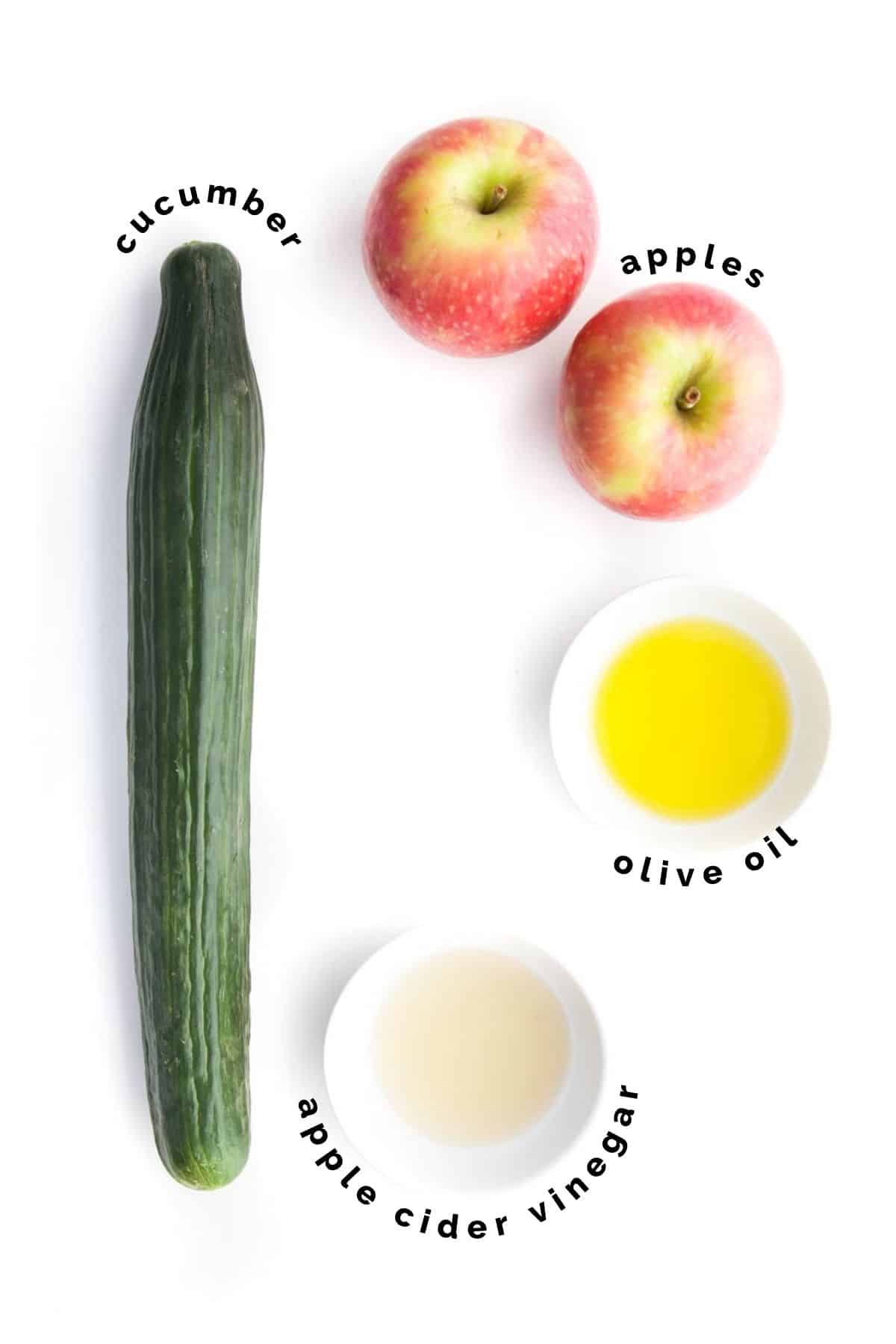 Apples: Choose your favourite. I like apples that have a sweet flavour and crisp texture such as Pink Lady, Jazz and Kenzi. Choose apples that are firm and free from bruises and soft spots.
Cucumber: English cucumbers are a great choice for this salad due to their mild flavour and the fact they have fewer seeds. Persian cucumbers, the smaller and thicker-skinned cucumbers, are also a great option. Choose ones that are firm and free from blemishes or soft spots.
Apple Cider Vinegar: Adds acidity to the salad to help brighten the flavours. You can replace it with lemon juice or white wine vinegar.
Extra Virgin Olive Oil: Helps to smooth out the sharpness of the vinegar
Variation Suggestions
Love this salad but want to vary it from time to time? Why not try adding...
julienned carrot, for crunch, flavour and colour.
greens, finely chop a handful of baby spinach leaves to introduce more greens to your/your children's salads.
grains, make the salad more filling by adding some cooked quinoa or brown rice.
protein, try adding some shredded chicken, tofu pieces or chickpeas.
nuts, walnuts pair great with apple but any nuts will work (finely chop for young children)
yogurt, for a creamy dressing add a spoon or two of yogurt
Process Shots and Expert Tips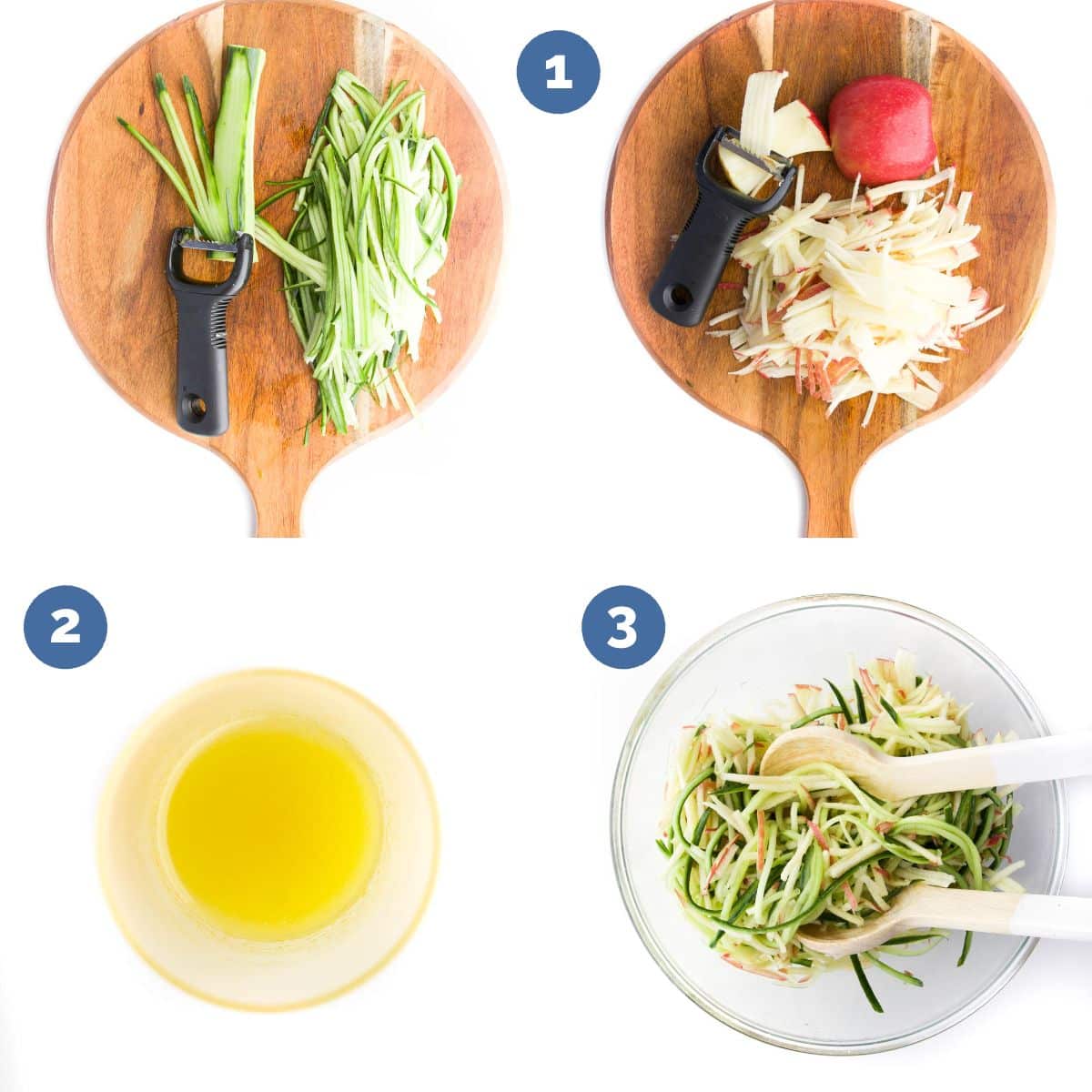 Prepare the apple and cucumber: Half the apples and cucumber and then julienne the apples using a julienne peeler or mandoline.
If you don't have a julienne peeler you can achieve similar results using a grater. You could alternatively chop them into small cubes or spiralize into noodles.
Make the dressing: In a small jar, combine the oil and vinegar and shake until well mixed. Add seasoning to taste. The ratio of oil to vinegar in dressings is usually 2:1, but my family prefers more vinegar. If the salad is too acidic, add more oil or a touch of honey/maple syrup to balance the flavours to suit your taste.
Combine: Drizzle the dressing over the salad and then gently toss until the salad is evenly coated.
Serving Suggestions
While this apple cucumber salad is delicious on its own, it is not very filling. To increase its nutritional value and make it more satisfying, you can add some protein in the form of nuts, sunflower seeds, feta cheese or slow-cooker shredded chicken and/or some grains such as brown rice or quinoa.
Alternatively, serve this salad as a side dish alongside grilled chicken, fish or tofu. It is also a perfect addition to a picnic spread or served with sandwiches (try these pinwheel sandwiches).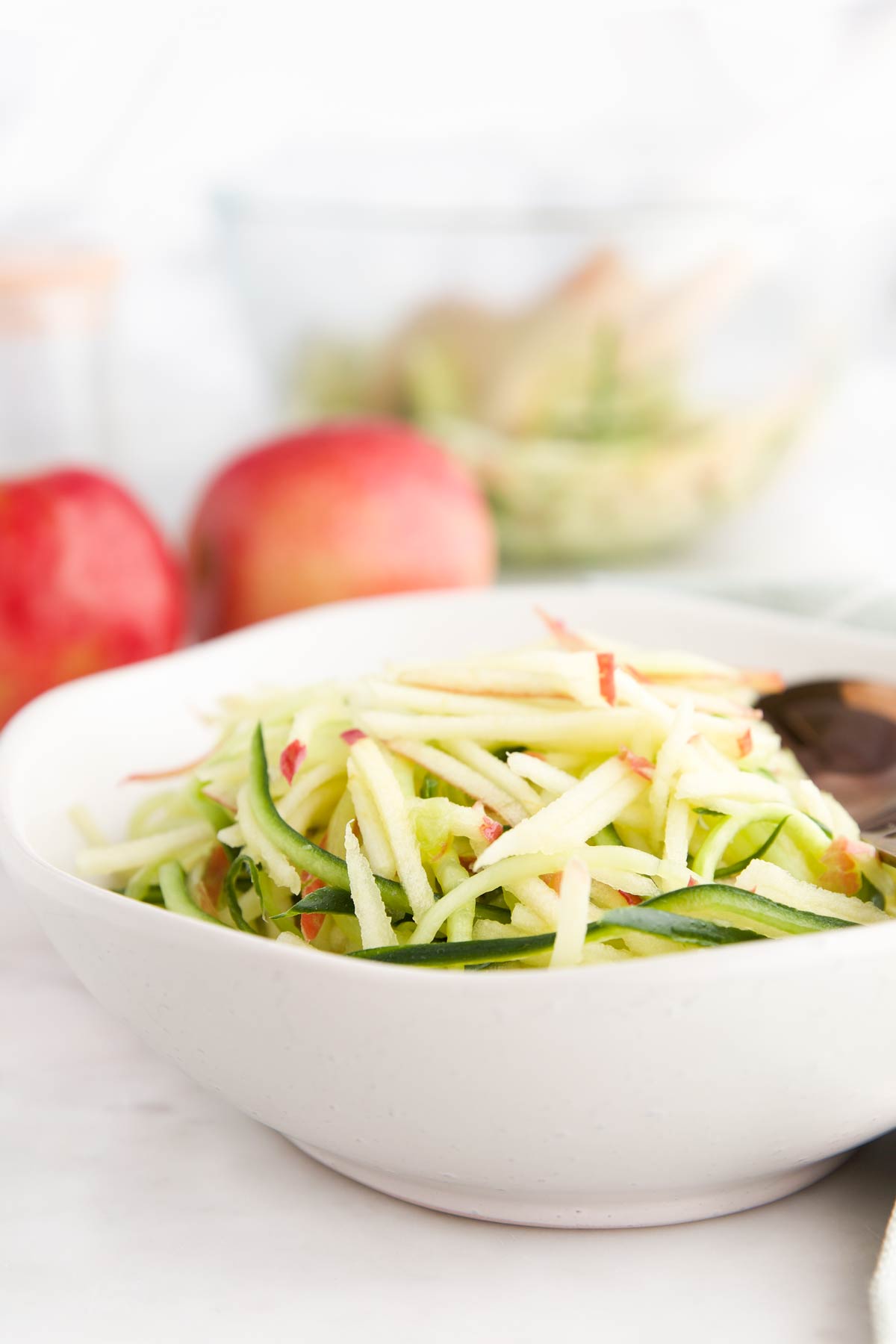 Recipe FAQ
Is Cucumber and Apple a Good Combination?
Yes! The sweetness of the apple complements the refreshing and mild flavour of cucumber.
Should I peel the apple and cucumbers?
Whether or not to peel apples and cucumbers is a matter of personal preference.
The skin of both apples and cucumbers are safe to eat and can provide important nutrients such as fibre, vitamins and minerals. Leaving the skin on also adds texture and colour.
However, some people may not like the texture of the peel or can find the peel of the cucumber a little bitter. Some may also be put off by seeing the dark green in the salad.
Is this salad suitable for babies?
Both cucumbers and apples are safe for babies over 6 months, but it is important to prepare them properly. Make sure to finely julienne or grate the apples (rather than chop) to reduce choking risk (read more about apples for babies). Note that cucumber can cause burping and abdominal discomfort due to cucurbitacin, but removing the skin will minimise the content.
How long does this keep for?
Dress and store the salad in an airtight container and refrigerate for up to a day. The vinegar helps reduce browning of the apple, but note that some varieties may brown quicker than others.
Other Apple Recipes To Try
Looking for more healthy kid recipes?Sign up for my free recipe newsletter to get new family friendly recipes in your inbox each week! Find me sharing more kid-friendly inspiration on Pinterest and Instagram.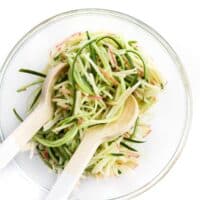 Cucumber and Apple Salad
A flavoursome and healthy salad that your whole family is sure to love.
Prep Time: 10 minutes
Total Time: 10 minutes
Serves:2
Hover over "serves" value to reveal recipe scaler
Ingredients
1 English Cucumber (could replace with 2 small Persian cucumbers)
2 small Apples (I used Pink Lady)
3 teaspoon Olive oil
2 teaspoon Apple cider vinegar
1 pinch Salt (or to taste) *Do not add if making baby/young child
Instructions
Remove the ends of the cucumber and cut it in half. Cut the apples in half. Using a julienne peeler or mandoline, julienne. the cucumber and apple. Place in a medium mixing bowl

Mix the vinegar and oil together and pour over the cucumber and apple.

Toss to ensure all the noodles are coated.
Recipe Notes
If you don't have a julienne peeler or mandoline you could spiralize or finely dice the apple and cucumber. 
Prepare the dressing, taste and adjust accordingly. If it is too acidic for your taste you can add a touch more olive oil or a little maple syrup. 
Nutritional Information is a ROUGH guide only, calculated using an online nutrition calculator. 
Nutritional facts
Calories: 136kcal | Carbohydrates: 22g | Protein: 1g | Fat: 6g | Saturated Fat: 1g | Polyunsaturated Fat: 1g | Monounsaturated Fat: 4g | Sodium: 2mg | Potassium: 204mg | Fiber: 4g | Sugar: 16g | Vitamin A: 110IU | Vitamin C: 8mg | Calcium: 14mg | Iron: 0.3mg