Baked Tortilla chips made from tortillas and a little oil. Perfect for using up leftover wraps!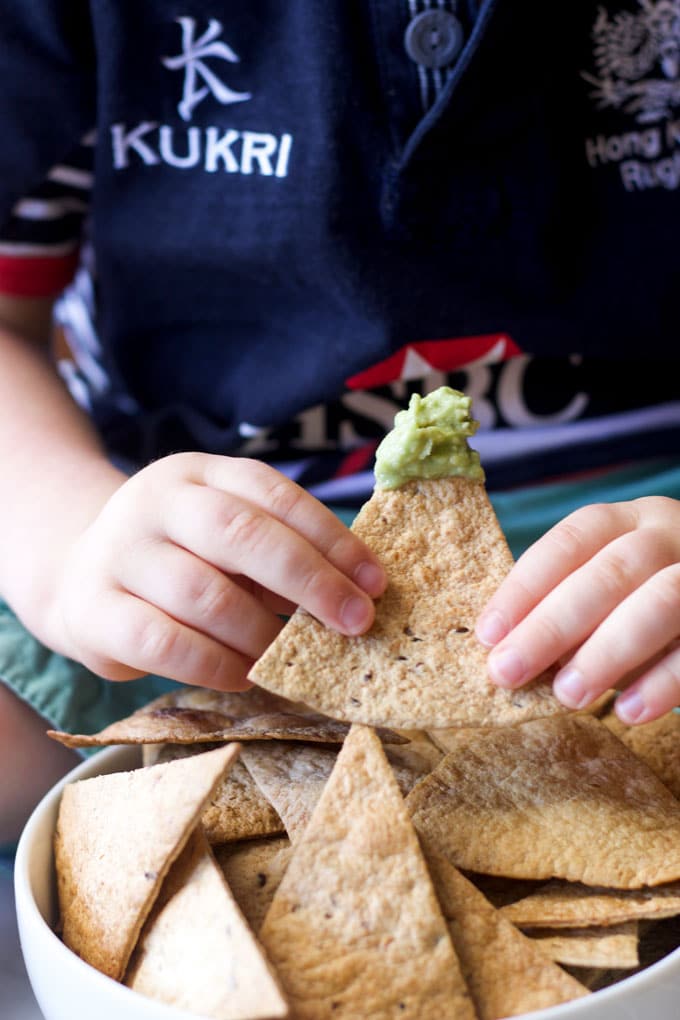 I often buy a pack of tortillas for filling and adding to lunch boxes. However, I don't always get a chance to use them all up before they start to go stale. Cutting and popping them in the oven, to make baked tortilla chips, is the perfect solution.
I have made tortilla chips with a range of different tortillas and, personally, I feel corn tortillas produce the best chip. If you are purposely going out to purchase tortillas to make these chips, then I'd recommend getting corn ones. It is worth it.
However, I rarely buy corn tortillas as they are less popular here. I therefore find myself making these chips with what ever tortillas I have. Each variety produces a slightly different result but both my boys seem happy with all of them. They are just hooked on that crunchy texture that kids seem to love.
Cooking Steps and Process Shots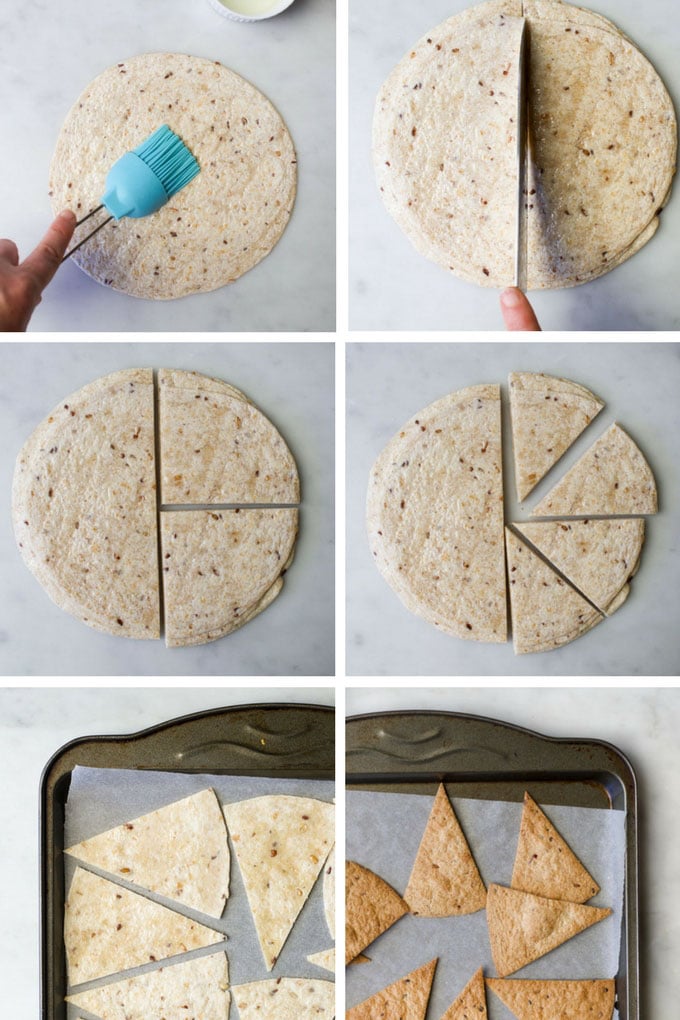 Pictured above are the process steps. Start by lightly oiling your first tortilla and then stack your second on top, lightly oil it and repeat with the remaining tortillas. Cut your stack in half and then cut each half in half again and then once again. This will provide eight stacks. Pop the chips on a baking tray and bake until golden and crisp.
Of course, you don't have to stick to triangle chips. Cookie cutters are a great way to make fun shapes that kids love. As we are fast approaching Christmas, this week I decided to make some Christmas chips.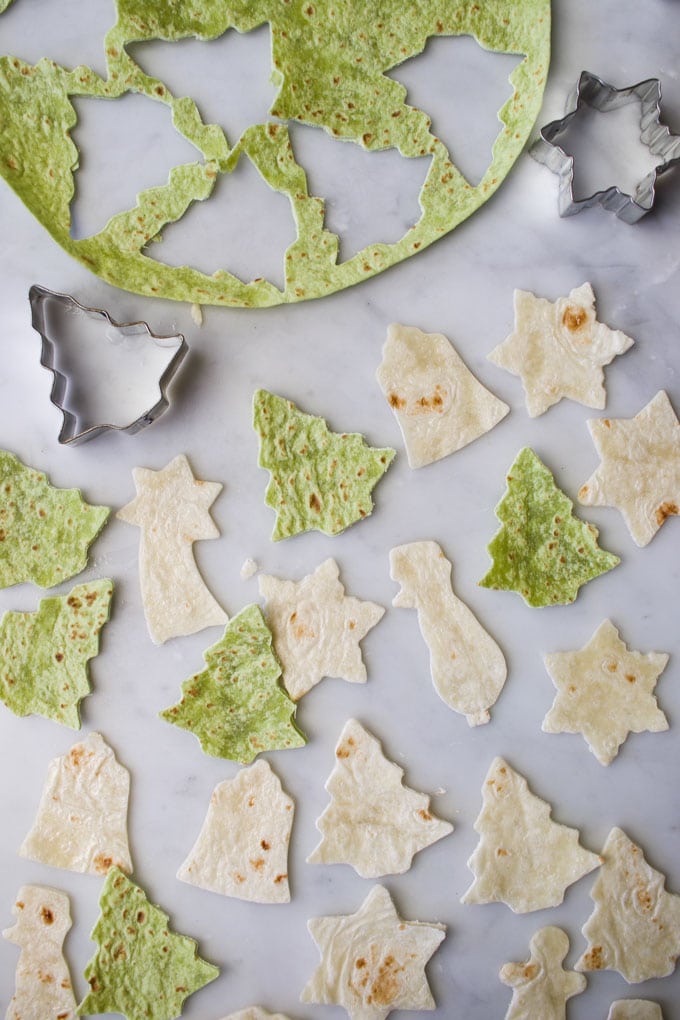 Top Tips When Making Baked Tortilla Chips
Don't crowd your baking tray. I try not to let them over lap. A little overlapping is ok but if they are too crowded they won't crisp up.
Baking times will vary depending on ovens and the the tortillas. I recommend staying close to the oven and keeping an eye on them. Now isn't the time to quickly hang out a load of washing (yes I am talking from experience!) The baking time will be around 8-12 minutes.
Allow the chips to cool in the baking tray before serving. This allows the chips to become more crispy.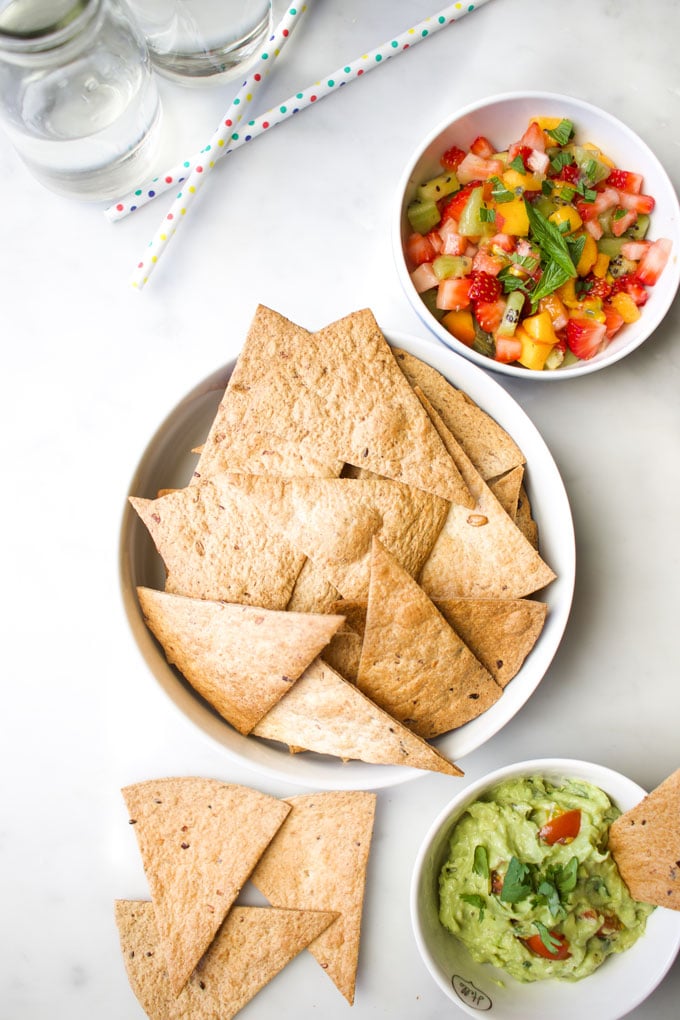 You may also like
Have you tried this recipe? I love receiving your feedback, place rate and leave a comment below or tag me on Instagram @healthylittlefoodies
Looking for more healthy kid recipes?Sign up for my free recipe newsletter to get new family friendly recipes in your inbox each week! Find me sharing more kid-friendly inspiration on Pinterest and Instagram.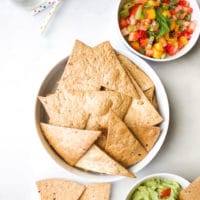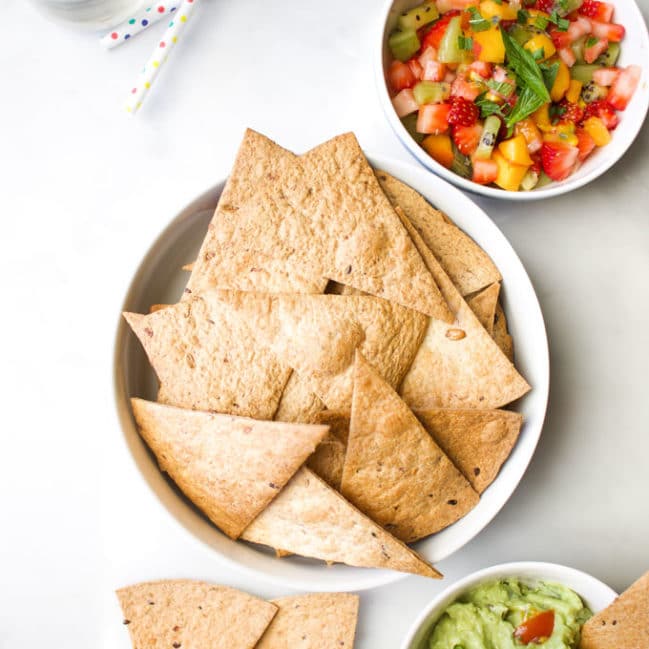 Baked Tortilla Chips
Baked tortilla chips are a great alternative to store bought chips. Lower in both oil and salt but still have that "crunch factor" that kids love.
Prep Time: 5 minutes
Cook Time: 12 minutes
Total Time: 17 minutes
Serves:5 (8 chips each)
Hover over "serves" value to reveal recipe scaler
Ingredients
5 Small Tortillas *SEE NOTE 1
½ tablespoon Olive Oil / Vegetable Oil
Instructions
Pre heat oven to 180c (350F) and line two baking trays with baking paper or brush with oil.

Brush your first tortilla lightly with oil, making sure you cover the whole tortilla.

Place another tortilla on top of the oiled tortilla and again brush with oil. Repeat until all the tortillas are oiled and stacked on top of each other.

With a sharp knife, cut your tortilla stack in half. Cut each half in half again and again to produce eight stacks of chips. *SEE NOTE 2

Arrange the tortillas on the two trays, trying not to overlap too much.

Bake for approx 8-12 mins, until the chips crisp and golden.

Allow to cool, in the tray, before serving. *SEE NOTE 3
Recipe Notes
Personally I think corn tortillas work the best but I have had success with a number of varieties. (In the pictures I used a wholemeal grain tortilla)
Alternatively you can use cookie cutters to make fun shapes for the kids. See above for Christmas example.
Leaving the chips to cool in the tray allows them to crisp up more. Do not skip this step!
Nutritional information is an ESTIMATE only and is calculated using an online nutrition calculator. Nutrition facts will vary depending on the type and size of tortilla and also the type of oil used. These facts were calculated using wholemeal grain tortillas and olive oil. 
Nutritional facts
Serving: 8chips | Calories: 168kcal | Carbohydrates: 23.9g | Fat: 5.6g | Sodium: 256mg | Sugar: 2.3g