Blended Berry Overnight Oats – A perfectly balanced kids' breakfast that is deliciously smooth and creamy.
My boys have become a bit obsessed with smoothies in the morning. If they were to get to choose their breakfast, then smoothies would always come out on top (closely followed by pancakes).
I love how easy smoothies are to prepare and how great they are for sneaking in veggies and other nutrient dense food. I also often add oats to make them filling and deliciously thick & creamy.
I have always liked the idea of overnight oats, and although the boys like them, I really struggle to eat them. I'm not keen on milky products and I think that is my main problem. The other day, when I was making an oat smoothie, the idea of blending overnight oats came to me. I blended oats with milk, banana, berries, ground almonds and chia seeds. I then popped the mixture into a couple of jars and refrigerated overnight.  The result was a delicious, thick, pudding like smoothie. I topped it with a good spoonful of peanut butter and some fresh fruit.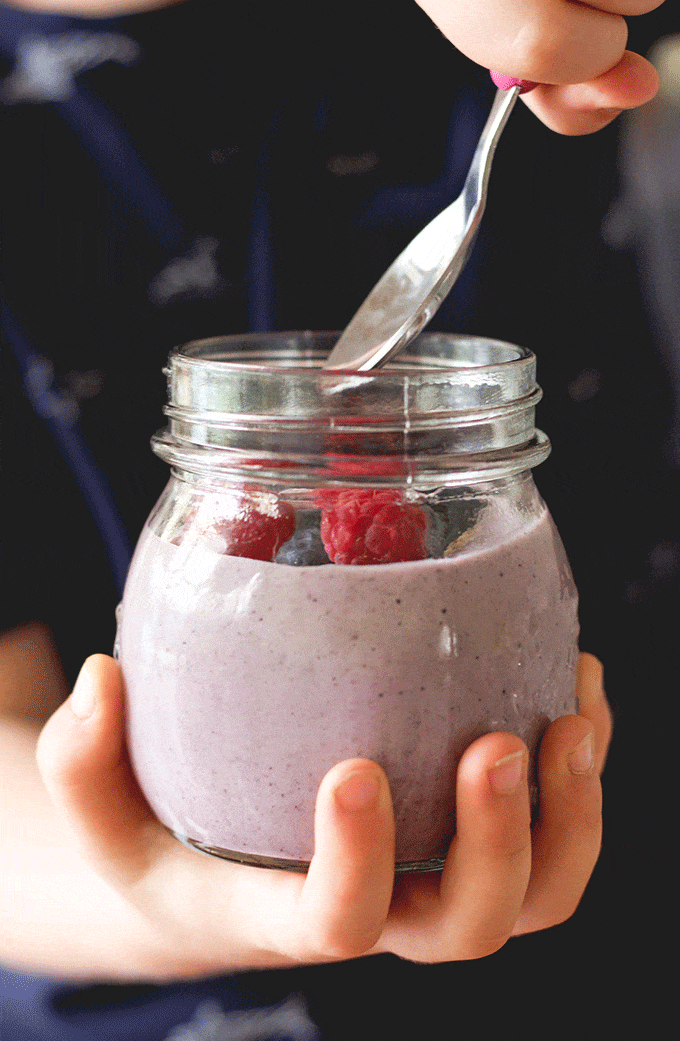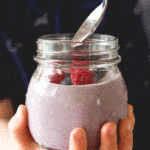 Blended Berry Overnight Oats
A perfectly balanced, delicious and creamy kids' breakfast.
Ingredients
1/2

cup

(55g) frozen raspberries

1/2

cup

(60g) frozen blueberries

1

banana

1/2

cup

(55g) rolled oats

1

tbsp

chia seeds

2

tbsp

ground almonds

3/4

cup

(185ml) milk

(Optional - Nut butter and fresh berries to top)
Instructions
Add all the ingredients to a high speed blender and blitz until smooth.

Pour into two jars, cover and refrigerate over night.

Optional

When ready to eat top each jar with a spoonful of peanut butter and some fresh berries.
Recipe Notes
I used frozen berries due to cost and convenience but fresh will work well too.
Reduce the amount of milk if you want a thicker breakfast
This was enough to serve my two boys (5 & 2) but they both have hearty appetites.