Blended Oats is a simple and healthy breakfast option for all ages. Prep the night before to make morning time a breeze.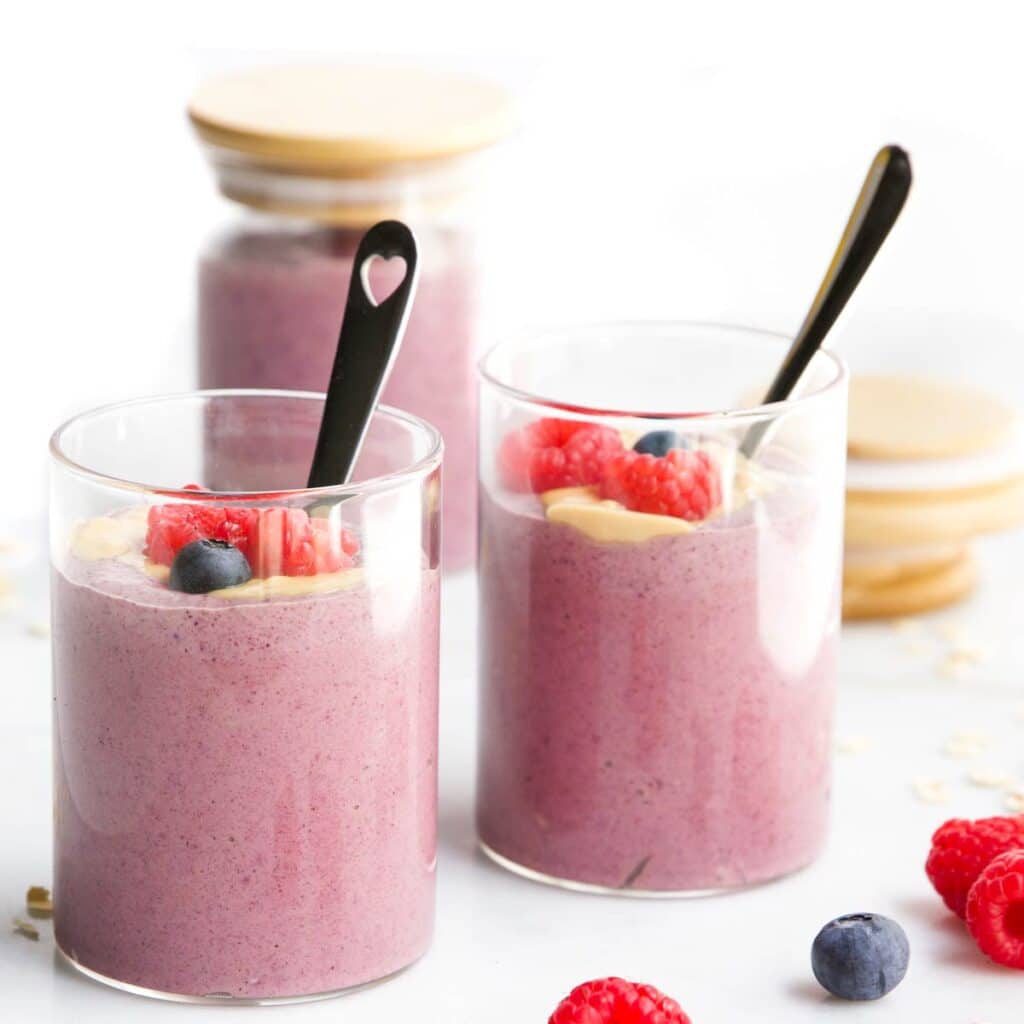 Overnight oat recipes like banana overnight oats, apple overnight oats, mango overnight oats and strawberry overnight oats are some of the more popular recipes on this site. I'm guessing their popularity is down to making mornings that little bit easier.
However, not everyone likes the texture of overnight oats and this is where blended oats are a great alternative. They are a cross between overnight oats and a smoothie and I'm sure you and your little ones are going to love them.
Jump to:
Reasons to Love this Recipe
EASY MORNINGS - Prepping the night before means you can enjoy a healthy breakfast no matter how busy your morning routine is.
SMOOTH TEXTURE - Blending oats is a great way to combat any textural issues that kids (and adults) may have with traditional overnight oats.
ADAPTABLE - Change up the recipe by adding different toppings, switching the fruits you add or adding extra flavouring (such as cinnamon, cocoa powder, vanilla etc)
NUTRITIOUS - Everything you need to start the day right
Video Tutorial
Ingredient Information (With alternative Suggestions)
For the full recipe, with ingredient amounts, scroll to the recipe card at the bottom of the post.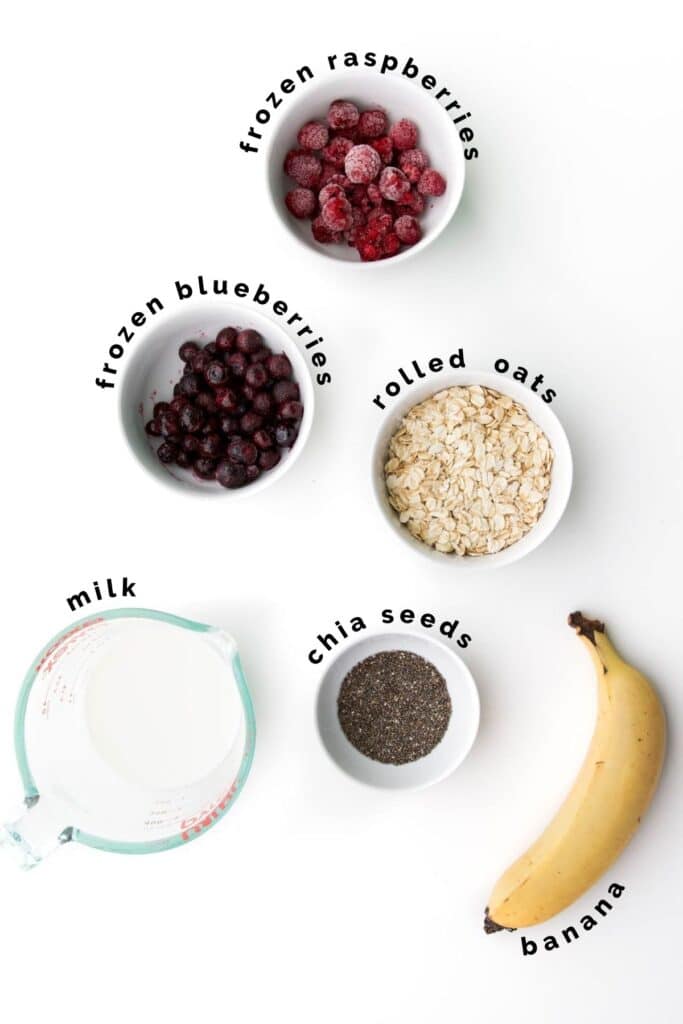 ROLLED OATS (OLD-FASHIONED OATS)
You can replace them with quick oat (as they are getting blended anyway) but steel-cut oats won't work for this recipe as they're too hard.
MILK
Any milk will work but remember to take into consideration that different kinds of milk have different nutritional profiles.
CHIA SEEDS
Added for a nutritional boost and gives the blended oats a pudding-like texture.
BANANA
Adds sweetness and creaminess. Skip/replace with a sweetener of choice or around ½ cup of unsweetened apple puree/sauce
FROZEN BERRIES
For flavour, colour and nutrition. Any berries will work and you can use fresh or frozen.
Step by Step Instructions and Tips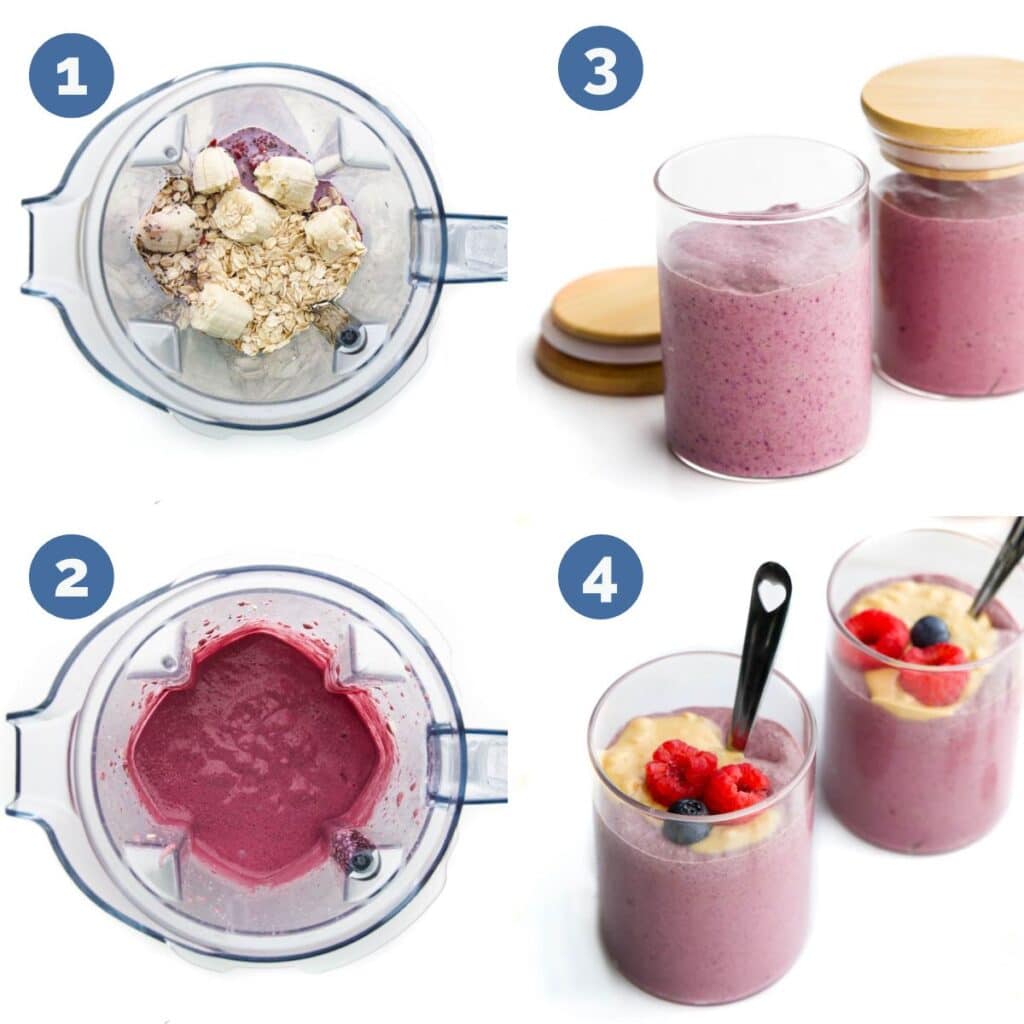 This is a super simple recipe, all you have to do is...
Add all the ingredients to a blender
Blitz until smooth and creamy.
Pour the mixture into two small containers, cover and refrigerate.
The next morning, stir the mixture and add your favourite toppings.
Serving Suggestions
Just like overnight oats, you can serve this recipe with any toppings you so desire. Some suggestions include...
Swirl of nutbutter
Dollop of chia jam
Fresh berries
Crushed nuts/seeds
Granola
Spices (such as cinnamon, ginger or cardamom)
Drizzle of honey (do not add for under 1s)
Recipe FAQs
How long do blended overnight oats last?
You can store these in the refrigerator for up to two days but the colour does start to fade and will become browner the longer you store it.
Do you eat blended oats hot or cold?
These are designed to be eaten cold. If you hate the thought of eating this cold you can heat them up in the morning using the microwave or stove top.
Do you need to cook oats before blending them?
No, the oats do not need to be cooked before going into your blender.
I find the oats too runny, can I fix this?
If you find them on the runny side you can add some oat flour, almond flour or some chia seeds. Return to the refrigerator for around 30 mins, they should have thickened up. The next time you make them just add less milk or a little more oats at the blending stage.
Can I serve blended oat to a baby?
Oats may be introduced as soon as a baby is ready to start solids, which is generally around 6 months of age. However, it is important to remember that your baby is unique and rather than going by dates, you need to make sure your baby is developmentally ready. Once dairy has been safely introduced and ruled out as an allergen, cow's milk can be used to make blended oats.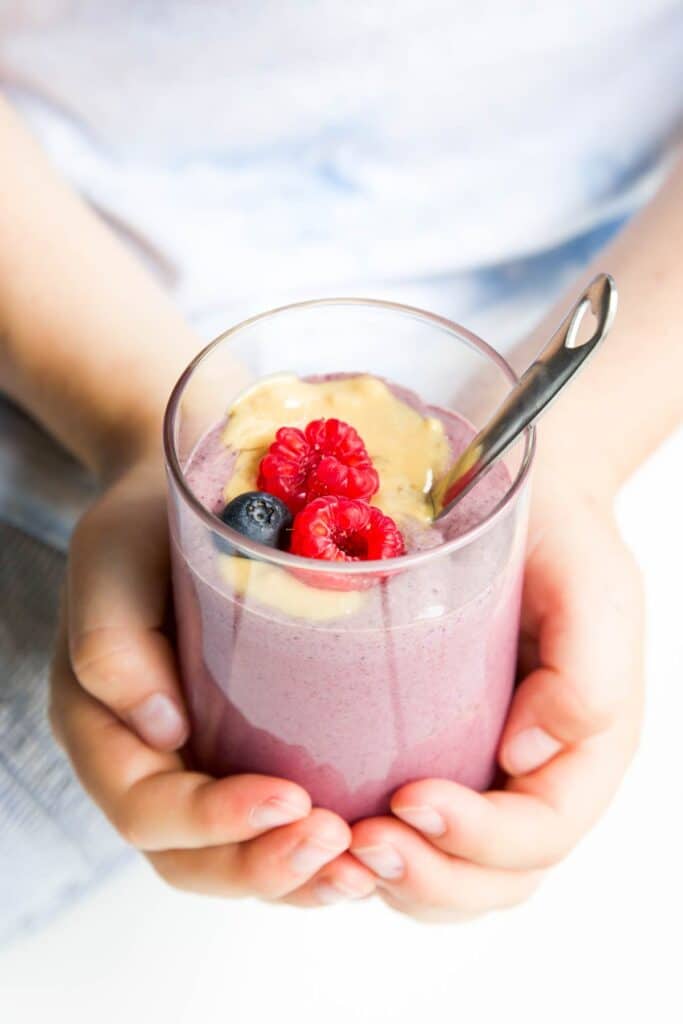 Other Ways to Enjoy Oats
Looking for more healthy kid recipes?Sign up for my free recipe newsletter to get new family friendly recipes in your inbox each week! Find me sharing more kid-friendly inspiration on Pinterest and Instagram.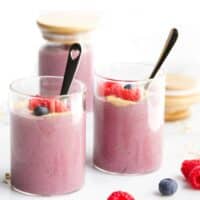 Blended Berry Overnight Oats
A simple and healthy breakfast option for all ages. Prep the night before to make morning time a breeze.
Prep Time: 5 minutes
Chilling Time: 4 hours
Total Time: 5 minutes
Serves:2
Hover over "serves" value to reveal recipe scaler
Ingredients
½ cup (55g) Frozen Raspberries
½ cup (60g) Frozen Blueberries
1 small Banana
½ cup (55g) Rolled Oats (Old Fashioned Oats)
1 tablespoon Chia seeds
¾ cup (180ml) cup Milk
Instructions
Add all the ingredients to a high speed blender and blitz until smooth.

Pour into two jars, cover and refrigerate over night.

When ready to eat, top each jar with a spoonful of peanut butter and some fresh berries. (optional)
Recipe Notes
I used frozen berries due to cost and convenience but fresh will work well too. Nutritional Information is a ROUGH guide only, calculated using an online nutrition calculator. Facts do not include any added toppings
Nutritional facts
Calories: 265kcal | Carbohydrates: 45g | Protein: 9g | Fat: 7g | Saturated Fat: 2g | Polyunsaturated Fat: 2g | Monounsaturated Fat: 1g | Trans Fat: 0.01g | Cholesterol: 11mg | Sodium: 39mg | Potassium: 509mg | Fiber: 9g | Sugar: 15g | Vitamin A: 211IU | Vitamin C: 15mg | Calcium: 178mg | Iron: 2mg