Bliss Balls / Energy Balls or whatever you wish to call them, are such an easy snack option. Just whizz up the ingredients in a food processor and roll. This recipe is easily customised to make Bliss Balls that are tailored to your family's health requirements or their favourite flavours.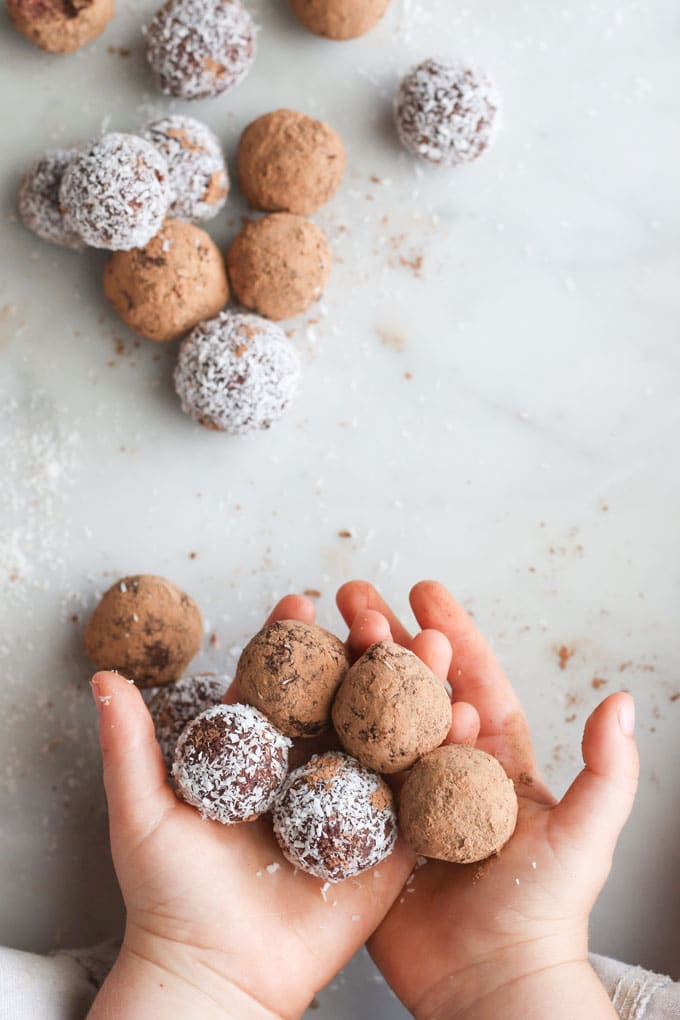 Not surprisingly there are thousands of different bliss ball recipes available online. I'm putting it down to the fact that they are...
so easy to make,
so easy to adapt and
so, so, so delicious.
When something is as simple as throwing ingredients into a food processor then I am sold.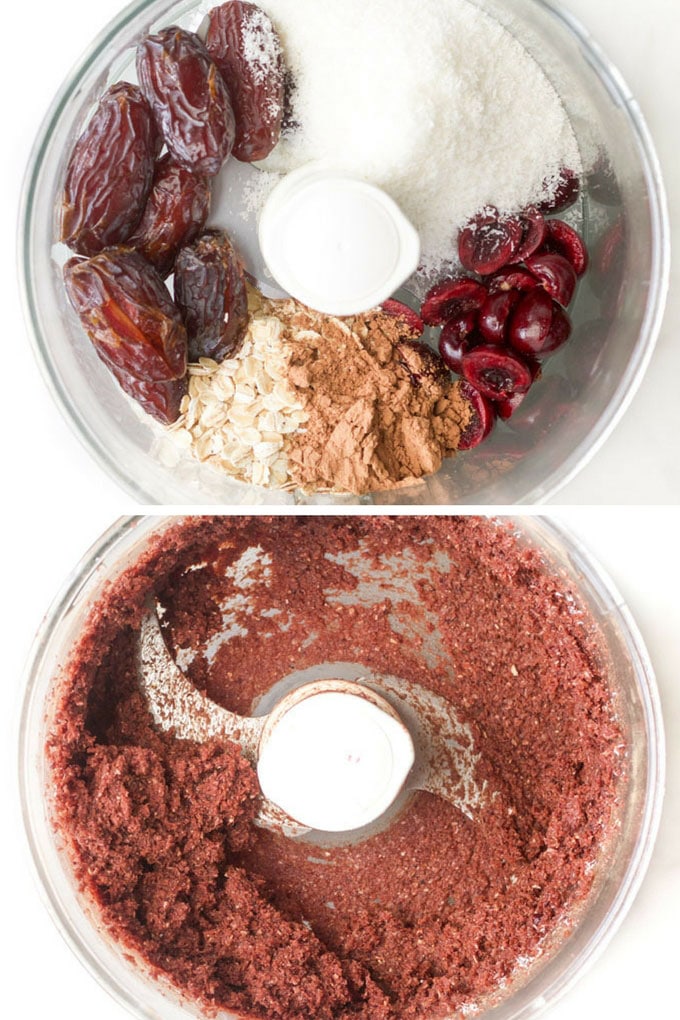 Are Bliss Balls / Energy Balls Healthy?
Like a lot of things in life, bliss balls aren't all created equal. The macronutrients (proteins, carbohydrates & fat) content can vary immensely from ball to ball.
Bliss balls packed with dates, dried fruit, honey or other sweeteners will obviously have a high sugar content and would be considered more of an occasional treat.
Balls crammed with nuts, seeds and nut butter will provide a good source of protein and fats for you and your kids' diet.
Balls loaded with oats will provide a good source of carbohydrate and fibre.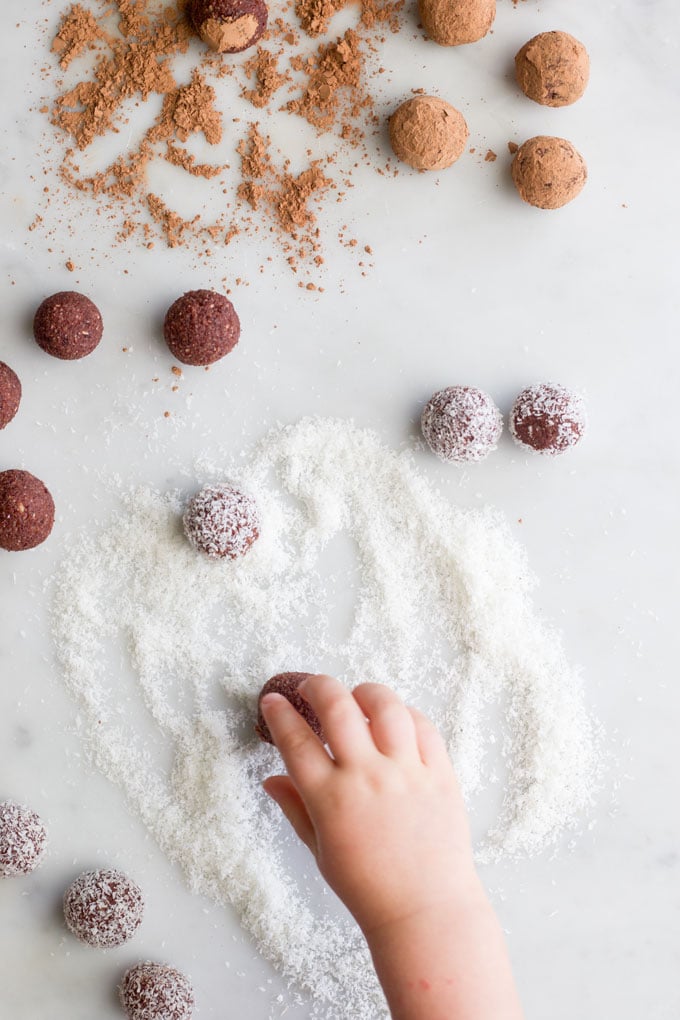 I would consider this particular recipe a treat. It has a high percentage of dates, making them delicious but high in sugar. For that reason, I have rolled them into smaller balls, around ½ a tablespoon each. Once rolled you can coat them in coconut, crushed nuts, cocoa powder or leave them uncoated. Personally, I think the bitterness of the cocoa works perfectly with the sweet date and cherry mixture.
If you are looking for a healthier, low sugar ball recipe then I have a delicious
Raspberry Coconut Breakfast Ball recipe and also a
Both recipes have no sweeteners and very little dried fruit. I call them breakfast balls as they are packed with oats, ground nuts/nut butter and fruit.
Storage Instructions
The best way to store bliss balls is to pop them in a freezable container and freeze. You can then take them out as needed.
You can also store these in the refrigerator for up to one week (if they last that long)!
You May Also Like
Have you tried this recipe? Rate and leave a comment below or tag your creations on Instagram @healthylittlefoodies
Looking for more healthy kid recipes?Sign up for my free recipe newsletter to get new family friendly recipes in your inbox each week! Find me sharing more kid-friendly inspiration on Pinterest and Instagram.
Cherry Bliss Balls
Bliss balls made with cherries, dates, coconut, oats and cacao. Nut free, making them perfect for lunchboxes.
Prep Time: 15 minutes
Total Time: 15 minutes
Serves:28 small balls
Hover over "serves" value to reveal recipe scaler
Ingredients
9 (200g) Medjool Dates (pitted) * See Note 1
15 Cherries (pitted)
1 cup (75g) Desiccated Coconut (unsweetened)
⅓ cup (35g) Oats * See Note 2
1 ½ tablespoon Cacao Powder
Instructions
Add all the ingredients to a blender and blend until everything is finely chopped and the mixture comes together. (See photo above)

Roll into small balls. Mine were around ½ a tablespoon each, weighing roughly 13g. I made 28 balls from the mixture.

Leave uncoated or roll in some desiccated coconut / cacao / LSA mix / crushed nuts etc.
Recipe Notes
Fresh dates work best in this recipe. If your dates are quite dry and hard then soak them in some hot water for a couple of minutes. This will make it easier to blend. 
If you are not avoiding nuts then almonds taste delicious in this recipe. Try substituting the oats with almonds.  
*Nutritional information is an ESTIMATE only, calculated using an online nutrition calculator.  Facts are for one, uncoated small ball weighing 13g. Coatings will alter nutritional facts and these should be used as a GUIDE only. 
Nutritional facts
Serving: 1small ball (13g) | Calories: 48kcal | Carbohydrates: 8.8g | Protein: 0.7g | Fat: 1.3g | Sodium: 1.2mg | Sugar: 5g