With only three ingredients, these Fruity Egg Muffins are easy to make, healthy and perfect for little hands.

This post was first published in March 2014. At the time my eldest was two and he loved this simple recipe. For several years I made them at least weekly and my youngest also enjoyed them. They really are great for toddlers and baby-led weaning.
Why this Recipe Post has Been Updated
Over the years this recipe has had a lot of interest but to very mixed reviews. It seems that people either love or hate them. For that reason, I have updated the post with more information and descriptions.
I believe the main negativity comes from readers expecting a regular "muffin" and are therefore disappointed with the outcome.
When republishing I considered changing the name to better describe these "muffins" and considered calling them
Sweet Omelette Bites
Fruity Omelette Bites
Baby-led Weaning Muffins
However, I ended up sticking with the original name (Fruity Egg Muffins). They contain fruit, egg and are cooked in a muffin tray so the name, to me, makes sense.
However, they do taste like a sweet omelette and I want to get that across. The texture is very eggy and these are far from a light fluffy muffin.
They are great for babies and toddlers and make a healthy breakfast or snack. However, I didn't want to pigeon hole them into that category as many adults enjoy them too (especially those following special diets). When I made them recently to recheck the recipe, both my boys (now 5 and 8) loved them and I'll be reintroducing them to our meal plan for sure.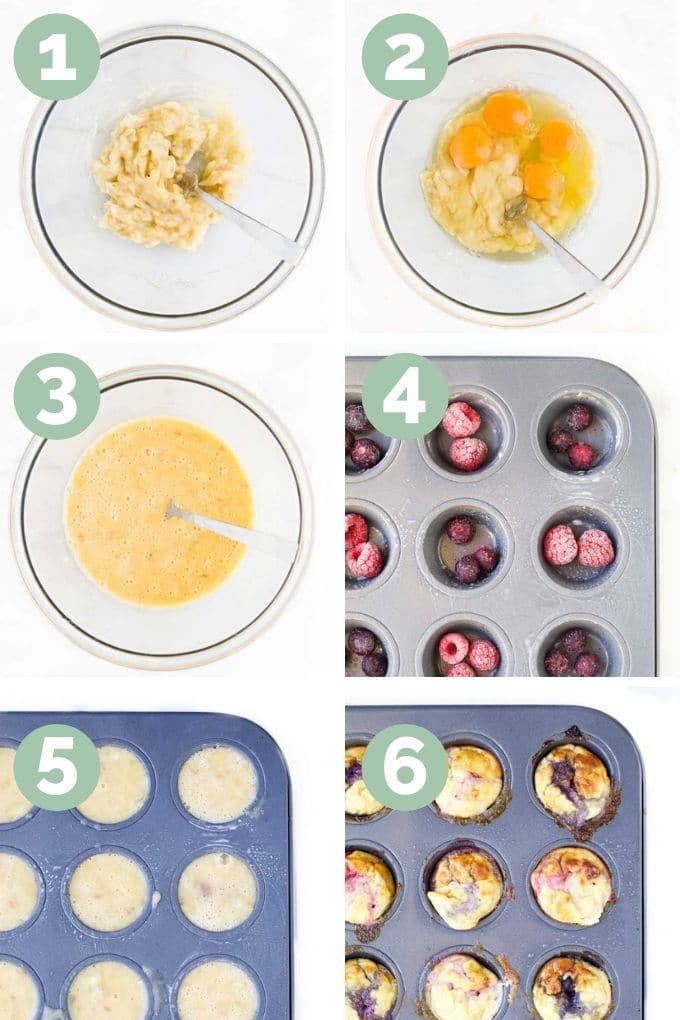 How to Make Fruity Egg Muffins (Including Tips and Tricks)
Mash Bananas: Very ripe bananas are needed for this recipe. As bananas ripen, their starch is broken down into sugar making them sweeter. The sweetness is needed in this recipe and will not taste the same if the bananas are not ripe. Mash well but leave some small lumps which taste great in the cooked "muffin".
Add Eggs
Whisk until fully combined
Add a couple of berries to the bottom of each mini muffin hole. You can use fresh or frozen and a mixture of different berries. If using bigger berries (such as strawberries) chop them before adding to the muffin tray.
Top with the egg mixture. Fill to just below the top, the muffins rise and can spill over when cooking. They do sink as soon as they are removed from the oven.
Bake for approx 15 mins, until the eggs are set. Allow to cool for a minute or two and carefully remove with a knife.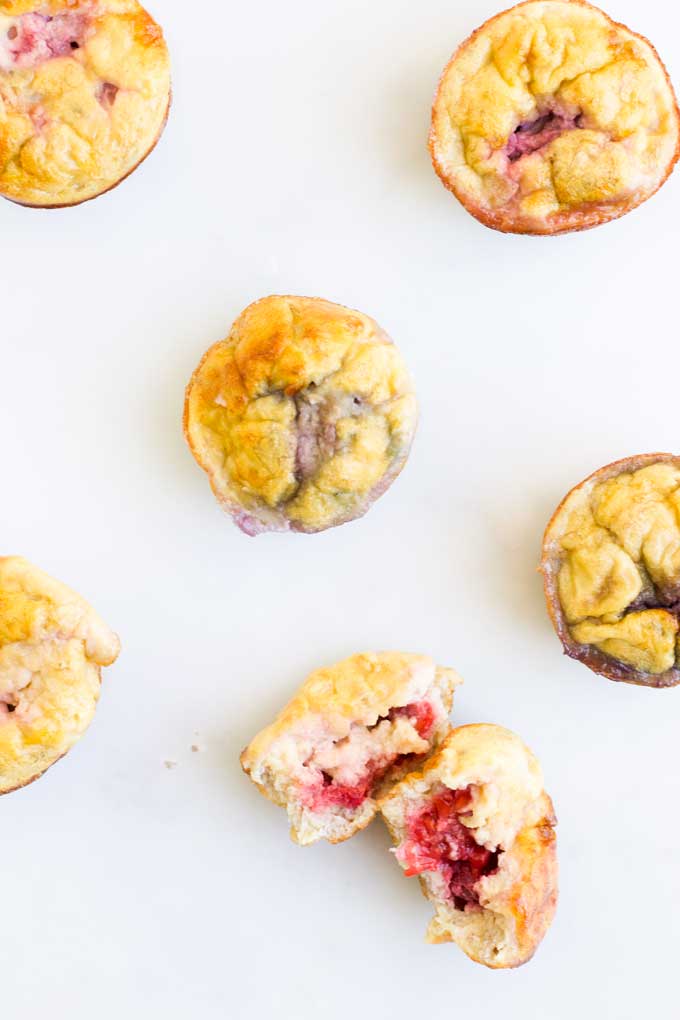 Storage Instructions
Refrigerate: Store in an airtight container and refrigerate for up to 3 days.
Freeze: Allow to cool completely, freeze on a baking tray until hard then transfer to an airtight container/freezer bag. Freeze for up to 2 months. Defrost in the refrigerator.
You may also like
Looking for more healthy kid recipes?Sign up for my free recipe newsletter to get new family friendly recipes in your inbox each week! Find me sharing more kid-friendly inspiration on Pinterest and Instagram.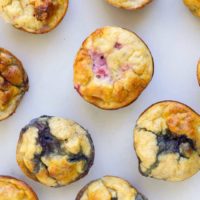 Fruity Egg Muffins
Using only three ingredients these muffins are so quick and easy to make and are healthy too.
Prep Time: 10 minutes
Cook Time: 15 minutes
Total Time: 25 minutes
Serves:23
Hover over "serves" value to reveal recipe scaler
Ingredients
2 Bananas, ripe
4 Eggs
100g / 1 cup Raspberries / Blueberries
Coconut Oil / Butter for greasing
Instructions
Preheat oven to 190c / 375f / Gas 5

Mash bananas in a large mixing bowl.

Add the eggs and mix until fully combined.

Grease a mini muffin tray with coconut oil or butter.

Add 2 to 3 berries to cover the bottom of each muffin tray hole.

Fill, to just below the top, with the egg and banana mixture.

Bake for 15 minutes or until cooked through.

Allow to cool for a couple of minutes and then carefully remove with a knife.
Recipe Notes
What to Expect - These are not like traditional "muffins". They have the texture and taste of a sweet omelette. Bananas - The riper the better. Do not use unripe bananas in this recipe, it will lack sweetness.  Muffin Tray - If you do not have a mini muffin tray you can make these in a regular muffin tray. Cover the bottom of each muffin hole with berries (around 6) and cook for approx. 30 min, until the egg has set. Storage: Refrigerate, in an airtight container, for up to 3 days.  Nutritional Information is a ROUGH guide only, calculated using an online nutrition calculator. 
Nutritional facts
Calories: 24kcal | Carbohydrates: 3g | Protein: 1g | Fat: 1g | Saturated Fat: 1g | Cholesterol: 28mg | Sodium: 11mg | Potassium: 54mg | Fiber: 1g | Sugar: 1g | Vitamin A: 48IU | Vitamin C: 2mg | Calcium: 6mg | Iron: 1mg