If the right foods are offered, at the right time, then snacking can play an important part in managing hunger and boosting the nutrition of children's diets. Learn what makes a nutritious snack, and why, and get inspiration from this mega list of Healthy Snacks for Kids.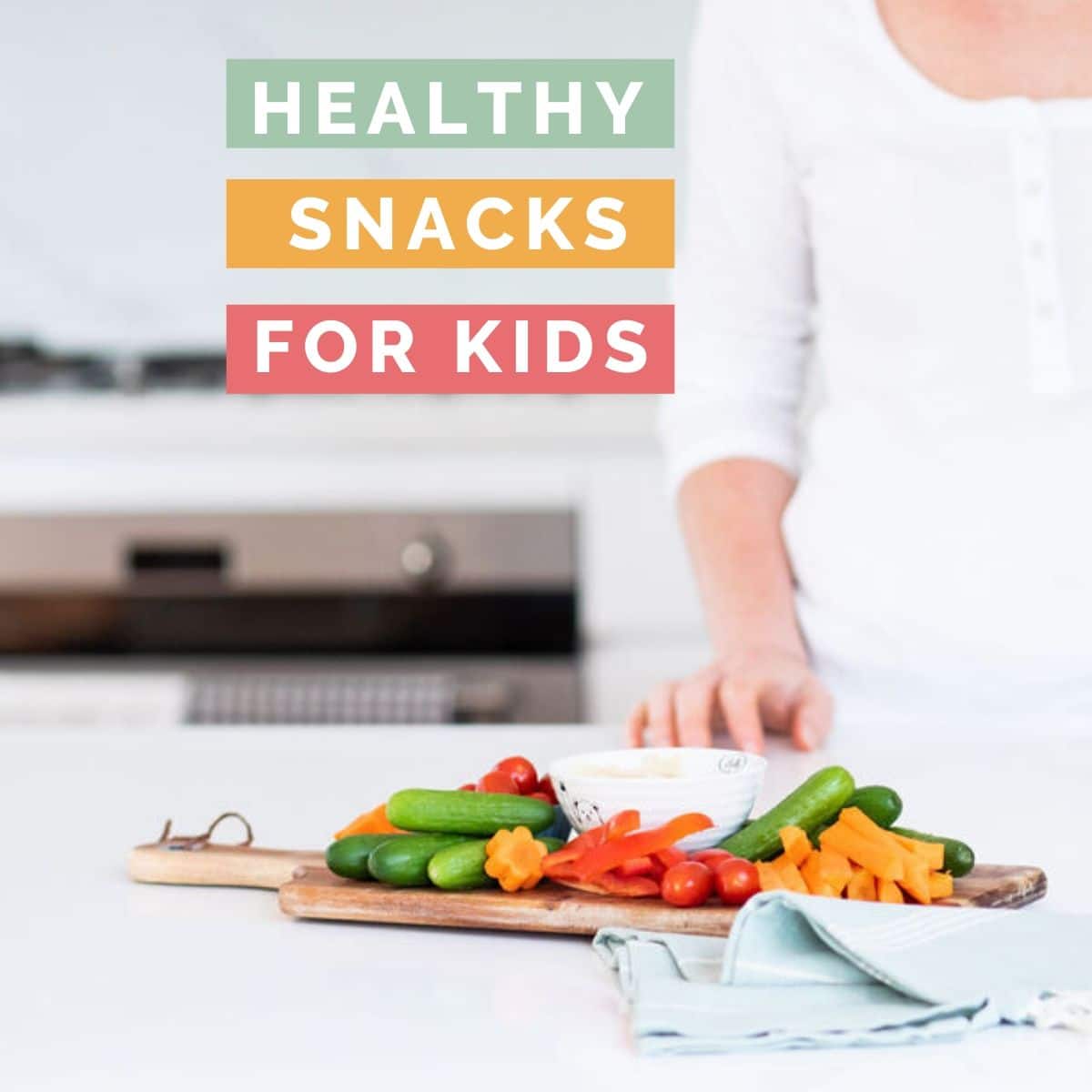 Do you feel like you are constantly feeding your children snacks? You are not alone.
Snacking is prevalent in many parts of the world and contributes to a large proportion of our children's daily energy intake. (1)
Unfortunately, for many kids, snacks consist of a packet of chips (crisps), crackers, cookies or other energy-dense and nutrient-poor foods.
Instead, snack time should be looked at as an opportunity to add nutrients to our children's diet and even make up nutrients missed throughout the day. It is the perfect time to provide wholesome, nutritional foods.
Healthy Snacks for Kids – Top Tips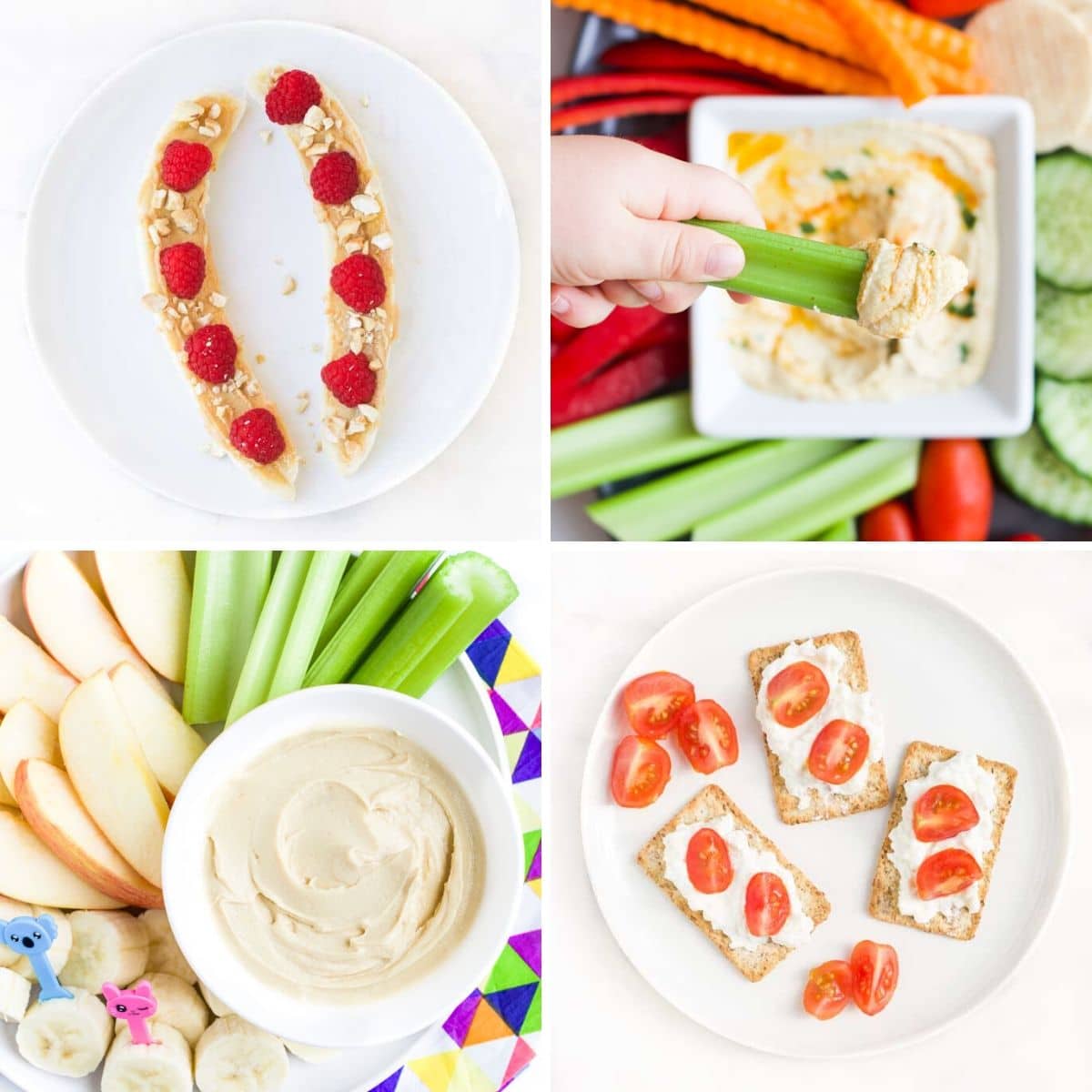 What to serve at snack time
Often people contact me saying their children are "snackers", that is they live on snacks and eat very little of their meals.
What you serve at snack time can make a big difference in whether your children become "snackers" or not. If snacks are always made up of foods such as crackers, muffins, chips etc then some children will happily live on snacks and eat very little breakfast, lunch or dinner.
In addition "snack foods" are often high in simple carbohydrates. Although children need carbohydrates, they burn through simple carbohydrate really fast. Thus, they don't have anything to keep them full and often half an hour later they are begging for another snack.
Ideally, snacks should be healthy and satisfying. Research shows that whole foods high in protein, fibre, and whole grains enhance a sense of fullness when consumed as snacks. (2) Healthy fats are also very filling and a good addition to a snack.
PROTEIN is the building block to growth. Healthy protein sources include meat, poultry, fish, nuts, seeds, nut butters, hummus, eggs, beans, dairy products such and milk, cheese and yoghurt. 
FIBRE helps make us full and keeps things moving in the digestive tract. Fibre sources include vegetables, fruit, beans, peas, nuts, whole grain breads and cereals.
HEALTHY FATS are every filling and also good for brain development. Healthy fat sources include olive oil, avocado, full fat dairy products, nuts and seeds, nut butters
When preparing a snack, I usually start with a fruit and/or vegetable and add a protein or fat source and /or an extra fibre source to complete the snack.
The time of day and how close it is to the next meal will influence my decision as to what and how much I serve as a snack. (see below for list of ideas)
Having a Snacking Schedule
As parents/carers, it is our responsibility to decide what we serve our children but also when we serve it. If constant snacking occurs, keeping track of food consumption is hard to monitor and often children overeat and are not ready for meals.
Providing scheduled meals and snacks allow children to avoid becoming overly hungry or too full at mealtimes. They also reduce the constant pestering for snacks and stops boredom eating.
It doesn't matter so much on the schedule you choose, everyone is different and it will depend on your family life and the age/nature/health of your children. The important thing is your children know what to expect.
In our family we find three meals and two snacks work well during the week (morning snack at school and an after school snack). At the weekend we have only one snack (min morning) as we usually have a later, bigger lunch.
If your child chooses not to eat food at a meal or snack, that is okay. Just remind them that they will need to wait until the next meal or snack to eat again.

Keep it Simple
Preparing healthy kids' snacks shouldn't require you spending ages cooking or preparing. There is no need to use fancy cookie cutters or think up elaborate ways to present your children's food.
You can, of course, do this if you enjoy it, have the time and the want to do it. Sometimes I do and my kids love it,  however most of the time I don't. The easier you make it on yourself the more likely you are to continue serving nutrient dense snacks and be less likely to reach for convenient foods.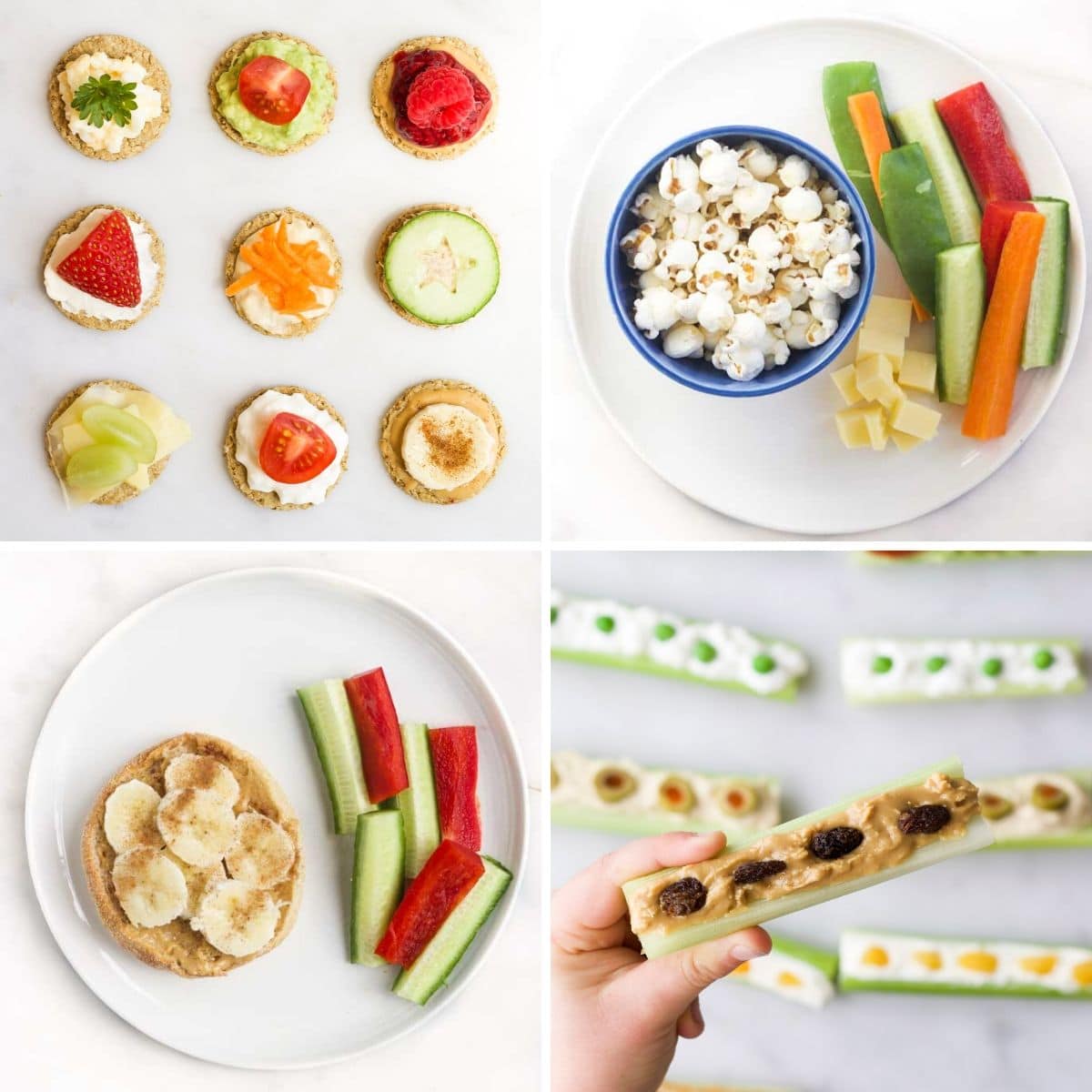 2. Sauteed Apple Wedges with Mixed Nuts
3. Apple & Peanut Butter "Sandwiches" & Milk
4. Mashed Avocado on Rice Crackers
5. Banana Split with Peanut Butter – Slice a banana, lengthways, and top with peanut butter, crushed nuts and raspberries. (photo ref above)
6. Banana & Nut Butter Tortilla Roll-Ups – Spread a tortilla wrap with nut butter, place a peeled banana at one edge and roll up. Slice into bite-size pieces.
7. Banana Oatmeal Cookies, Snow Peas & Milk.
8. Half a Bagel with Cream Cheese and Cucumber Slices
9. Veggie Sticks, Pitta Bread Strips and Hummus
10. Fruit Slices with a Peanut Butter Dip
11. Nutball with Celery Sticks
12. Half an egg with Melon Chunks
13. Scrambled Egg on Wholemeal Toast with Blueberries
14. Guacamole with Mixed Vegetable Sticks
15. Wholemeal (whole wheat) English Muffin topped with Peanut Butter and Banana
16. Hummus Toast Fingers with Grated Carrot
17. Cottage Cheese with Strawberry Puree & Strawberries
18. Cottage Cheese and Tomato Slices on Crackers
19. Cheese and Pineapple Skewers
20. Cheese Cubes with Sliced Pear
21. Cheese and Crackers with Grapes
22. Oatcakes With a Selection of Toppings
23. Mini Corn on Cob with Half and Egg and Fruit
24. Tuna Spread on Crackers and Cucumber Slices
25. Fruit Kebabs with yoghurt
26. Leftovers
27. Sweet Potato Wedges with Avocado Dip
28. Mini Muffin, Milk and Snow Peas
29. Pizza Toast with Brocolli Florettes
30. Popcorn with Cheese Cubes and Vegetable sticks
31. 1/2 Sandwich with Carrot Sticks
32. Sandwich Kebab – One slice of bread cut into bite-sized pieces and skewered together with cheese, cucumber and tomato. (see above for picture)
33. Smoothie with Cucumber Sticks
34. Trail Mix with Veggie Sticks – Make your own trail mix with a selection of nuts, seeds and dried fruit.
35. Apple Waffle with Chopped Veg
36. Watermelon Pizza Slices – Top watermelon slices (triangles) with coconut yoghurt, shredded coconut and chopped fruit to resemble a pizza slice.
37. Yoghurt with Apple Puree (sauce)
38. Banana Yoghurt
39. Yoghurt Filled Raspberries – Double this snack up as an activity. Serve your children yoghurt and raspberries and get your children to fill them.
40. Yoghurt, Granola and Berries
*Some of these snacks would need to be modified for younger children due to choking risk. (Popcorn is a choking hazard for under-fives, nuts should be finely chopped/crushed and fruits such as grapes and cherry tomatoes should be quartered to avoid choking)
In a nutshell…
Many children get hungry between meals and need snacks. The key to successful snacking is considering not only what you serve your children but also when you serve it.
Healthy snacks for kids should be satisfying, nutritious and provided at set times.
Look to serve whole foods that contain at least one of these nutrients – protein, fibre or healthy fats and use snack time as an opportunity to help reach your children's daily target of fruit and vegetables.
NOTE: The information contained in this website is for general information purposes only and is not meant to substitute professional dietary advice or treatment. Please refer to my Nutrition Disclaimer for full information. 
REFERENCES
Wang, D.; van der Horst, K.; Jacquier, E.F.; Afeiche, M.C.; Eldridge, A.L. Snacking patterns in children: A comparison between Australia, China, Mexico, and the US. Nutrients 2018, 10, 198.
Njike, Valentine & Garvin, Teresa & Shuval, Omree & Shuval, Kerem & Edshteyn, Ingrid & Kalantari, Vahid & Yaroch, Amy. (2016). Snack Food, Satiety, and Weight. Advances in Nutrition: An International Review Journal. 7. 866-878. 10.3945/an.115.009340.