Yoghurt filled raspberries are a delicious and healthy snack for kids and adults. Simply stuff some plump raspberries with Greek yoghurt and enjoy!
I first got the idea for Yoghurt Filled Raspberries after my friend served me some chocolate filled ones. I thought it was an ingenious idea and knew it could easily be adapted to make a super cute and healthy snack for little ones.
So the next day I got my self some raspberries and filled them with natural Greek yoghurt and have never looked back!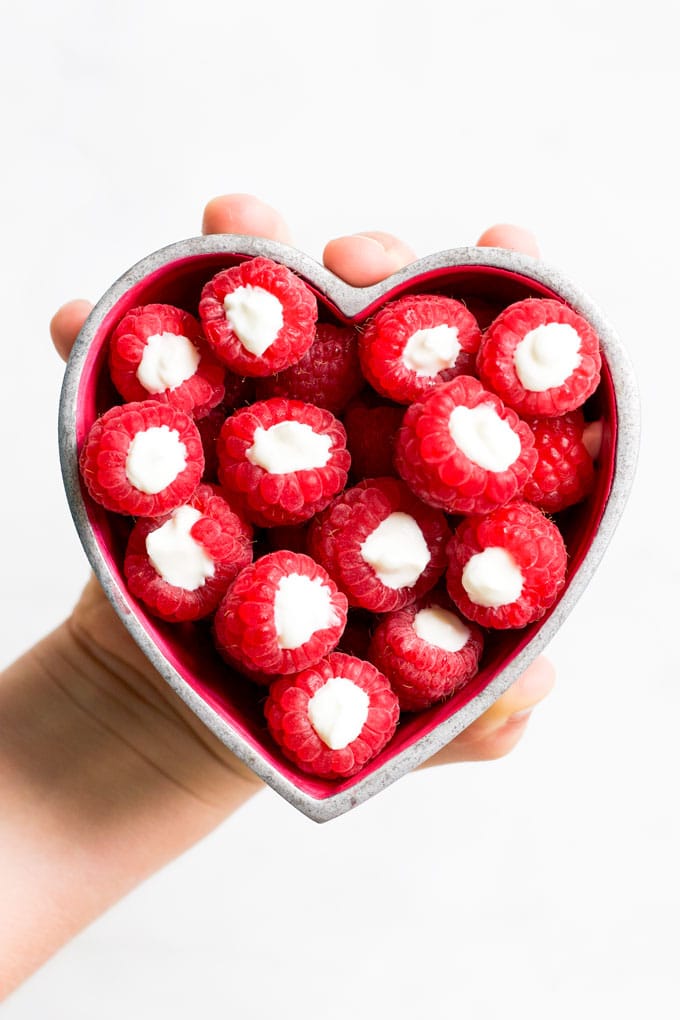 How To Make Yoghurt Filled Raspberries
Ingredients
Raspberries - Large and plump raspberries work best.
Yoghurt - I used natural Greek yoghurt but you can use a yoghurt of choice. The thicker the yoghurt the easier it is to handle and fill.
Equipment
Piping Bag - I used a piping bag but you can use a ziplock bag with the corner snipped off.
How to Fill the Raspberries
Filling the raspberries is really easy. Simply add the yoghurt to the piping bag and gently squeeze into the raspberries.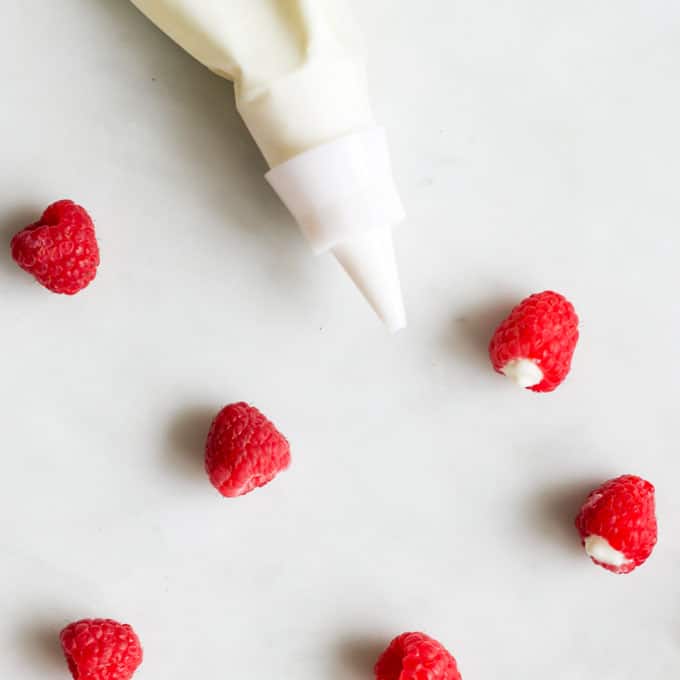 Getting Your Kid/s Involved
I have expressed before the many Benefits of Cooking with Kids and this is a great way to get your little ones involved with preparing their own snack.
Depending on their age, they may need quite a bit of help. With preschool children, two things are likely to happen...
They may be a little heavy handed with the raspberries and end up squashing them
They may find the yoghurt comes out too quickly and it is difficult to handle.
If this is the case, try freezing the raspberries (in a single layer on a baking tray) until they are harder. You can also fill the piping bag and freeze the yoghurt so that it is thicker (but not solid) and easier to handle.
With very young children, you will probably need to help hold both the raspberry and piping bag. They will just enjoy, and benefit from, touching and getting involved.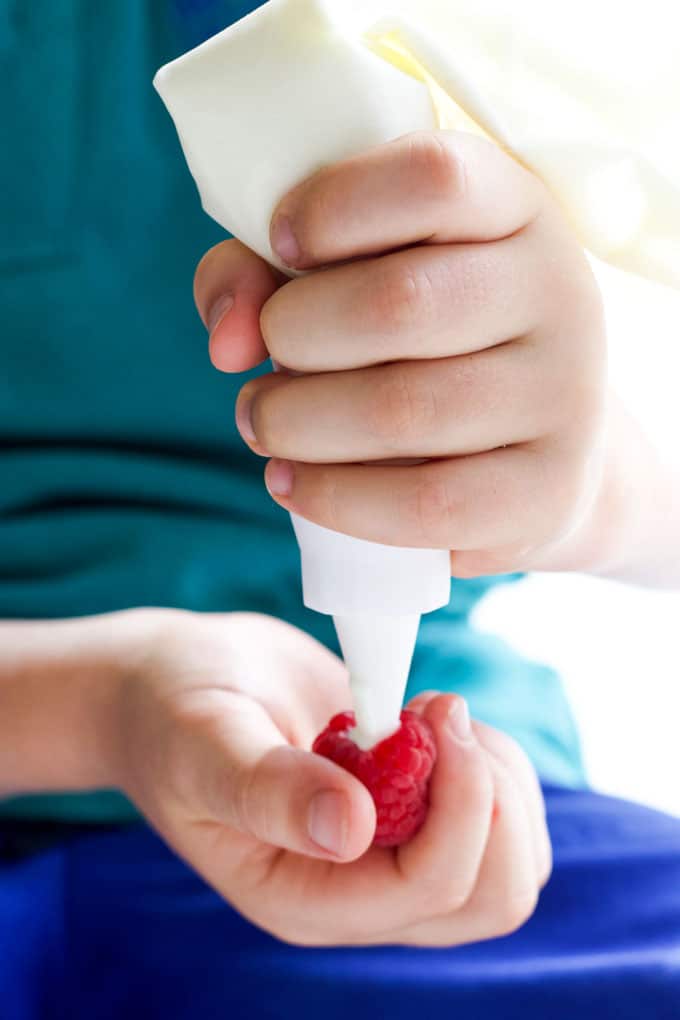 Alternatives to Yoghurt
Of course, you don't have to stick with yoghurt when filling raspberries. Why not try
Peanut Butter - healthy peanut butter jelly!
Or for dessert....
Chocolate - melt the chocolate, fill and refrigerate.
How To Store
Refrigerate - Cover and refrigerate for a day (I haven't tested it longer than a day)
Freeze - Freeze in a single layer, until frozen, and then transfer to an airtight container. They taste great straight from the freezer!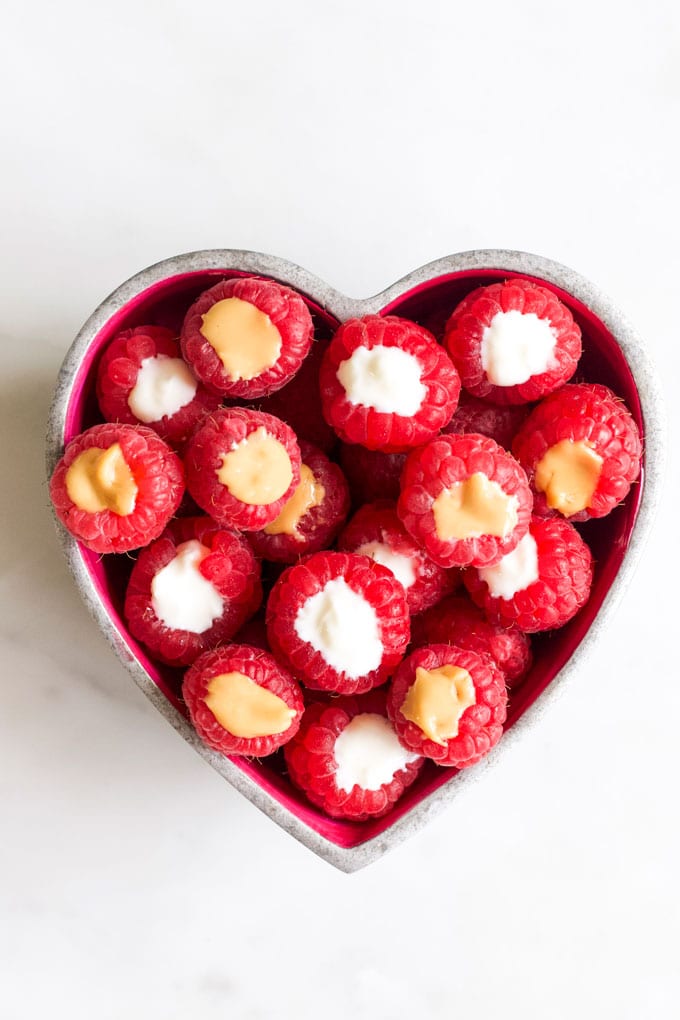 You may also like
Have you tried this snack? I love hearing your feedback. Please rate and leave a comment below or tag me on Instagram.
Looking for more healthy kid recipes?Sign up for my free recipe newsletter to get new family friendly recipes in your inbox each week! Find me sharing more kid-friendly inspiration on Pinterest and Instagram.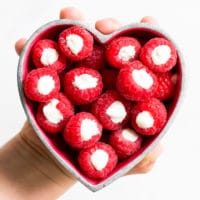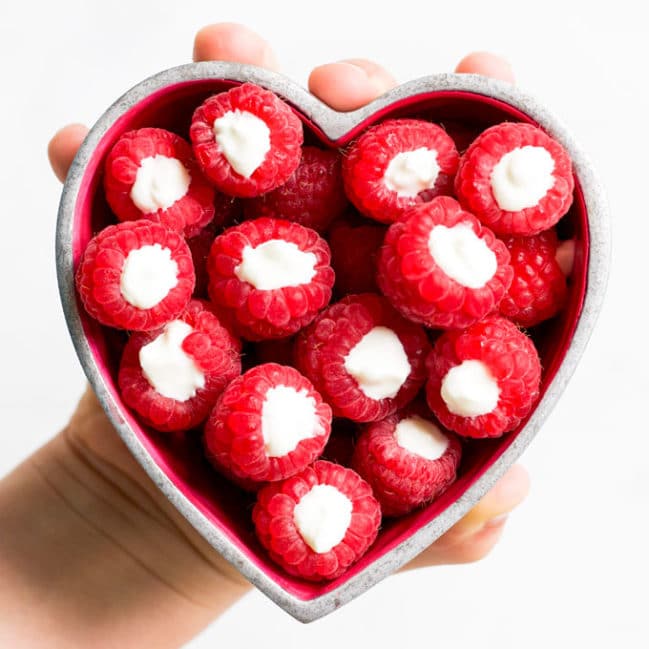 Yoghurt Filled Raspberries
A delicious and healthy snack for kids and adults.
Prep Time: 15 minutes
Total Time: 15 minutes
Serves:4 people
Hover over "serves" value to reveal recipe scaler
Ingredients
125g Raspberries
65g ¼ cup Natural Greek Yoghurt
Instructions
Rinse and dry the raspberries.

Fill a piping bag (or ziplock bag) with the yoghurt.

Pipe the yoghurt into the raspberries to fill. (SEE NOTE 1)
Recipe Notes
If kids are helping and they are finding it difficult to pipe, you can freeze both the raspberries and yoghurt until firm, but not solid. This will make it easier to handle. 
Nutritional information is a ROUGH guide only, calculated using an online nutrition calculator. 
Nutritional facts
Calories: 25kcal | Carbohydrates: 4g | Protein: 2g | Fat: 0g | Saturated Fat: 0g | Cholesterol: 0mg | Sodium: 6mg | Potassium: 70mg | Fiber: 2g | Sugar: 1g | Vitamin C: 8.2mg | Calcium: 26mg | Iron: 0.2mg
*This post was first published in March 2014, I have updated it with new pictures and information.