This Sugar-free granola has no refined sugar or sweeteners. It is a great base recipe that can be modified to suit taste.
Granola is often advertised as a wholesome and healthy breakfast choice but unfortunately, this is more often not the case. Commercial varieties are often loaded with enough added sugar to compete with a chocolate bar and homemade granola recipes are often no better. Most recipes call for quite a bit of sugar, maple syrup, honey or other sweeteners.
This version contains no sugar or sweeteners so does taste quite a bit different to granola as you know it. If you are used to sweet granola you may find you have to add a little sweetness via dried fruit or fruit.
INGREDIENTS (WITH ALTERNATIVE SUGGESTIONS)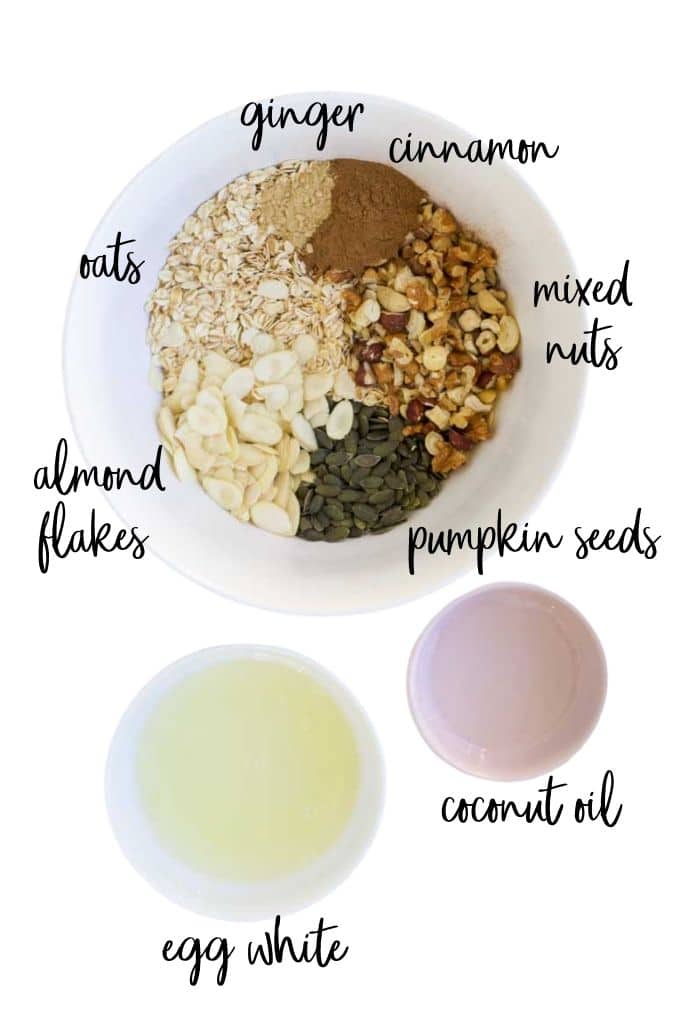 Oats: For this granola recipe you'll want to use rolled oats (also called old fashioned oats or whole oats)
Nuts: Use any nuts you like or have available, this recipe uses almond flakes, walnuts, cashew and hazelnuts. Make sure to finely chop if serving children under five. For a nut-free version, substitute with extra seeds (e.g. sesame, sunflower, chia) and add some coconut flakes.
Pumpkin Seeds: You can substitute with different seeds (sunflower, sesame etc) or replace with extra nuts.
Spices: Adds flavour, add more or less to suit taste.
Egg White: The biggest challenge with sugar-free granola is getting it crunchy enough and for it to form little clumps. The beaten egg white helps to achieve this. If you have an egg allergy you can skip it. Replace with 1 tbsp extra of coconut oil or a little maple syrup (will no longer be sugar-free)
Coconut Oil: Used to crisp up the oats. If you wish to skip the oil you can add an extra egg white.
HOW TO MAKE HOMEMADE SUGAR FREE GRANOLA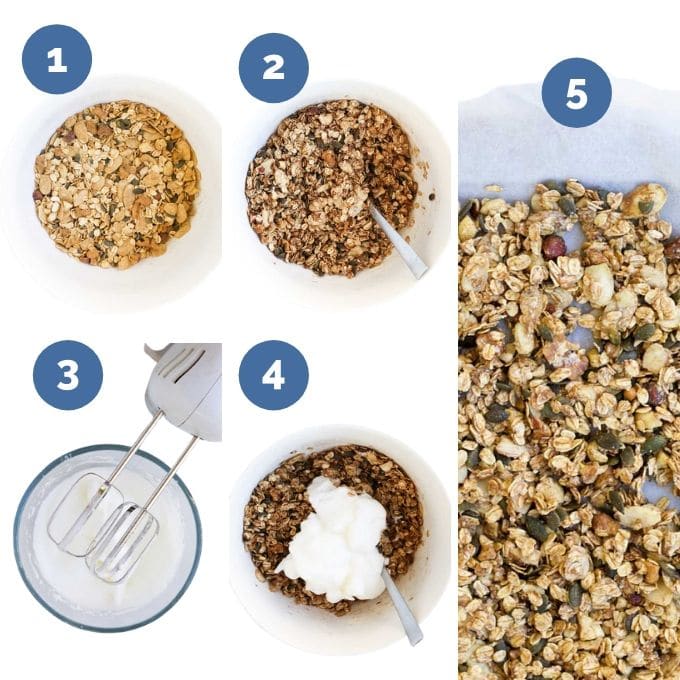 Homemade sugar-free granola is very easy to make, it really is just a case of combining the ingredients and baking until golden and crispy.
Mix together all the dry ingredients
Add the coconut oil and mix through
Whisk the egg whites until they form soft peaks
Gently stir through the egg whites
Transfer the mixture to a lined baking tray and bake for 30 mins, stirring halfway through the cooking time. Watch your granola carefully while in the oven, it can go from done to burnt in a couple of minutes.
MIX IT UP
As this granola is mild in flavour and sweetness, it is a perfect base for you to add in extras. Why not:
Stir in some dried or freeze-dried fruit for extra sweetness (after baking).
Add chopped fresh fruit add berries for a hint of sweetness (after baking).
Stir through some coconut flakes after cooking, or halfway through (for toasted flakes)
Change the spices, maybe vanilla, clove or mixed spice. You can even try savoury spices to make savoury granola.
Throw in a handful of chocolate chips (after baking)
SERVING SUGGESTIONS
Serve at breakfast with milk and some fresh fruit;
Make a yoghurt parfait (pictured below) with some creamy Greek yoghurt, fresh berries and a drizzle of honey;
Use it to top fruit salad. It will add crunch and make it more satisfying;
Take it out and about as a snack. Think of it a little like a trail mix, you can add some dried fruit and choc chips for extra kid appeal
STORAGE INSTRUCTIONS
Store the granola in an airtight container, at room temperature, for 1 to 2 weeks. (If it lasts that long)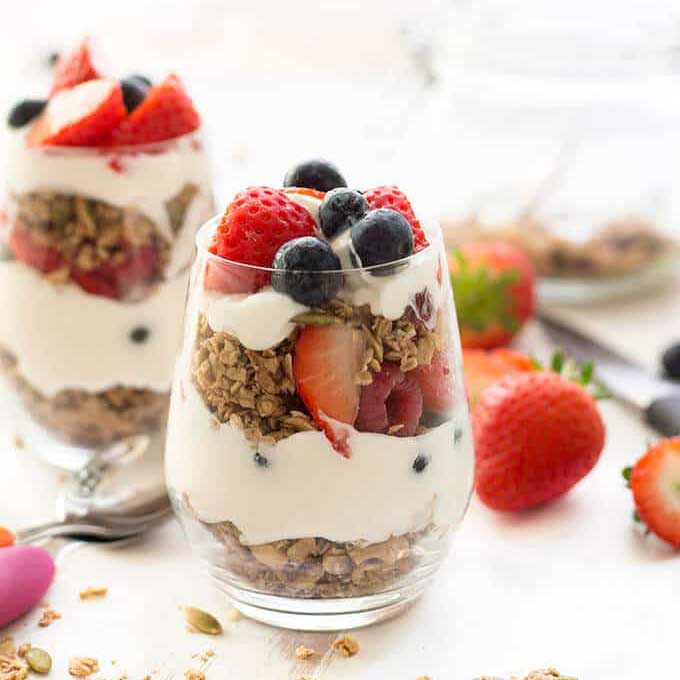 You May Also Like
Have you tried this recipe? I love receiving your feedback, please rate and leave a comment below or tag me on Instagram @healthylittlefoodies
Looking for more healthy kid recipes?Sign up for my free recipe newsletter to get new family friendly recipes in your inbox each week! Find me sharing more kid-friendly inspiration on Pinterest and Instagram.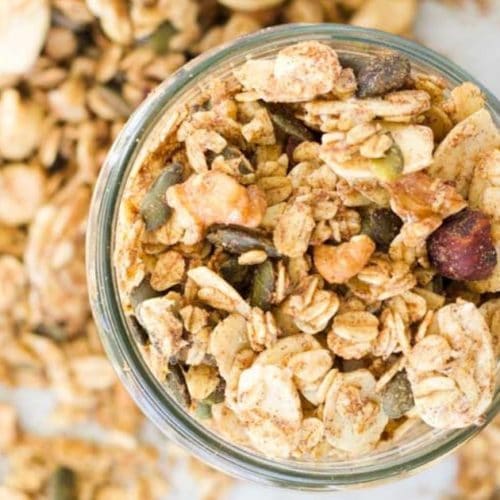 Sugar Free Granola
A granola made with no sugar or sweeteners.
Prep Time: 10 minutes
Cook Time: 30 minutes
Total Time: 40 minutes
Serves:7 (1/2 cup)
Hover over "serves" value to reveal recipe scaler
Equipment
Electric Hand Mixer / Stand Mixer
Ingredients
200g (2 cups) Rolled Oats
60g (½ cup) Pumpkin Seeds
80g (⅔ cup) Mixed Chopped Nuts ,I used cashew, hazelnut and walnuts
45g (½ cup) Almond Flakes
2 tsp Cinnamon
1/2 tsp Ginger
4 tbsp Coconut Oil ,melted
2 Egg Whites ,beaten to soft peaks
Instructions
Pre heat oven to 150c / 300f / Gas 2 and line a baking tray with baking paper.

Add all the dry ingredients to a large mixing bowl and combine.

Add the coconut oil and stir through, coating the mixture.

Whip the eggs to soft peaks using an electric hand mixer or stand mixer.

Add the beaten egg whites and gently stir to coat the mixture.

Spread the mixture onto the baking tray and bake for 30 mins, stirring once halfway through the cooking time.
Recipe Notes
FEEDING YOUNG CHILDREN: Whole nuts are a choking hazard for children under 5. Make sure to finely chop the nuts.  ADD SWEETNESS: As this is sugar-free granola it has no added sugar or sweeteners (maple syrup/honey etc). If you are looking for sweeter granola then you can replace the egg white with 1/4 cup of maple syrup and a drop or two of vanilla (no longer sugar-free).  Alternatively, you can add some chopped dried fruit, freeze-dried fruit or some berries/chopped fresh fruit (after cooking) to suit taste.  NUT FREE: Substitute with extra seeds (e.g. sesame, sunflower, chia) and add some coconut flakes. EGG FREE: The egg whites are there to add a little extra crunch to the granola in the absence of sugar. You can replace the egg whites with a 1/4 cup of maple syrup (no longer sugar-free).  STORAGE: Store the granola in an airtight container at room temperature for 1 to 2 weeks. Nutritional Information is a ROUGH guide only, calculated using an online nutrition calculator. 
Nutrition Facts
Sugar Free Granola
Amount Per Serving
Calories 334 Calories from Fat 207
% Daily Value*
Fat 23g35%
Saturated Fat 9g45%
Sodium 18mg1%
Potassium 300mg9%
Carbohydrates 25g8%
Fiber 6g24%
Sugar 1g1%
Protein 11g22%
Vitamin C 1mg1%
Calcium 51mg5%
Iron 3mg17%
* Percent Daily Values are based on a 2000 calorie diet.
*This recipe was first published in June 2016. It has been updated with new process shot photos and more information in the post. The recipe ingredients remain the same.