Sugar-free granola made using no refined sugar or sweeteners. A healthy choice for breakfast that can be modified to suit taste.
I'm guessing there is a lot of you out there that think that I don't have a sweet tooth. I hardly use sugar or sweeteners in my recipes and choose to only sweeten treats with fruit or dried fruit. However, the truth is quite the opposite. The reason I do this is because of my sweet tooth. I'm an all or nothing kind of girl and I literally can't have anything sweet in the house or I will EAT IT ALL. I have no self-control!
For this reason, I rarely make or have granola in the house. I can't resist the deliciously sweet, crunchy goodness and literally would eat handfuls of the stuff until it was done. However, this month, I am a guest for the #instaweanteam on Instagram and my first challenge was to make granola. I have always been meaning to develop a sugar-free granola that had a crunchy texture but was something that I could store without the risk of me eating it all! This was the perfect opportunity.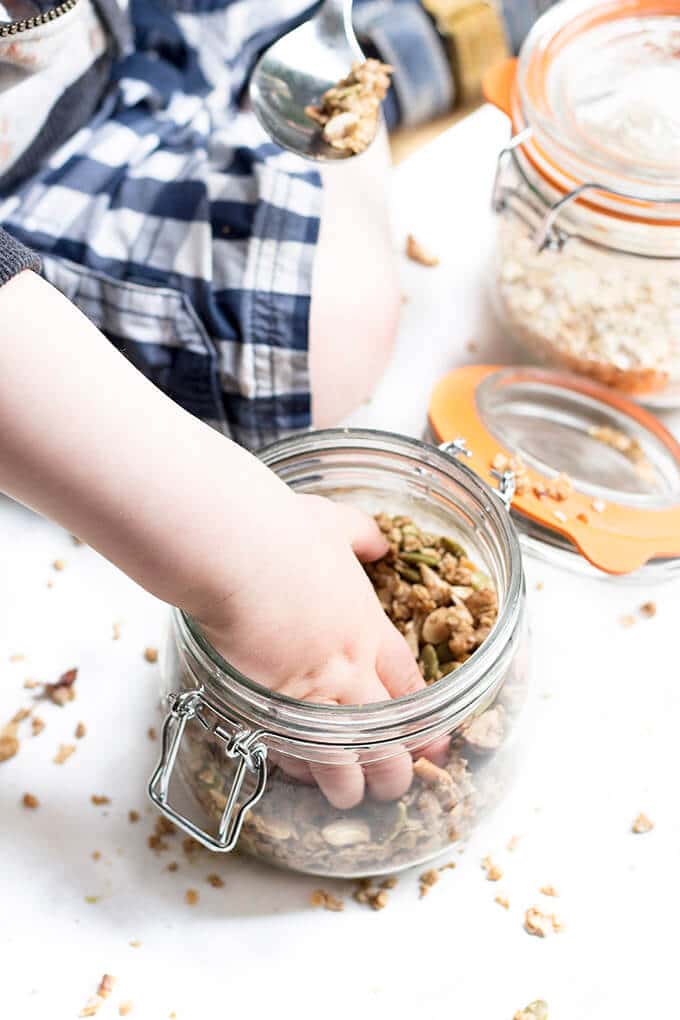 The biggest challenge was getting the sugar free granola crunchy enough without the sugary coating. After researching for a bit I saw that many sugar-free recipes use beaten egg white to achieve this and so I tried it. It worked beautifully and combined with some coconut oil I achieved the texture I was looking for.
I love that this granola isn't sweet and I hope you do too. It is a perfect base for you to add in extras to suit you and your kid's taste buds. Dried fruit, if you are looking for a good bit of sweetness, or some fresh fruit if you just need a little hint of sweetness. I love it with fresh fruit and greek yoghurt and so do both my boys. The crunchiness of the granola paired with the creamy Greek yoghurt and sweet berries is a winner and a perfect breakfast or dessert. You can always drizzle some honey over it if you are still looking for more sweetness.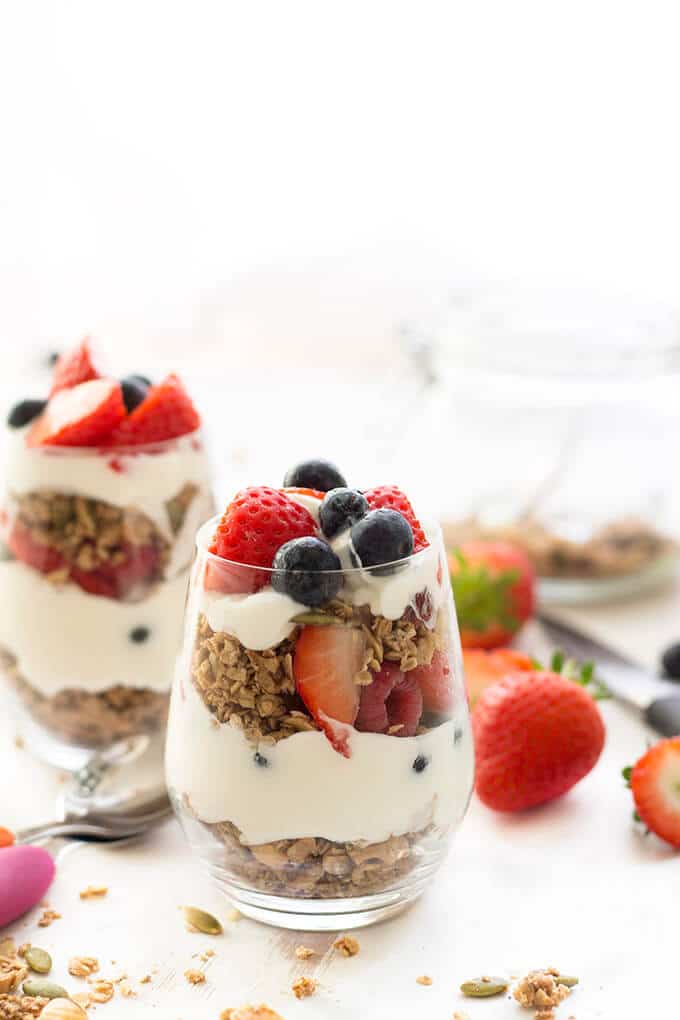 You May Also Like
Have you tried this recipe? I love receiving your feedback, please rate and leave a comment below or tag me on Instagram @healthylittlefoodies
Looking for more healthy kid recipes?Sign up for my free recipe newsletter to get new family friendly recipes in your inbox each week! Find me sharing more kind-friendly inspiration on Pinterest and Instagram.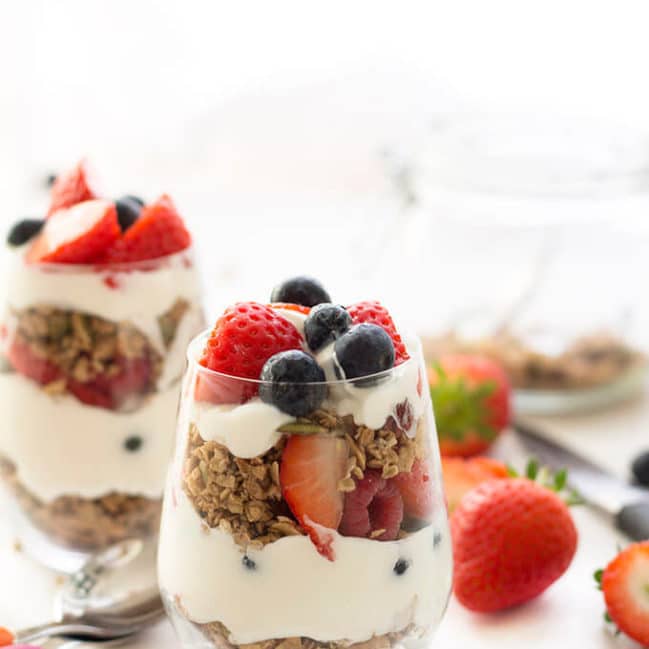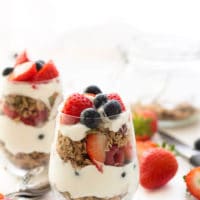 Sugar Free Granola
A granola made with no sugar or sweeteners.
Prep Time: 10 minutes
Cook Time: 30 minutes
Total Time: 40 minutes
Hover over "serves" value to reveal recipe scaler
Ingredients
200 g (2 cups) rolled oats
60 g (1/2 cup) pumpkin seeds*
80 g (2/3 cup) mixed chopped nuts (i used cashew, hazelnut, walnuts) **
40 g (1/2 cup) almond flakes
2 tsp cinnamon
1/2 tsp ginger
4 tbsp coconut oil (melted)
2 egg whites (beaten until frothy)
Instructions
Pre heat oven to 150c / 300f / Gas 2 and line a baking tray with baking paper.

Add all the dry ingredients to a large mixing bowl and combine.

Add the coconut oil and stir through, coating the mixture.

Add the beaten egg whites and gently stir to coat the mixture.

Spread the mixture onto the baking tray and bake for approx. 30 mins (until golden)
Recipe Notes
* can sub for a seed of choice.
** chop finely for babies and young children