If you are looking for a quick lunch idea then this pizza toast is perfect. The recipe is simple but, just like regular pizza, your topping ideas are limitless and it can be a great vehicle for getting your kids to try new vegetables or vegetables they wouldn't normally eat.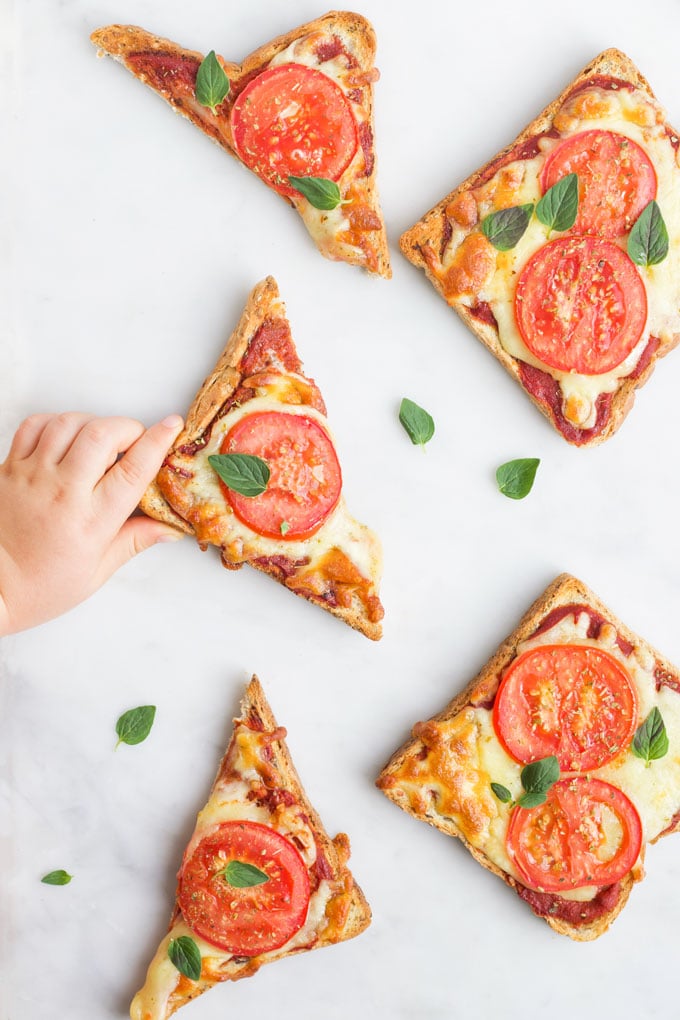 What exactly is Pizza Toast?
Pizza toast is really just a simplified, quick version of pizza but instead of using pizza dough, you use bread. Although not quite the same as the real deal, it is a fun lunch or snack idea that even the youngest of kids can help to prepare.
What You Need
Bread Slices - Use your preferred bread or if you want to change it up a little you can use half a bread roll or tortilla wraps.
Pizza Sauce - I use homemade, it is easy to make and you can store small portions of it in the freezer to have available when needed.
Cheese - You want a cheese the melts well, I've used mozzarella.
Toppings - I used tomato slices in this recipe but you can use your favourite pizza toppings.
Dried Oregano - I love the flavour oregano gives, you can add as little or as much as you like. You may prefer to use Italian mixed herbs.
Process Steps and Shots
Toast your bread before adding your toppings
Top with the sauce, then the cheese, your chosen toppings and lastly the dried oregano.
Grill (broil) until the cheese has melted, bubbling and starting to turn golden
Enjoy straight away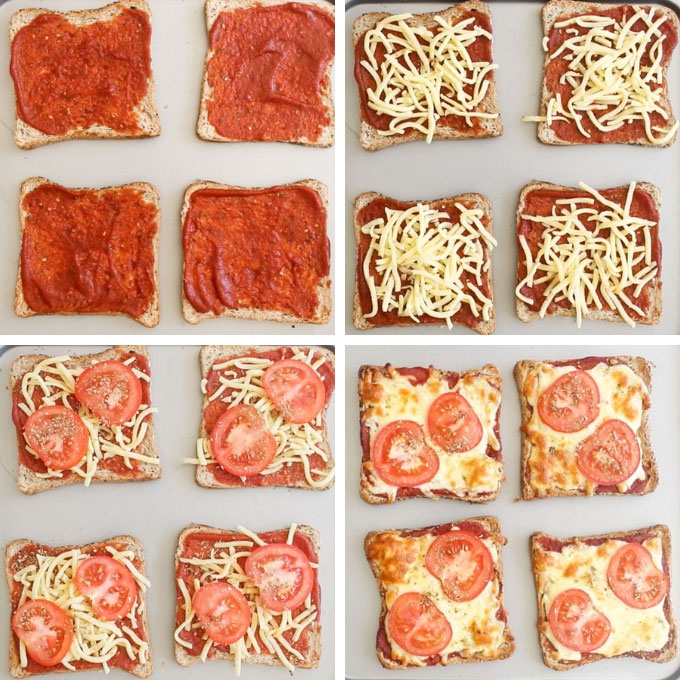 Topping Ideas
I'm all about trying to adding vegetables to my kids' meals wherever I can. Serving vegetables as pizza toppings is a great way of showing kids that vegetables can be versatile, fun and tasty. Most veggies will work well, why not try
Capsicum (bell pepper) - we love them roasted in thin strips and piled generously on top
Button mushrooms - you can top with raw slices but my kids prefer them when they have been sauteed and nicely caramelised.
Spinach - Slice into thin ribbons
Brocolli florets - Chop into tiny pieces and sprinkle on top
Onions - Raw onion slices might be a bit too pungent for some kids but mine go crazy over caramelised onions
Asparagus - Grilled or sauteed (then cut into bite-sized pieces)
Egg Plant - Cut into thin slices and grilled
Making Pizza Toast In Advance
Pizza toast is best eaten straight away and I do not recommend that you assemble or cook in advance.
However, you can prepare all the toppings in advance (make pizza sauce, grill vegetables, grate the cheese etc) to make assembly quick and easy.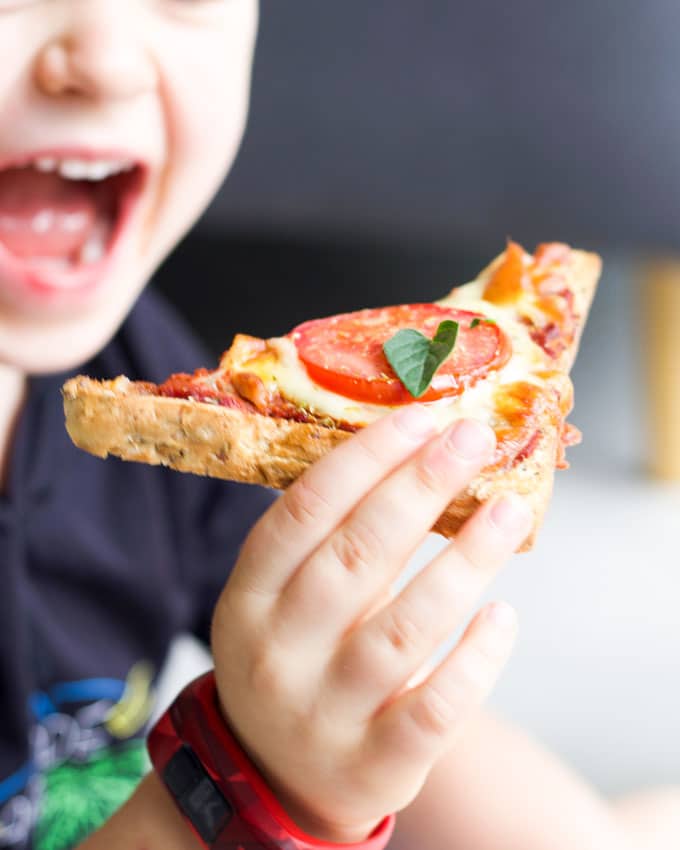 You may also like
Have you tried this recipe? I love receiving your feedback. Please rate and leave a comment below or tag me on Instagram @healthylittlefoodies
Looking for more healthy kid recipes?Sign up for my free recipe newsletter to get new family friendly recipes in your inbox each week! Find me sharing more kid-friendly inspiration on Pinterest and Instagram.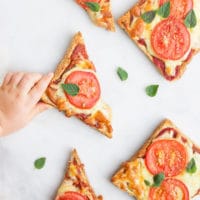 Pizza Toast
Pizza Toast is an easy lunch idea for kids. Great for encouraging kids to eat a range of veggies (topping ideas)
Prep Time: 10 minutes
Total Time: 10 minutes
Serves:4
Hover over "serves" value to reveal recipe scaler
Ingredients
4 Slices of Bread
75g (⅓ cup) Pizza Sauce
110g (1 cup) Grated Mozzarella
1 Tomato, thinly sliced
1 teaspoon Dried Oregano
Instructions
Pre-heat your oven grill (oven broiler)

Lightly toast your bread (I used a toaster but you can also toast under the grill (broiler)

Lay the toasted bread on a baking tray and spread each slice with the pizza sauce

Top each slice with the mozzarella cheese, then the tomato slices and finally a pinch (or two) of dried oregano per slice.

Place under the grill (broiler) and grill for approx 5 mins, or until the cheese has melted, bubbling and starting to turn golden.
Recipe Notes
BREAD - You can use slices of your favourite bread or you can get a little more creative and use half a bread roll or tortilla wrap. TOPPINGS - Why not set up a range of pizza toppings and allow your child to create their own masterpiece! Nutritional information is a ROUGH guide only, calculated using an online nutrition calculator. Facts will vary depending on bread, cheese and different toppings used.  
Nutritional facts
Calories: 162kcal | Carbohydrates: 14g | Protein: 10g | Fat: 7g | Saturated Fat: 3g | Cholesterol: 21mg | Sodium: 384mg | Potassium: 225mg | Fiber: 2g | Sugar: 3g | Vitamin A: 525IU | Vitamin C: 5.5mg | Calcium: 176mg | Iron: 1.2mg