This Banana Yogurt recipe is the perfect combination of creamy yogurt and sweet, ripe bananas, making for a satisfying and nutritious breakfast, snack or dessert.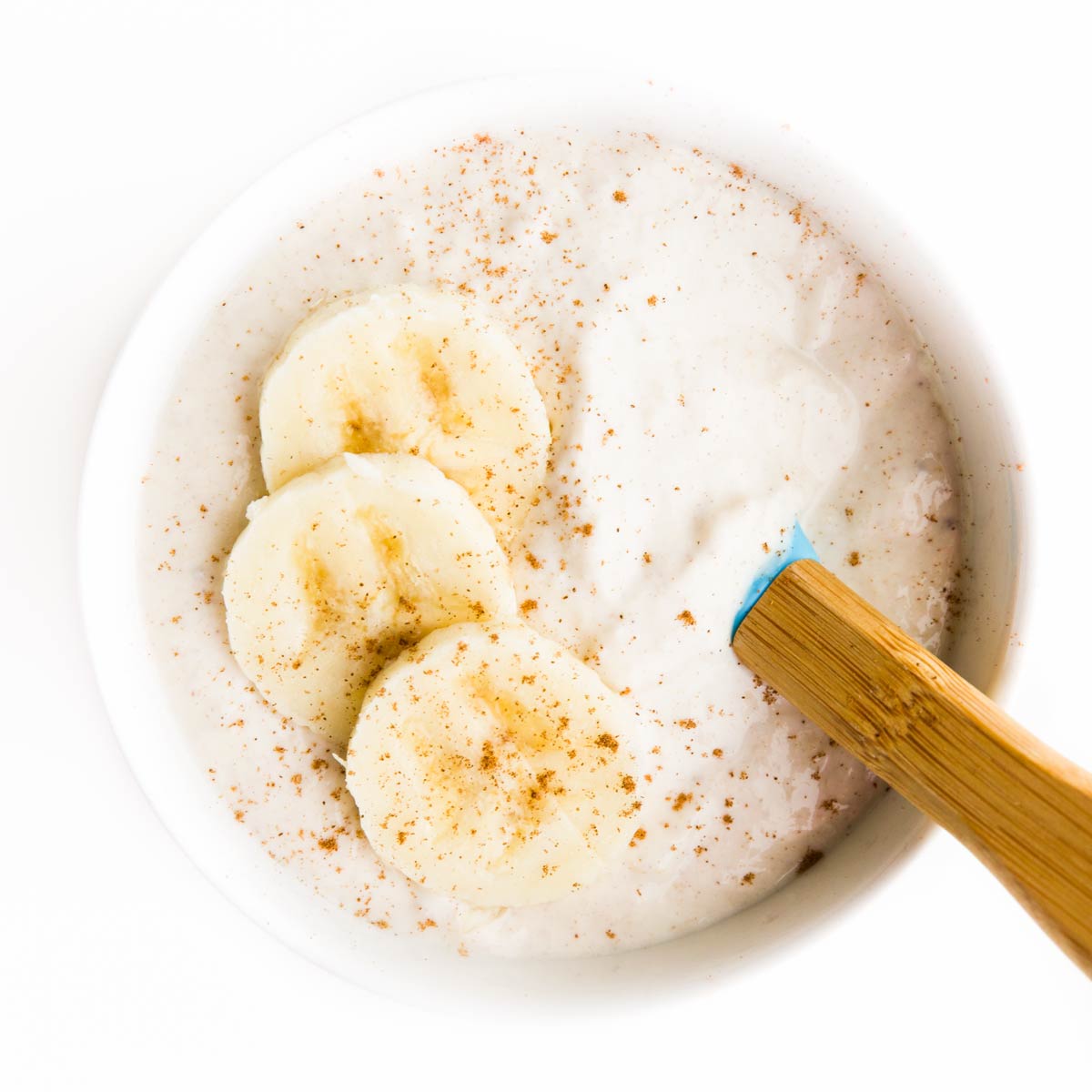 Do you ever find yourself with overripe bananas and wonder what to do with them? Banana Bread, banana oatmeal cookies, baked bananas or banana fritters are great ways to use them. However, if you don't feel like cooking or baking, blending them to make this delicious banana yogurt is an excellent choice.
Jump to:
Reasons to Love this Recipe
Naturally Sweetened - The sweetness of the banana puree means that there is no need for any added sugars in this recipe, making it a healthier option than many store-bought flavoured yogurts.
Easy - With only two main ingredients (and two optional added ingredients) this recipe is quick and easy to make.
Versatile - Enjoy this banana yogurt on its own or use it as a base for other snacks such as parfaits or fruit dips.
Customisable: Add different spices (such as cinnamon, cardamom, allspice, vanilla or nutmeg), nut butters, seeds and adjust the ratio of banana to yogurt to suit individual tastes.
Great for All Ages: Perfect for baby-led weaning, spoon-feeding, toddlers, big kids and adults!
Video Tutorial
Ingredients
For the full recipe, with ingredient amounts, scroll to the recipe card at the bottom of the post.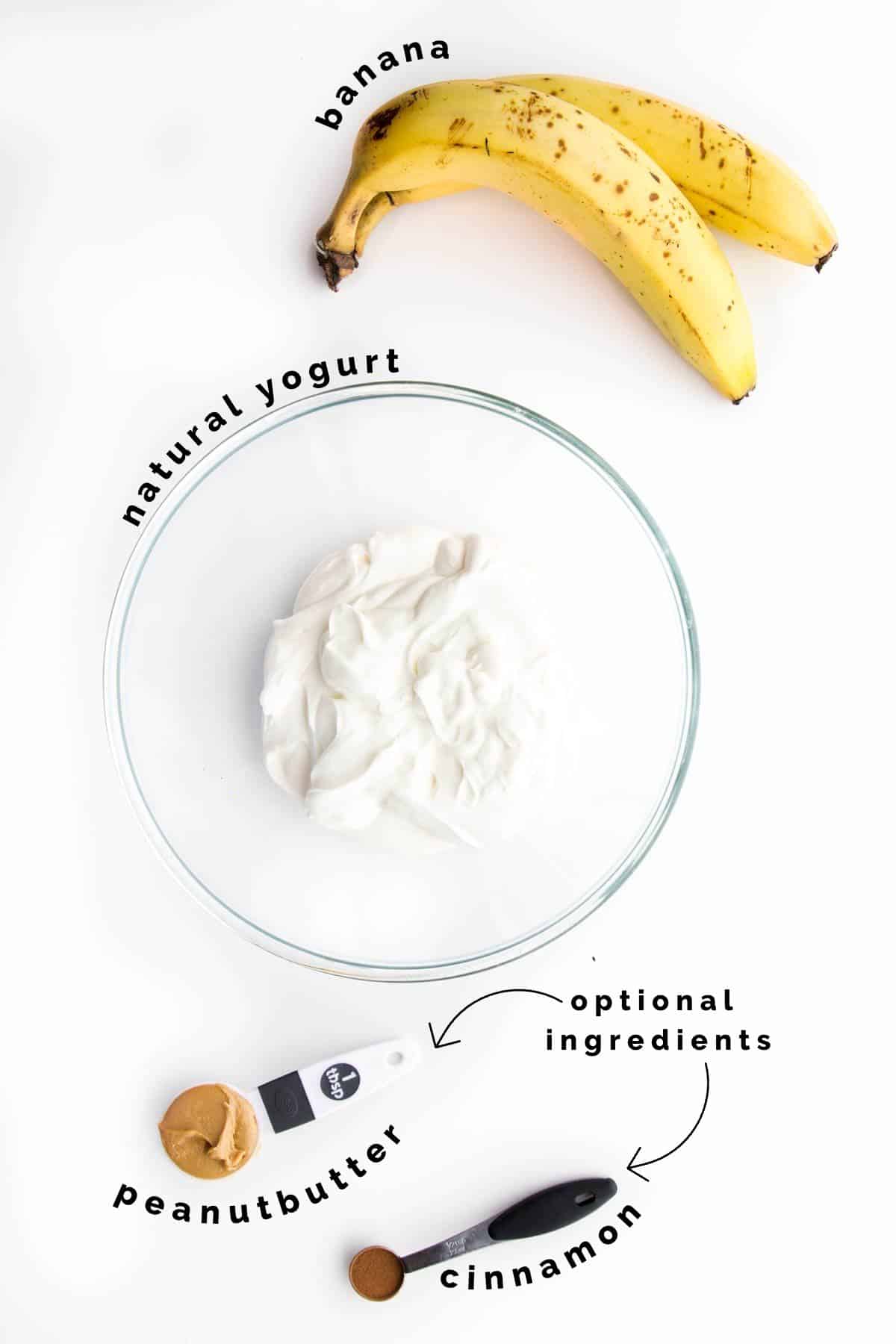 Yogurt: Plain full-fat yogurt is best, either regular or Greek. For a dairy-free version, you can use any plant-based yogurt.
Bananas: Ripe bananas work best as they provide the most natural sweetness.
Peanut Butter (optional): Adds a nutty flavour, creamy texture and also provides a source of healthy fats and protein.
Cinnamon (optional): Adds a warm, spiced flavour to the yogurt. Other options include cardamom, allspice, vanilla or nutmeg.
How to Make Banana Puree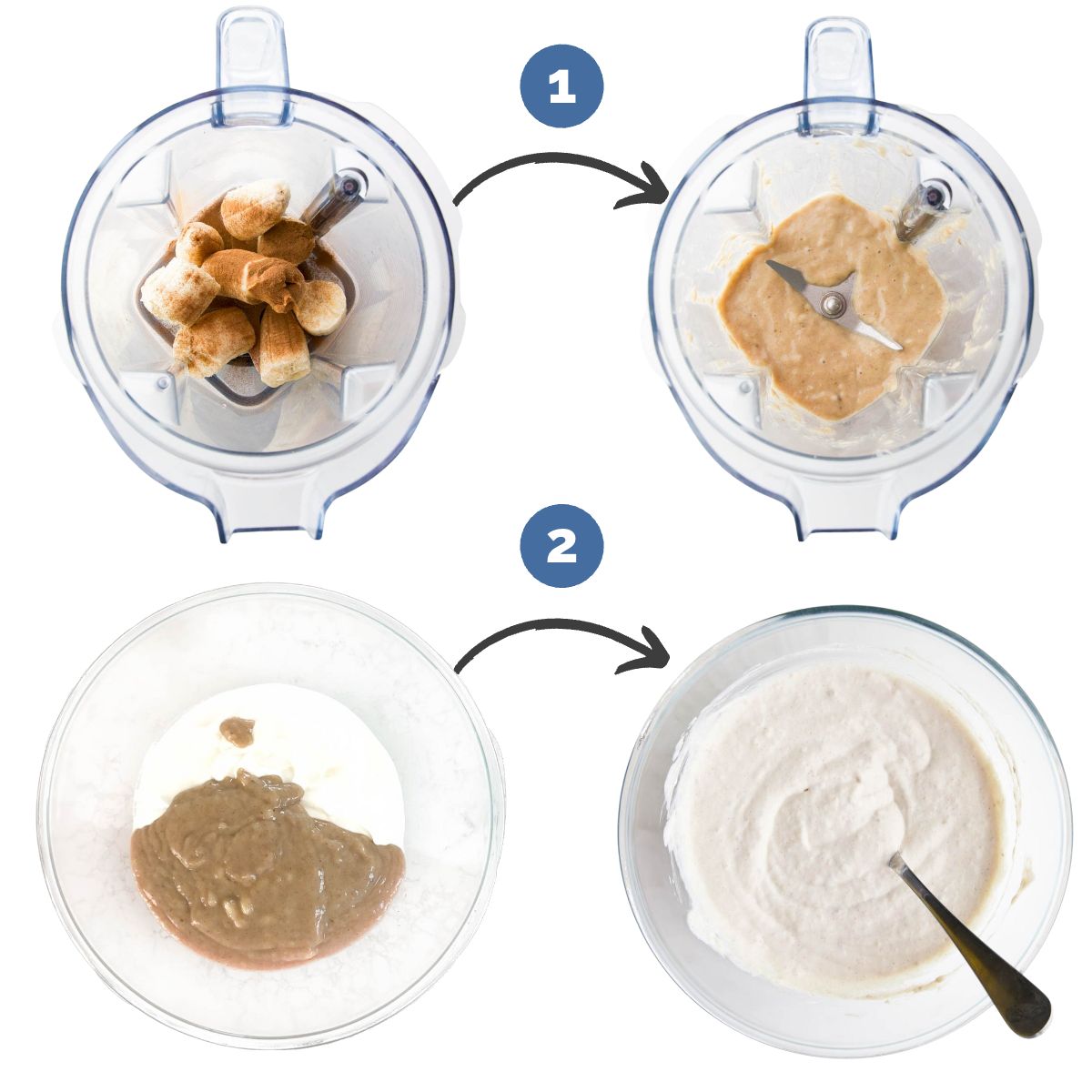 Start by blending the bananas into a puree. I do this using a blender but you could use a hand blender or food processor. Alternatively, you could just mash the banana really well.
I love to add cinnamon to the banana mixture, my kids love it and so do I. I often add some natural peanut butter for added taste and an extra boost of protein. This is, of course, optional and you can miss it out or try other additions such as cardamom or vanilla.
I find the banana provides more than enough sweetness but if you want something sweeter then you could also add a drizzle of honey or maple syrup.
Once you have your smooth, sweet and delicious banana mixture you simply mix it with the yoghurt. I treat this as a dessert and the banana to yoghurt ratio is reasonably high. You can easily play with the ratios if you want something less sweet.
I often pop it in the freezer for 15 mins before serving it, I feel it makes it thicker and creamier. This is of course completely optional.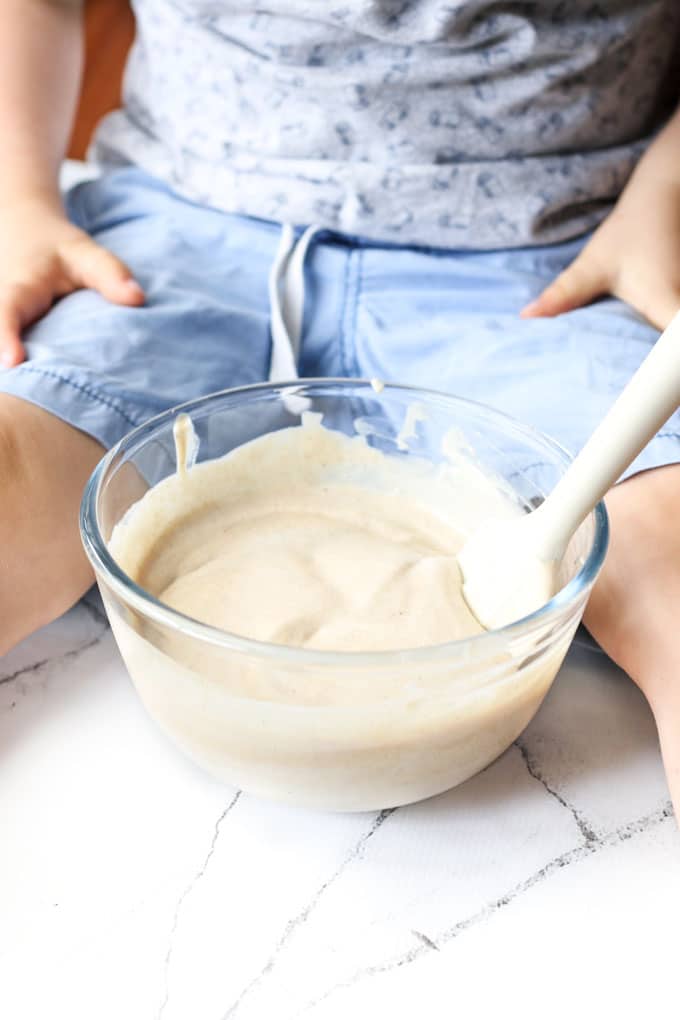 Recipe FAQs
Should I use brown or yellow bananas to make banana yogurt?
I usually make this dessert when I have a glut of brown bananas to use up however you can also use yellow bananas. If you use brown bananas the yoghurt will be sweeter.
What yoghurt is the best to use?
I recommend using your favourite whole milk natural yoghurt. I'm a big fan of Greek yoghurt, I love how creamy it is and it works really well in this.
Can you store leftovers?
You can keep this banana yogurt in the fridge for up to 2 days. I would recommend adding around half a teaspoon of fresh lemon juice to help prevent browning.
Is this suitable for babies?
Yogurt can be introduced once baby is ready to start solids, generally 6 months of age. Yogurt is often made from cow's milk, which is a common food allergen in young children and so should be first introduced by serving a small quantity for the first few servings, and if there is no reaction, gradually increase the quantity.
Peanut butter is an optional ingredient in this recipe, which is also a common allergen that should be introduced separately, before combining it with this yogurt.
Other Yogurt Recipes...
Looking for more healthy kid recipes?Sign up for my free recipe newsletter to get new family friendly recipes in your inbox each week! Find me sharing more kid-friendly inspiration on Pinterest and Instagram.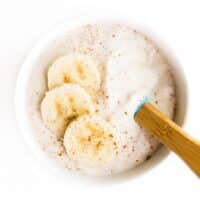 Banana Yogurt
A deliciously sweet and creamy dessert sweetened only with fruit.
Prep Time: 10 minutes
Total Time: 10 minutes
Serves:4
Hover over "serves" value to reveal recipe scaler
Ingredients
2 bananas SEE NOTE 1
1 tablespoon peanut butter (optional) *SEE NOTE 2
½ teaspoon cinnamon (optional) *SEE NOTE 2
375ml (1½ cups) natural Greek yoghurt *SEE NOTE 3
Instructions
Add the banana, peanut butter and cinnamon to a blender and blend until smooth

Add the banana puree to a mixing bowl and fold in the yoghurt until mixed through.
Recipe Notes
You can use brown or yellow bananas for this. The browner the banana the sweeter the yoghurt. 
The peanut butter and cinnamon is optional. You can leave them out or replace with other additions such as vanilla or cardamom.
You can use any natural yoghurt you wish. I love natural greek yoghurt for this. 
Nutritional information is a ROUGH guide only, calculated using an online nutrition calculator. 
Nutritional facts
Calories: 132kcal | Carbohydrates: 18g | Protein: 11g | Fat: 2g | Cholesterol: 4mg | Sodium: 52mg | Potassium: 369mg | Fiber: 2g | Sugar: 10g | Vitamin A: 40IU | Vitamin C: 5.1mg | Calcium: 113mg | Iron: 0.3mg