This Banana Yoghurt is a delicious dessert for kids, sweetened only with fruit and prepared in minutes.
We go through spurts of having excess bananas. Some weeks I'm constantly stocking up on them and other weeks I seem to have a pile of them turning brown.
I often think the kids deliberately want the bananas to turn brown so I can make sweet treats such as banana bread, cookies, fritters or this yummy yoghurt.
Banana Yoghurt is definitely the easiest way to use up brown bananas, just blend the bananas and mix with natural yoghurt. So simple and so delicious. You also have the added bonus of knowing that you are feeding your child a yoghurt without any refined sugar or additives, like so many of the kids' yoghurts on the market.
How to make Banana Yoghurt
Start by blending the bananas to a smooth puree. I do this using a blender but you could use a hand blender or food processor. Alternatively, you could just mash the banana really well.
I love to add cinnamon to the banana mixture, my kids love it and so do I. I often add some natural peanut butter for added taste and an extra boost of protein. This is, of course, optional and you can miss it out or try other additions such as cardamom or vanilla.
I find the banana provides more than enough sweetness but if you want something sweeter then you could also add a drizzle of honey or maple syrup.
Once you have your smooth, sweet and delicious banana mixture you simply mix it with the yoghurt. I treat this as a dessert and the banana to yoghurt ratio is reasonably high. You can easily play with the ratios if you want something less sweet.
I often pop it in the freezer for 15 mins before serving it, I feel it makes it thicker and creamier. This is of course completely optional.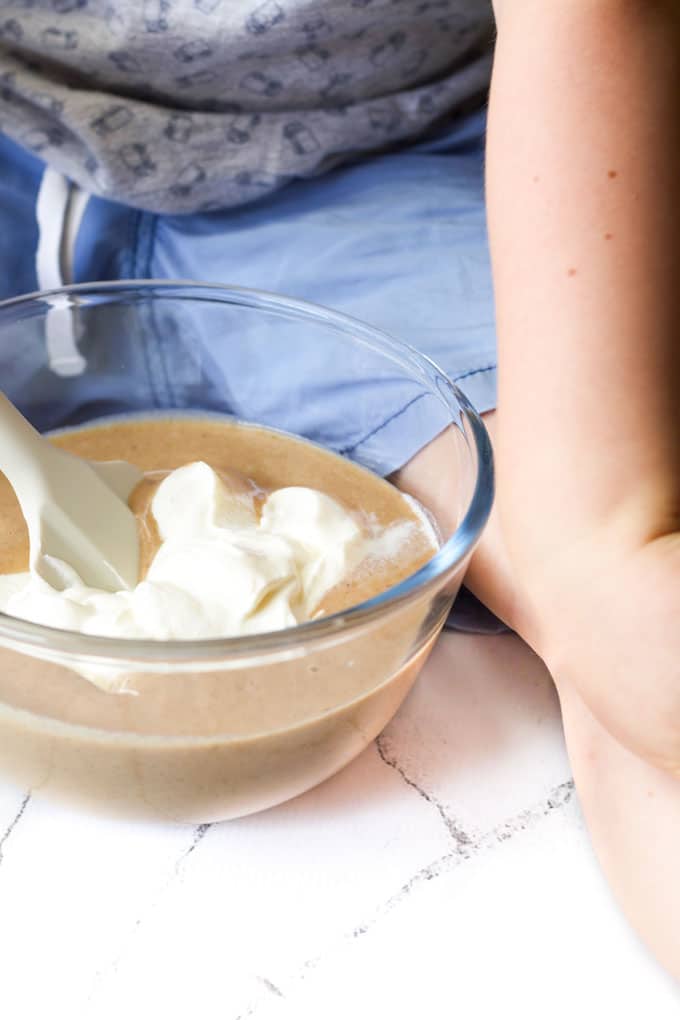 Should I use brown or yellow bananas to make banana yoghurt?
I usually make this dessert when I have a glut of brown bananas to use up however you can also use yellow bananas. If you use brown bananas the yoghurt will be sweeter.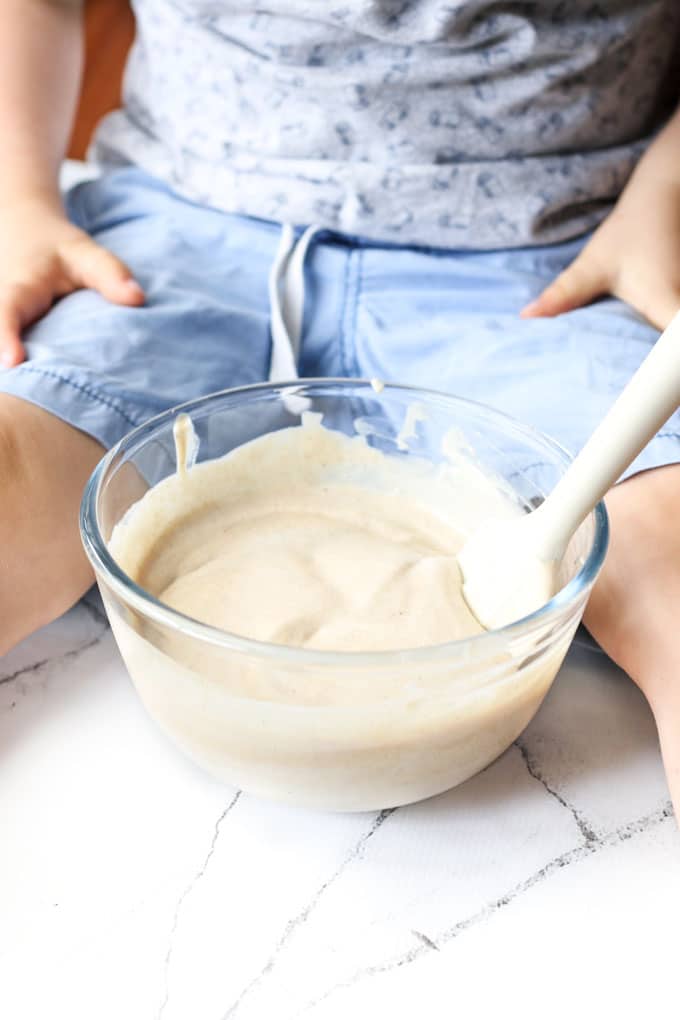 What yoghurt is the best to use?
I recommend using your favourite natural yoghurt. I'm a big fan of Greek yoghurt, I love how creamy it is and it works really well in this.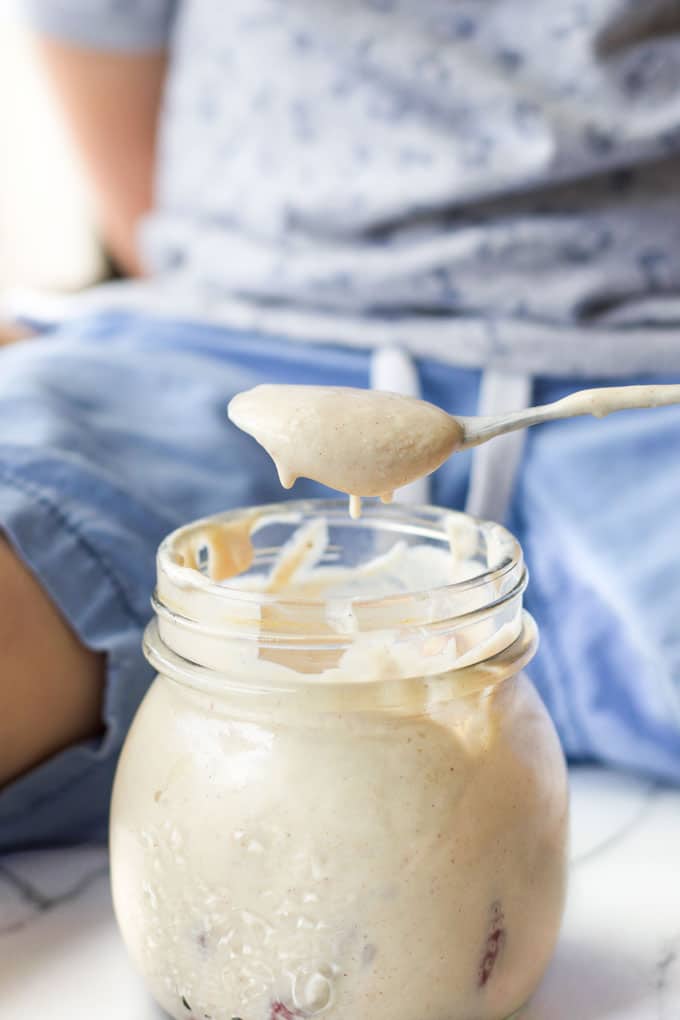 You may also like
Have you tried this Banana Yoghurt? I love receiving your feedback, please leave a comment below or tag me on Instagram @healthylittlefoodies
Looking for more healthy kid recipes?Sign up for my free recipe newsletter to get new family friendly recipes in your inbox each week! Find me sharing more kid-friendly inspiration on Pinterest and Instagram.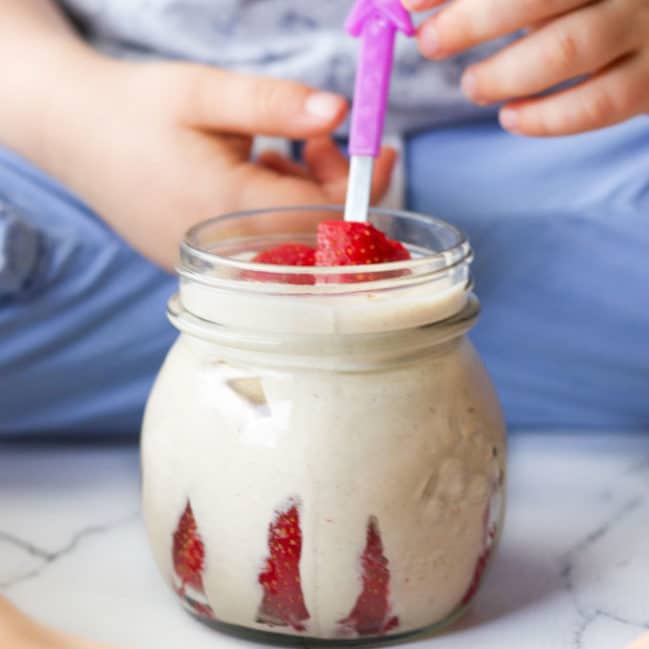 Banana Yoghurt Recipe
A deliciously sweet and creamy dessert sweetened only with fruit.
Prep Time: 10 minutes
Total Time: 10 minutes
Serves:4
Hover over "serves" value to reveal recipe scaler
Ingredients
2 bananas SEE NOTE 1
1 tablespoon peanut butter (optional) *SEE NOTE 2
1 teaspoon cinnamon (optional) *SEE NOTE 2
375ml 1.5 cups natural greek yoghurt *SEE NOTE 3
Instructions
Add the banana, peanut butter and cinnamon to a blender and blend until smooth

Add the banana puree to a mixing bowl and fold in the yoghurt until mixed through.
Recipe Notes
You can use brown or yellow bananas for this. The browner the banana the sweeter the yoghurt. 
The peanut butter and cinnamon is optional. You can leave them out or replace with other additions such as vanilla or cardamom.
You can use any natural yoghurt you wish. I love natural greek yoghurt for this. 
Nutritional information is a ROUGH guide only, calculated using an online nutrition calculator. 
Nutritional facts
Calories: 132kcal | Carbohydrates: 18g | Protein: 11g | Fat: 2g | Cholesterol: 4mg | Sodium: 52mg | Potassium: 369mg | Fiber: 2g | Sugar: 10g | Vitamin A: 40IU | Vitamin C: 5.1mg | Calcium: 113mg | Iron: 0.3mg