Watermelon Pizza is the perfect fun snack to serve your little ones. It is refreshing, healthy, quick to prepare and so delicious.
This is more of an idea than a recipe but I think ideas like this watermelon pizza is perfect for parents. Often food is more interesting to kids if it is simply presented in a different way. Transforming a simple slice of melon into a fun snack made Finn's day!
Watermelon pizza is so simple to make. Start with the pizza base (a slice of watermelon) and cut it into pizza wedges. Next add the pizza topping (fruit of your choice) to the top of each slice. Finish with the cheese (a sprinkle of shredded coconut.) Finally, enjoy but just remember to leave some for the kids!
This is a great snack to get gets involved in the kitchen, they can help prepare the topping and then can decorate their own watermelon pizza. I love interactive food activities like this. I strongly believe that, the more kids are involved with every aspect of their food from meal planning, grocery shopping and food preparation, the more acceptable to new foods they will be.
If your kids love fun food then check out these amazing sites, Fork and Beans and Eats Amazing. Both are so creative with food and your kids will love their ideas.
If you love watermelon then be sure to check out my watermelon ice, perfect for a hot summer day.
Looking for more healthy kid recipes?Sign up for my free recipe newsletter to get new family friendly recipes in your inbox each week! Find me sharing more kid-friendly inspiration on Pinterest and Instagram.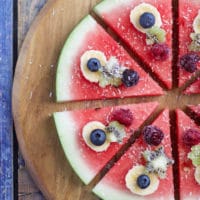 Watermelon Pizza
A fun a healthy snack / dessert that kids are sure to love.
Prep Time: 15 minutes
Total Time: 15 minutes
Serves:8
Hover over "serves" value to reveal recipe scaler
Ingredients
1 slice Watermelon
Cut up fruit of choice
Desiccated Coconut
Instructions
Cut the slice of watermelon in half, half again and once more to give eight pizza shaped wedges.

Decorate the pizza with your choice of fruit.

Sprinkle with coconut

Serve
Nutritional facts
Calories: 31kcal